Walgreens Jobs & Careers – Application, How to Apply, Requirements & Interview Tips
Last Updated:
October 23rd, 2019

by

Fancy yourself being a little bit of a problem solver? If you know how to advise people to fix everyday issues, from sun burns to colds, a Walgreens job application may be a great move for your career.

Walgreens is America's foremost drug retailer, offering not just over the counter and prescription drugs, but everything from sunscreen to chips.

They focus on keeping their store looking neat and stable, with the employees focused on their areas of expertise to help the customers.

Working at Walgreens like working in most other retail outlets, except for the fact that many of the people you see will be ill or injured. So if you don't like being around sick people, this is not the job for you.

If that does sound like the perfect job for you, or if it's just the closest store to your house, then keep reading and we'll get you applied to the job that's a good fit for you.
How do you apply for a job at Walgreens?
Most people apply online, through the Walgreens careers website, but some people prefer the simpler way of going into the store and asking for a paper application. Just keep in mind that not all stores will have this in-person option.
Application Information
Minimum Age Requirement: You must be at least 16 to work at Walgreens, but many of the positions require a high school diploma or a GED. So, unless you are an early graduate, many locations will not allow you to work for them.
Hours of Operation: Many Walgreens are open 24/7, so you'll probably be expected to work the night shift at some point. Some Walgreens are only open 7 AM to 9 PM.
Methods to Apply: You can apply in-store, on a rare basis, but it is highly preferred that you apply through the Walgreens website.
Go To The Walgreens' Career website
When you go to apply, you'll need to apply through Walgreens' Career website, which is not linked directly from their website. Instead, you can either search for "Job" in the search box at the top of the webpage, or you can just Google it and go directly to their jobs website.
The Welcome button on the Careers home page does not do anything, so don't do what I did and waste time clicking it. Instead, go to the top of the page, and mouse over the "Career Areas" section and choose "In-Store."
You can search for jobs without creating an account with them, but the moment that you hunt down a job that you want to apply, the website will take you to an account creation page.
Be Careful When You're Online On A Public Computer
They use your Social Security number as your login, which seems rather risky to me. Be careful if you're applying in a public place, such as a library.
You can see an overview of all of the jobs on the "In-Store" page, but we will list the available jobs later in this guide.
Application Tips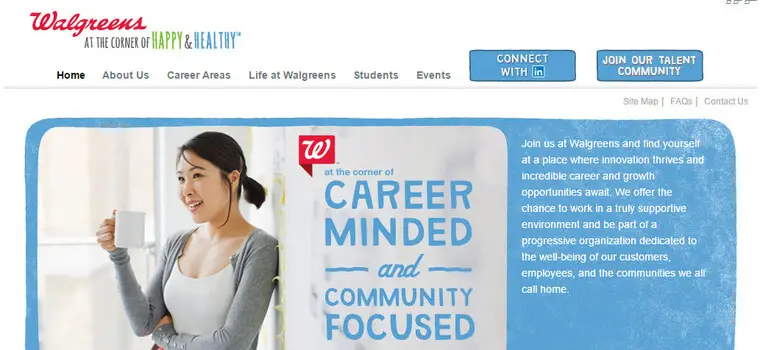 Remember, when you are applying for jobs, you can apply for more than one job at once.
Even if it only sort of seems like a position you might like, still apply for it. Just having a chance to get your foot in the door means that you can probably move from that position to one you prefer.
Don't worry about the assessment portion of the application. That is standard for applications like these, and just answer the questions honestly and you'll be fine.
Should You Follow Up?
Once you create your online account, you can use this at any time to log back in and either check on the status of your completed applications or finish any applications you have left unfinished.
If you applied in the store, the only option you have is to either return to the store a few days later, or to call the store and ask to talk to the manager.
Be aware, though, this will probably not be a good thing as the manager might feel pressured or rushed.
Positions and Salary Information
Most Walgreens In-Store opportunities require a high school degree or some equivalent, and if you want to work in the Pharmacy, you'll need additional schooling in that field.
Assistant Store Manager Trainee – Studies the store and the manager's reactions to things in order to learn how to become an Assistant Manager. $16/hr.*
Beauty Advisor – Works in the makeup department and advises the customers on what makeup would look best of them. $15/hr.
Home Health Care Sales Consultant – Sells Home Health Care/Durable Health Care items for customers that need them. $16/hr.
Home Health Care Department Lead – Leads the Home Health Care department and make sure the customers are getting the information they need. $19/hr.
Pharmacy Intern – Work in the pharmacy under the lead of the Pharmacy Technicians. $13/hr.
LOOK Boutique Associate – Help the Beauty Advisor plan the perfect look for customers. $16/hr.
Photo Specialist – Helps develop and print customers' photos. $9/hr.
Pharmacy Technician – Fills prescriptions and recommends over-the-counter medication. $15/hr.
Customer Service Associate – Works the cash register, keeps store clean, helps customers find products. $8/hr.
Shift Lead – Manages a shift of employees, usually overnight. $16/hr.
Assistant Manager – Runs the store, keeps it clean, provides reports for the Manager. $18/hr.
Store Manager – Runs the store, works with Assistant Manager to implement new store policies.
*Walgreens does not list their salaries on their website. These figures are taken from the Bureau of Labor Statistics, Glassdoor.com and Payscale.com averages.
Best Entry Level Positions
Walgreens has many entry-level positions, but they all require at least a few qualifications (such as a high school degree), so it's not as easy for teenagers to get a job at this store.
Pharmacy Intern
Works with the Pharmacy Technicians and Pharmacist to fill customer prescriptions, packages the prescriptions, works the cash register at the pharmacy to check out customers.
Photo Specialist
Takes digital camera SD cards and film from the customers and develops photos for them and prints them according to the customer's requests.
Customer Service Associate
Works with customers to direct them to the proper departments, and provide advice and direction as needed.
Runs the cash register and checks out customers when they are finished shopping.
Keeps store shelves stocked and straightened.
Walgreens Careers in Management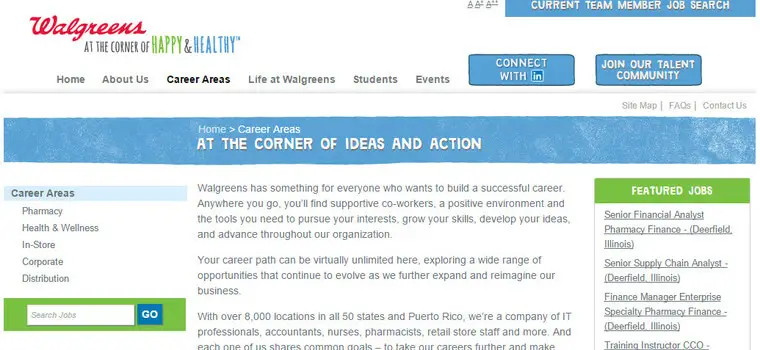 The Walgreens management structure is fairly vertical, with store managers being hired from within the stores, and there being an official management in training position.
Shift Lead
Runs the store in the Assistant Manager's absence, and works on the ground level with the employees.
Makes sure the customers are being treated well and getting what they need.
Assistant Store Manager Trainee
Works closely with the Assistant Store Manager to learn all of his or her duties, with the goal of one day becoming an Assistant Store Manager.
Assistant Store Manager
Makes sure the store is kept clean and presentable, and enforces the Store Manager's orders and policies.
Makes sure the customers are being taken care of. Develops reports on employee behavior and store function for Store Manager.
Store Manager
Talks with Assistant Store Manager about the function of the store and implements policies to counter any bad elements, or encourage good elements. Deals with management-level complaints from customers.
Interview Tips
Walgreens is very concerned with keeping their store looking nice and presentable, and that applies to the employees as well. So, make sure that you are dressed nicely (at least in a pair of dark jeans and a polo).
Ask about the dress code and what you will be expected to wear, if nice jeans are appropriate, and if you can wear what you're comfortable in.
Find Out What To Expect When Hired
Ask which department you would be stationed in, and how many employees will be in the store with you. If you are asked to fill a late shift, let them know if you are not comfortable with the idea of being there alone.
Walgreens pays fairly well compared to other retail outlets, so don't focus on the pay as much as the hours.
If you have other commitments that are time-sensitive (such as classes), let them know that you are busy for those times and ask if that will be a problem.
Possible Interview Questions
Are you a team player?
Retail outlets in general, and larger stores like Walgreens in particular, will often have a large number of customers in the store and will require you to work well and efficiently with your coworkers to make sure each customer is taken care of.
If you work well with others, and even have led group activities, be sure to let your interviewer know that.
If you are busy doing something important, and are asked by a coworkers or customer to help with something else, how do you respond?
This is very simple: You weigh the importance of each task, and take care of them in their order of importance.
The customer always comes first, so unless you are already helping a customer, and what you're doing is not super-critical, you stop doing it and help the customer. Otherwise, you weigh the two jobs and do the one that is more important first, letting your coworker know this.
Describe a difficult situation in your life and how you overcame it.
Have fun with this question, but answer it quickly without too much rambling.
Think of a time that you had to solve a problem (we all have those times), whether at school, home or work, and explain the situation to the interviewer, as well as what solution you came up with to solve the problem.
Helpful Research for Your Walgreens Interview
In 1901, Charles R. Walgreen opened the Walgreens drug store in Galesburg, Illinois.
In just 12 years, they had four stores, and by 1919, they had grown to 20 stores. Walgreens became extremely popular during the 1920's and the prohibition against alcohol, because though alcohol was banned in most establishments, medicinal whiskey was still legally being sold.
Walgreens opened its 6,000th store in New Orleans in 2007, and is now the nation's largest drug store chain. Walgreens continues to grow, purchasing smaller drugstores and bringing them in under their corporate umbrella.
Other Interesting Facts
Walgreens briefly owned a chain of pancake houses called "Wag's," places very similar to Denny's and IHOP.
Walgreens was one of the few companies not affected strongly by the Great Depression due to it being one of the only places to get alcohol.
Walgreens stocks cigarettes, saying that by offering them, they can get smokers into the store and show them ways to stop quitting.
What Employees Say About Working Here
For a retailer, Walgreens is rated fairly high by most employees. A large number of employees complained about the amount of physical work required, in terms of moving store items and restocking the shelves.
If you want to avoid physical labor, take a position other than the Store Associate.
There was some complaint about them being an "old school" company, with old fashioned ideas and thus missing some modern day technologies and benefits. A big complaint is that there is no maternity leave for men.
They also complain that the hours are not evenly distributed, and that proven harder workers that want more hours should be given them, instead of the hours going to the employees that don't work as hard.
There were also a large number of complaints from the entry-level employees about the poor pay. They also discussed the clothing policy, with some employees frustrated that they were not allowed to wear nice jeans and instead had to go out and purchase slacks or a dress in order to fit to the manager's clothing policies.
The benefits are the overall calm atmosphere of the store, especially on slow days. One employee stated that he worked one day and only one person came into the store.
If you are a full-time employee, they do provide you with a small 401K investment opportunity, and some health insurance benefits.
The employee discount is also a big plus, with some stores giving as much as 25% off all Walgreens brand products, including medication.
They also mention that, for the most part, the workers are pleasant and fun to work with. Obviously, this is not guaranteed at all stores, but many of the employees rated their fellow employees positively, which is rare in Retail.