Denny's Jobs & Careers – Application, How to Apply, Requirements & Interview Tips
Last Updated:
September 20th, 2019

by

Denny's all-American diner-style restaurant has been around since 1953. Started by Harold Butler and Richard Jezak, the original eatery was a donut stand called Danny's Donuts best known for its promise "To serve the best cup of coffee, make the best donuts, give the best service, offer the best value and stay open 24 hours a day."

Fast forward to today, and there are over 1,500 Denny's restaurants around the country open 24/7 and still serving that great cup of coffee. The menu has changed, but the familiar diner experience has remained the same.

Below we've put together a  career guide that will give you the information you need to learn about Denny's restaurants, age requirements, their interview process and their average pay. We also include tips on the best ways to prepare for your interview.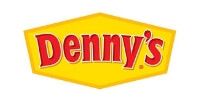 Denny's Jobs & Careers

You have a few options when applying for openings at Denny's. They have a fully dedicated career website where you can view current openings by category. Websites like Glassdoor and Indeed are also good options. Or, you can drop by your local Denny's to see what openings are currently available.
Take a look at Denny's job page to find your dream job.
A few of the popular Denny's jobs and careers are listed below:
Host/Hostess
Denny's considers the Host/Hostess role as the first and last impression that customers see. As a front line employee, your responsibilities include greeting guests in a friendly manner and making them feel welcomed. Ideal candidates are focused on the customer experience and make sure that they set the stage for a "positive dining experience".
Qualified applicants should have excellent communication skills. Position requirements include the following:
Collects payments from customers.
Seats customers and introduces the feature of the day.
Manages the host/hostess area by keeping it stocked and clean
Takes incoming calls including to-go orders.
Assists customers with their initial beverage orders.
Helps service personnel in clearing and setting tables.
Resolves customer complaints and notifies the manager.
Supports other service personnel as needed.
Dishwasher/Server Assistant
The Dishwasher/Server Assistant is a valuable part of the Denny's restaurant staff equation. They have a "Guest First" attitude and are there to enhance the guests' overall experience through attention to detail and great service.
Duties include but are not limited to the following:
Keeps the dish room clean and makes sure that all the dishes are clean and sanitized.
Busses guest tables and ensures that all tables in the dining room are clean and presentable.
Takes dirty dishes to the dish room and keeps the service area stocked with clean dishes.
Keeps the back of house clean and organized.
Removes garbage and cleans floors in the front of the house and ensures that the back of house, restrooms, and parking lot are clean.
Maintains the appearance of restrooms and makes sure that they are working properly.
Server
At Denny's, the Server's responsibilities center around creating a memorable experience for the guest. From the first contact, the server's job is to create a welcoming environment where feeding the guest is only one part of the equation. The other parts include listening, responding and taking care of the guests by providing superior service.
Server duties include greeting and seating guests as well as taking orders and serving great food. Responsibilities also include paying the cashier on behalf of the guest and bringing back the correct change, helping to keep the restaurant clean and providing total guest satisfaction.
Cook
The position of Cook at Denny's is all about tickling the taste buds and leaving a lasting impression. Cooks should be able to deliver good food fast using Denny's set recipes.
Preferred candidates should be able to manage their work areas well including correctly calling the wheel as well as maintaining a clean and organized area. Ideal applicants should be at least 18 years old and have a minimum of 1 year of full-service professional line cook experience.
Restaurant Manager
Denny's restaurant managers make sure that the company's brand standards and American Diner experience are executed within the restaurant daily. Ideal candidates have a passion for feeding people and the ability to create an environment where guests feel comfortable sharing a great conversation.
Manager qualifications include but are not limited to a minimum of 2 years restaurant experience, an Associate's/Bachelor's degree or a similar combination of education and experience, and ServSafe® Certification. Managers should also be great communicators, have excellent problem-solving skills and a flexible schedule.
Finally, a strong business skill set (understands financial statements and other reports) and reliable transportation are necessary for the position.
How Much Does Denny's Pay (Hourly & Salary)?


Denny's pay rates are above average for entry-level positions (e.g. cooks)  which start around $11.60/hr. compared to similar restaurants like IHOP ($10.82/hr) and Huddle House ($8.45/hr). As one moves into management positions, the salary gap shifts and Denny's loses the top pay position and falls somewhere in the middle with an average starting salary of $44,000/yr. for General Managers.
Here are a few of  Denny's more popular positions and pay ranges.
Host/Hostess: $8 – 9/hr
Dishwasher/Server Assistant: $8 – 9/hr
Server: $10 – 12/hr
Cook: $10 – 12/hr
Restaurant Manager: $10 – 12/hr
How Old Do You Have to be to Work at Denny's?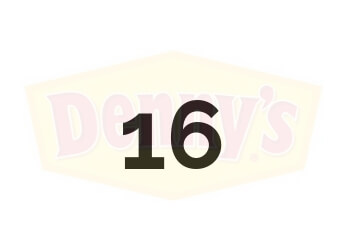 Denny's minimum age requirement for employment is 16.
The most popular entry-level jobs at Denny's include:
Dishwasher/Server Assistant
Server
Cook
Does Denny's Drug Test?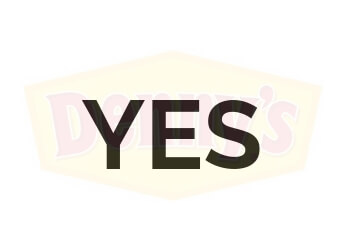 Yes, our research shows that salaried positions (management) require drug testing. Drug testing for hourly positions was not conclusive. Background checks should be expected.
Possible Denny's Interview Questions & Tips


Have you been asked to interview for a position at Denny's? If so, congratulations! Below you'll find popular interview questions, tips and suggestions for making a great first impression.
Why Do You Want to Work at Denny's?
This is a great question and one to take seriously. Companies are more likely to hire candidates who connect to the brand, and this question opens the door for you to share the reasons that you are the best person for the job.
The Denny's website is filled with lots of great company information, so whether you just love diners, are inspired by their diversity program or are impressed with their social impact, there are lots of ways to connect to their brand and share.
What is your greatest strength/ greatest weakness?
Now's your time to shine, not in a braggadocious way, but in an authentic "I really want to work for you" type of exchange. These "getting to know you" types of questions are common, and they're a great way for the interviewer to get a feel for your personality and how you'll interact with guests and employees.
Companies tend to be more curious about how you handle your personal traits rather than what they are, so be honest about your strengths and your weaknesses, but keep it professional and position-related.
Why did you leave your last company?
Companies understand that potential candidates have different reasons for leaving previous employers. Learning your reasons for leaving gives them a fuller understanding of your personality, how you work with others and your work ethic. It's best to be honest when asked this question, and as always, keep your response professional.
If you left your previous employer because of negative circumstances, it's important not to use this question as an opportunity to say bad things about your previous company. It's best to briefly cover the basic details and allow the interviewer to inquire if they'd like additional details. As always, keep the interview positive by speaking in a professional manner.
Helpful Interview Tip
Good eye contact is a great place to start when you want to leave a good first impression. Interviewers are not only interested in your answers to the interview questions, but also in how you answer those questions. Do you look at them directly in the eyes, speak clearly, seem at ease when talking? These clues help the interviewer to envision how you will respond to guests and relate to other employees while on the job.
How to Dress for Your Denny's Interview
Denny's is a casual family restaurant, so consider this when selecting your interview attire. Selected clothing should be neat, clean and job-appropriate. Whatever you choose, make sure that it enhances and doesn't detract from the image that you desire to present as a future employee.
Don't forget your résumé!
Benefits of Working at Denny's
Eligible employees can receive medical, dental, vision and life insurance. Employee discounts, spending accounts and vacation time are also included. For a full list of benefits offered, click here.