IHOP Jobs & Careers – Application, How to Apply, Requirements & Interview Tips
Last Updated:
September 20th, 2019

by

This guide will give you the inside scoop of the IHOP job application process and enhance your chance for employment.

The shortest distance between two people is a smile. If you are driven to get people smiling or if you think food is where you see your future, IHOP is a great host to your career.

Delicious pancakes, decadent waffles, overall breakfast supremacy all served 24 hours a day, 7 days a week. Whether you're going at 8am for breakfast or 3am for the after party, IHOP is always open – and it's been that way since 1958.

Most of the 1,500+ IHOPs across North America are franchises. IHOP acquired Applebee's in 2007, turning 500 corporate-owned locations into franchises as well.

After the merger, IHOP became DineEquity Inc., which now has franchises in place for all its 3,400 locations – including Applebee's.

Now that you know a little more about IHOP, let's get crackin' on getting you hired.

We'll guide you through the ins and outs of applying, interviewing and getting hired at IHOP. However, because IHOP locations are primarily franchises, some processes may vary by location.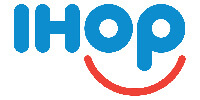 How to Apply for Employment at IHOP
Twenty years ago, you'd walk into your favorite IHOP and request an application, fill it out and return it. While that method may still work at some locations, your best bet is to apply online.
Application Information
Minimum Age Requirement: The minimum age for employment at IHOP is 16. Although some states allow a lower age limit, it's best to call your local IHOP and ask a manager.
Hours of Operation: 24/7 – 365
Application Methods: You can apply online or at the location you wish to work. IHOP's Careers website allows you to search by city, state and desired position. A PDF application is also available for printing.
Set aside 20 to 30 minutes to complete the application
If you've never applied to IHOP before, you'll need to set up a profile. Have a digital copy of your resume ready, as it's the first thing they ask for. If you don't have a resume you'll need to fill out the application manually.
Copy and paste your resume into the dialogue box and click on "Parse Resume". This auto-fills most of the fields for your application. Scroll down and make sure everything is correct and select a security question and answer to keep your profile safe. Click "Next".
Upload your resume to the IHOP system or you can skip uploading.
Fill in Employment History fields. Add as many previous employers as you like or none at all.
Enter Educational Background information.
Read and Agree to the Terms and Agreement
Let them know how you heard about them on the last page of the application and you're all done.
Once you have completed your application you can review what jobs you've applied to.
The good thing about this application system is you only have to fill it in one time to apply to multiple positions inside IHOP. The beauty of this employment application is that it's so easy to use.
Application Tips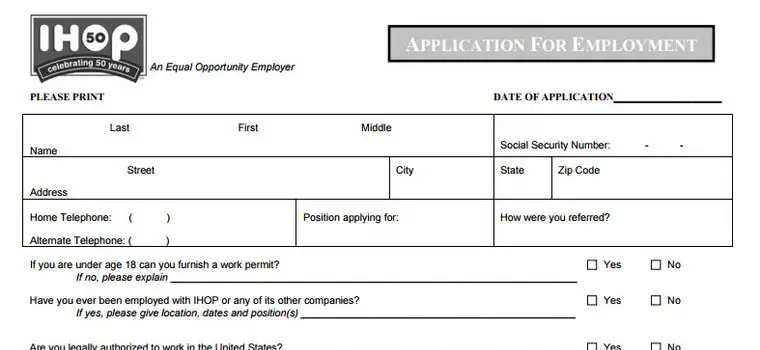 Using the IHOP Careers page isn't the only way to hop into your new career. We found links to a number of well-known and lesser-known job sites offering IHOP positions.
If you already have an account with any of the following, you may be able to use your existing profiles to apply.
Make sure to use the latest revision of your resume for best results. Some of the aforementioned employment sites' applications can be lengthy, seemingly without end.
If you don't have an existing profile with these sites you may consider using IHOP's because of it's quick and easy; one of the easiest we've seen so far.
Should You Follow Up?
There doesn't seem to be any way to track your application online. Sure, you can review any applications you've sent but you won't know who's seen it and whether or not you're in line to get a call for an interview.
Your best bet is to contact the store location you prefer to work at and inquire with a manager. The best time of day to do this is between 2pm and 4pm – the twilight hours between lunch and dinner rushes.
Yes, you can use the phone to do this but making an appearance is usually favorable. Make sure to dress as if you're going to a scheduled interview, just in case you get interviewed immediately.
Position And Salary Information
Because IHOP is primarily a franchise business like many restaurants, pay scales vary depending on location.
Independent owners receive input from IHOP on how much each position gets paid, but how much an individual employee actually earns depends entirely on the owner of that location.
IHOP employees earn $30K annually on average – $14/hr – 68% lower than the national salary average of $61,000 per year.
We have put together a short list of most common positions applied for and what you can expect to be doing, and earning.
Server – $25K annually – Servers earn $4/hr on average with the difference made up in tips, cash bonuses and commission sharing. Responsibilities include taking food and drink orders, customer care, bussing, cleaning and cashiering.
Cook – $23K annually – Cooks earn $9 – $11 an hour on average. Some locations have tip sharing and incentive programs to boost your income. Responsibilities include food prep, cooking and cleaning.
Asst. Manager – $30K annually – Asst. Managers earnings vary from location to location. Depending on your location's commission sharing and cash bonuses, you could make up to $10K a year more. Be ready to cook, clean, wait tables, bus, employee scheduling and other routine management duties including cash handling.
Best Entry-Level Positions
New to the food-service industry? Not a problem.
IHOP has a variety of entry-level positions available. You don't need to have any experience to land one of these positions. All you'll need is dedication and the ability to learn.
Dishwasher – $17K annually – You'll be responsible for, you guessed it, washing dishes. More than likely you'll be tasked with other cleaning duties as well. A good position to get your foot in the door if you want to learn how to cook or manage.
Busser – $16K annually – Think of bussing as doing exactly opposite of what the waitstaff does. You'll also make sure everyone has a full drink at the table when the restaurant is especially busy. Wages are hourly but you can expect to get in on tip sharing.
Host/Hostess – $15K annually – You're the first person a customer sees when they walk in. The choreographer of the seating arrangements, you'll seat customers and offer to get their beverage for them.
Server/Waitstaff – $25K annually – Once the hosting staff has done their job, you'll do yours. Take food orders, provide selection suggestions and essentially be at your customer's beckon/call. People skills are necessary, learned or otherwise.
IHOP Careers in Management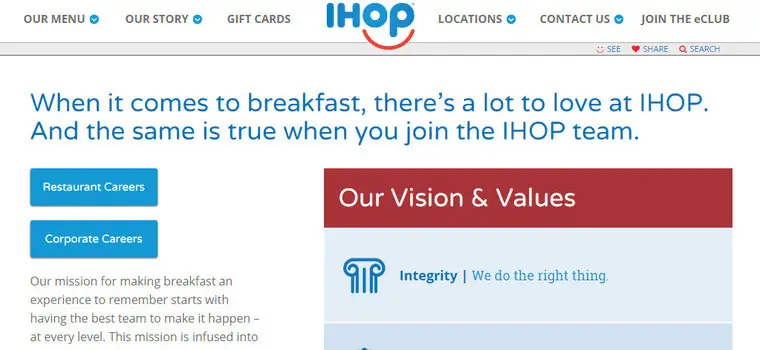 Again, we run in to most IHOP's franchise nature, meaning they are independently owned, but not operated.
While the locations all get their menus and signage from IHOP headquarters, many of the day-to-day operations are dictated by who owns that specific location.
Wages will fluctuate between locations until you move into IHOP Headquarters positions such as district manager.
Additionally, most management positions earn wages from incentives and sales commission programs. As a manager, the better your location or district earns, the more you earn.
If you want to know more about what you can expect to make as an IHOP manager, it's best to inquire with your preferred location.
Store Manager – $37K – $67K annually
You get to learn and know every position at an IHOP location. You may be required to wait tables, wash dishes, vacuum floors and cook.
You'll also be responsible for hiring/firing, cash handling, inventory management, scheduling, promotions – everything that a location needs done to stay competitive.
You get a decent wage, bonuses and commission sharing, and yeah, you get some good benefits to go along with it all.
District Manager – $46K – $104K annually
Picture a store manager with a multiplication factor depending on how many locations are under your purview.
Good pay with great incentives and bonuses – don't forget about the full benefits.
Information Technology Manager – $43K – $80K annually
Unbelievably, delivering pancakes and waffles to the masses requires some computer and online finesse.
You'll be responsible for ensuring that individual locations can process customer food orders, credit card payments, corporate information distribution – the list is too long to go through.
Sure, you won't smell like breakfast at the end of the day, but you'll have helped countless people enjoy theirs.
Interview Tips
Whatever you did right to get you there, good job! Now it's interview time. Let's get you ready to smash the interview and get started in your hopping new career. We've put together a short list to help you nail your interview.
Wear Your Best Smile
IHOP is a customer-centric business, which means you have be friendly and approachable.
Wearing a smile is the best way to invite others into talking and engaging you. Not the creepy 'I-know-something-you-don't' smile but one that says, "Hey, I am more than happy to help with any possible thing you can imagine," smile.
Wear this smile to your interview, and while talking on the phone to your prospective employer.
Be Punctual
Nothing will blow your interview quite like being late.
Get to your interview about 10 minutes early, 15 at the most. This tells employers that you know how to show up early, ready to work.
Think of it this way, how many of us can show up to work and start doing tasks the second they walk through the door? None of us.
You need time to organize and get your mind right before you start. The extra 5 or 10 minutes helps you be ready when the clock strikes zero.
As the old saying goes: If you're on time, you're late. If you're early, you're on time.
Dress to Impress
Show up to your interview ready to work.
This means wearing what they wear. Black slacks and black non-slip shoes (OSHA Approved) are the norm.
Hygiene is important also, so make sure you look and smell good. Even if you aren't hired, having the approved food service outfit will come in handy for other restaurant jobs.
Bring Copies and a Pen
Bring a copy of your resume to share with the interviewer. Bring something to take notes with. This tells the interviewer you're prepared for anything.
Have Answers Ready
It's an interview, they're going to have questions for you and you should be prepared for some of the most obvious ones.
Possible Interview Questions
Why do you want to work here?
"Money" obviously, but they will want to hear more than that. Whatever your reasons for applying, have an answer ready even if it's something odd like "I love pancakes!"
Where do you see yourself in 5 years?
What they're asking is if you have a plan. Managers sometimes deem people without life plans undesirable. Have a solid answer ready even if all you're doing is dreaming big.
Have you had any jobs like this? If so, what did you like/dislike about it?
Be honest and be positive. Managers don't want to hear about dislikes as much as they do likes.
Have an anecdote ready and you'll breeze through this question.
Why should we hire you?
"Because I'm awesome," isn't an appropriate response. Let them know you're a hard worker, love being around people or you are looking forward to your employee discount so you can have pancakes.
Have something ready.
Have Your Questions Ready
The interview is the perfect time to ask specific and pointed questions. Ask about the shifts and hours you'll work and what you can do to elevate your position.
IHOP may not need an Asst. Manager when they hire you, but you need to let management know you're interested in advancing.
In addition, asking questions engages the manager, which they want to know you have the ability to engage a stranger – a required skill in the restaurant business.
Follow Up
Okay, you've had your interview and everything went well and you think you got the job. Now is not the time to wait around for a phone call from the manager.
You need to let them know you're excited about working there. Show them your interest by calling back a couple days after your interview.
Chances are, they had several interviews and are waiting around to see who really wants the job and follows up by calling or dropping by.
Helpful Research for Your IHOP Interview
If you want to do a serious mic drop at your interview, you need to be able to drop some knowledge first.
We've put together a list of things you should know about IHOP.
Founded on July 7, 1958, in Toluca Lake, Los Angeles, California
Original IHOP location is across the street from the oldest Bob's Big Boy
IHOP is a subsidiary of DineEquity Inc., which also owns Applebee's
2.99 billion U.S. dollars in sales – 2014
They serve 14 different varieties of pancakes
IHOP has 1,650 locations worldwide
Average guest check is $11.43
Read more about IHOP here.
What Employees Say About Working at IHOP
Average. That's what employees are saying about working at IHOP according to Glassdoor. Indeed has the same results, average.
Most employees stated they liked working there and being hired was easy. The only significant negative comment notes that getting more than 30 hours a week to qualify for full-time can be difficult.