Bonefish Grill Jobs & Careers – Application, How to Apply, Requirements & Interview Tips
Last Updated:
September 20th, 2019

by

Bonefish Grill careers are right around the corner for you if you're ready to join a team of energetic, respected, go-getting staff.

Employees say if you are looking for a fast-paced setting, lots of energetic and hustling servers and managers, Bonefish Grill is the restaurant for you. Former wait staff say managers at Bonefish Grill are good at what they do, offering direction, training and coaching in such a way you don't even know you're being coached.

They set a high standard and expect the same from you, and they achieve it in a respectful and caring way.

Are you interested in a job or career at a fun, easy-going company that values hard work and setting a high bar? Then Bonefish Grill is the place for you. Let's explore more and learn what careers are available.
Bonefish Grill Jobs & Careers

If you're ready to apply, the best way to do so is via the Bonefish Grill website's career section. On this site you can choose between hourly pay jobs and salary positions.
After making your choice you will visit the restaurant's employee recruiting site on which you can search open jobs by location, by job category, and even by part-time or full-time schedule options.
Bonefish Grill offers a wide range of jobs and careers, including:
Bonefish Grill Angler
Wait staff, servers and others at Bonefish Grill are called anglers, and their overall responsibility is to provide each guest with a positive and fulfilling dining experience.
Whether that be by waiting tables and tending bar, or cleaning and bussing the front of the house, or prepping the food behind the line, each angler is a very important part of the whole.
Angler positions are:
Servers
Host/hostesses
Bartenders
Line cook
Prep cook
Carry-out crew
Dishwasher
Busser
Cleaning crew
Much attention is given to anticipating guest needs. Anglers focus on hospitality and helping diners select the perfect course for the well-known Bonefish dinner experience.
Often, managers look for interested "anglers" who are enthusiastic, eager to learn, polite, and who have experience in waiting tables in a fast-paced, high quality setting. Important requirements for crew members are cleanliness, time management, and the ability to multitask.
Bonefish Grill Kitchen (Culinary) Manager
Bonefish Grill kitchen managers, or culinary managers, are responsible for the day-to-day operations of the kitchen, including supervising kitchen staff, ensuring all recipes, plate appearance and presentation of meals is up to the high Bonefish Grill standard.
Bonefish describes itself as a "scratch kitchen concept" and with that theme, culinary managers are very important members of the team.
This position is in some ways similar to a shift supervisor at other restaurants, but a kitchen manager is responsible for more than determining staffing and shift coverage, discipline and termination if necessary, enforcement of safety and sanitation practices, and compliance with company operation standards. The kitchen manager is an active member of the restaurant management team.
Bonefish Grill Manager Jobs
Restaurant managers at Bonefish Grill are members of a management team with three to four managers who focus on the daily operations and supervision of all restaurant employees. This can include training employees, assisting customers as needed, overseeing the general customer service experience, and more.
A Bonefish Grill manager has an expert knowledge of the entire menu, from prep to serving, oversees all health and safety requirements and certifications, and is tasked with obtaining certain financial goals and sales. This is in addition to managing the inventory, liquor orders and the overall scheduling of employees.
Managers must have at least two years of restaurant experience and be well-versed in state and local liquor laws. As a manager, you'll work to maintain a team atmosphere among your crew members, and build a successful management team with fellow managers and kitchen managers.
Seasonal Job Openings
Bonefish Grill and other well-known restaurants often hire seasonal employees, often waitstaff, in autumn of each year to accommodate additional diners and guests during the holiday shopping season.
These seasonal jobs are commonly limited to angler status or wait staff.
How Much Does Bonefish Grill Pay (Hourly & Salary)

Full-time positions at Bonefish Grill offer 401k retirement funds, medical and dental coverage, paid vacation and leave, tuition reimbursement or assistance, and adoption assistance. Bonefish's parent company, Bloomin' Brands, was recognized by FORTUNE Magazine as one of the "World's Most Admired Companies" in 2014.
As part of the Bloomin' Brands family, full-time Bonefish Grill employees receive competitive benefits, including medical/dental/prescription drug coverage, meal discounts, vacation, flexible schedules and career advancement opportunities.
Some restaurants offer additional fringe benefits to either full-time employees or to all employees on staff at particular stores or in particular regions. These vary from location to location.
The actual rate of pay and benefits for Bonefish Grill anglers and managers also varies from team member to team member depending on experience, location of the restaurant, and time employed by the company.
Here are some averages. You'll see they compare favorably with pay rates of other leading restaurants offering a polished casual dining experience (like Longhorn Steakhouse & On the Border):
Angler (wait staff, bartenders, servers and hostesses): up to $6.75 per hour plus tips
Angler (line cook and prep cook): an average of $9 per hour
Kitchen Manager: up to $43,000 annual salary
Assistant Manager: up to $43,000 annual salary
General/Restaurant manager: approximately $47,000 annual salary
How Old Do You Have to Be to Work at Bonefish Grill?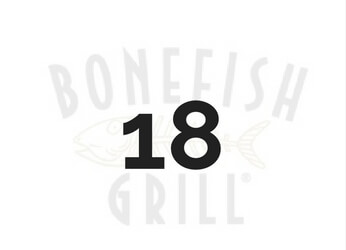 The minimum age to work at Bonefish Grill is 18 years of age, since servers are required to meet state and local alcohol laws. Entry-level positions available to those of this age are Angler positions, typically working as:
servers
host/hostesses
bartenders
line cook
prep cook
carry-out crew
dishwasher
busser
cleaning crew
Does Bonefish Grill Drug Test?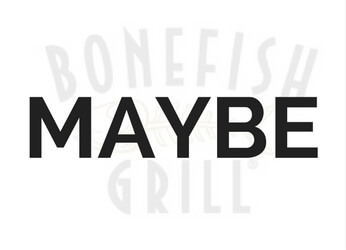 Bonefish Grill does not have a public drug testing policy, and there are not any easily-found reports or notes about prospective employees who have been drug tested. Neither do other  restaurants within the Bloomin Brands company umbrella have public drug policies.
Still, one can never say for sure that there will be no drug test required upon hire or even for existing employees. Better to be on the safe side.
Possible Bonefish Grill Interview Questions & Tips

Bonefish Grill managers are in tune with the company culture and know exactly what they are looking for when interviewing potential employees.
Here are some interview questions many Bonefish Grill managers use, according to current and former employees:
"Why do you want to work at Bonefish Grill?"
As always when answering this standard interview question, be honest and open about your desire to work at Bonefish Grill. Don't talk about very personal things; rather, talk about challenges you are hoping you see when you join the team.
Discuss your interest in dining and restaurants. Talk about your people skills and attention to detail. Be up front and honest about your interest in working at Bonefish Grill.
Interviewers value that honesty, and will ask follow-up questions about traits of yours or events in your life that may have shaped you. Always have a story about something you overcame or accomplished ready to go.
Basically, Bonefish Grill managers are looking for workers who will be comfortable in a fast-paced, polished casual dining restaurant.
What drives you to work for Bloomin Brands Inc.?
This is a chance to show your interviewer you have done your homework and you know the company.
If you've worked at other Bloomin Brands restaurants before, mention your experience and describe the positive aspects of it. Talk about why you liked it so much that you are coming back to the Bloomin Brands family of restaurants.
Remember, your ability to talk about the parent company and its success, its programs, its benefits, etc. signals how interested you are and how serious you are about the company. It shows your dedication and responsibility.
What accomplishments are you most proud of?
When an interviewer asks this question, it's a great opportunity to sell your top qualities once again. If you are interviewing for a managerial position, hit upon your experience in the restaurant business and your understanding of how to manage large staff groups.
If you're interested in an entry-level position, talk about your people skills, your quick thinking, your hustle when on the job, and your ability to problem-solve. These things are sure to pique the interest of the interviewer and make you stand out among the crowd!