On The Border Jobs & Careers – Application, How to Apply, Requirements & Interview Tips
Last Updated:
September 20th, 2019

by

If you're interested in On The Border careers, this guide could be your ticket to landing a new job.

Since October 1982, the brains behind On The Border have been fulfilling their dream of making border-style food widely available. They started with humble beginnings as the brainchild of three friends. On The Border has become the place to go for margaritas, giant chips, fresh-pressed tortillas and mesquite-grilled meats.

The idea behind this guide is to share what you need to know to help boost your chances of getting that job you've got your eye on. We will also outline how to apply and what you can expect from the application process. There are even some sample interview questions for you to practice with.

Read on to find out what you need to know about current vacancies at On The Border. We will show you how to optimize your chances of landing an hourly job such as Restaurant Server or Restaurant Bartender. You will also read tips for getting a job as Restaurant Manager or or Restaurant Support Center roles.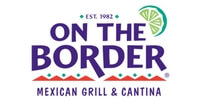 On The Border Jobs & Careers

Interested in a new job or career with On The Border? The good news is it's really easy to apply. All you need to do is navigate to the On The Border careers page.
Click on Apply Online or View Opportunities. Filter the results by location, job type or both. Then get going with your awesome application and show them what you've got to offer.
On The Border's restaurants and Restaurant Support Center currently have a variety of vacancies. They include Restaurant Server, Restaurant Cook, Restaurant Manager and Catering Delivery Rep.
Restaurant Server
On The Border's servers are the main point of contact for most customers. This means that this role puts you in charge of delivering great, No Borders, service.
A suitable candidate for this vacancy will have the ability to operate a computerized point-of-sale (POS) system. You will need to accurately make change and process credit card payments. You will also ensure all aspects of the meal and service are to the guests' satisfaction.
If you're a team player, have decent math and English communication skills, a passion for great service, and are physically fit enough to work on your feet throughout a shift, this job could be for you. They prefer that you have previous serving experience.
Restaurant Host/Hostess
On The Border currently has part-time Restaurant Host/Hostess roles available, with a range of shift patterns. Tasks include greeting guests promptly, outlining specials and Club Cantina options, as well as taking orders and serving food and drinks.
You'll need a Food Worker Card if you're applying in a state or county where they're required. Otherwise, On The Border hosts and hostesses must be familiar with, and happy to comply with, state regulations relating to food and drink service, a team player and able to work quickly and accurately.
Thinking about applying for this role? They prefer you have one year's serving experience.
You should also have strong English communication skills, along with a courteous and friendly manner. You'll also need the ability to work on your feet and carry trays throughout a shift.
To-Go Specialist
On The Border's excellent service and outstanding food isn't within the restaurants. There's a thriving to-go business, too.
This role may involve communicating with guests in person or on the phone, and providing a courteous and friendly experience for customers. A to-go specialist should be able to work an electronic POS system. You will need to accurately process credit card transactions and orders, and know when to escalate guest behavior to a manager.
If you're confident in your ability to communicate well in English, remain professional in difficult circumstances, and adhere to company policies and procedures, you may be a candidate for this vacancy.
Restaurant Local Store Marketing
Local store marketing is very important to On The Border. They engage in community and relationship building helping to make business a success.
A Local Store Marketing Team Member will be responsible for various tasks. These include carrying out and tracking various initiatives, organizing events, working with management to plan future local store marketing and reaching out to the community.
To do this, you should be confident working with and approaching people. It helps if you have strong analytical skills and be great at multi-tasking.
If you're a self-motivated team player, able to work to a flexible schedule and fantastic at communicating, you could be the next Local Store Marketing team member.
Catering Delivery Rep
This vacancy involves working on the outside catering side of the On The Border business.
An ideal candidate will have a valid driving license, along with any other required licenses. You will be able to comply with all food service, food delivery and packaging and loading regulations. Communicating with guests effectively, including advising of delivery time in advance, is also a must.
To do this job well, you'll need to keep a clean driving license. You'll also need to be able to bend, stoop, and frequently lift and carry loads of up to 50 lbs.
On The Border Manager Jobs
As well as the jobs already listed, On The Border has a variety of manager jobs currently available. As before, these can be based in restaurants, outside catering or the Restaurant Support Center.
Restaurant Managers are responsible for providing excellent leadership to a restaurant team, with the aim of maintaining an outstanding guest experience and, of course, the fun that's at the heart of On The Border. In return for your skills, gained through at least two years' experience, you'll receive a great pay and benefits package.
The role of Restaurant General Manager is similar to that of Restaurant Manager, and is suited to experienced managers looking to increase their responsibility and take their career to the next step.
Management roles outside of the restaurant environment do come up from time to time, with recently filled vacancies including Senior Manager of Architecture & Security and Area Director. Current opportunities are all listed on the On The Border employment webpage.
How Much Does On The Border Pay (Hourly & Salary)
When working for On The Border, you can expect a competitive hourly rate or salary, as well as outstanding benefits for management and related roles. These rates and benefits are in the top 25% of the industry.
Hourly rates at On The Border average at $8.86 for a host, rising to around $68,000 annual salary for a general manager. To compare to similar restaurant jobs, a cashier at Chipotle earns around $9.50, whereas McDonald's pay an average of $8.46.
Some of the most popular jobs at On The Border are paid at the following average rates:
Server: $2 – $9/hour
Host: $8 – $10/hour
Bartender: $2 – $25/hour
Assistant Manager: $45,000 – $58,000
Line Cook: $10 – $11/hour
Kitchen Manager: $43,000 – $50,000
General Manager: $60,000 – $68,000
How Old Do You Have to Be to Work at On The Border?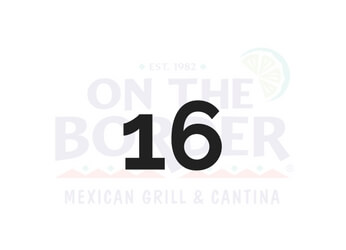 The overall minimum age to work at On The Border is 16, other than in Arkansas, where you must be 19 for certain roles. Bartenders must be 21.
16-year-olds can apply for the following jobs at On The Border:
Does On The Border Drug Test?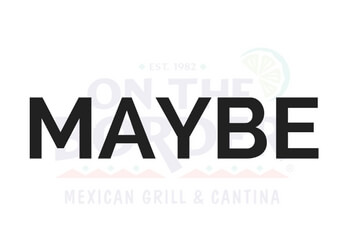 On The Border does not normally drug test employees, although it may be required for some roles, particularly at management level.
Possible On The Border Interview Questions & Tips
Have you landed an interview at On The Border? Congratulations! To help you score that job, here are some possible questions you should prepare to answer.
Why do you want to work for On The Border?
This is a fairly standard interview question, so make sure you prepare to answer it. Before your interview, spend some time reading the On The Border website, along with any other information you can find, and familiarize yourself with their ethos and values.
Make sure to tell your interviewer how you can fit into their fun environment, and why you'd prefer On The Border to their competitors.
How would you deal with a difficult customer?
Customer service is incredibly important to On The Border, even though not all interactions with guests will be positive. You could answer this question by stating you would remain calm and polite, but firm. It's fine to say you'd escalate to a manager if required.
If you have previous restaurant experience, it's good to have an example of a time when you successfully dealt with a difficult customer. Be prepared to identify how you could have done it differently too.
What hours can you work?
Being as flexible as possible can help improve your chances of securing a new job, but be honest about any limitations on your time.
If you have childcare or other commitments that you cannot move, be honest at the interview. It's unlikely to go down well if you demand certain hours to fit in with a casual hobby, however.
How to dress for your On The Border interview
Whatever role you apply for at On The Border, you should dress formally for the interview. Business casual, such as dress pants or a skirt and a shirt or blouse, may also be acceptable for more entry-level roles.