Tom Thumb Jobs & Careers – Application, How to Apply, Requirements & Interview Tips
Last Updated:
September 20th, 2019

by

Completing a Tom Thumb job application could put you on the path to a rewarding career in grocery retail.

Part of the Safeway and Albertsons family of grocery stores, Tom Thumb serves the Dallas-Fort Worth Metroplex and other areas in North Texas. They help families keep their pantries and refrigerators well-stocked.

Their large stores require hundreds of employees to run smoothly. They are frequently in need of friendly, enthusiastic people to complete their teams.

As a part of the Safeway and Albertsons family of grocery stores, Tom Thumb offers plenty of room for advancement. They also offer first-class training programs and excellent benefits.

Does a job at Tom Thumb sound perfect for you? This guide will put you on the path to landing one. Read on for tips on how to make your application strong and ace your interview.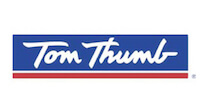 How to Apply for Employment at Tom Thumb
All Albertsons grocery stores use the same online application to screen new employees. They encourage prospective employees to apply online rather than in stores.
The first step to a job at Tom Thumb is taking 10 to 15 minutes to complete the job application. You will also need to do necessary pre-employment screening.
Application Information
Minimum Age Requirement: You must be at least 14 years of age to work at Tom Thumb.
Hours of Operation: Most Tom Thumb locations are open from 5 a.m. to 12 a.m. every day. The Store Locator can help you find the hours for the one nearest you.
Methods to Apply: Online, in person.
Make an Account
The first step in completing the online Albertsons application is registering for an account.
You will need to enter your Social Security number so make sure that you have it handy.
To save time, the application gives you the option to register with a social media account. Those options include Facebook and Google+. Don't worry. The website will not post anything to your social media feed if you choose to go this route.
Enter Your Contact Information
After you have your Albertsons employment account set up, you will be asked to provide your contact information. You will also need to provide some basic facts about your education background and work experience.
The questions are straightforward. But take your time to avoid spelling and grammatical errors.
Complete the Tax Credit Screening
Most of the time that you'll spend completing the online application will be in the tax credit pre-employment section of the app.
Tom Thumb receives tax credits from the federal government for hiring individuals who fit certain criteria, such as those who receive government assistance or who have served in the military.
The final section of the online application asks a series of questions to determine whether you fit any of the criteria for tax credits. It takes about 5 to 10 minutes to complete so make sure you allow yourself enough time to finish.
Application Tips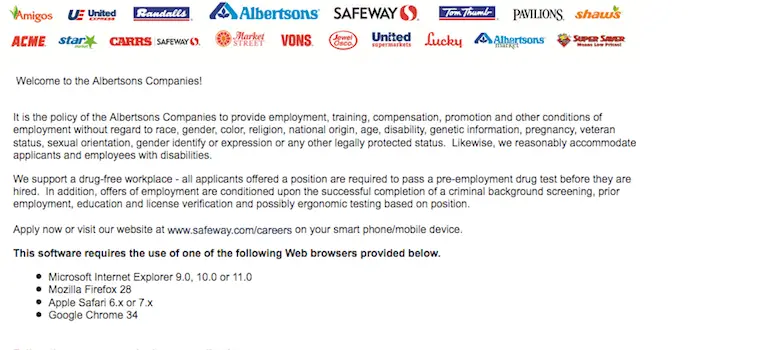 Highlight Your Qualifications
The Albertsons application system does not give you much room to show off your personality or stand out to HR, as the questions are very basic.
There is one area where you can actively improve your chances of getting hired: the employment section.
The application asks you to describe your job duties at your previous places of employment.
Use the limited amount of space provided to showcase your qualifications. Make sure to mention anything that you did at your previous job that relates to the one you're applying for to verify that you fit the role.
Upload a Resume
You do not have to provide a resume to submit your application. However, doing so could help to improve your chances of receiving an interview.
Tom Thumb looks to hire individuals that can be professional in all types of situations. Having a polished resume that's free of errors sends a message that you are serious about finding a job. It will help you make a good impression.
Read Every Question Carefully
The tax screening questions are lengthy and complex. Make sure that you take your time when you're reading them. It is important that you answer them accurately.
You will still be considered for employment if you do not fit any of the criteria. However, your application may receive priority if you do. As a result, you do not want to miss out on the opportunity to show that you fit into one of those categories of people.
That said, do not give into the temptation to lie on the answers hoping that it will improve your chances of getting a call for an interview. The hiring manager will eventually find out that you have not been truthful. That could cost you your job.
Should You Follow Up?
The Albertsons application system that Tom Thumb uses makes checking on the status of your completed job application very easy.
Once you have submitted the application, you can return to the site at any time and sign in to see the status. The system will tell you if the application is still being reviewed. You can also see if it has been sent to the hiring manager.
After the information has been passed along, allow 2 to 3 weeks for the hiring manager from your local store to contact you. If you do not hear anything within that time frame, you could call the location to inquire about the status of your application.
Positions and Salary Information
Tom Thumb grocery stores must employ many people to cover all of the departments in the store and provide exceptional service to customers. As a result, there are many different types of entry-level and management positions in the stores.
Assistant Department Manager – Trains and supervises employees, assists with customer requests and helps to maintain the assigned department – The average Assistant Department Manager earns $12 to $13 per hour.
Assistant Store Director – Directly supervises Department Managers, leads team, manages costs and drives sales – The average Assistant Store Director earns $15 to $16 per hour.
Bagger – Packs groceries, helps customers with packages, retrieves carts and baskets – The average Bagger earns $8 to $9 per hour.
Cashier – Processes transactions, bags groceries, maintains front of store – The average Cashier earns $8 to $9 per hour.
Clerk – Stocks items, keeps assigned areas clean, assists customers – The average Clerk earns $8 to $9 per hour.
Customer Service Representative – Handles complaints and returns, assists customers, answers phone – The average Customer Service Representative earns $9 to $10 per hour.
Department Manager – Oversees employees, monitors stock, maintains appearance – The average Department Manager earns $13 to $14 per hour.
Store Director – Ensures that store meets sales and profitability goals, keeps location compliant with company policies – The average Store Director earns $50,000 to $55,000 per year.
Stocker – Unpacks shipments, stocks shelves, assists with cleanup – The average Stocker earns $9 to $10 per hour.
Best Entry-Level Positions
With many different entry-level positions available in their stores, Tom Thumb is the perfect place for high school students and graduates to find a first job. The flexible scheduling is also ideal for college students, working parents and seniors.
Here are some of the entry-level jobs at Tom Thumb that you can apply for.
Bagger
Baggers stand at the ends of the checkout lines placing purchased groceries in bags. They may help customers with disabilities or large purchases carry their groceries to their vehicles and are usually responsible for retrieving grocery carts and baskets and returning them to the front of the store.
No experience is required to be a Bagger. The hiring manager will be looking for individuals with friendly personalities to fill the role.
Cashier
Cashiers are responsible for scanning items at the checkout line, deducting discounts and accepting payment from customers. During slow periods, they may be asked to clean up the front of the store or assist in other departments.
While there are no specific requirements to work as a Cashier, individuals with cash handling and customer service experience are preferred.
Clerk
Clerks work in the bakery, the deli, the meat department and other departments within Tom Thumb stores. They assist or wait on customers and help to keep fresh foods stocked.
As with other entry-level positions at Tom Thumb, the Clerk position does not require any specific education or experience; however, those with customer service or previous grocery experience may be preferred.
Customer Service Representative
Customer Service Representatives work at the service desk in Tom Thumb stores. They process returns, answer questions and handle complaints.
As a slightly higher-paying position, Customer Service Representatives are usually expected to have some previous experience in retail or customer service; however, individuals without experience may also be considered.
Stocker
Stockers are responsible for unloading shipments of products and filling the shelves. They often work during the early morning hours and at night.
Candidates for Stocker positions need to be able to lift heavy weights, bend over, grasp items and work on their feet for long periods of time.
Tom Thumb Careers in Management
Tom Thumb grocery stores employ many managers to oversee and lead employees.
While the grocery store does try to hire from within whenever possible, candidates with the right experience can be hired from outside the company.
Assistant Department Manager
Assistant Department Managers are responsible for overseeing a specific area of the store, such as produce, the bakery, the deli or the checkout area and report to the Department Manager for the area. They closely supervise employees, train new hires and ensure that the day-to-day operations in the area run smoothly.
To qualify for an Assistant Department Manager position, a candidate must have at least 2 years of experience working in grocery retail and proven customer service and leadership skills. A high school diploma or the equivalent is preferred.
Department Manager
Department Managers are responsible for the operations of specific departments in Tom Thumb stores and report to the Assistant Store Director. These individuals serve as the supervisors for the employees that work in the area and are responsible for ensuring that the areas are clean, safe, fully stocked and properly staffed.
While it is not absolutely a necessity, a high school diploma or the equivalent is preferred. You will need to have previous experience as an Assistant Department Manager or the equivalent.
Assistant Store Director
Assistant Store Directors supervise the Department Managers. They are responsible for ensuring that the store provides excellent customer service, maintains proper in-store displays and complies with all company policies.
To qualify for a position as an Assistant Store Director, a candidate must have a college degree and 6 months of any type of retail experience or a high school diploma and 4 years of retail management experience.
Store Director
The Store Director is responsible for tracking the performance of all aspects of the store, including sales, expenses, customer service and inventory control, and managing the store to improve performance. Ultimately, their goal is to make their stores as profitable as possible and to ensure that staff members are following all company policies.
Candidates who qualify for Store Director jobs must have three years of experience working as an Assistant Store Director or the equivalent. You will need a high school diploma or the equivalent. However, they prefer you have a bachelor's degree.
Interview Questions and Tips
Job interviews at Tom Thumb are usually in the store and will generally last 15 to 30 minutes.
Here are some sample questions they may ask you in an interview:
Describe a Time When You Went Above and Beyond for a Customer.
With this question, the hiring manager wants to find out what good customer service means to you without asking you outright. He or she wants to hear that you think going above and beyond really means going the extra mile.
Keep your story brief but be sure to explain what the situation was and what you did to exceed the customer's expectations.
If you have never had a job before, you can say so and then offer to share a story about a time when you went above and beyond to help a friend, family member, classmate or someone in your community.
Describe a Time When You Had a Dispute With a Coworker. How Did You Resolve It?
The purpose of this question is to see how you handle conflict. Managers do not expect people to get along 100 percent of the time, but they want employees to be able to come to compromises without requiring management to step in.
Be sure not to paint your coworker in a negative light, even if you did not particularly like him or her. Stick to the facts and be sure to maintain a positive attitude while you tell the story.
Again, you can substitute a story about a conflict with someone else if you have never worked before.
Tell Me About Yourself.
This is an open-ended question that can be very difficult to answer
The hiring manager is looking to see what you think is important about you, so you can use this to your advantage to mention things that will show you are the type of person that Tom Thumb is looking for in a team member.
Highlight accomplishments that you are proud of. Mention any past jobs or education that relate to the position for which you are applying.
Briefly mention your personal interests and some of your strengths and skills.
Helpful Research for Your Tom Thumb Interview
Tom Thumb grocery stores have been in operation in Texas since 1948. Today, the chain consists of 57 stores and is part of the Southern Division of Albertsons, which operates 2,200 stores throughout the region.
The following facts can help you prepare for your interview with the company.
A Pioneer in Grocery Retail
Tom Thumb grocery stores were founded by J.R. Bost and Bob Cullum in Dallas, Texas. The two men purchased several small grocers that were specialty shops and combined their inventories to create larger supermarkets where people could buy everything on their grocery lists at one time.
The supermarket concept was new at that time, and the idea took off quickly. By 1956, Tom Thumb had expanded to 20 stores.
You can read a longer history of the grocery chain at the official site for the store.
The Tom Thumb Name
Tom Thumb is a tiny man from an English fairy tale.
The original logo for the supermarket was a man wearing a grocer's apron. His name, of course, was Tom Thumb.
The Reward Program
Shoppers at Tom Thumb can sign up for a Reward Card to earn points toward discounts on gasoline. You can use the card at any Safeway or Alberstons store.
Good Neighbor Program
Through the Tom Thumb Good Neighbor program, shoppers can support charities and schools when they shop for groceries.
Since the program launched in 1996, Tom Thumb has donated more than $48 million to 8,000 local groups through the program.
What Employees Say About Working Here
Tom Thumb employees rave about the benefits of working for the company in reviews. The employee discount, good benefits and quarterly bonuses based on store performance are cited as key reasons to work for the grocery chain.
Employees also express appreciation for how much management works to accommodate scheduling requests. Tom Thumb is known for being flexible with hours and provides extra hours for those who want to earn extra money.
Reportedly, opportunities for advancement are plentiful at Tom Thumb stores. Most managers were once Baggers, Clerks, Cashiers, Customer Service Representatives and Stockers.