SunTrust Careers & Jobs – Application, How to Apply, Requirements & Interview Tips
Last Updated:
February 4th, 2020

by

With a SunTrust Bank career, you'll be working at a bank that's been around for more than 100 years!

SunTrust Bank traces its roots back to Atlanta, Georgia in 1891. It has 1,400 bank branches and over 2,000 ATMs in 12 states across the U.S.

SunTrust specializes in deposits, lending, credit cards, and trust and investment services.

Since December 2019, SunTrust was bought by BB&T and became the Truist Financial Corporation.

In this article, you'll find everything you need to know to get a job at SunTrust Bank. This guide will cover jobs, salaries, and tips to help you ace your interview!

At SunTrust Bank, you could work as a Teller, Customer Service Representative, Business Analyst and more!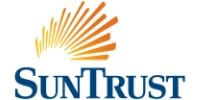 SunTrust Careers & Jobs

To apply for a job at SunTrust, you can head on over to their career website.
This is a good place to find out about what it's like to work for this bank. At SunTrust, you can apply for many roles like:
Teller
When you work as a Teller, you'll be the friendly face of the bank.
Customers will come to you for help with their daily banking tasks. This includes deposits, withdrawals, cashing checks and more. To do this job well, you'll need to have a pleasant personality.
Being able to multitask is also a strength in this role.
Business Analyst
As a Business Analyst, you'll do a lot of research for the bank.
You'll look at all the financial products and services being sold at the bank. Then, you'll help the bank find ways of doing business more efficiently.
For this job, you must have strong analytical skills. Communication skills are also important, as you'll work across different departments.
Customer Service Representative
In this job, you'll solve problems for customers! Here, customers will come to you with questions and problems.
Your job will be to help them find answers and solutions. Clearly, being a strong problem-solver is important here. You'll go a long way if you have a pleasant personality.
Senior Application Developer
As a Senior Application Developer, you'll be building and maintaining the bank's financial systems.
It's crucial that you're up-to-date with the latest in the field of banking software. Being a team player is also key, especially when working with colleagues.
Mortgage Specialist
As a Mortgage Specialist, you'll guide customers to choose the best mortgages. This means working closely with customers to understand their needs.
From there, you'll make the best recommendations possible. For this job, it's important that you're good at building relationships.
Manager Jobs
SunTrust Bank also has many Manager roles that you might be interested in. These include Vice President and Operations Manager.
As a Vice President, you'll be in charge of a division of the bank. You'll focus on more of the big-picture stuff like the business' strategy. It's important that you maximize profits for the bank.
In the Operations Manager role, you'll be overseeing more of the day-to-day activities of the bank. This means that the decisions you make will affect customers directly. If your team members can't solve a certain problem, they'll come to you for guidance.
How Much Does SunTrust Pay (Hourly & Salary)?

At a minimum, you could make $11 an hour as a Data Entry Clerk, 23% below the national average for similar jobs elsewhere. Here are a few more examples of salaries you could earn:
Teller ($39,000 a year)
Customer Service Representative ($31,000 a year)
Business Analyst ($94,000 a year)
Senior Application Developer ($109,000 a year)
Mortgage Specialist ($33,000 a year)
Vice President ($99,000 a year)
Operations Manager ($92,000 a year)
If you work at SunTrust, you can get access to lots of great benefits. These include a 401(k) plan and employee discounts. You'll also get dental, health, life and vision insurance coverage as well.
How Old Do You Have To Be To Work At SunTrust?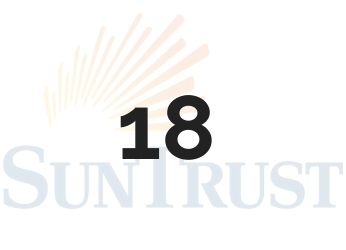 You have to be at least 18 years of age to work at SunTrust Bank.
This is true for any job at the bank you want to apply for. At this age, you can apply to entry-level jobs like:
Teller
Customer Service Representative
Data Entry Clerk
Does SunTrust Drug Test?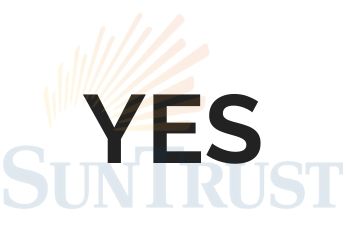 Yes, SunTrust does perform drug tests. It's not clear how or where they'll do the drug test.
However, other companies usually use a urine sample, hair follicle sample, or mouth swab to perform a drug test. The drug test can either be done on-site or at a third-party medical facility.
Does SunTrust Do Background Checks?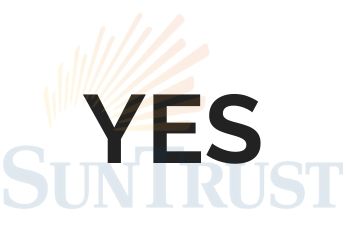 Yes, SunTrust does background checks.
This includes a fingerprint check. As a financial institution, they may look into your credit history and do a financial check as part of this process. It's not clear if SunTrust hires people with criminal records.
Possible SunTrust Interview Questions & Tips


Why Do You Want To Work At SunTrust Bank?
It's important that you show them the job means more to you than just the paycheck. Show them that your personal strengths and interests are connected to the job you want.
What Is The Most Difficult Decision You Have Ever Made?
Recruiters want to know how you think when faced with a difficult decision. You can say you weighed the pros and cons of the decision. Show them you're a team player by saying that you asked a Manager or colleague for advice!
What Do You Dislike About Your Current Job?
Be careful with a question like this! Be honest, but always stay respectful. This is not the place or time to complain about your job or boss.
What Are Your Strengths and Weaknesses?
Tell them what you're good at, and what you're not-so-good at. Be honest and stay humble. Always tell them how you're managing or overcoming those weaknesses.
What Would You Do If You Faced A Difficult Customer?
In these situations, staying calm is the most important part. Listen carefully to the customer's issues. Be courteous. Refer to a Manager if you're not sure of what to do.
SunTrust Hiring Process
Overall, the hiring process at SunTrust is a positive experience. Applicants found it challenging but not too difficult. All in all, the hiring process should take about one week.
Usually, it starts with a screening phone call. Then, you'll be asked to attend an interview on-site. In some cases, you'll be interviewed with other people as a group.
No matter what job you're applying for, always look your very best! Wear a business casual or formal outfit to your interview.