Learn How to Become a Sports Physical Therapist - Qualification Requirements & Salary
Last Updated:
April 11th, 2022

by

If you answer yes to the following questions, becoming a sports physical therapist might be for you:

Are you a compassionate people person looking for a high-energy career?

Are you athletic and up for the challenge of physical work?

Are you ready for an intellectually rigorous path of academic study?

And last—but definitely not least—do you love sports?

Don't let the words "sports" and "therapy" mislead you. Sports physical therapy is not easy, and it's not 'touchy-feely.' It is an intellectually and physically demanding job, but one that is extremely rewarding.

Regarding personal satisfaction, CNNMoney gave physical therapy an A grade in 2012.

In 2015, CNNMoney named being a director of a private physical therapy clinic the 23rd best job in America.
Process for Becoming a Sports Physical Therapist
The educational path of a licensed sports physical therapist is rigorous, similar to that of becoming a licensed attorney or doctor.
The Bureau of Labor notes that entry-level physical therapy jobs require a doctoral or professional degree (Doctor of Physical Therapy) from a CAPTE-accredited program.
All states require licensing. Sports physical therapists must meet these same requirements. They cannot specialize in sports without having first become a physical therapist.
1. Bachelor's degree
You will need to obtain a Bachelor's degree. College students considering physical therapy and sports physical therapy often major in athletic training, exercise physiology, or exercise science.
They might also consider harder sciences such as biology, physiology, biochemistry or bio-medicine majors. These degrees also pave the way for medical school or bio-medical engineering careers.
During your undergraduate work, consider internships or volunteering at a sports therapy clinic. This will give you experience and knowledge that will be a plus when you apply for a graduate program.
2. Master's or Doctorate degree in Physical Therapy
You must have a bachelor's degree to apply for a Master's or Doctorate in Physical Therapy. Most people on the sports physical therapy career path obtain a doctorate degree.
3. Obtain a Physical Therapy license
To become specialized in sports physical therapy, you must be a practicing, licensed physical therapist (i.e. pass the National Physical Therapy Examination).
During your practice as a physical therapist, you must obtain direct patient care experience that includes evaluating and treating patients with "primary processes" as a result of sports activity.
It is a good idea to join the American Physical Therapy Association (APTA), as it will save money and provide networking opportunities later.
4. Becoming Sports Certified
According to the American Board of Physical Therapy Specialties, to become a specialist in sports physical therapy, you must have a current permanent or unrestricted license to practice physical therapy in the United States, and you must pass the certification exam.
a. You must apply and qualify for the Sports Specialization Certification Exam.
Everything will be more expensive if you are not an APTA member. If you are an APTA member, it will cost $1,315 ($515 to review your file and $800 to pay for the exam).
If you are not a member, your total cost will be $2,385 ($860 to review, $1,525 for the exam).
b. To qualify for the exam, you must have CPR training
To be able to take the certification examination, you must also be certified in Cardiopulmonary Resuscitation (CPR) by the American Heart Association or American Red Cross.
c. You must also have emergency care training
You must also have a certification as an Emergency Medical Responder by the American Red Cross, certification or licensure as an Emergency Medical Technician or Paramedic, or initial certification as a Certified Athletic Trainer by the National Athletic Trainers Association Board of Credentialing within the last five years.
d. You must have direct patient care experience (Option A or B)
Option A: To qualify for the examination, you must submit evidence of 2000 hours of direct patient care, 500 hours of which occurred within the three years prior to applying for the exam.
This experience must include examination, evaluation, diagnosis, prognosis, and intervention in the specialty area. See "Description of Specialty Practice: Sports Physical Therapy," available at the APTA Online Store.
Option B: You may also submit evidence of an APTA-accredited post-professional sports clinical residency. To verify if your residency program is credentialed, visit here.
For more information, check out the ABPTS. The Candidate Guide explains all of the above information in further detail.
Job Description
According to the Bureau of Labor, physical therapists are highly-trained professionals. They usually have doctorate degrees. In addition, they play a key role in the rehabilitation and treatment of people with injuries or certain chronic conditions. They generally work in hospitals, nursing homes, or private outpatient clinics.
Sports physical therapy, the treatment of sports-related injuries, is a specialized offshoot of physical therapy and has been board-certified by the American Physical Therapy Association since 1981.
Sports physical therapy remains a niche field.
Sports physical therapists usually have private practices. They can also work in hospitals, doctors' offices, or outpatient clinics. Other options include wellness centers, at colleges and universities, or with professional sports teams.
Read More: How to Become a Sex Therapist. Discover what it takes to help people live their healthiest lives as a sex therapist.
What Does an Average Day for a Sports Physical Therapist Look Like?
As a sports physical therapist, you should be in-shape and reasonably strong, as you'll likely be on your feet most of the day, working with patients, and you may have to fully support the weight of your patient.
Seeing and Interviewing Patients
A large portion of the day will be spent seeing patients, people who are generally in pain and under stress.
You'll need to be a compassionate listener. Put away your phone or other devices, and make sure to look at the patient. Write notes later. If the patient agrees, taping the session might be a good idea.
A good sports physical therapist is able to empathize with the patient and save the medical jargon for the file notes.
If the patient is new, you will be evaluating the patient's condition and determining what course of action to take; otherwise, you will be assessing progress and perhaps physically working with the patient.
Physically Working with Patients
You will work individually with your patient on treating the injury. For this, you will use braces, wrap, and tape. You will also work through exercises to improve mobility and strength, using equipment such as parallel bars and exercise balls.
You may even massage the injured area: massage therapy expertise is a definite plus. You might also use equipment such as electrotherapy or ultrasound therapy machines that help heal deep tissue strain and injury.
If you are working with a team, you may be working on game day or on the sidelines. You will prepare injured players to get back on the field safely, or even evaluating injuries on-the-spot.
For example, after a hard hit during a football tackle, you may be communicating with the player. You will determine how to get him or her off the field and back to the safety of the dressing room, where you will perform a more thorough assessment.
According to Mike Reinhold, a physical therapist who worked with Major League Baseball players and who has a renowned practice in the Boston area, sideline assessment presents challenges all of its own.
On his award-winning blog, he posted a comment from a sports therapy resident, "I was use [sic] to assessing patients in a nice clean clinic with a high-low table, not on my hands and knees in the mud with rain hitting me in the face."
If you are one of the fortunate sports physical therapists, you might even spend your day playing catch with a recuperating major league baseball player.
You might even help professional athletes overcome injury and make history. Thanks to regular physical therapy, Boston Red Sox pitcher Alain Embree recovered from "Tommy John surgery," also known as ulnar collateral ligament reconstruction, to help the team win the 2004 American League Championship and World Series.
By winning the series, the team broke "the curse of the Bambino," the decades-long slump the Sox encountered after the team sold Babe Ruth to the New York Yankees in 1920.
Meeting with Families
You may need to meet with your patient's family to explain the treatment plan and prognosis. Depending on the injury, they might need to participate in the patient's at-home treatment.
Paperwork
Any job requires a certain amount of paperwork. In this field, you will need to keep good notes of your patient interviews. In addition, you will keep files up-to-date (or delegate the task). You will also need to submit forms or other documentation to your patient's insurance company.
Your office work will depend on where you specialize. If you are the director of a clinic, you will also have human resource responsibilities and other sorts of management tasks.
Continuing Education
To maintain your license, your state may require continuing education. If so, you will need to attend and study for these classes (see below).
Professional Development
You may be involved in advancing your field, through research, writing, and publishing.
Mentoring Residents
You may be working with physical therapists doing a residency in sports physical therapy. This work would involve seeing clients and reviewing the diagnosis and evaluation that the resident has done, then discussing the results with the resident.
Are You Suited for a Sports Physical Therapist Career?
Personality and Skills
A good sports physical therapist is empathetic and can communicate well with patients and their loved ones.
A good sports physical therapist is patient, with good interpersonal skills. So much of the job is getting to the heart of the problem, and that starts by talking with the patient.
A good sports physical therapist can solve problems and think creatively. They use the latest techniques to help resolve the problem and get the patient back to normal. That is the case whether the patient is a "weekend warrior" or a high-level professional athlete.
A good sports physical therapist is often an athlete, or has participated in sports in the past. This experience helps the therapist understand an athlete's competitive nature (is the patient under-reporting the pain so as get back on the field more quickly?).
Certifications & Proficiencies
See above for a detailed explanation of the lengthy education required to become a sports physical therapist.
Depending on your state, as a sports physical therapist, you may need to take continuing education to maintain your license.
How Does a Sports Physical Therapist Find Work?
Finding a job as a sports physical therapist involves the same process as finding any other job. Networking, talking to people, and following leads are part of this. So is speaking with of all of the contacts you made during your studies or residency.
You may opt to start a private practice on your own or with professional friends or acquaintances. However, your client list may be small at first.
Join the American Physical Therapy Association. The membership will open up employment, continuing education, and networking opportunities.
Where you decide to look for work will affect your job search. Sports physical therapy jobs will be more plentiful where there are more people involved in sports and athletics. (See below regarding opportunities in wellness centers and similar holistic treatment facilities.)
What is more difficult is finding the kind of job that many aspiring sports physical therapists dream of. You could work with a professional sports team. Once again, try networking and getting involved with the community (join Toastmasters or local service clubs). Keep your eyes open, and perhaps even advertise or promote your outpatient clinic with people in the sports world.
If you have been involved in organized sports, treasure those contacts as well.
What is the Average Salary of a Sports Physical Therapist?
Sports physical therapists make good money. According to the Bureau of Labor Statistics, as of 2017, physical therapists made a median hourly wage of $41.76 per hour and a median yearly income of $86,850. (Note that BLS does not distinguish between physical therapists and sports physical therapists).
The five states with the highest employment of physical therapists are California, Texas, New York, Florida, and Illinois.
The five states with the highest wages are Nevada, New Jersey, Alaska, Texas, and California.
Sports Physical Therapist Job Growth & Outlook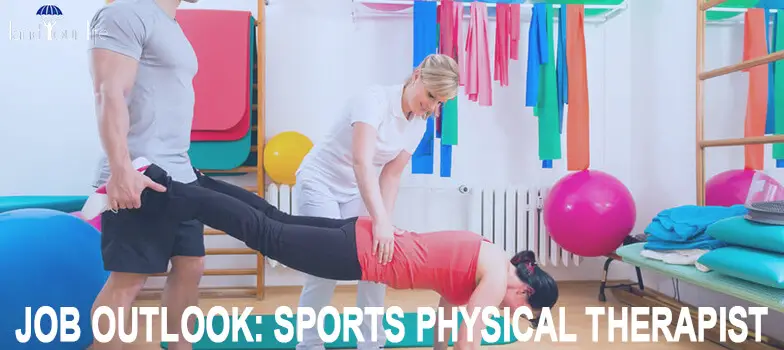 The trend towards holistic, alternative healing has coincided with the growth in physical therapy and sports physical therapy. Seeking out work in parts of the country where there is a high percentage of educated, active people involved in sports and exercise may help you find a high-paying job.
Active, trendy people are often drawn to wellness centers where other forms of therapy, such as massage, acupuncture and Reiki healing techniques are used.
A sports physical therapist associated with a wellness center could attract patients who might, under other circumstances, have instead chosen to visit their family doctor.
If you're attracted to a well-paid, high-energy job, with high-energy clients who will keep you on your toes, literally and figuratively, you'll be happy with a career in sports physical therapy. Even though the education takes time, the jobs will be there when you get your certification.
According to the Bureau of Labor Statistics, in 2016, there were 239,800 physical therapist jobs. The projected outlook from 2016 to 2026 is 28% growth—much faster than the average in other fields. By these projections, in 2026 there will be another 67,100 physical therapist jobs available.
Frequently Asked Questions
How much do sports physical therapists make?
The U.S. Bureau of Labor Statistics (BLS) reports that in 2018, physical therapists earned an average salary of $87,930 per year ($42.27 per hour) (www.bls.gov).
Employment in this field is expected to increase by 22% from 2018-2028 (faster than average).
The BLS doesn't separate the salary between a physical therapist or a sports physical therapist, however.
What is Sport Physical Therapy?
According to https://society-of-sports-therapists.org Sports Physical Therapy is an aspect of healthcare that is specifically concerned with the prevention of injury and the rehabilitation of the patient back to optimum levels of functional, occupational and sports specific fitness, regardless of age and ability.
A member of The Society of Sports Therapists (SST) has knowledge built upon five key areas: 1)Prevention 2)Recognition & Evaluation 3)Management, Treatment & Referral 4)Rehabilitation 5)Education & Professional Practice issues
Where do sports physical therapists work?
Sports physical therapists usually have private practices.
They can also work in hospitals, doctors' offices, or outpatient clinics.
How many years does it take to be a sports physical therapist?
Overall, 7-8 years.
A Doctor of Physical Therapy (DPT) program is a graduate program.
You must first obtain an undergraduate degree (4 years) and most DPT programs are 3 years in length (https://www.shrs.pitt.edu/dpt/curriculum).
Most admission requirements will also ask for volunteer or paid work experience in a physical therapy setting; which seem to range from 100-150 hours.
What is the difference between a physical therapist and a sports physical therapist?
You must be a Physical therapist in order to obtain a board certification for sports physical therapy.
Physical therapists work with all individuals to help recover (or prevent) from an injury.
A sports Physical therapist will focus on sports patients, often treating or preventing injuries, helping athletes to recover and improve performance.