Party City Jobs & Careers – Application, How to Apply, Requirements & Interview Tips
Last Updated:
September 20th, 2019

by

This Land Your Life guide will take you through, step-by-step, how to best complete a Party City job application & give yourself the best chance for employment.

Are you ready to party? Do you go all out with Halloween and Christmas decorations?

Love of celebrations is a dominating quality in Party City employees.

Potential applicants can look forward to great pay, a fun working environment and a flexible schedule should they be hired at Party City. Coupled with an amazing employee discount, working will be the best part of your day!

To land your job at Party City, read through the following employment guide and take the tips to heart. Or, browse LYL's full database of job application guides.

With more than 800 locations across the United States and Puerto Rico, America's largest specialty party goods chain is always looking for new team members with varying levels of experience.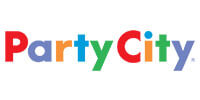 How to Apply for Employment at Party City
Most Party City job seekers choose to apply online.
Although the application process is minimal and straight-forward, you will have opportunities to make your personality and experiences leap off the page.
Application Information
Minimum Age Requirement: Party City applicants must be at least 16 years of age. This rule ensures employees are able to work until store closing. For some positions, like assistant manager, candidates must be at least 18 years old.
Hours of Operation: Although hours may vary from store to store, Party City employees can expect to work from 9:30 a.m. to 9:30 p.m. Monday through Saturday. Sunday hours are abbreviated to 10 a.m. to 6 p.m.
Methods of Application: The most common way to submit an application to Party City is online. Choosing to apply online will ensure your application reaches the hiring manager, whereas a physically delivered application (use this downloadable & printable PDF application) may get lost in the shuffle. Apply online here.
Setting up Your Account Properly & Candidate ID Explained
Candidates begin the application process by choosing an exact store and/or position for which to search.
When the available jobs appear, click the green arrow to continue with the application. If you are a new user, you will need to create a username and password.
At the bottom of the screen, applicants are asked to create a Candidate ID, which is a ten-character code.
The digits are as follows: two digit birth month, two digit birth day, last four Social Security number digits, first name initial and last name initial.
If Paul Smith was born on May 7 and his Social Security number ends in 6835, his Candidate ID would be 05076835PS.
Showcase Your Customer Service Skills
Once registered, you will be asked if you accept the responsibility to provide Party City customers with outstanding service.
Hopeful candidates must be willing to meet the corporation's customer service standards to proceed with the application.
Below the question, candidates will be provided with an interview tip. You should prepare a definition of outstanding customer service that is sure to wow your interviewer.
You should also prepare a specific anecdote of when you provided this type of service.
Completing the Rest of the Application
The remainder of the application asks about an applicant's availability and ability to work at other locations (hint: those who declare interest in working at other locations increase their hiring chances).
Educational history, employment history and three references will be required.
The last page of the application focuses on felonies. Residents of California, Connecticut and Massachusetts must follow specific instructions when proceeding with this question.
Application Tips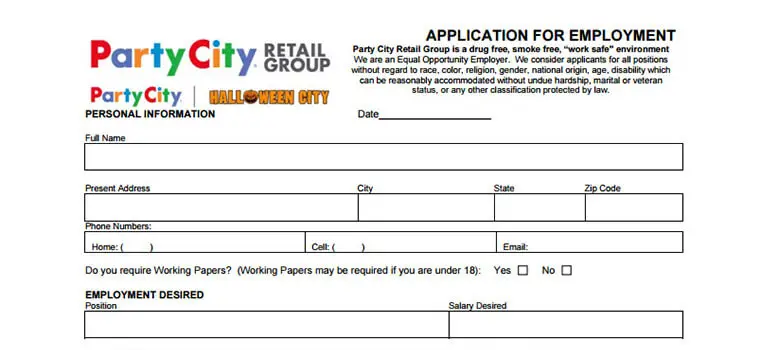 Throughout the application, you will have the opportunity to demonstrate to the hiring manager how much you deserve an interview with Party City.
Highlight Your Customer Service Strengths
Beneath your education history, you will have the opportunity to list specific areas of study, research work, special training and relevant skills.
The box allotted for your answer is a blank canvas – so paint a picture of what makes you uniquely you.
Party City cares about surrounding communities, a fun working atmosphere and exceptional customer service standards.
Have you won an award for customer communications? Were you a math major who can provide accurate change? Have you had many volunteer experiences that can align with Party City's values?
In this section of the application, show which parts of your background make you a strong Party City candidate.
Don't Skimp on Your References
Party City asks applicants to list three references.
You will need the people's names, phone numbers, positions at their companies and how many years you have known each other.
Prior to listing references, send an email or give a phone call. Ask permission to list individuals as references. This will allow them time to prepare an excellent review of your work ethic and personality.
Choose people who you have known for more than one year, such as professors, former employers and presidents of organizations.
Tips for the Assessment Questionnaire
After submitting your application, you will be asked to complete a 40-minute assessment questionnaire.
These questions help the hiring manager determine if you will be a good fit for Party City. Expect questions about your personality and customer service scenarios.
Although the claim that there are no right answers may be true, there are definitely wrong answers.
For instance, you may be asked if you are a daydreamer.
At times we all let our minds wander so admitting to daydreaming will not ruin your chances of landing a job at Party City. However, you would want to avoid answering with: "I daydream more than most people or I have trouble concentrating on tasks at hand."
Stay true to your personality but allow common sense to rule when answering assessment questions.
Should You Follow Up?
Yes.
If you're watching the clock tick waiting to hear from your potential interviewer, consider checking the status of your application by contacting him.
Wait approximately three to five days after submitting your application, then call the store to which you applied and ask to speak directly to the hiring manager.
If unavailable, ask for a better time to call back. By following up with Party City, you are demonstrating your desire to become part of the team.
Positions and Salary Information
Whether you have years of management experience or you are a green entry-level candidate, Party City has the right position for you.
Those starting out on the bottom rungs can expect managerial support when applying for higher paying positions with more responsibility.
Party City values employees who are loyal to the brand, offering them employee discounts, competitive wages and a family-friendly working environment.
Assistant Manager – Open and close store, act as manager on duty, execute clearance markdowns – The average assistant manager makes between $13 and $14 per hour.
District Manager – Provide guidance and leadership to store managers, ensure operational objectives are met, develop methods to increase sales – The average district manager makes $96,000.
General Manager – Oversee assistant managers and store associates, order new merchandise, hire new employees – The average general manager makes between $50,000 and $55,000 per year.
Store Associate – Work days, nights and weekends, handle cash and credit transactions, stock shelves – The average store associate makes between $7 and $8 per hour.
Team Leader – Oversee Personalization Studio, provide exceptional customer service, authorize returns – The average Team Leader makes between $10 and $11 per hour.
Best Entry-Level Positions
Party City is devoted to making children smile. Entry-level candidates can expect to be part of a company who cares about the community.
The country's premiere Halloween specialty retailer supports Sesame Street, Make-A-Wish Foundation, Boston Children's Hospital and many more.
From community service to employee discounts, entry-level employees receive a wide variety of benefits from Party City.
Store Associate
One of the most popular entry-level positions at Party City is store associate. Candidates must be available to work days, nights and weekends, which will vary from week to week.
Strong candidates will have reliable transportation, a proven ability to work well under pressure and a positive personality. Although Party City prefers applicants who are 18, the position is open to those 16 and older.
Balloon inflation, interacting with customers and stocking the scariest Halloween costumes around are only some of the fun duties assigned to store associates.
Team Leader
Between store associate and management positions falls the team leader. Increased responsibilities include opening and closing the store as needed.
The team leader is responsible for authorizing voids, returns and discounts while supervising the cash registers. Party City hiring managers look for creativity in potential candidates.
Applicants should have a high school diploma and at least one year of experience working in retail.
Store associates who wish to move up within the ranks of Party City can apply for the team leader position after three months of employment.
Seasonal Job Openings
Party City has several busy seasons, including Halloween, Christmas and New Year's Eve.
During these times of the year, many locations offer seasonal job openings.
Perfect for students during the holiday break and summer seasons, Party City will work with school schedules and students because the company values education.
Party City Careers in Management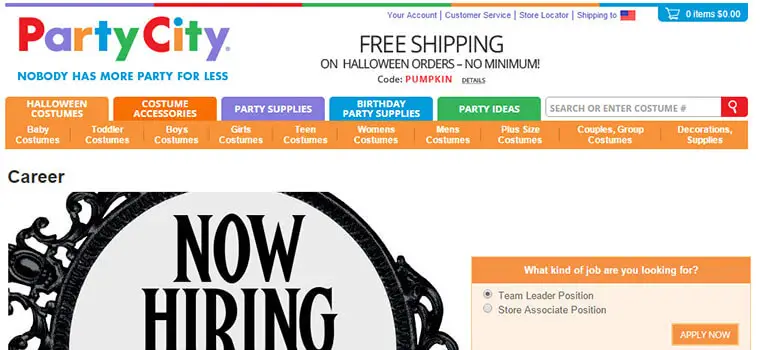 At Party City, management opportunities are aplenty. Employees are encouraged to apply for managerial positions offering greater responsibility and higher salaries.
Assistant managers often find themselves becoming general managers or district managers after minimal time with Party City. Management candidates can expect competitive salaries and excellent benefits packages, which include a 401k plan.
Assistant Manager
Creative thinkers jump to the head of the line when being interviewed for the assistant manager position.
Candidates must be 18 years of age and have one to three years of management experience. The exception to the rule are team leaders with six months of service to Party City.
Applicants should have excellent organizational and communication skills.
The assistant store manager is responsible for opening and closing the store while acting as manager on duty. Other responsibilities include bank deposits, executing corporate-directed price changes and filling seasonal aisles.
General Manager
The general manager is responsible for the store's employees, revenue and payroll. Ideal candidates will have a proven ability to motivate staff members.
Results-oriented people tend to thrive as general managers. Assistant managers are given first consideration for this position. Other candidates must have at least two years of retail experience and a bachelor's degree in business or a related field.
Job duties include following a companywide promotion schedule, training new employees and ordering needed merchandise.
District Manager
The highest level of in-store management at Party City is the district manager position. Each district manager oversees an area that produces between $15 and $30 million in sales annually.
This equates to having responsibility for 8 to 12 stores. The ideal candidate will think strategically and be able to offer solid plans for increasing company sales.
Applicants must have at least five years of experience managing a multi-unit district. Preference will be given to general managers from within the existing Party City family.
All candidates should have proven leadership skills and a dedication to quality customer service.
Interview Questions & Tips
Give Your Definition of Outstanding Customer Service?
During the application process, hopeful candidates will encounter an interview tip within the request to accept responsibility to provide exceptional customer service.
During your interview at Party City, you will be asked to give a definition of outstanding customer service.
Obviously your definition will not include ignoring or being rude to customers, but what exactly are Party City's customer service standards?
Party City provides a fun and exciting shopping experience. The company states that no celebration is complete without a child's smile. Focus on how you will provide customer service to the children who are wowed by Party City merchandise.
How can you make sure every customer leaves happy?
Provide an Example of When You Have Provided Quality Customer Service?
The hiring manager will also ask you to give an example of when you provided this kind of customer service.
Prepare your anecdote prior to your interview. Rehearse what you will say a couple of times to avoid stuttering, ums and likes. One of the best examples is turning around the shopping experience of a disgruntled customer.
Were you able to calm an angry shopper? Were you able to create a solution for a customer unhappy with merchandise? Were you able to change a customer's negative opinion into a positive shopping experience?
Pick one or two of your best examples and confidently show the hiring manager why you are the right candidate for Party City employment.
Do You Like to Decorate?
Be prepared to explain how decorating for the holidays impacts your life.
Do you go all out to create a haunted Halloween-inspired lawn? Does Santa wave from your chimney on Christmas Eve?
Your interviewer will likely ask how you plan to decorate for an upcoming holiday season.
Preparing for an Interview at Party City
Bring a copy of your resume to your interview.
The Party City application requires the bare minimum of information. By providing your resume for the hiring manager, you will be able to showcase former job duties.
Mention how previous positions have helped you become the perfect candidate for Party City. Make yourself as rich as possible on paper and be prepared to answer any questions about the information on your resume.
Helpful Research for Your Party City Interview
Get to know Party City prior to your interview. Familiarizing yourself with the company's history and mission statements will allow you to ask intelligent questions of your interviewer.
Party City opened its first store in 1986.
Since then, the company has created a presence in more than 800 locations across the United States and Puerto Rico.
Headquartered in Elmsford, New York, Party City is the official party goods store of the New York Giants, the New York Mets, the New York Yankees, the NY Rangers, WWE and the Miami Heat.
As you can see, passionate New York sports fans make excellent candidates for employment at Party City.
Since 2011, Party City has raised more than $6.3 million in donations and fundraising. Education, health, nutrition and poverty are only some of the causes near and dear to the heart of Party City.
Sponsored groups include KeepingBabiesSafe, Make-A-Wish Foundation and Boston's Children's Hospital. If charity and volunteering are important to you, employment at Party City will allow you to work for a cause.
What Employees Say about Working at Party City
Party City employees value the company's investment to help them move up within the corporation.
If hired by Party City, you can expect to work among friendly and hard-working employees. Unfortunately, as a powerhouse of celebration supplies, many employees work varying, longer hours during holiday rushes.
Associates comment that the employee discount helps keep them positive about their jobs.