McDonalds Jobs & Careers – Application, How to Apply, Requirements & Interview Tips
Last Updated:
October 23rd, 2019

by

There's perhaps no better way to become part of American food history than to fill out a McDonalds job application form.

As well known in Bahrain as it is in Boston, McDonald's is more than just a household name, they're the best-selling fast food chain in the world. For every 22,174 Americans, there is a store just waiting to serve them.

This is good news for you, fellow Land Your Life-er – since it means that there's almost always a McDonald's location looking for new workers.

There are dozens of positions open, with different schedules and duties. That's true whether you're looking for an entry-level job for the Summer, or you're in it for the long-haul and ready to climb the ranks.

This guide will walk you through the McDonald's application process and provide you with the information needed to do your best at your interview.
How to Apply for Employment at McDonald's
There's a lot of opportunity to work for McDonald's due to the sheer number of workers they need to hire on a regular basis. This is why McDonald's has a streamlined online hiring process.
You will be asked to provide several pages worth of information, then take a personality assessment. This process allows the McDonald's management to have a good idea if you are a fit for the company before you even interview.
Application Information
Minimum Age Requirement: McDonald's does not list a minimum working age. The age hiring age is 16, but some states will allow workers as young as 14 to work as cashiers and other general, non-food service personnel. You must be 18 in most locations to work as management.
Hours of Operation: Varies from location to location. Most places are open 24 hours a day, but others are open from 10 AM to 5 PM.
Methods to Apply: The easiest way to apply is online. You can also apply in store, either by printing a PDF application or by asking for one in-person. Almost all stores have applications set out in the lobby, or behind the counter.
Take Your Time To Fill Out Your Application
Make sure you have close to an hour to fill out your application as the application process on McDonald's website is fairly extensive.
The stores are sorted by state, then city/town, so choose your location and this will take you to a listing of jobs available in that area. Once you click on a job, it takes you to the job description page where you can peruse the job, and start the application process.
Provide As Much Information As You Can
You will be asked to provide your full name, Social Security number, and other pertinent personal information. Once you input that information, you'll be taken through several pages listing their application policies, then dropped onto the actual application form.
The first page is your general information, such as phone number and your availability; the second page is your education and work history. Once you fill out this information, you'll be asked about your criminal history.
Pay attention to the list of cities given at the top of the page. If your city is listed there, you don't have to answer this page of questions.
Complete The Assessment Test
After you pass the criminal record page, you're taken to a page asking for your electronic signature—you just need to type in your name—and then you begin taking the 64 question assessment test. The test is a list of two opposing choices, and all you need to do is choose the one you agree with the most.
Application Tips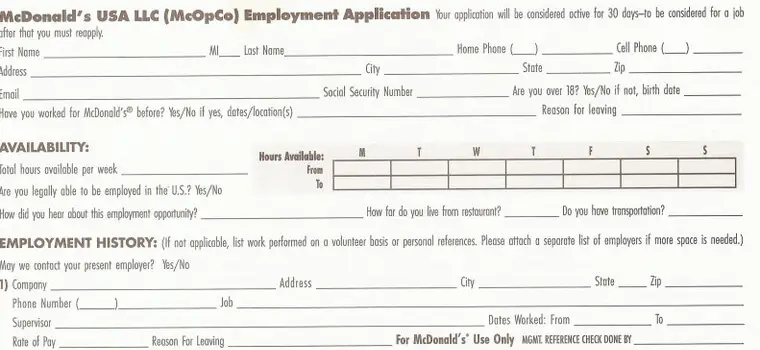 During the application phase, make sure to include as much information as possible, and be as open as possible. While not all questions are required (required questions are marked with an asterisk), it is best to fill out all the boxes if possible.
If you are willing to travel, make sure to mark that. They might have a position at a McDonald's in the next city, but not at your local restaurant, and they might be willing to pay to relocate you.
Be sure to include as many of your previous employers as you can on the Employment History page. If you have more than three previous employers, just choose the three most recent.
Don't Let The Assessment Test Freak You Out
It's not as daunting as it seems. Just make sure to set aside time to finish it without rushing, and focus on answering as honestly as possible. Sometimes neither option will fit you well, or they might not even make sense, so just pick the one that seems the closest to being right.
Should You Follow Up?
Once you have applied, you will receive an email that your application has been accepted and will be reviewed as quickly as possible. They will also list in the email what restaurant location you have applied to, so check that and confirm that they have you down for the correct store.
Don't reply to the email if you have questions, as it is a sending-only email address.
According to their website, McDonald's will attempt to contact you about your application within seven to ten days. If you don't hear from them within this time period, you can call the local store you applied to and ask if they have heard anything about your application. If they haven't heard anything, submit your application again.
Positions and Salary Information
McDonald's lists both their local store management positions and the lower-level positions on their career site.
Remember that you must be at least 18 to work in a management position. Not all positions listed below are available at all locations, so take time to check the job listings for your local McDonald's.
Crew Member – Depending on location, this position either prepares orders, takes orders, and/or provides general customer service. $7.25 to $12/hr
Overnight Crew – Same job as Crew, just overnight. Only available at 24 hour McDonald's locations. $8.75.
Maintenance – Clean and maintain their McDonald's location. $8 to $12/hr.
Department Manager – Run a specific department (Inventory, Training, etc.) and perform tasks specific to that department. Kitchen Department Manager makes sure the kitchen is clean and cooks food quickly. $12 to $17/hr.
Shift Manager – Provides training for employees under their supervision, makes sure restaurant is sanitary and employees are providing proper customer service. Base pay $8.50/hr.
Swing Manager – Comes in when is needed, schedule is flexible and changes as is necessary. Provides the same duties as the shift manager. Base pay $8.50/hr.
Beverage Specialist – Runs the McCafe station, creating McCafe drink items according to the customers' orders. $7.75/hr.
Assistant Manager – Works with Shift, Swing and/or Department managers to keep store running smoothly and to provide instruction and inspiration for employees. Base pay $7.25/hr.
Closers – Employees trusted to close down the restaurant at the end of the day. Must stock and clean the store and prepare for opening the next day. $7.25/hr.
Best Entry Level Positions
Almost all entry-level positions at McDonald's provide their uniforms for free, as well as free employee meals, flexible schedules, and paid training. The most popular and most available entry-level positions are the Crew Member, Maintenance, and Overnight Crew.
Crew Member
Crew Members are the backbone of the McDonald's employee structure.
They run the cash registers, take orders, provide answers to the customers about menu items, prepare food items, and deliver orders to customers.
Maintenance
Maintenance workers focus on keeping their store clean and functional.
They replace the light bulbs, sweep and mop floors, clean and sanitize the bathrooms, filter oil fryers, unload the delivery trucks, and maintain the outside areas.
Overnight Crew
Overnight crew work the late shift, usually from 10 PM to 5 AM. They do all the same duties as the regular Crew Members, in addition to some of the Maintenance workers' duties as well.
They focus especially on keeping the restaurant clean for the morning customers.
McDonald's Careers in Management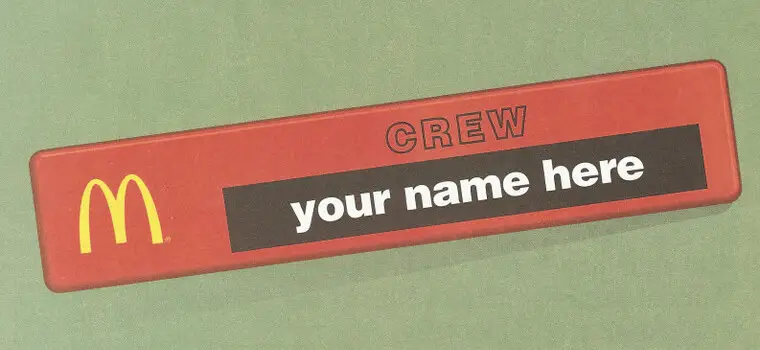 McDonald's has many management opportunities at the local restaurant level, and provides management training at many locations for workers that wish to move from an entry-level position to a higher paying job.
Most McDonald's only have Shift Managers, but larger McDonald's and many 24 hour locations also have Department and Swing Managers.
Shift Manager
The base-level manager for most McDonald's stores.
This manager supervises the whole store for their shift, which is why they're called "shift" managers. They provide instruction for the Crew Members, and keep the employees all working together well.
They also intervene in any customer complaints, and work to provide excellent customer service.
Department Manager
On larger McDonald's (and some smaller but strictly organized ones), there are different departments with different jobs. Each department either has its own manager, or shares a manager with a different department.
Department Managers are responsible for making sure their department runs smoothly and communicates well with the other departments.
Swing Managers
Swing Managers work primarily at 24 hour locations, filling in the schedule when the other scheduled managers cannot be present due to scheduling conflicts.
This position is responsible for making sure the employees on their shift are performing their work quickly and correctly.
Interview Tips
If you have been invited in for an interview, it means that someone went over your application and assessment and was interested enough to call you in.
How Should You Dress?
Make sure to dress nicely (McDonald's website specifically states "No visible offensive tattoos") and to arrive at least 10 minutes early to the interview.
Write down the name of the interviewer who called you in case you forget it.
Ask Questions
Make sure to ask questions of your own at the interview.
Don't shoot these off-the-cuff. Take time beforehand to prepare some questions that you really want the answer to, such as: "Do you offer management training at this location?"
Bring Your Resume And Mention Past Opportunities
Make sure to bring your resume (if you have one), and present some facts as to why you'd be a good employee for the company.
If you have participated in any volunteer or school events, or if you have positive previous work experience, make sure to mention each of those opportunities.
Listen And Keep Your Answers Short
Don't talk too much.
Make sure to give clear answers to all questions, but keep them short.
Possible Interview Questions
Why Do You Want to Work Here?
Focus on making this question unique to you. Remember, everyone that goes in for an interview probably gets asked this question, so make it a point to make your answer stand out.
Instead of saying the obvious, "I need the money," say something like, "I always liked grilling burgers, and I enjoy the smell of fries, so I figured this place would be a good place to earn a paycheck."
When Can You Start?
If you get this question, there's a good chance they want to hire you and are just looking to see when you are available.
If you are waiting to quit another job, let them know when your time there will be over. Otherwise, let them know that you can start as soon as they are ready for you to.
How Would You Handle An Unhappy Customer?
This question is fun, as it gives you an opportunity to show them exactly how you would deal with a situation that could easily happen.
Sometimes, the interviewer will even play the part of the angry customer and expect you to act out a response. Don't panic, just stay calm and focus on getting the customer calmed down.
Helpful Research for Your McDonald's Interview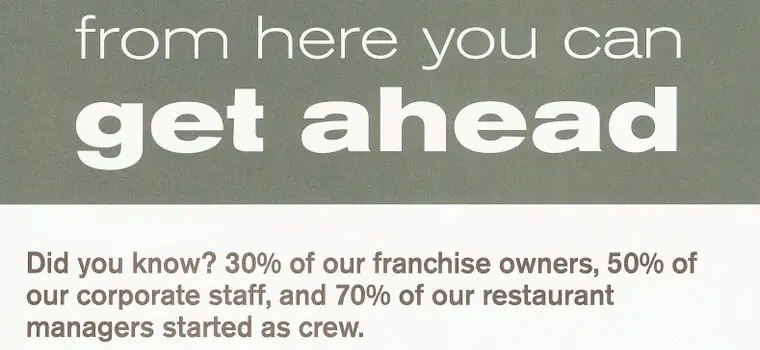 Interviewers appreciate your knowlegde of McDonald's. Researching the company prior to your interview not only makes you sound educated, but allows you to ask relevant questions.
History of the Company
McDonald's first opened in 1940 as a small Bar-B-Q location in San Bernadino, California, operated by two McDonald brothers. The restaurant closed briefly and reopened several months later completely redesigned, with fewer menu items and self-service windows.
In 1954, Ray Kroc meets up with the brothers and is impressed by the efficiency of their location. The three go into business together, building a franchise that quickly spans the nation, with their 100th restaurant opening in just five short years.
Fast forward to 2015, and McDonald's is in more than 100 countries, with over 36,000 stores.
McDonald's feeds 69 million people a day. That's close to one percent of all people in the world.
McDonald's in India don't have any beef entrées.
McDonald's has more overall sales than any other fast food restaurant, but Subway has more locations.
McDonald's opened their first restaurant in Moscow on January 31st, 1990, and more than 30,000 people ordered food from them on their first day.
What Employees Say About Working At McDonald's
McDonald's has had some bad press about its treatment of employees recently, with media outlets like the Guardian and HBO's Last Week Tonight with John Oliver pointing out problems. McDonald's is a franchise restaurant, which means that each store that is privately owned has some leeway in their treatment and pay of employees.
Some employees speak very poorly of the company, having quit after only a week due to terrible conditions and terrible employee treatment.
Others say the exact opposite, having worked there for as long as eight years without issue.
The biggest positive aspects for employees are the free meal if your shift is more than five hours, and the flexible hours. The main negative is that the managers do not always seem to have the employees' best interests in mind.