New York & Company Jobs & Careers – Application, How to Apply, Requirements & Interview Tips
Last Updated:
September 20th, 2019

by

New York & Company careers offer a variety of exciting opportunities to join a fun and fashion-forward team. If you have a passion for fashion, enjoy working in a vibrant, fast-paced environment, and love working with customers, a career with New York & Company may be perfect for you!

New York & Company specializes in manufacturing and selling women's clothing and accessories, with a specific focus on modern work solutions that are both comfortable and affordable. Headquartered in New York City, New York & Company was incorporated in 1918 and has grown to over 500 retail stores throughout the United States.

Using its home city as inspiration for its clothing, New York & Company channels "the energy, excitement and style of New York City" to help women look and feel great. They aim to "make [their] customers feel confident, put-together, and fashion-right".

Are you interested in learning more about working at New York & Company? Throughout this guide, you will find everything you need to know about New York & Company's most popular jobs, what to expect throughout the application process and tips and tricks for nailing your job interview. Read on to learn more about the fun and exciting opportunities available at this engaging, fashion-forward company.
New York & Company Jobs & Careers

Applying for a job at New York & Company is as easy as navigating to the Careers page on their website and selecting your desired work location and role. The most popular roles include Sales Associate, Sales Lead and Sales Lead (Key Holder) in addition to seasonal and management positions. We discuss each below.
Sales Associate
Sales Associates are responsible for providing a fun and engaging shopping experience for all customers. This is a role with varied responsibilities, including merchandising, working the cash register, processing deliveries and driving sales. Individuals in this role are expected to follow directions and schedules with a sense of urgency, meeting all store and customer needs.
Sales Associates act as brand promoters, maintaining the brand standard and utilizing their fashion knowledge to make appropriate product recommendations to customers. This is an entry-level role, ideal for friendly, customer-centric individuals excited about women's fashion. Does this sound like you? Apply today!
Stock Associate
The Stock Associate is responsible for maintaining merchandise throughout the store, ensuring New York & Company's brand standards are met. Individuals in this role have the opportunity to affect the look of the sales floor, including promotional displays. Stock Associates are additionally responsible for ensuring the sales floor and backroom are fully stocked, clean and organized.
This is an ideal role for creative individuals with strong attention to detail and organizational skills. This is an entry-level position with some physical requirements, including the ability to move, handle and lift merchandise and fixtures.
Sales Lead
Sales Leads are responsible for a number of exciting leadership roles, including supporting the training of Sales Associates and providing ongoing, on-the-spot coaching and providing feedback to store management. Likes Sales Associates, Sales Leads are additionally responsible for ensuring a top-notch customer experience, making product recommendations, and operating the cash register as needed.
The Sales Lead role is ideal for customer-centric individuals with previous experience in retail sales. Interested individuals should apply if they possess strong attention to detail and enjoy working on and coaching an exciting and passionate team.
Sales Lead (Key Holder)
The Sales Lead (Key Holder) role holds many of the same responsibilities as the Sales Lead, with the additional duty of opening and closing the store. When opening and/or closing the store, the Key Holder is responsible for following all opening and closing procedures as well as holding the physical keys to the store.
Additional duties include acting as trainer and ongoing coach to Sales Associates, promoting brand initiatives and ensuring a clean and organized work environment. Like the Sales Lead, two years of experience in retail sales is preferred for this role.
New York & Company Manager Jobs
New York & Company offers a number of management positions in their stores. These roles include Assistant Manager, Co-Manager and Store Manager.
Assistant Managers are responsible for executing strategies to drive sales and meet store goals. Additionally, Assistant Managers recruit, interview and hire new team members, support them through training and provide ongoing coaching. They are team-focused and, in turn, customer-focused, ensuring employees are committed to providing an excellent customer experience.
Co-Managers have a number of responsibilities, including creating business strategies to drive sales and achieve store goals. Like the Assistant Manager, they are team-focused, ensuring new team members are trained and onboarded correctly, as well as identifying and resolving any performance issues.
Additional responsibilities including ensuring a customer-first store culture, using their extensive product knowledge to make recommendations, and overseeing merchandise standards to drive sales. The Co-Manager has a significant amount of responsibility and is willing to step into a variety of roles when necessary.
Store Managers oversee all store employees and operations to ensure the store meets the necessary business goals. They are responsible for creating and providing direction to store employees, includes plans and schedules, to drive sales and ensure store success. Retail management experience is required in this role.
Seasonal Job Openings
New York & Company hires Sales Associates to assist during busier shopping seasons. While the exact timing may vary, they generally high seasonal roles starting in October and running through February with potential to extend further.
How Much Does New York & Company Pay (Hourly & Salary)?


Benefits at New York & Company may vary based on tenure and position. Our research shows that, in general, benefits may include medical, dental and vision insurance, Flexible Spending Accounts, 401(K) plan, short- and long-term disability insurance and paid time off. In addition, New York & Company also offers merchandise discounts, commuter reimbursement, tuition reimbursement, adoption assistance and on-site sample sales.
Sales Associates earn an average of $9 per hour while Store Managers earn an average of $52,520. This is on par with sales associate roles at similar stores. For reference, sales associates at Guess earn an average of $8.65 per hour while sales associates at Ann Taylor earn $10 per hour on average. Pay ranges for the most popular jobs at New York & Company are as follows:
Sales Associate: $7.25 – $14/hour
Sales Lead: $9 – $16/hour
Sales Lead (Key Holder): $9 – $16/hour
Assistant Manager: $11 – $18/hour
Co-Manager: $39,000 – $61,000/year
Store Manager: $40,000 – $63,000/year
How Old Do You Have to Be to Work at New York & Company? You must be at least 18 years old to work in any role at New York & Company. Entry-level positions available include:
Sales Associate
Stock Associate
Does New York & Company Drug Test?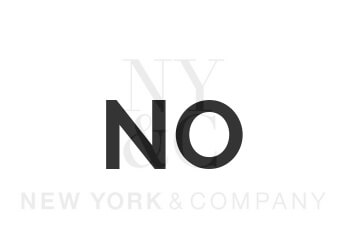 Employees say the store does not drug test. Despite that, it is important to consider that company policies are subject to change. If you have questions regarding drug testing, be sure to ask your hiring manager.
Possible New York & Company Interview Questions & Tips


Did you land an interview with New York & Company? Congratulations! To help you prepare for your interview, we've provided some of the most common interview questions and some suggestions for how to answer them below.
Why Do You Want to Work for New York & Company?
Be sure to prepare for this question, as it is one of the most common! What makes you excited about working at New York & Company? Do you love women's fashion and want to share your knowledge with others? Is New York & Company your favorite place to shop? Let your interviewer know!
This is a great opportunity to describe the elements of New York & Company that you believe you will enjoy, from the work itself to the company's culture. Feel free to highlight specific opportunities you are looking forward to if hired.
Describe Your Past Experience and How it will Help you Become Successful in this Position.
This is an excellent opportunity to take a deeper dive into your past roles and important skills gathered through prior work. Be sure to describe previous retail or customer service experience, and any experience with fashion if applicable.
Be honest with your interviewer; if this is your first job, that's okay! If needed, you can pull on experience from school, sports, etc. to highlight your skills.
A Customer Comes in and Asks for Help Choosing an Outfit. What Clothes do you Select for Her?
This is a more creative question and is a great time for you to allow your passion for fashion to shine through. When preparing for this question, consider the shopping experience you would want for yourself. It's likely that you have certain styles, colors and fits that you prefer. So will your customer!
It may be a good idea to start by asking questions prior to making suggestions. This will allow your interviewer to see that you care about the customer's experience and want to provide top-notch service.
How to Dress for your New York & Company Interview
Depending on your role, you may find that business casual or business professional is best. Consider that it is always best to overdress rather than underdress! Because of New York & Company's fashion-focus, don't be afraid to show off your fashion sense while keeping in line with the store's brand.
What to Bring to your New York & Company Interview
Bring along a printed copy of your resume to your interview along with a notepad for taking notes throughout the interview. Go prepared with questions for your interviewer, as well.