Marble Slab Creamery Jobs & Careers – Application, How to Apply, Requirements & Interview Tips
Last Updated:
September 20th, 2019

by

Are you friendly, outgoing, and love making people smile? If so, Marble Slab Creamery careers might be a good fit for you. Read on to learn how to land a job at one of the fastest-growing, most delicious ice cream franchises in the world.

Marble Slab's appeal is undeniable. This ice cream shop pioneered the art of mixing in toppings on a frozen marble slab! This may not be a long-term career for everyone. But it's a perfect job for students. It's also great for anyone looking for some easygoing, part-time work.

The following guide will share just a few current vacancies. We will walk you through the application process. We will also give you a little more insight about the company. That can help you get your foot in the door and become a part of the Marble Slab Creamery family.

Whether it's Ice Cream Scoop Artist, Cashier, Customer Service Representative, Crew Member Delivery, Team Lead, or Manager, Marble Slab Creamery is chock-full of opportunities. Keep reading to get the scoop on how to get in on the action and land a sweet job here.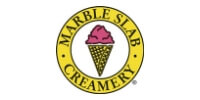 Marble Slab Creamery Jobs & Careers

Most Marble Slab applicants find their opportunities in person. Because these are franchises, each store is independently owned. Therefore, there is no central jobs database. Your best bet will be to visit the location nearest you to inquire about opportunities.
Marble Slab Creamery has 392 stores. They are spread out over the United States and several other countries. These locations offer many different opportunities, such as:
Ice Cream Scoop Artist
As the person scooping the ice cream and making the magical mixes with toppings, Ice Cream Scoop Artists are the people who make customer service sing.
This is an entry-level job where you engage directly with customers. You will create the delicious scoops they design themselves. You will ensure that they leave feeling like kings and queens.
Love helping people and find chatting with strangers fun? Then this is the job for you. You will spend a lot of hours on your feet moving. However, the smiles you put on all the faces will make the time fly by.
Cashier/Server
This position is the first and last person the customer interacts with, which makes it a profoundly important role. The Cashier/Server should be able to explain the menu to customers, scoop and mix ice cream, enter and process customer orders at the register, and keep an eye on stocks to make sure they are maintaining levels.
If you are a person who likes people, ice cream, and a social environment with a fast pace, then this job is definitely a good fit for you.
Customer Service Representative
Customer Service Representatives are able to complete all the tasks of Scoop Artists and Cashiers — serving and taking care of customers — while also making certain that supplies are stocked and surfaces are clean. This is a great job for a people person who likes to make sure that every little detail is perfect.
If you love ice cream, people, and serving customers, but also want a little more responsibility, then this is a wonderful fit for you.
Crew Member – Delivery
If you like to drive, and being the ice cream delivery person sounds like a dreamy, Santa Claus-like role, then this could be just the job for you. The Delivery Crew Member is responsible for delivering ice cream to all of the Marble Slab Creamery locations in a city throughout the week.
If you are a great driver and love the idea of bringing joy to the people in the form of ice cream, then this is a terrific position for you. Applicants should have some experience delivery driving or other relevant experience.
Team Lead
If you like people, ice cream, flexible job roles, and little responsibility, then this could be a nice fit for you. The Team Lead role includes wearing a lot of hats: serving, operating a register, working well with others and giving direction when you need to.
For someone who is organized, punctual and who enjoys interacting and communicating with people, this could be a perfect opportunity to shine.
Marble Slab's Management Jobs
Management positions at Marble Slab Creamery mostly consist of Store Managers. This position requires exceptional self-motivation and leadership skills.
Store Managers need to create symbiotic relationships with local business partners through marketing campaigns. They are fully responsible for keeping the store running like a well-oiled machine by staying on top of inventory and stocking and making sure that staff schedules are organized.
A natural leader who knows how to motivate and rally a team would thrive in this position. One great thing about this management position is that while they prefer you have management experience, one needs only a high school diploma to apply.
How Much Does Marble Slab Creamery Pay (Hourly and Salary)?


Marble Slab Creamery offers competitive pay with other similar jobs, and employees make tips on their shifts. Part-time employees shouldn't expect to receive any benefits packages, but you can expect free ice cream and deep discounts on everything in-store.
Hourly pay for ice cream scoopers starts at $7/hour, rising up to $27,000/year for store managers. To give you an idea of the industry standard: Baskin Robbins pays ice cream scoopers an average of $9/hour, and Ben and Jerry's pays $10 on average. Some of the most popular jobs at Marble Slab Creamery pay as follows:
Ice Cream Scoop Artist: $8.00/hour + tips
Cashier/Server: $8.00/hour + tips
Customer Service  Representative: $8 – $10/hour + tips
Crew Member, Delivery: $9 – $11/hour
Team Lead: $9 – $11/hour
Store Manager: $21K – $31K
How Old Do You Have to Be to Work at Marble Slab Creamery?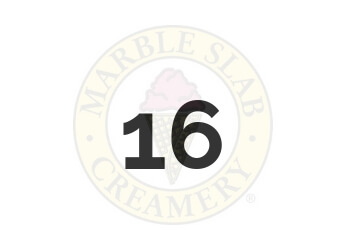 Generally, the minimum age to work at Marble Slab Creamery is 16 for all service positions. High-schoolers often fill many entry-level positions, because of the flexible part-time hours available. Management jobs will require applicants to be 18, but they often hire from within from lower-level employees looking to advance.
16-year-olds are welcome to apply for the positions of:
Ice Cream Scoop Artist
Cashier/Server
Customer Service Representative
Does Marble Slab Creamery Drug Test?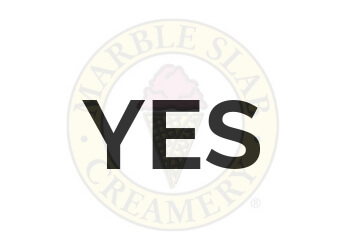 Marble Slab Creamery asks employees if they would be willing to submit to a drug test, but drug tests are not a typical part of the hiring process. In the event of an on-the-job accident, it is likely that they would administer a drug test.
Incidentally, while they conduct background checks for Marble Slab Creamery employees, a misdemeanor conviction is not an automatic disqualification from them hiring you.
[adinserter block="2″]
Possible Marble Slab Creamery Interview Questions & Tips


So your application is in, and you've landed an interview. Fantastic! Now is the time to get yourself ready for prime time by studying up and preparing for the interview. These are some of the questions you should expect:
Why Do You Want to Work at Marble Slab Creamery?
Huge tip: do not tell the interviewer that you need the money. Be honest about your love of ice cream and the joy you feel in delivering sweet treats to customers.
What is Your Favorite Ice Cream?
This is definitely not a trick question. Tell the interviewer what you look for in a good ice cream and why. You will earn major bonus points for describing the qualities that make Marble Slab Creamery ice cream great: freshness, unique toppings, and handmade waffle cones.
What is Your Definition of Customer Service?
Don't hesitate to use some examples of great customer service you have witnessed or provided. They want to know that you understand how to go above and beyond to make each customer feel as if they are the only person in the room.
How to Dress for Your Marble Slab Creamery Interview
Whether you are applying for a managerial position or serving position at Marble Slab Creamery, you are going to want to make a good impression. Make sure your clothing is neat and clean, your hair should be groomed, and you should wear a smile.
This is a fun, laid-back job, so you don't need to dress up formally. Be yourself, and be on time and you should have no trouble landing this job.