Macy's Jobs & Careers – Application, How to Apply, Requirements & Interview Tips
Last Updated:
September 20th, 2019

by

This guide will help you complete your Macy's job application and enhance your chances of potential employment.

Throughout the United States and the rest of the world they are perhaps best known for their Thanksgiving Day parade in New York City, but Macy's is so much more.

Macy's is the 17th largest retailer in the U.S. for overall revenue.

Macy's Inc. operates approximately 690 department stores including Macy's and Bloomingdale's. In addition, they operate over 170 specialty stores that include Bloomingdale's The Outlet, Bluemercury, Macy's Backstage and STORY.

The variety of job and career opportunities offered by Macy's Inc. is far beyond what most of us see at retail stores. Just one quick look around any of the Macy's Inc.'s websites and you'll find that the company has their hands on just about everything.

With opportunities ranging from retail sales to executive offices, you might find it a little difficult to zero in on the position that's right for you.

We've put together this guide to help you navigate the labyrinth known as the Macy's application process.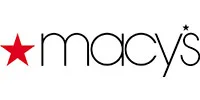 How to Apply for Employment at Macy's
Apply to Macy's online (preferred method) or you can walk in and get a paper application. Although this sounds standard for applying to any company, applying to Macy's online can be a little murky.
If you search for Macy's employment online, you'll find there are numerous ways to get to the Macy's opportunities page. You can also find Macy's employment opportunities via some of the well-known job search sites such as Indeed.com and Snagajob.com.
Applicant Information
Minimum Age Requirement: Macy's Inc. requires that all employees be at least 16 years old, and up to 21 years old depending on specific positions such as delivery driver.
Hours of Operation: Normal store hours are 10 a.m. to 9 p.m.
Store hours may vary for holidays.
Shifts available 24 hours a day for logistics positions.
Methods to Apply: Online (mobile included) or in person.
Select The Position and Location You Want
If you can't find precisely what you're looking for, choose any position similar to the one you want, that way you can still continue with the application process.
Once you've selected a specific position, a new page will appear and give you a better idea of responsibilities, requirements and the qualifications needed for the position. Take a moment to review this to make sure you're looking at the right job.
Click on the red "Apply Now" button to continue.
Create An Account To Apply
If you never applied to Macy's before, you need to create a new login. Click on the black "Create A New Account" button at the bottom. If for any reason you cannot complete the application process all at once, you can always save and continue later.
Read and click on "I Accept" on the employment application disclosure agreement page.
Fill out the new user registration form (user name, password and email).
Application Tips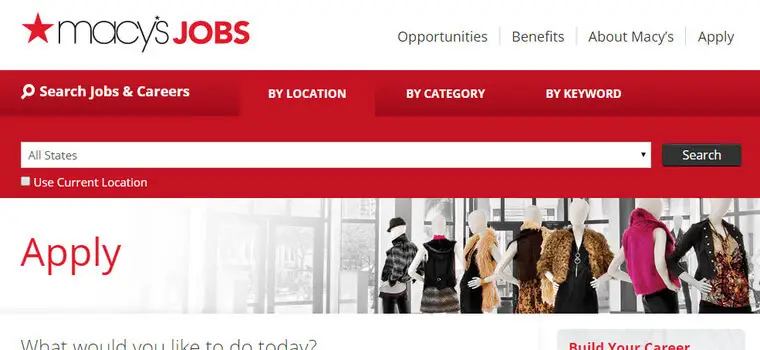 Upload your resume
Upload it from your computer or transfer your information directly from LinkedIn. Macy's system will then auto populate the majority of your application directly from your resume or LinkedIn profile.
After you've uploaded your resume, you will have the opportunity to upload other documents such as cover and reference letters, etc. If you don't have a resume or LinkedIn profile, you may enter the information manually.
Provide Personal Information
Next page displays your personal information. If you've used LinkedIn or a resume, most of the fields should already be complete.
Double-check your information and make sure any field marked with "*" is properly filled out.
Macy's also requires that you tell them how you heard about the opportunity, so take a second to fill those out as well.
Be Honest and Open
On the next page you will answer questions regarding your eligibility to work in the United States, whether you've ever worked for Macy's or anyone of their subsidiaries, if an employer has ever fired you, if you have been convicted of a crime and what age bracket you fit into.
Next, they ask about your work availability. Check all boxes that apply to you, or if you want to look good to the interviewing manager, click check all in the upper left-hand corner of the box.
Just below you'll indicate how many hours per week you're willing to work and whether or not you're willing to work on weekends and holidays.
Next up is your employment history. If you've uploaded a resume or used LinkedIn, most of the fields should already be complete.
Double-check your information and make sure any field marked with "*" is complete.
Almost there!
The next page is about job matching. You'll be asked several questions regarding your current career level, how much money you hope to make, how many hours you are looking to work, what departments you want to work in, etc.
Next is the Equal Opportunity Employment (EOE) disclosure page. Take a second to fill in all the boxes.
Getting close to the end here but we still have to read through and consent to a background and credit investigation. You must select "I Consent" otherwise, you've wasted the past few minutes.
Show Your Personality
Finally, we've come to the Position Questionnaire page. This section of the application process probably takes the longest – 35 to 40 minutes.
The questionnaire is actually 11 pages of personality test questions, ranking from Completely Agree to Completely Disagree. Do your best and try to ignore the fact they asked the same question over and over, in different ways. Don't worry if you don't have time to complete this right now, you can always save it and come back to it later.
After you've finished with the personality questionnaire, you have an opportunity to take an Employment Tax Credit Eligibility survey.
After you're done with the survey, you'll need to provide an E-signature. Once you're done with that you'll have a chance to review your application. If everything looks good, click the "Submit" button at the bottom of the page.
That's it!
Now that you've completed the application process, you'll be redirected to your jobs cart page.
You Can Reuse Your Account To Apply To More Positions
Here you'll notice that you can apply to more than one position in the Macy's system keeps all that together for you.
Should You Follow Up?
Let's face it, companies like Macy's get thousands of applicants a year, so it's up to you to help your application stand out. By standing out, we mean helping the hiring manager put a face to your name.
Although we note you can apply in person in the Methods to Apply section, this is not strictly the case. Macy's tells us that officially, they only accept online applications.
While that's true, they also told us on the sly that more than a few hiring managers will have paper applications on hand for walk-in inquiries. If interested in that applicant, the hiring manager will call them back and suggest they fill out an online application.
If you get the gold star on your paper application, you have one foot in the door.
Make It Personal, Put a Face To The Name
You probably want to know what happens after your application has been submitted.
The truth is hiring managers get to see your online application and database format. If you don't mind waiting your turn, the manager might get to your application eventually.
Consider hunting the manager of that department down and introducing yourself, otherwise, you're just a name and a number. There is no viable way to check your application status online.
Positions and Salary Information
Since you are interested in applying to Macy's, you probably have a good idea what goes on there. Most of the commonly open positions are in retail sales, while others are support positions such as stocking.
We have to warn you; the salary for any position varies greatly by location. For instance, a sales associate in Seattle, WA makes an average of $45,000, while the same position in Chesterfield, MO only pays $20,000 a year – for the exact same job.
If you want to learn more about what you can expect to make for the position you desire, please check the following links.
Once you learn what you can expect to be earning, it may help guide you in which position to apply for since the pay-per position widely varies by location, by up to 55%.
Best Entry-Level Positions
If you are new to the job market, then an entry-level position might be perfect for you. Most of the time you don't need to have any previous work experience that directly relates to the position you're applying for.
Entry-level positions are a great way to get your foot in the door with the company and start building a career. We've outlined some of the best entry-level positions available at Macy's Inc.
Merchandise Handler
You'll be responsible for setting up displays, shelving, clothing racks, moving heavy objects and providing logistics for retail personnel.
Customer Service Associate
Before you get to work as a retail sales associate, you'll have to do a tour of duty and customer service.
You'll do almost everything except handle cash and receive commissions.
Counter Sales Associate
Although Macy's has more titles for their personnel than we've ever seen, we can only assume that a customer sales associate is an entry-level position based on projected salary.
So long as you know your health and beauty products and a thing or two about fashion accessories such as watches, earrings and necklaces, you'll do just fine here.
Receiving Associate
Before anything ever makes it to the shelf or onto a clothing rack, somebody has to unload the truck. You'll be responsible for checking in shipments and sorting products so they go to the correct department in the store.
A great way to learn the store and how it operates.
Seasonal Job Openings
Macy's is well known for getting into the holiday spirit and they always beef up their ranks a couple weeks before Halloween.
The application process is the same, except you have to go to a different website.
Macy's generally hires temporary employees for customer service associates and retail sales associates. If you're looking for seasonal or holiday job openings click here.
Macy's Careers in Management

If you're looking for a career offering more than just retail sales, Macy's might be the right employer for you.
With over 860 stores worldwide, the opportunities for management are numerous. Whether you want to do this from an entry-level standpoint or academic/experience based, your chances of scoring a management position are better-than-average.
Let's take a look at a couple ground-floor management opportunities offered at the store level.
Sales Supervisor
You'll be responsible for specific sales area and your job is to drive sales. You'll monitor and coach sales associates to improve selling habits.
Your next step up the corporate ladder is as a sales manager.
Receiving Team Lead
As a lead on the receiving team, your job is to receive and process all merchandise entering and leaving the building, except for retail sales, along with the upkeep of the merchandise in the store.
Interview Questions & Tips
So, you're landing yourself an interview, congratulations! Now we need to get you ready to rock that interview and win the job.
Everybody handles interviews differently but here are a few things you should know when showing up to your Macy's interview so that you're all but guaranteed to get the job.
Be on time
Nothing says, "I don't want this job" quite like being late to an interview.
Dress the part
This shouldn't be too hard, it's Macy's after all.
Come to your interview ready to sell to customers. Whether that means slacks and a button up shirt with a tie or a professionally appealing dress, make sure you're dressed the part, even if your position doesn't require you to work with the public.
Don't forget, part of dressing the part is to bring a warm smile and a welcoming presence.
Be prepared
Always bring extra copies of your resume cover letter and reference letters.
Don't forget to bring your ID proving your right to work in the United States.
Bring a pen and paper.
Conduct your own interview
Have some questions of your own prepared before you get to the interview. Ask any questions you may have about the job itself and the store as a whole.
If you are interested in doing more than just earning a paycheck now would be the time to let the interviewing manager know that by asking intelligent and pointed questions. It's okay to have a little notebook with you.
Follow-up
Just because you've done your interview and things went great doesn't mean your job is done.
If you really want to make an impression on the same manager that interview you, following up is probably the best thing you can do to land that job.
Be polite about it and wait at least a couple days after interview to start hounding them. Try not to call or stop by more than twice a week. Following up shows that you are very interested in the position you applied for.
Helpful Research for Your Macy's Interview
There's absolutely no shortage of information available about Macy's. They are a publicly traded company and as such, they not only have an image to uphold but shareholders to report to so finding information is easy.
Wikipedia's Macy's page has more than you ever wanted to know available for your reading pleasure. We've put together a short list of interesting tidbits about Macy's for you:
Founded in 1843 by Rowland Hussey Macy
Became R. H. Macy & Co. in 1858 after the first four stores failed.
860 stores worldwide, including Bloomingdale's locations
Largest department store retailer in terms of retail sales dollars
What Employees Say about Working at Macy's
Glassdoor carries a comprehensive database on what employees are saying about working at Macy's. For the most part, it seems employees enjoy working there.
However, most of the employees' negative remarks surround management practices. At an Ohio location, employees were forced to join the union, at others, employees complained that management was too affable with customers and the customers took advantage of this behavior repeatedly.
Macy's does have a great track record of employee treatment and community involvement.
Earns 100 Percent on Human Rights Campaign Foundation's 16th Annual Scorecard on LGBTQ Workplace Equality.
Top 50 Best Companies For Diversity in 2018 by Black Enterprise.
10 Most Innovative Companies in Retail, Fast Company, 2014
America's Top Corporations for Women's Business Enterprises, WBENC, 2014
Recognized by MBNUSA Magazine as a 2017 Champion of Supplier Diversity.
From the looks of it, Macy's is always hiring.