Donatos Jobs & Careers – Application, How to Apply, Requirements & Interview Tips
Last Updated:
September 20th, 2019

by

Donatos careers offer a number of exciting opportunities to join a fun, fast-paced environment that is as focused on its staff as it is on its customers. Family owned and operated since 1963, joining the team at Donatos means joining a family of passionate pizza makers!

Owner Jim Grote started making pizzas in Columbus, Ohio at age 13 before buying Donatos for just $1300. Since then, Donatos, whose name stems from a Latin phrase meaning "to give a good thing", has grown to 150 locations across 9 states.

Jim and his family continue to oversee the Donatos brand, ensuring his original three-part mission lives on: "to create a superior product, hire great people, and promote goodwill in business and the community."

Throughout this guide, you will find additional information about the exciting employment opportunities available at Donatos, including the most popular jobs, management roles and interview tips and tricks. Read on for everything you need to know about joining the Donatos family.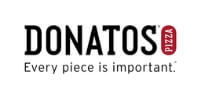 Donatos Jobs & Careers

To begin your journey towards your Donatos career, simply go online to the Donatos Careers webpage and submit your resume, or apply for one of the many open roles based on your location. The most commonly open roles include Store Associate, Delivery Driver, Open/Close Associate, Restaurant Associate and Restaurant Server.
Store Associate
This entry-level position is ideal for high-energy individuals who love working in a fun, fast-paced environment. Store Associates have a strong customer focus, passionate about delivering the best in customer service and in pizza.
Store Associates are responsible for taking food orders, proper cash and credit card handling and operating the store's computer. There are some physical requirements in this role, including the ability to bend and twist as well as lift up to 50 pounds.
Delivery Driver
Delivery Drivers are responsible for a variety of tasks, including taking phone orders, checking out and delivering all food accurately and efficiently. Delivery Drivers should have a valid driver's license, an excellent driving record and valid car insurance.
While the primary focus of this role is delivering food, applicants should have a can-do attitude and willingness to jump into other responsibilities as needed. This entry-level position does have physical requirements, including the ability to bend and twist, and to lift up to 50 pounds.
Open/Close Associate
Open/Close Associates should have year-round open or close availability (10 a.m. to 2 p.m. and/or 8 p.m. to close). Open/Close Associates ensure the restaurant, restrooms and kitchen are clean, and conduct prep work that includes folding pizza boxes, pre-topping pizzas and stocking prep-tables.
Open/Close Associates have a love of quality food and quality customer service, delivering both to every customer, every time. Cash-handling is required in this role, as is upselling items and providing refills and utensils as needed. Physical requirements of this entry-level role include bending, twisting and occasionally lifting up to 50 pounds.
Restaurant Associate
Restaurant Associates have many similar responsibilities to Store Associates, including taking orders, accurately handling cash and credit card transactions and operating the restaurant's computer. Individuals in this role should have a positive, can-do attitude and a strong desire to provide top-notch customer service to all restaurant guests.
Physical requirements of this entry-level role include the ability to bend and twist, and the ability to lift up to 50 pounds. Available across limited locations, this is a fun, fast-paced role ideal for highly responsible applicants with a strong customer focus.
Restaurant Server
Restaurant Servers are responsible for providing an excellent customer experience through accurate order-taking, delivery of food to tables and highly attentive service. Do you consider yourself a people-person? Then this role is ideal for you!
This entry-level role is available at limited locations, and employees are responsible for taking orders, accurate cash handling and operating the restaurant's computer. Like the other roles, Restaurant Servers must have the ability to bend and twist, and occasionally lift over 50 pounds.
Donatos Manager Jobs
Donatos has several manager positions available throughout their restaurants. Manager roles include Shift Manager, Service Manager, Assistant General Manager and General Manager.
Shift Managers are responsible for training and coaching associates in quality food creation and delivery, and excellent customer service. They act as role models for their staff, enforcing uniform policies and safety procedures while maintaining a fun work environment. Shift Managers also order items, ensure proper inventory and complete necessary shift paperwork. A number of Donatos certifications are required in this role, as is the ability to lift up to 50 pounds.
Service Managers manage all aspects of specific zones within Donatos restaurants, including products, equipment and employees. Individuals in this customer-centric role are expected to interact directly with restaurant guests, providing both an excellent atmosphere and resolving any complaints. Various Donatos certifications are required of Service Managers, along with the ability to lift up to 50 pounds.
Assistant General Managers are responsible for the people, products and equipment within a specific zone within the restaurant. They have a strong team and customer focus, ensuring guests are met with enthusiasm and role modeling appropriate behaviors to their team. Additionally, Assistant General Managers are responsible for ensuring minimal food waste, safe food handling and sanitary workstations.
The General Manager's primary responsibility is to oversee and develop all employees in addition to ensuring the smooth operation of their restaurant. They train and coach their staff, provide excellent customer service and ensure the restaurant and food meet Donatos high standards. This role requires either 6 months of previous experience with Donatos or 1 year in a similar role for external hires.
How Much Does Donatos Pay (Hourly & Salary)?


Hourly restaurant employees at Donatos enjoy discounts on their food. Those in management positions earn two weeks of paid time off, medical, vision and dental insurance, a 401K plan and life insurance options.
Store Associate jobs pay an average of $8 per hour while General Managers generally average $42,646 per year. The average pay for Store Associates at Donatos is equal to that of similar roles at Pizza Hut and Domino's Pizza, which average $8 – $8.53 per hour. Pay ranges for the most popular jobs at Donatos are as follows:
Store Associate: $8 – $9/hour
Delivery Driver: $4 – $14/hour (tips included)
Open/Close Associate: $11/hour
Restaurant Associate: $8/hour
Shift Manager: $9 – $11/hour
Assistant General Manager: $33,000 – $36,000/year
General Manager: $29,000 – $50,000/year
How Old do you Have to be to Work at Donatos?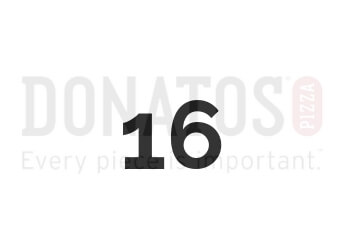 To work at Donatos, you must be at least 16 years old. Entry-level positions available include:
Store Associate
Delivery Driver
Open/Close Associate
Restaurant Associate
Restaurant Server
Does Donatos Drug Test?

Our research shows that Donatos does conduct drug testing in addition to background checks, which is especially important for their delivery drivers.
Drug testing is conducted before being hired, and it is unclear if there are random checks throughout employment. It is important to read any paperwork received during the interview process for added clarity on their drug testing policies.
Possible Donatos Interview Questions & Tips


Wondering what to expect during an interview at Donatos? You have come to the right place! Below are the most frequently asked questions as well as some tips for answering.
Why do you want to work for Donatos?
This is perhaps the most common question to expect when going in for your interview. Before your interview, ask yourself what makes Donatos special to you?
Perhaps it's the fast-paced work environment or the family-oriented work culture. Maybe you are a huge fan of their food and their company values. Be sure to present a reason that shows your excitement and enthusiasm for the role!
What is your availability?
Availability is a big part of Donatos' hiring process. They want to ensure applicants have the necessary availability to fill gaps in their coverage. For Open/Close Associates, this especially means having the availability for open and close shifts, year round.
Be honest about your availability. If there are certain days and times that absolutely do not work for you due to prior engagements or school, let them know!
What experience do you have in the restaurant business, if any?
Have you previously worked in a restaurant? Let them know! If you don't have restaurant experience, that's okay, too. Just be honest with the interviewer about your previous work experience.
Remember, if you have experience outside of restaurants, that counts! Highlight your customer service skills, your work ethic and any other experience that you may apply in this role.
How to Dress for your Donatos Interview
It's important to make a good first impression! Business casual is ideal for associates and delivery driver applicants, while business professional may be better suited for management roles.
What to Bring to your Donatos Interview
Print a few copies of your resume and bring them with you to your interview. We recommend bringing a notepad and pen for any note-taking and, of course, your positive attitude!