Pizza Hut Jobs & Careers – Application, How to Apply, Requirements & Interview Tips
Last Updated:
September 20th, 2019

by

By filling out a Pizza Hut job application, you are potentially taking your first step to joining a firmly established pizza chain that offers great opportunities for those wishing to make their mark in the food service industry.

Job seekers wishing to work in the food service industry would be wise to explore the opportunities at Pizza Hut, a renowned company with over 11,000 stores worldwide.  Based in Plano, Texas, Pizza Hut offers a wide variety of pizzas and pastas and recently upgraded its menu in 2014 that focuses on an expanded menu and higher quality ingredients.

Pizza Hut prides itself on providing quality food products, served by people who strive to provide a pleasant customer experience along with delicious and reasonably-priced cuisine.

The following guide provides information that will help you put your best foot forward as you apply for employment with Pizza Hut. The company places a high value on those who are able to be team players and who strive to provide great food with a smile.

Grab a slice, sit back, and explore the tips below to find out how to secure your job at Pizza Hut.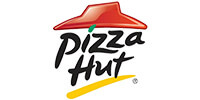 How to Apply for Employment at Pizza Hut
Pizza Hut prefers candidates to submit their applications online and some stores do not even offer job seekers the opportunity to fill out a paper application.  However, some stores will allow you to go in and fill out an application in-house, so it is best to contact the store directly to see what options they offer.
If you do choose to go to the store directly, make sure you dress neatly (business casual attire is appropriate) and take three copies of your printed resume with you.  You should also be prepared to interview the day you fill out your application, although that may or not happen.  Always be prepared, though.
Application Information
Minimum Age Requirement: The minimum age for candidates is sixteen, although some stores require employees to be eighteen. Drivers must be eighteen. Pizza Hut welcomes those who are seeking their first employment experience.
Hours of Operation: Hours vary, as many stores are independently operated, but employees can expect to work between the hours of 5am and 12am.
Methods of Application: Many Pizza Hut stores require candidates to apply online, but there are some that offer candidates the opportunity to fill out applications in the store. To view a copy of Pizza Hut's employment application, click here.
Get Organized
As you prepare to apply to Pizza Hut, take some time to gather the information you will need to complete the process.
This will include your previous employment history (don't worry if you have not held a job before – Pizza Hut welcomes those new to the world of work), your days and hours of availability, and your list of both personal and professional references.
If you plan on going into a Pizza Hut restaurant to apply, it is best to visit during non-peak restaurant hours.
Legal Information
Pizza Hut's application asks candidates about their criminal history.  Candidates are advised to be truthful as they respond to this section of the application and Pizza Hut states that a criminal history will not necessarily bar a candidate from employment.
References
Pizza Hut's online application asks candidates to provide the names, addresses, and phone numbers of references.  Fill in as much information as you have and don't worry about what you are lacking.  This information can be filled out later if need be.
The Hiring Assessment
If you decide to apply to Pizza Hut online, be prepared to spend some time responding to two types of questionnaires.
The first questionnaire requires applicants to respond to a series of questions on a five-point scale with responses ranging from "not at all true" to "very true."  Candidates are advised to be honest in their responses and not spend too much time on any one question.
The second questionnaire is a cognitive assessment and is a bit trickier.  This questionnaire is timed and contains thirty questions.  Do not spend too much time on any one question.  If you have time at the end, go back and review any questions that presented problems for you.
Application Tips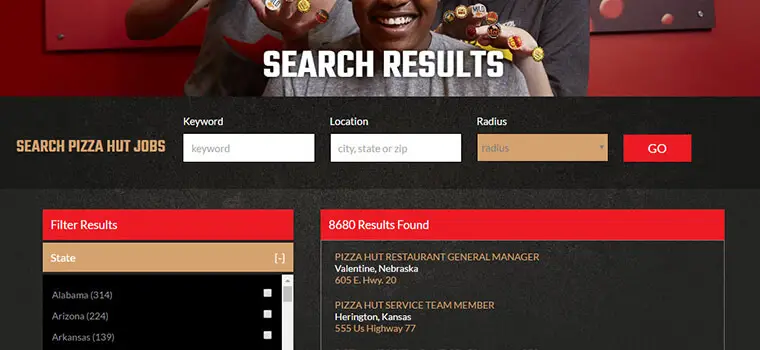 Prepare your Resume
There is nothing worse than showing up at a place where you want to work and learning that they are looking for information that you do not have.
There are two reasons to take your resume with you to the interview. One is because the manager will most likely want a copy of it, and the other is because you can use it to jar your memory about past employment and educational history as you fill out the application.
List Your References
In addition to your resume, be sure and take a list of your references with all of their information as well.
This should include names, addresses, phone numbers, years known, and how long you have known them.
Always be sure and check with people you wish to list as references prior to using their names.  This is to ensure that they are not caught off-guard, and to ensure that they are happy to assist you.
First Impressions Count
Do you really want to work at Pizza Hut?  Then let them know that by showing up looking like someone they want to hire.  Dress neatly.  Look up "business casual" and follow those standards.
By the same token, think about your communication style.  People hire people they like, and you will be more likeable if you shake hands firmly, look people in the eye, and speak clearly with no profanity, ever, even if they use it.
Should You Follow Up?
Managers will usually get back to candidates within two weeks of their interview.  If you do not hear something from the company within that time frame, it is best to directly contact the manager at the store that interviewed you.
Positions and Salary Information
Pizza Hut operates both corporate and independently owned franchises throughout the world, and positions and salaries may vary somewhat depending on the store.  Below is a description of positions and corresponding compensation typically found at Pizza Hut restaurants.
Please note that salary and wages stated below are approximations based upon online reports and reviews submitted by employees.
Team Member: Take orders, answer phones, clean, provide excellent customer service.  The average team member earns between $8 and $9 per hour.
Server: Take customer orders, deliver meals, and provide any other services in order to ensure excellent customer service.  Servers typically earn between $8 and $9 per hour, including gratuities.
Cook: Prepare foods, properly store foods, clean and maintain kitchen facilities.  Cooks can earn between $8 and $9 per hour.
Delivery Driver: Must be at least eighteen years old with a clean driving record.  Ensure accuracy of food orders, deliver food to peoples' homes, and collect money.  Drivers can earn between $8 and $10 per hour, including gratuities.
Best Entry-Level Positions
Team Member
Team Members at Pizza Hut are energetic and friendly and strive to give each customer a satisfying dining experience.
The ideal candidate for the team member slot is honest, willing to learn, responsible, and ready to do whatever is required in order to deliver quality food and excellent customer service.
Server
Servers are employed in the bistro-type locations and take orders, deliver food, and make sure customers enjoy the Pizza Hut experience while dining in-house.  Servers learn the menu well so that they can make suggestions and answer questions for customers.
Though servers may be paid less than minimum wage, they are allowed to accept gratuities.
Driver
Applicants over the age of eighteen may wish to inquire about delivery driver positions.  Drivers must have excellent driving records and, like other employees at Pizza Hut, possess excellent customer service skills.
Drivers deliver food to people's homes, ensure accuracy of orders, and maintain a safe delivery vehicle.
They also make change, which means they must possess the ability to calculate numbers accurately without the use of a calculator.
Drivers also must be able to navigate their way to customers' homes using maps or phone apps, and, of course, maintain a valid driver's license and insurance.
Pizza Hut Careers in Management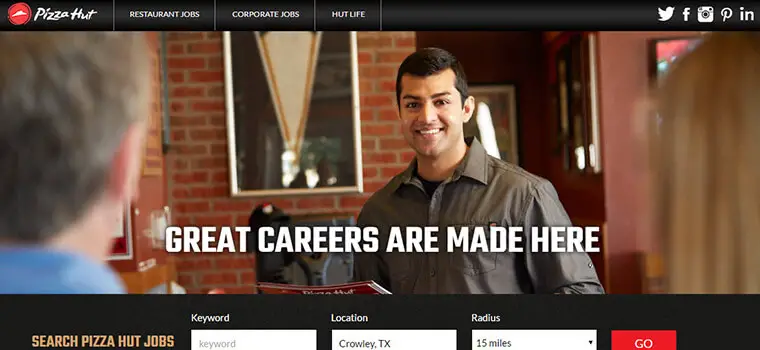 Leadership positions at Pizza Hut are often filled by employees who have proven themselves and who have shown the initiative to grow within the company.  Shift manager and assistant manager positions offer excellent opportunities for growth and eventual advancement into store manager roles.
Candidates interested in management positions within the company can browse current opportunities and submit their applications online.
Shift Manager
The duties of shift managers may vary from store to store, depending on the needs of the store manager. Typical duties include training and supervision of employees, handling customer complaints, balancing cash drawers, and managing store inventory.
Assistant Manager
Pizza Hut assistant managers are a step above shift managers and, like shift managers, their duties may vary depending on the store.
Assistant managers are usually involved in ordering supplies and food, maintaining a safe and secure working and dining environment, supervising staff, and accounting for all store receipts.
Store Manager
Store managers tend to the overall operations of the restaurant and are responsible for hiring, training, supervising, and disciplining store staff as needed.  Managers are also charged with making sure company standards are maintained and performance goals are met.
Interview Questions and Tips
The Pizza Hut culture places a strong value on serving and delivering delicious food with a smile.  Those who are outgoing and energetic are considered valued employees as management wants to provide customers with a positive experience, not just great food.
Take a look at the following potential interview questions to get an idea what you may be asked during your interview for Pizza Hut.
Tell Us About Your Experiences Working / Playing as a Team Member?
No one works in a vacuum at Pizza Hut, meaning that employees rely upon one another to deliver a quality product to the customer with enthusiasm and in a timely manner.
Be prepared to discuss your team experience and how you positively contributed to the overall mission of the team.
What Do You Know About Our Menu? Our Culture? Our Company?
Hiring managers typically like to hire people who show some knowledge about the company for which they are applying.
Do your research.  Take the time to eat at a Pizza Hut and to familiarize yourself with their menu fare before you go in for the interview.
Let them know that you are aware of their mozzarella-filled crust pizzas and that they feature foods other than just pizza.  If you really want to impress them, tell them that you are aware that they redesigned their menu in 2014 and then mention some of the new menu items.
What is Your Availability?
Pizza Hut likes to hire people who have a lot of availability and flexibility.  The more flexibility you have in your schedule, the more appealing you will be to those that are looking to hire.
Be sure and inform the interviewer of any limitations in regards to your schedule, and remember that up-front communication goes a long way in any interview.
Helpful Research for Your Pizza Hut Interview
The first Pizza Hut was opened in Wichita, Kansas by brothers Dan and Frank Carney in 1958. They began their business after borrowing $600 from their mother.
Pizza Hut operates more than 15,000 restaurants in over 90 countries and employs over 300.000 team members worldwide.
In 2014, Pizza Hut retooled their menu to include new ingredients and eleven new specialty pies.
The company prides itself on being the first pizza joint to deliver to the White House and to put pizza in outer space.
Pizza Hut is the largest pizza company in the world.
Pizza Hut's parent company is Yum! Brands, which also operates the Taco Bell and KFC restaurant chains.
According to Pizza Today, Pizza Hut produces $13.4 billion in annual sales.
What Employees Say About Working Here
Employees report that working at Pizza Hut is a great first job where one can learn much about the food industry and gain experience in many areas.
Flexible hours, a friendly and fast-paced environment, and the opportunity to be part of a team are other perks that employees have enjoyed.
Though one may have to work hard to be recognized, Pizza Hut management will often assist those employees who wish to advance their careers in the company.