Claire's Jobs & Careers – Application, How to Apply, Requirements & Interview Tips
Last Updated:
September 20th, 2019

by

If you are looking for an exciting opportunity to work with fashion accessories, fill out your Claire's job application today. Claire's provides a fun work environment for all of its employees.

As one of the leading fashion accessory brands, Claire's carries everything from earrings to rings and cute fashion statements to place on your hat or shirt. The atmosphere is lively, upbeat, and perfect for any fashionista who wants to work close to her favorite brand.

You can find a number of opportunities available from working as a sales associate helping customers pick out their favorite bling or as an assistant store manager running the show from behind the scenes.

You can let your personality and love for fashion shine through while working at Claire's.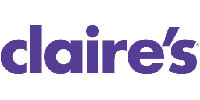 How to Apply for Employment at Claire's
When applying at Claire's, the most commonly used method is through their online application wizard.
Application Information
Minimum Age Requirement: The minimum age for employment at Claire's is 16.
Hours of Operation: Claire's is open Monday – Saturday from 10:00am until 9:00pm and on Sunday from 11:00am until 6:00pm.
Methods to Apply: Interested applicants can apply to Claire's through an online application, submitting a paper application in any store, and by submitting a resume online.
Searching for an Open Position
The first part of the online job application is to search for an opening. You can fill out the type of job you are searching for, the location of the job, and whether you are looking for full-time or part-time.
Once you have entered in the information, click the search button, and your results will be displayed. You can then click on the ID number of a job that interests you and the application will display.
Applying for a Job
Once the job application opens up, you can read over the requirements of the selected job. If you meet the requirements, click the "apply for job" button. You will need to create an account as well.
The first step of the application asks you to upload or enter your resume and to create a cover letter for the application.
After the resume, you will be expected to enter in your personal details followed by your work experience and educational history.
The final steps of the application will prompt you to enter in what type of job you are looking for, your preferred location, and your references.
Application Tips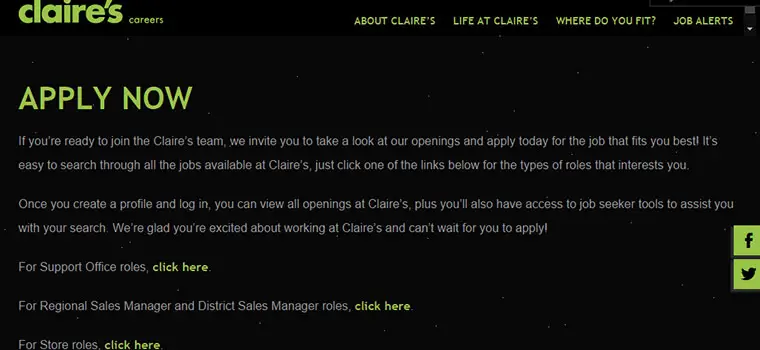 As you go through the application, you will be faced with some questions that may be difficult for you to answer, especially if this is your first position. Take a deep breath and consider these tips.
Create a Resume
Even if you do not have a resume on hand, create one. Most employers, including Claire's, will glance over it to get an idea of who you are. Without one, you are limiting your chances.
If you are concerned because you have no work history or limited work history, you can fill the resume up with accolades you have been awarded, accomplishments, and achievements.
Don't Forget Your Work History
When filling out the application, do not forget to list your previous employment. Lying or leaving off information can negatively affect you and ruin your chances of landing the job.
Gather Your References
You will need a list of references to apply for a job at Claire's. You should gather a handful of personal and professional references that you feel comfortable using. Of course, you should have more professional references over personal, as they look better.
If you have never had a job before, consider using your professors or volunteer coordinators as references too.
Should You Follow Up?
You can follow up on a job that you applied to by logging back into the account you created on the Claire's job application site.
If you applied in person, you can simply call the store's location to follow up with your application. You should give the hiring manager a few days to review your application before you call them.
Positions and Salary Information
Claire's has a total of 2,610 companies located throughout 46 different countries. In addition, Claire's has 130 stores inside other stores and 442 franchised stores throughout the world.
As a leading retailer in fashionable accessories for young kids to young adults, Claire's has over 16,000 employees and offers positions of employment from sales associates to store managers.
Sales Associate – A Sales Associate is the face of the store and must be cheery and upbeat. He or she is responsible for operating the cash register, greeting customers, and providing a great experience. As a Sales Associate, you can expect to make between $7 and $9 per hour.
Senior Sales Associate – The Senior Sales Associate interacts with customers and helps provide a great experience while making sales. He or she is also responsible for opening and closing the store. As a Senior Sales Associate, you can expect to make between $8 and $10 per hour.
Assistant Store Manager – The Assistant Store Manager is dedicated to helping boost the store's sales along with setting daily and weekly objects and goals. He or she will also watch over employee and day-to-day activities. As an Assistant Store Manager, you can expect to make between $10 and $14 an hour.
Store Manager – The Store Manager is responsible for overseeing all activities that go on in the store. He or she will recruit, train, and manage both new and current employees. Managers are expected to deliver exceptional customer service. As a Store Manager, you can expect to make between $13 and $21 per hour.
District Sales Manager – The District Sales Manager is responsible for overseeing all stores in a set district. The District Sales Manager is devoted to providing a positive customer experience, increasing sales, and minimizing the costs, the company incurs. As a District Sales Manager, you can expect to make between $48,000 and $83,000 per year.
Regional Sales Manager – The Regional Sales Manager is responsible for the District Sales Managers. He or she leads through example and helps to improve profitability and performance throughout the stores. As a Regional Store Manager, you can expect to make between $80,000 and $100,000 per year.
Best Entry-Level Positions
Claire's hires employees for entry-level positions in their stores. These positions breathe life into the company and each employee can enjoy working in a fun and upbeat atmosphere surrounded by the latest in fashion accessories.
Whether this is your first job or you are ready to make this your career, you will find the Claire's has many opportunities for you to advance.
Sales Associate
The Sales Associate position is a great entry-level position for everyone. In this position, you talk to customers and engage in conversations with them.
You will be able to use your skills and knowledge of the company's brands (like Icing) to help customers choose the right accessories for their needs.
All Sales Associates are responsible for operating the cash register, supporting their managers, and performing assigned daily tasks.
Senior Sales Associate
The Senior Sales Associate is primarily focused on service and sales through that service. Each Senior Sales Associate will be responsible for guiding and helping customers throughout the store.
In this position, the Associate will demonstrate and show products to customers to help make their shopping experience enjoyable. In addition, he or she will help increase sales for the store and meet goals.
The Senior Sales Associate also opens and closes the business.
Claire's Careers in Management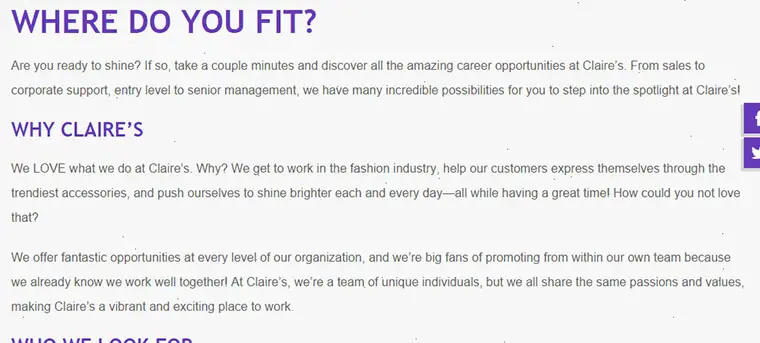 Claire's offers a number of management positions that are available in-house and through traditional employment steps. The company offers benefits that employees rave about including sick and holiday pay along with healthcare options.
Claire's management positions are a great opportunity for those looking to move up and into their careers.
Assistant Store Manager
The Assistant Store Manager is the first step on the way to becoming a Store Manager and is responsible for assisting the Store Manager in daily and weekly activities.
In your role as an Assistant Store Manager, you will be responsible for helping drive sales upwards and deliver exceptional customer service to all customers.
This position also helps train, educate, and assist other team members throughout the store.
Store Manager
The Store Manager is responsible for looking after the store while providing quality customer service and meeting the needs of all customers.
The Store Manager will also recruit and train new employees, as well as, monitor current employees.
In this position, the Store Manager will need to motivate and encourage employees to hit target goals and achieve success.
District Sales Manager
The District Sales Manager is responsible for overseeing the daily, weekly, and monthly performance of all stores in the district. This manager will need to have strong organizational and leadership skills.
In addition, the District Sales Manager will oversee the recruiting, training, and managing of all new and current employees to ensure they are successful.
Regional Sales Manager
The Regional Sales Manager is an important position in the Claire's lineup. He or she is responsible for overseeing all stores in the regional area and must be able to guide and coach all employees and managers.
The Regional Sales Manager is also responsible for ensuring that sales goals are met. He or she will need to encourage teams to meet their goals and coach them on how they can meet their goals.
Interview Questions and Tips
Claire's strives to provide an environment that is friendly and upbeat for their employees. Claire's mission is "Girl's Best Friend."
What Is Your Understanding of Girl's Best Friend?
During your interview, you will likely be asked what your take is on Girl's Best Friend. It is important that you prepare for this question since it is the Claire's mission. This concept is about embracing every girl's individuality.
You should understand the concept and explain how you can live out this mission while you are working.
How Will You Help a Customer Find What They Need?
You may be asked how you will help a customer who comes into the store and is unsure of what she wants. For this question, you will need to explain the steps you would take to help her.
You can start out by letting the hiring manager know that you would first ask the customer what they are looking for, the event it is for, and their favorite color. This will get you off to a good start.
How Well Do You Know Claire's Products?
You are likely going to be asked how well you know the products that Claire's carries, so it would be in your best interest to do some research and study a handful of them.
Of course, do not focus on the obvious items such as jewelry and pick out two or three items that will show you did your homework.
Helpful Research for Your Claire's Interview
Claire's has dominated the fashion retail industry with over 50 years of experience. Many young children, tweens, teens, and young adults flock to the store to find all of their fashion accessory needs.
Claire's was first founded in 1960 and by the year 1992, there were more than 1,000 stores in the United States alone. Today, Claire's has over 3,000 stores total all around the world.
What Employees Say About Working Here
Employees who are working at and have worked at Claire's have positive things to say about the company. Many of the employees say that work at Claire's say it is a great stepping-stone for anyone in retail.
In addition, other employees gloat about the great benefits and how the company provides you with many hours throughout the week.
Lastly, employees seem to be happy with the opportunity for advancement throughout the company.