Best Buy Jobs & Careers – Application, How to Apply, Requirements & Interview Tips
Last Updated:
September 20th, 2019

by

This Land Your Life-exclusive guide will walk you through the Best Buy job application.

Using these tips and best practices, you will give yourself the best chance at gaining employment with the tech super-company.

As we move forward in the world of technology, must-have gadgets and gizmos are increasing in price.

In order to receive an employee discount on electronics, music and tech support, many job seekers are applying for positions with Best Buy. And, with the ability to climb the corporate ladder, loyal Best Buy employees receive great benefits.

Generating more than $42 billion in sales each year, Best Buy needs smart and friendly employees to work the floor, interact with customers and provide technical support.

Whether you're applying for a position at the corporate headquarters in Richfield, Minnesota, or at one of almost 1,500 retail locations, use these tips and tricks to land a job at Best Buy.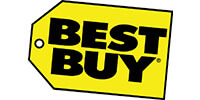 How to Apply for Employment at Best Buy
Applications for employment at Best Buy can be submitted online through Best Buy's Career Center regardless of the position for which you are applying.
Best Buy values applicants with community service experience, a strong work ethic and passion for technology.
The world's largest consumer electronics retailer employs 125,000 team members and is always looking to add to the family.
Application Information
Minimum Age Requirement: Applicants must be at least 16 years of age. The increased age requirements allows all employees to work until store closing.
Hours of Operation: Most Best Buy locations are open 10 a.m. to 9 p.m. Monday through Thursday. To tailor to the working clientele, the stores open at 10 a.m. on Friday and Saturday and close at 10 p.m. Sunday hours are generally shorter because family time is important to Best Buy. Employees can expect to work from 11 a.m. to 7 p.m. on Sundays.
Methods of Application: Best Buy prefers candidates to apply online. The streamlined application process makes it easy to submit your information and land an interview.
The Best Buy website allows candidates to search and apply for a specific job or submit a resume without selecting a position.
How to Properly Set up Your Account & Create a Profile
If you are a first-time applicant, you will need to create a username and password.
You will also be given options for three security questions, including your mother's maiden name and the name of your first pet.
From there, candidates will need to create a profile. Best Buy allows applicants to upload a LinkedIn or Facebook profile.
For those who do not wish to share these profiles or do not have these profiles, Best Buy allows you to build your own profile within its Career Center.
Don't Skip These Important Questions
After applicants consent to using an electronic signature, they will be taken to the Welcome portion.
Expect questions regarding age and work eligibility. Candidates must also consent to a drug screening before proceeding with the application.
Uploading Your Resume & Finishing the Application
The Candidate Profile section requires applicants to copy/paste a resume or upload the file.
The website will pre-fill contact information and employment history. You will then be directed to optional questions, including race and gender.
The next set of questions asks applicants to disclose their experiences in retail and customer service positions.
Application Tips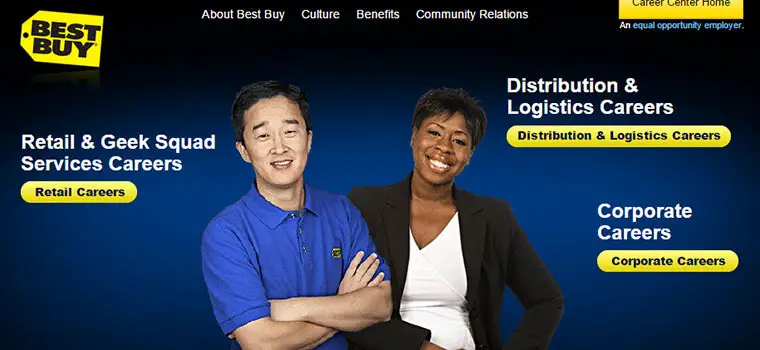 Double & Triple-check Your Pre-Filled Information
Although being able to upload your resume and pre-fill several fields saves a great deal of time, it is important to always proofread the information. Because resumes can follow several different formats, the pre-fill tool has a chance of being wrong.
Did your educational history get lumped with your employment history? Were the beginning and end dates for a job transposed? Was your phone number listed correctly?
Double checking the information will also allow you to add any updates your resume was lacking.
Put Your Best Foot Forward With Your Employment History
In the last section of the application, it is important to accurately reflect the amount of time you have spent in customer service and/or sales positions.
The total number of years does not have to be with the same company and it does not necessarily have to be retail experience. Many Best Buy employees come from a background in the restaurant industry.
Throughout the application and interview process, speak of customer service issues you handled successfully.
The hiring manager wants to hear how you solved a difficult customer's problem. He wants to know what you did to make a customer's shopping or dining experience better.
Verify Your Certifications & Qualifications
Pay attention to the professional requirements for the position to which you are applying. If you meet the job prerequisites, read the preferred requirements listed on most Best Buy job descriptions.
If applicants must have a high school diploma, an associate's degree or bachelor's degree will strengthen the value of a candidate. Other preferred requirements may include specialized training and extended experience.
Be thorough when listing educational and employment histories. If you have the traits that will make you a stronger candidate, show them off with pride.
Should You Follow Up?
Following up is key to landing a job at Best Buy.
After you submit your application, wait three days. If you have not received communication from the hiring manager, call the store to which you applied to check the status of your application.
If he is not available, ask when a better time to call would be. There are several reasons Best Buy managers may not call a candidate, including a lack of openings in the requested department.
Pro Tip: A phone call to the hiring manager will allow you to discuss your openness to work in other departments.
Positions and Salary Information
Customers flock to Best Buy for computers, tablets, phones, TVs and many more consumer electronics. Best Buy is always looking for passionate and driven employees who have excellent customer service skills.
From entry-level to management positions and repairs to connections, Best Buy has a department and position for several personality types and experiences.
Asset Protection Associate – Ensure safe and secure working environment, resolve hazards, investigate accidents – The average asset protection associate makes between $10 and $11 per hour.
Assistant Manager-in-Training – Supervise sales team, motivate employees, follow training procedures – An assistant manager-in-training can expect to earn $55,000 by the time they are promoted to assistant manager.
Assistant Store Manager – Oversee human resources, ensure quality customer service, act as manager on duty – The average assistant store manager makes between $55,000 and $60,000 per year.
Back Office Leader – Order supplies, open and close store, create store schedules – The average back office leader makes between $25,000 and $30,000 per year.
Connections Specialist – Train Best Buy team to recommend right solutions for customers, suggest services to customers, educate customers about connection hardware and services – The average connections specialist makes $11 per hour.
Customer Service Associate – Handle merchandise returns, exchanges and trades, partner with Geek Squad, provide friendly customer service – The average customer service associate makes $20,000 per year.
Front End Leader – Support assistant store manager, oversee back office leader, adhere to the standard operating procedure – The average front end leader makes $12 per hour.
Geek Squad Advanced Repair Agent – Quickly and accurately diagnose technology issues, repair consumer electronics, educate employees on Geek Squad services – The average advanced repair agent makes between $13 and $14 per hour.
Geek Squad Autotech Car Installer – Install mobile electronic components, offer technical assistance, maintain knowledge of consumer electronics. – The average autotech car installer makes between $13 and $14 per hour.
Geek Squad Cadet – Travel to customer homes, up-sell products and services, test products – The average Geek Squad cadet makes between $13 and $14 per hour.
Geek Squad Consultation Agent – Become a solutions expert, engage customers, become a Best Buy brand ambassador – The average Geek Squad agent makes between $13 and $14 per hour.
General Manager – Conduct store meetings, hire new employees, actively participate in the community – The average general manager makes more than $90,000 per year.
Mobile Lead Sales Consultant – Train new mobile staff members, sell products and services, build relationships with customers – The average mobile lead sales consultant makes between $13 and $14 per hour.
Mobile Sales Consultant – Close gaps in customer's technology, provide personalized service, handle contracts, warranties and payments – The average mobile sales consultant makes $20,000 per year.
Sales Consultant – Engage customers in conversations, inspire customers with new technology, stay current with department news – The average sales consultant makes between $9 and $10 per hour.
Sales Supervisor – Drive profits, resolve customer complaints, execute sales strategies – The average sales supervisor makes between $35,000 and $40,000 per year.
Team Leader – Coach sales associates, provide input to store manager, create positive customer experiences – The average team leader makes between $13 and $14 per hour.
Best Entry-Level Positions
There are several entry-level opportunities where an applicant can break into a career at Best Buy.
Candidates should expect competitive wages and significant employee discounts. Whether your passion is fixing electronics, installing new technology or competing for sales, Best Buy can give you an excellent start.
Asset Protection Associate
The asset protection associate position is an entry-level opportunity that can put employees on the fast track to management.
This position requires candidates to resolve hazards, such as wet floors or dangling shelves, investigate accidents and monitor alarm function. The asset protection associate is also responsible for protecting the store against fraudulent activity.
Applicants are eligible for the position if they have a high school diploma. Stronger candidates will have an associate's degree and at least three months experience creating a safe workplace.
Mobile Sales Consultant
Mobile sales consultants are responsible for assisting customers with purchases.
Applicants will have excellent selling skills and know how to stay up to date on consumer electronics.
The position requires candidates to have three to six months of customer service and/or sales experience.
Sales Consultant
Best Buy has several departments, all of which need sales consultants. This entry-level opportunity is available in appliances, home entertainment, lifestyles, computing and several other areas.
Candidates will need to have three to six months of customer service experience.
Best Buy seeks sales associates who are passionate about consumer electronics and know how to engage customers in conversation while promoting sales.
Geek Squad Autotech Car Installer
Land Your Life readers & hopeful applicants looking for an entry-level position in technical support should consider the Geek Squad autotech car installer position.
Employees must install mobile electronic components for customers. These may include car stereos, speakers and GPS units.
The ideal candidate will have three to six months of customer service experience and a valid driver's license. Candidates must be willing to achieve and maintain Best Buy's certification.
Geek Squad Cadet
Best Buy's Geek Squad offers a second entry-level position, the Geek Squad cadet.
Candidates will travel with Geek Squad agents to customer homes to fix or initiate satellite and audio/video services.
Strong candidates will have a high school diploma, three months experience with consume electronics repairs and be 21 years of age. Best Buy also requests applicants to have three months of experience providing in-home customer service.
Customer Service Associate
Customer service associates are Best Buy's cashiers. They are responsible for merchandise returns, trades and exchanges.
Candidates will also support the recycling effort by accepting old or broken consumer electronics. Successful candidates will have three to six months of customer service experience.
Applicants who bring a year or more of sales experience will be considered ahead of others.
Seasonal Job Openings
Many of Best Buy's entry-level positions can be seasonal.
During busy seasons, especially the Thanksgiving and Christmas holidays, individual Best Buy locations create seasonal job openings, including merchandising and inventory associates.
Candidates will be able to apply procedures that are known to decrease thefts. Associates will maintain a safe and secure shopping environment while processing incoming inventory.
Supervisory Positions at Best Buy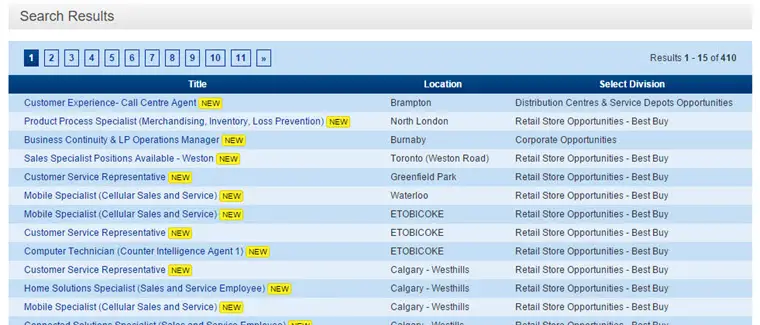 For entry-level employees wishing to move up or managerial candidates who need a little more experience, Best Buy offers supervisory positions.
With an increase of responsibilities, leaders can use the position as a stepping stone into management.
Front End Leader
The front end leader supervises the back office leader, including cash management, payroll and scheduling duties.
Employees are also required to maintain the IT desk ticket system. The front end leader supports the assistant store manager.
Successful candidates will have a high school diploma, one year of customer service experience and leadership abilities.
Back Office Leader
If you have a keen attention to detail and the organizational skills of a perfectionist, you may wish to apply to be a back office leader.
This position requires candidates who have a high school diploma and at least one year of customer service experience. Successful applicants will also have six months to a year's worth of cash handling experience.
Store schedules, hiring new team members and ensuring customer service standards are the responsibilities of the back office leader.
Team Leader
Team leaders support the associate manager and act as a liaison between manager and team members. This leadership position requires candidates to support and coach Best Buy employees.
Applicants must have a high school diploma and at least one year of sales and/or customer service experience.
Proven leadership capabilities and established sales skills will increase a candidate's odds of being called in for an interview.
Mobile Lead Sales Consultant
The mobile lead sales consultant supports the store manager while training and coaching mobile team members.
The position requires candidates who excel at sales, have six months supervisory experience and are at least 18 years of age.
Strong candidates will have previous cash handling and one year of retail management experience.
Connections Specialist
Applicants who enjoy training new employees should consider the connections specialist position at Best Buy. The connection specialist is responsible for teaching peers how to identify and recommend the right solutions for individual customers.
Candidates will be knowledgeable about connection hardware devices, including routers, smart TVs and tablets, and connection services, including cable TV, Wi-Fi and alarms.
Successful candidates will have three to six months of customer service experience.
Geek Squad Agent
The Geek Squad agents, both consultation and operations, manage inbound and outbound Geek Squad phone calls.
Geek Squad administrative duties, shipments and repairs are overseen by the Geek Squad agent. Candidates will have at least one year of experience diagnosing or repairing consumer electronics.
An associate's degree and previous supervisory experience will make candidates more appealing to the hiring manager.
Best Buy Careers in Management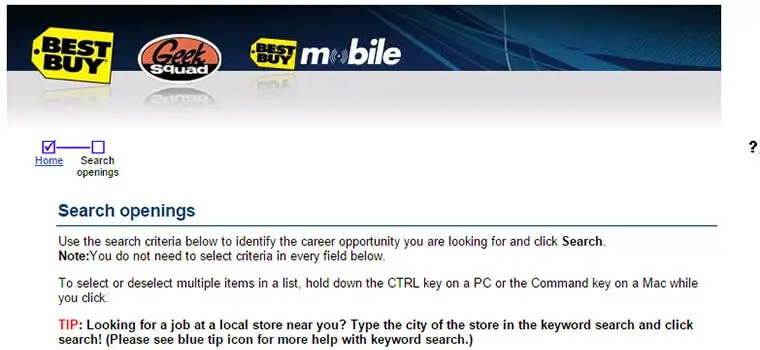 Applicants for Best Buy managerial positions can have a variety of past educational and employment histories.
From assistant store managers-in-training to general managers, Best Buy seeks leaders with different backgrounds. A solid background in sales, proven leadership capabilities and a desire to learn makes candidates even stronger in the hiring manager's eyes.
Assistant Manager-in-Training
If you're looking to break into management but don't have much experience, Best Buy's assistant manager-in-training position may be the perfect option.
While learning the ropes, candidates will share accountability for the store, supervise store associates and strive to complete the training course.
After completion, all assistant managers-in-training are eligible for open assistant store manager positions.
Assistant Store Manager
The next rung on the management ladder at Best Buy is assistant store manager. Successful candidates have two years of management or supervisory experience and two years of budget experience.
Stronger candidates hold an associate's degree in business or sales and experience working with consumer electronics.
If you have previous cash management, hiring or performance management experience let your interviewer know. You will quickly make the shortlist by elaborating on your skills.
Sales Supervisor
Although named supervisor, the sales supervisor position requires at least one year of managerial experience. Candidates will also have one year of budget experience and a high school diploma.
Greater consideration will be given to applicants who have an associate's degree in business and one year of experience working with consumer electronics.
The sales supervisor drives profits and resolves customer complaints. The execution of sales strategies is also the responsibility of the sales supervisor.
General Manager
Best Buy's general managers are accountable for their individual store's performance, revenue and budget.
Successful general managers motivate their Best Buy teams and offer tips for up-selling. Store meetings will be conducted by the general manager.
Ideal candidates will have three years of experience in management, customer service and budgeting. All candidates must have a high school diploma.
Interview Questions & Tips
How Would You Handle a Customer Presenting a Competitor's Lower-price Ad?
Best Buy managers have been known to throw thought-provoking questions at interviewees.
While you can prepare for some questions, such as naming your greatest flaw, weakness or mistake, there are some questions that will take you completely by surprise.
Common questions include asking candidates how they would handle a customer presenting a competitor's ad with a lower price.
Prepare for questions regarding your favorite pieces of technology or where you think a certain technology is headed. If caught by surprise, take a moment to collect your thoughts and present a concise but descriptive answer.
How Should You Dress?
Applicants for positions at Best Buy should follow a business-casual dress code for interviews.
Jeans and sneakers will cause the interviewing manager to dismiss the possibility of your hire before you even say hello. A pair of khakis or black slacks and a blue polo shirt or blouse with a respectable pair of shoes is the way to impress the hiring manager.
How is Community Service Important to You?
Best Buy has two causes that are near and dear to its heart: recycling and human rights.
The corporation aims to understand and manage Best Buy's impacts on human rights. Serving the communities, Best Buy accepts old and broken electronics for recycling.
For each minute the stores are open, the program generates 409 pounds of electronics.
Align yourself with Best Buy's ethics during your interview. How is community service and volunteerism important to you?  What efforts have you made to recycle?
Even if you only throw your cans in the appropriate container, recycling is important to you. What goals do you have for future recycling efforts?
Show the hiring manager how perfectly you will mesh with the Best Buy family.
Preparing for an Interview at Best Buy
A former Best Buy manager recommends that candidates follow up an interview with a thank-you email.
Let the hiring manager know that you valued the time he spent with you. Include that you are excited about the potential employment offer.
Helpful Research for Your Best Buy Interview
It's important to know a company's background prior to your interview.
Learning facts and interesting tidbits will allow you to ask questions during the interview. Impress the hiring manager with your knowledge of Best Buy's history.
In 1966, founder Richard Schulze opened the doors of Sound of Music.
Renamed Best Buy in 1983, the store has become an American staple. More than 70% of Americans live within a 15 minute radius of a Best Buy location.
The abundance of stores is not only beneficial for customers, but for potential applicants as well.
Best Buy's recycling program is committed to the protection of the world's resources. The company prides itself on meeting or exceeding forestry laws and regulations.
Best Buy takes particular caution in designing marketing material so to minimize the volume of paper used. Employees who value maintaining the planet will find Best Buy to be the perfect home.
What Employees Say about Working at Best Buy
Playing with toys is one of Best Buy employees' favorite perks. Test drive products the day they hit the shelves, and, if you like the new technology, purchase it with an amazing employee discount.
The competitive salaries, especially in positions with more responsibilities, keep employees loyal to the Best Buy brand.
Retail hours can prove difficult as employees may miss out on family time during the holiday season, but flexible hours assist with this problem.