Zaxby's Jobs & Careers – Application, How to Apply, Requirements & Interview Tips
Last Updated:
September 20th, 2019

by

If you're looking to spice up your life with a new job in fast food, filling out a Zaxby's job application is a great first step to accomplishing your goal.

Known for serving up zesty food with zeal in zippy fashion, Zaxby's specializes in chicken wingz, fingerz and saladz with bold flavor profiles made from the finest of ingredients. Their more than 800 fast food restaurants are always in need of great people to work behind their counters and satisfy their customers.

If you want to be a part of the team that serves the most flavorful chicken this side of Zanzibar, zip through the tips and hints contained in this guide. It'll tell you how to improve your chance of getting hired at a Zaxby's restaurant near your zip code.

Summon up your inner chicken zealot and zig and zag your way through the guide to learn more.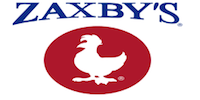 How to Apply for Employment at Zaxby's
Zaxby's is a chain of independently owned and operated franchises.
As such, hiring decisions are made independently at each store, so you'll need to apply through the restaurant location where you'd like to work.
Application Information
Minimum Age Requirement: You must be at least 16 years of age to work at Zaxby's.
Hours of Operation: Most Zaxby's locations are open from 10:30 or 11:00AM to 9:00 or 10:00PM; however, hours can vary. The Store Locator will tell you the hours for the location nearest you.
Methods to Apply: In person
Contact Information
The information requested on a Zaxby's application may vary from location to location; however, nearly all apps will ask for basic contact information, including:
Full legal name
Address
Phone number
Email address
If the franchise's policy is to do a background check before hiring you, the application is also likely to ask for your social security number.
Work and Education Experience
Another common feature of job applications is work and educational experience. You should be prepared to provide:
Names of current and former employers
Locations of employment
Job titles
Job duties
Starting and ending wages
Supervisor's name
Names of schools you attended
Locations of schools you attended
Graduation dates for high school and college, if applicable
References
Last but not least, most applications will ask for one to three references.
These individuals may be contacted by the hiring manager in an effort to learn more about you.
It is a good idea to select people who can talk about your reliability, integrity, positive attitude, ability to work with a team and take feedback or criticism professionally.
Coaches, bosses, educators and religious leaders can all be good references for a job at Zaxby's. Just make sure that you ask permission before you add anyone's name and phone number to the job application.
Application Tips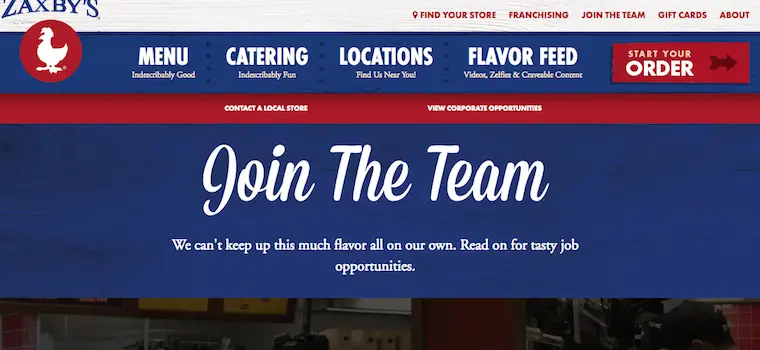 Call Your Local Store
Before stopping into a Zaxby's to a request an application, give the restaurant a call to see if they are hiring and if there is a best time for you to come into the store to complete the app.
The restaurant is less likely to be busy before 11AM and between 2 and 4PM on weekdays, so try to call during those hours when the staff will be less stressed and better able to answer your questions.
Treat Everyone Like a Manager
On the phone and in person, imagine that everyone that you interact with is the hiring manager.
Zaxby's is looking for people who are friendly and professional, so you want to project those qualities right from the start.
You never know if the hiring manager will ask the cashier who hands you the application or the fryer operator who answered the phone what they thought of you.
Bring a Resume
You can make filling out the application a whole lot easier by bringing along a copy of your resume to refer to as you complete each section. It will also ensure that you provide accurate information and eliminate the risk of your mind going blank.
When you turn in the application, you can offer to leave a copy of your resume behind. A professional resume will reflect well on you, showing that you take landing a job at Zaxby's seriously.
Attend a Hiring Event
Some Zaxby's franchisees hold hiring events when they have a large number of openings in a geographic area.
If there is one coming up near you, try to attend.
Hiring events give you the opportunity to meet the hiring manager and complete an application on site. In some cases, you may get an interview on the spot and leave with a new job.
Should You Follow Up?
If you know that the location you applied at is hiring at the present time, you can call to check on the status of your application 1 to 2 weeks after you turn it in.
In the event that you were told your application would be kept on file until an opening becomes available, you can check back every month or so to see what the status is.
When phoning the restaurant, be as courteous and friendly as you were during your initial call and visit. Remember–every interaction counts and can make all the difference between whether or not you're eventually hired.
Positions and Salary Information
Zaxby's offers career opportunities for people with all types of goals. The restaurant is the perfect place to apply for a first job and equally ideal for experienced individuals who are ready for management roles.
Here are some of the positions that your local Zaxby's may be hiring for:
Assistant Manager – Supervises entire store and ensures that operations run smoothly – The average Assistant Manager at Zaxby's earns between and $11 and $12 per hour.
Cashier – Takes orders over the counter and through the drive through – The average Cashier at Zaxby's earns between $7.25 to $8 per hour.
Cook – Prepares food according to customer orders and maintains hygiene standards – The average Cook at Zaxby's earns between $7.25 to $8 per hour.
Crew Member – Helps prep food, runs orders and keeps the restaurant clean – The average Crew Member at Zaxby's earns between $7.25 to $8 per hour.
General Manager – Ensures that location adheres to quality, sales, inventory control, sanitation and safety goals – The average General Manager at Zaxby's earns between $40-$45,000 per year.
Shift Manager – Oversees a team during shifts and opens and closes the restaurant – The average Shift Manager at Zaxby's earns between $9 and $10 per hour.
Best Entry-Level Positions
Zaxby's hires people 16 years of age and up with no experience but have an eagerness to learn to work in entry-level jobs in their stores.
There are no education requirements for the following positions; however, those in high school or who have a high school diploma or the equivalent will have the best chances of being hired.
Cashier
Cashiers take orders face to face and through the drive-thru and must enter what customers want into the ordering system accurately. They also accept cash and credit card payments and are responsible for managing the money in their drawers.
Attention to detail, strong customer service skills, and basic mathematics are important to success in the cashier role.
Cook
Cooks are the individuals who prepare Zaxby's tasty food. They prep ingredients, work the fryer and perform other tasks to get orders filled.
During their shifts, cooks must focus on making food quickly without sacrificing quality. In addition, they must adhere to health and safety rules.
Crew Member
Crew Members perform a number of different tasks to keep Zaxby's restaurants running smoothly. They clean the restaurant, wash dishes, gather trays and package orders.
A strong sense of teamwork and a willingness to help wherever needed is important for prospective Crew Members.
Zaxby's Careers in Management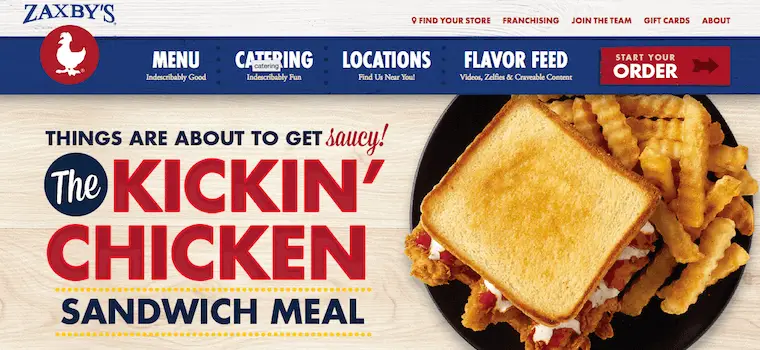 Managers at Zaxby's are responsible for maintaining the brand's image of providing delicious food in clean, friendly environments.
Local franchisees try to hire from within whenever possible but often will consider qualified outside applicants for the following management roles:
Shift Manager
Shift Managers open and close Zaxby's restaurants and oversee the entry-level employees during their shifts. They enforce quality, customer service, safety and hygiene standards.
Qualified applicants for Shift Manager jobs will have a high school diploma or the equivalent and at least 1 year of experience in restaurant management. Basic familiarity with computers, cash registers and kitchen equipment is also required.
Assistant Manager
Assistant Managers are responsible for the daily operations at Zaxby restaurants, ensuring that the restaurant runs smoothly, is fully staffed and is living up to all of the chain's standards.
Prospective Assistant Managers must have a high school diploma or GED and at least 1 year of restaurant management experience. Like Shift Supervisors, they also need basic computer and cash handling skills and knowledge of how to use kitchen equipment.
General Manager
General Managers focus mainly on ensuring that their restaurants are as profitable as possible. They develop plans to reduce costs, increase sales and improve customer service all while emphasizing the importance of meeting the company's standards for quality, service, safety and hygiene to the team.
The minimum qualifications for General Manager positions are the same as those for Shift Managers and Assistant Managers; however, individuals with more education and experience are usually preferred for the job.
Interview Questions and Tips
Zaxby's interviews usually last only about 30 minutes and will typically take place at the restaurant. Dress nicely and be prepared to provide answers with a smile, so that you can wow the hiring manager.
These sample questions will give you a taste for what sort of things might be served up at your fast food interview.
How Would You Handle a Difficult Customer?
In your own words, tell the hiring manager that you would first get to the bottom of what was upsetting the customer by listening and politely asking questions until you were sure that you understood.
Explain that you would keep being courteous and friendly despite the customer's mood and attitude and would apologize for the problem regardless of whose fault it was.
Then, say that you would offer whatever solutions you were permitted to under the rules of the restaurant. Finish by saying you would involve your supervisor only if you were unable to appease the customer.
This type of answer shows that you know how to handle upset customers and take complete ownership of problems rather than trying to pass them off to someone else.
What Does Great Customer Service Mean to You?
Like the first question, this query is meant to get a feel for what kind of service you'd provide as a Zaxby's employee.
You might say that customer service
Means putting the customer first
Requires giving the customer your undivided attention
Is being friendly and trying to brighten the customer's day
Involves exceeding, not just meeting the customer's expectations
Make sure to give the answer in your own words, so that it sounds natural.
You can even give an example of a time you experienced great customer service to show that you understand what it means.
What Would You Do if a Coworker Wasn't Doing Their Job?
Teamwork is important to Zaxby's, and they want to hire people who are able to work well with others and not cause unnecessary drama.
A good answer to this question is that you would give the co-worker the benefit of the doubt and assume they did not realize they were not pulling their weight.
You can start by just asking them to pitch in.
If they fail to rise to the occasion, you could be a little more direct and say that you need their assistance.
Should that fail you could approach your supervisor at a time when the restaurant is not busy and explain the situation, focusing on the problem rather than bad mouthing the person.
Helpful Research for Your Zaxby's Interview
Zaxby's has become legendary in the South for their delicious chicken and for their clever advertising that often includes the letter "Z." There are more than 800 Zaxby's locations in the United States currently, and the number of franchises is on the rise.
The following information can help you stand out at your interview to improve your chances of getting hired at a new or existing Zaxby's location.
The Origin of the Name
Zaxby's started off as Zax, a play on co-founder Zach McLeroy's name.
He and his friend Tony Townley came up with the idea of opening a restaurant that would sell the kind of tasty wings and zesty chicken fingers that they had savored in their college town of Athens, Georgia.
They opened their first restaurant in Statesboro, Georgia, close to Georgia Southern University in 1990. When the two started franchising their successful chain of restaurants in 1994, they changed the name to Zaxby's.
Variations in Decor
While Zaxby's has a basic model for franchisees to follow for the layouts of their stores, many of the locations feature custom touches that relate to their geographic locations.
For example, restaurants in college towns often have team memorabilia displayed on the walls, and the locations in Orlando, Florida, feature items related to the citrus-growing industry.
What's on the Menu
Zaxby's motto is "Indescribably Good," and the restaurant seeks to deliver on that tasty promise with each customer served.
The restaurants sell salads, chicken wings, chicken fingers or fingerz and a host of fried fare like chips, french fries and fried mushrooms. They're also well known for their tossing and dipping sauces.
It's a great idea to familiarize yourself with the menu prior to your interview.
The Official Chicken of Sports Fanz
Zaxby's ran promotions in 2016, claiming to be the official chicken of sports fans with "Fans" naturally spelled with a "Z" rather than an "S."
The marketing campaign focuses on the fact that Zaxby's chicken is great to enjoy while watching sports.
Sports fans can even have parties catered. You can learn more about this service on the catering site.
In 2015, Zaxby's purchased the rights to use the logos for more than 30 NCAA college teams, and the company sponsors the annual Heart of Dallas Bowl and multiple NASCAR races.
What Employees Say About Working Here
Reviews from current and former employees describe Zaxby's as an employer that provides a positive working environment, flexible hours and opportunities to advance for those who want careers in fast food.
Reportedly, the company offers very generous packages to full-time employees and regular pay raises to those who excel at their jobs.
Many Zaxby's employees enjoy the discounts on meals at the restaurant and the opportunity to get free drinks throughout their shifts.