Walmart Jobs & Careers – Application, How to Apply, Requirements & Interview Tips
Last Updated:
September 20th, 2019

by

The following guide will provide tips, tricks and advice for helping you complete the Walmart job application in a way that should give you the best chance at landing a career with the company.

Most know Walmart as the one-stop shopping experience for home goods, clothing, groceries, hardware and electronics.

Since 1962, Walmart has been expanding globally. In the United States, Walmart has several types of stores, including its trademark Supercenter, Neighborhood Markets and Walmart Express.

From cashiers to store managers, Walmart employs 1.5 million associates nationwide. At any given time, Walmart has 15,000 to 50,000 available positions.

With 270 million customers per week, the store needs applicants with strong customer service skills, the ability to work well under pressure and a positive attitude.

Get ready to showcase the best version of yourself during the application process and interview experience.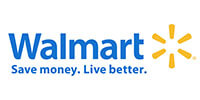 How to Apply for Employment at Walmart
Candidates from across the country choose to apply to Walmart for great benefits, which include employee discounts, affordable healthcare plans, educational opportunities and quarterly bonuses.
Using Walmart's Online Hiring Center, applications can be submitted online from the comfort of your home.
From employment history to the Retail Pre-Employment Assessment, Walmart digs deep into the heart of its applicants to ensure the best possible matches.
Application Information
Minimum Age Requirement: Applicants must be at least 16 years of age. For some positions (Driver, for instance), candidates must be at least 18 years old.
Hours of Operation: Most Walmart locations are open 24 hours a day, seven days a week. Although an overnight shift might not be for you, the flexible hours allow employees to go to school, be a stay-at-home parent or work a second job while employed at Walmart.
Methods of Application: Walmart accepts applications submitted through Walmart's Online Hiring Center. You may also print a PDF application here and take your completed version to your local store. Applicants are able to apply to local stores for a variety of positions, including the range between stocker and store manager.
If you are a first-time applicant, Walmart will request that you create a username and password in order to save your application.
Pick an Appropriate Username When Setting up Your Account
Create up to an 11-character username that sounds professional. Use your initials or birth date. Don't choose a username you wouldn't want your mother to see because, chances are, a potential employer shouldn't see it either.
Your password must contain at least one capital letter, one lowercase letter and one number. Jot down your username and password for the next time you log into your application.
Walmart asks you to answer five security questions in case you forget your password down the road. Question options include your shoe size and favorite food.
Apply to More Than One Store for the Best Hiring Chances
You will have the option to search local Walmart locations using your city and state or zip code.
Check the stores to which you wish to apply. After you select the type of position you are interested in (professional, hourly, management), you will be directed to a more specific job list.
A person seeking hourly employment can choose between front end, receiving, sales floor and more.
How to Complete the Application Faster Than Average
Open a copy of your resume prior to filling out Walmart's online application.
Having your personal information, educational history, employment history and references at the ready will cut back on the estimated 45 minutes it takes to complete the application.
A four-section questionnaire will follow, asking if you are able to work weekends, your veteran status and salary expectations. Walmart asks qualifying questions for the government's on-hold tax credit program.
Expect questions regarding food stamps and Social Security Income.
The Infamous Pre-Employment Questionnaire
The last section of the application is Walmart's Retail Pre-Employment Assessment.
This 65-question survey takes approximately 40 minutes to complete. Candidates may start the questionnaire, save partway through and continue at a later time.
All Walmart employees have completed and passed this portion of the application. Questions will evaluate the appropriateness of a response to work-related issues, past experiences and the effectiveness of solutions.
Application Tips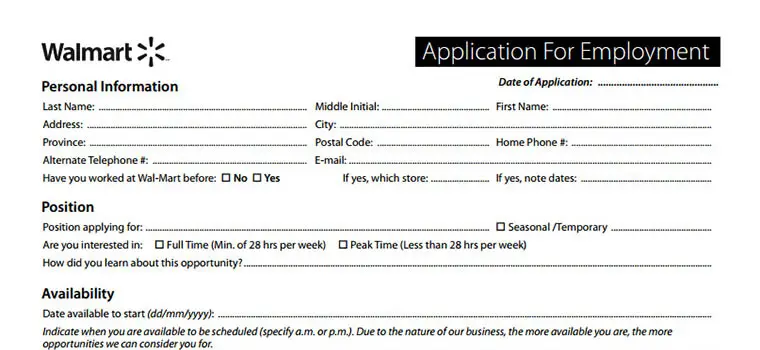 Acing the Pre-Employment Questionaire
According to the Land Your Life research team, the most important section of the Walmart application is the Retail Pre-Employment Assessment questionnaire.
Candidates are asked to answer honestly. Although the application claims there is no right answer, there are wrong answers. Try to mesh your personality with common sense when answering these questions.
An example question asks how you would handle a customer who is irate due to you completing a task too slowly. Answer choices include telling the customer he is being treated like every other shopper or telling the customer you will help him when he stops yelling at you.
Choosing one of these options may cancel out your chance of landing a job at Walmart.
The other two choices: calling the manager on duty to handle the customer or apologizing to the customer while giving a reason for the delay.
Although these questions are extremely important, don't over analyze the question. Determine the answers that would be considered wrong and eliminate them.
Choose from the answers that you think are appropriate ways to handle the situation. Other questions will ask how strongly you agree or disagree with a statement and how you handled past experiences.
Choose More Than One Store Location
Increase your chance of landing an interview by applying to more than one Walmart location.
In the beginning of the application, candidates can search for local stores using city and state or zip code. Change the search radius to 10 or 15 miles, rather than the default five miles.
Although you might want a job at the Walmart down the road, the one five minutes further away may be hiring for the position you desire.
Expand Your Application to Multiple Positions
Apply for more than one position. Whether you are seeking hourly employment or management positions, there are several choices within each category.
An hourly candidate may apply for several front end positions, including store greeter, cashier and stock associate.
The more positions you are willing to fill, the greater your chance of being hired.
Highlight Your Employment History
Walmart places great value on an individual's previous employment.
The application requires candidates to list employment history covering the 10 previous years. It is important to make sure this section of the application is complete and accurate.
Walmart uses employment and salary history to determine the salary of a newly hired team member.
Should You Follow Up?
Walmart may not reply to all applicants. If you do not receive a phone call or email, check the status of your application by calling the Walmart to which you applied.
Ask to speak to the hiring manager. If he or she is unavailable, ask when specifically to call back.
To increase your chances of being hired, always keep your store, position and availability information up to date.
Positions and Salary Information
Walmart is known for offering competitive salaries and great benefit packages.
The company also encourages promoting from within, boasting the statistic that 75% of Walmart store managers began as hourly associates.
Whichever position will be your stepping stone into the Walmart family, you can count on supportive co-workers, a commitment to the community and superior customer service standards.
Assistant Manager – Make merchandising decisions, create sales strategies, work within Walmart's green efforts – The average assistant manager makes between $40,000 and $50,000 per year.
Cashier – Ring sales while applying discounts and processing payments, handle returns, answer customer questions about store merchandise – The average cashier makes between $8 and $9 per hour, although some Walmart cashiers have reported wages as high as $12 per hour.
Department Manager – Make changes to current merchandise prices, remove recalled products from shelves, create and manage end-cap displays – The average department manager makes between $11 and $12 per hour.
Driver – Transport Walmart merchandise, maintain safety standards, load and unload truck – The average driver makes $75,000.
Optometrist – Provide optical care to customers, assist with eye-wear selections, dispense prescriptions – The average Walmart optometrist makes between $90,000 and $100,000 per year.
Overnight Stocker – Unload shipments, lift and move heavy objects, operate heavy machinery such as a forklift – The average overnight stocker makes between $9 and $10 per hour.
Pharmacy Manager – Ensure customer confidentiality, provide pharmaceutical advice, drive sales within the pharmacy and over-the-counter areas – The average pharmacy manager makes $120,000 per year.
Pharmacy Technician – Fill pharmacy prescriptions, track medication inventory, communicate with insurance companies – The average pharmacy technician makes $11 per hour.
Store Manager – Ensure Walmart customer service standards are met, attend to administrative tasks, perform disciplinary actions as necessary – The average store manager makes between $50,000 and $70,000 per year with additional quarterly bonuses.
Best Entry-Level Positions
Entry-level positions at Walmart are ideal for first-time job seekers, college students who need textbook money and individuals looking to climb the corporate ladder.
Last year, 200,000 cashiers, sales associates and stockers were promoted into management positions.
Entry-level candidates can expect minimum wage, a significant employee discount after 90 days and flexible hours.
Cashier
Cashier is one of the most popular entry-level positions at Walmart.
Knowledge of store merchandise, policies and promotions is of the utmost important as cashiers are responsible for answering customer questions. Basic math skills are required to provide customers with accurate change.
Beginning with part-time hours, this position can rapidly grow into a full-time opportunity.
Overnight Stocker
For many applicants, the overnight stocker position offers the best hours. Students who have class during the day, stay-at-home parents and night owls benefit from this late-hours opportunity.
Candidates will be required to lift more than 50 pounds, unload shipments and operate heavy machinery. Successful candidates will have experience working with forklifts.
As candidates gain experience, they can expect higher wages.
Seasonal Job Opportunities
Walmart is a corporation that is constantly expanding and thus constantly hiring.
Depending on the season, Walmart has between 15,000 and 50,000 job opportunities. The volume of open jobs increases during busy seasons, such as the Christmas holidays and summers.
Applicants interested in seasonal job opportunities should follow the standard online application process.
Walmart Careers in Management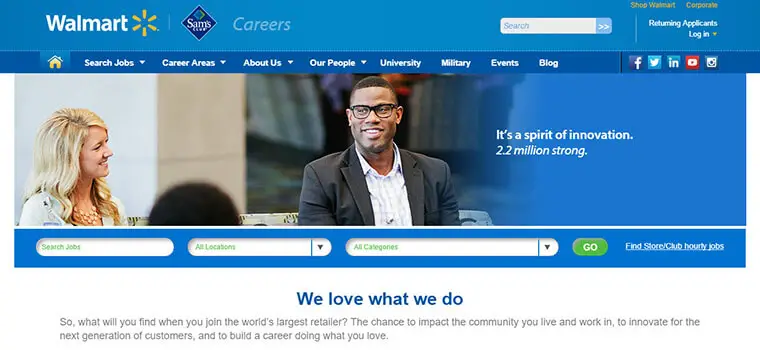 Choosing to pursue a career at Walmart provides several paths to management.
Candidates can begin by applying for one of the entry-level positions above and working their way up. Walmart also accepts applicants directly into management positions.
Managers at Walmart can expect competitive salaries, quarterly bonuses based on store sales and increasing responsibilities.
Assistant Manager
Breaking into Walmart's management team is easy. Walmart hires assistant managers, who are provided with career training.
This position requires budgeting, strategizing and creating opportunities for new growth. The assistant manager provides support to the store manager, trains new employees and ensures Walmart's customer service standards.
Successful candidates have exceptional oral communication skills, a Bachelor's degree in business or a related field, and two years of retail experience.
Department Manager
The department manager is responsible for lowering prices within the department.
This managerial position requires candidates to remove recalled items from the sales floor, keep shelves fully stocked and create modular displays.
Corporate planning will dictate how to arrange end-cap displays and department managers must follow the blueprint.
Candidates should have management experience and strong leadership skills.
Store Manager
Strong applicants for the store manager position have held entry-level or basic management positions at Walmart.
Outside candidates must have managerial experience and demonstrated leadership capabilities.
The store manager is responsible for motivating employees while driving sales. Administrative tasks, including scheduling, payroll and inventory management, are important behind-the-scenes duties.
The store manager benefits from high sales with quarterly bonuses.
Professional Career Opportunities


More than 4,000 Walmart locations host pharmacy and/or optometry services. Professional candidates are encouraged to apply as long as the qualifying licenses are obtained by the date of hire.
Employees in this field are expected to uphold Walmart's customer service standards by sharing medical knowledge with patrons and answering questions.
Pharmacy Technician
After obtaining the state board pharmacy technician certification, candidates can apply for the pharmacy technician position.
Technicians are required to process prescriptions and insurance rejections. Maintaining medication inventory and the working order of automated medication counting machines are included job duties.
Strong applicants will have experience working as a pharmacy technician in a hospital or retail environment.
Pharmacy Manager
The pharmacy manager is responsible for the pharmacy and over-the-counter areas.
Candidates are required to ensure these sections of Walmart comply with legal policies and safety regulations. Confidentiality is of the utmost importance when handling patient information.
Qualified candidates will hold a Bachelor of Science degree in pharmacy and a valid pharmacy license. Applicants must also have one year of experience in a pharmacy setting and a current immunization certification.
Optometrist
Applicants for the optometrist position at Walmart must have a doctoral degree in optometry.
Once employed, optometrists are required to provide optical care to customers, which may include but is not limited to assisting with eye-wear selections, consulting with patients and educating customers.
The optometrist will be responsible for all other vision care employees.
Interview Questions & Tips
What Community Volunteer Experience Do You Have?
Walmart has committed $2 billion to fighting hunger in the United States. Show your interviewer how important charity and community service are to you.
Have you held a volunteer position at a hospital or animal shelter? Did you organize a charitable event?
Aligning yourself with Walmart's values is sure to impress the hiring manager.
Do You Have Prior Experience With Customer Service?
Walmart is dedicated to customer service, individual respect, striving for excellence and acting with integrity. Search your background for examples of each.
How did you positively handle a difficult customer? When did you exceed expectations?
Prepare your anecdotes prior to the interview. Rehearsing before the interview will give the hiring manager the impression of confidence and honesty.
Are You a Student?
Capitalize on student status. Walmart supports educational opportunities for its associates.
By describing the importance of this benefit to the hiring manager, you will be demonstrating a reason you will accept and continue employment with Walmart.
Preparing for an Interview at Walmart
Bring a copy of your resume to your interview. Being able to give the hiring manager your employment background, resume and qualifications in one place will help your interview to go smoothly, without any pauses to shuffle through papers.
Not only is it important to present a stellar you on paper, it is imperative to also give a good first in-person impression.
Sneakers are a definite don't for your interview at Walmart. Instead, choose slacks and dress shoes. A blue golf polo or blouse is also appropriate.
Helpful Research for Your Walmart Interview
Walmart began as a five and dime store in Rogers, Arkansas. As the stores spread across the United States, Walmart unveiled its first Supercenter in 1988, which are, on average, 182,000 square feet.
Home to 300 employees, each new construction provides plenty of entry-level, management and professional career opportunities.
The original location of the small discount retailer is now known as the Walmart Museum. Visitors can experience the innovative store that appeared in 1962, world-class exhibits and the Spark Café soda fountain.
Walmart serves 270 million customers worldwide per week.
Walmart has stores in 50 states and Puerto Rico.
The average full-time hourly wage is $13.85.
What Employees Say about Working at Walmart
For many Walmart employees, the job benefits and rewards keep them coming back. Staff enjoy low-cost healthcare plans, bonuses and flexible hours.
New employees benefit from the experience of seasoned employees, who are always willing to help. The ability to move up in the corporation satisfies entry-level employees.
Employees caution that some management teams could use some rearranging.