Waffle House Jobs & Careers – Application, How to Apply, Requirements & Interview Tips
Last Updated:
September 20th, 2019

by

This guide will walk you through the Waffle House job application process, and provide helpful tips on how to land your the job you want.

Waffle House is a great place to work if you love being part of charitable contributions, working with customers and eating hash browns – of which the restaurant offers eight varieties.

Since its opening in 1955, Waffle House has served nearly 900 million waffles, but the popularity of its hash browns shines through with nearly two billion orders served.

With approximately 1,700 stores in 25 states, Waffle House franchises are constantly seeking new team members for both entry-level and management positions.

To make a Waffle House job yours, showcase your customer service skills, a willingness to help others and your friendly personality.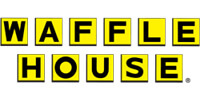 How to Apply for Employment at Waffle House
Free food, competitive salaries and amazing benefit packages are three reasons why applicants seek employment with Waffle House.
If you choose to apply for an hourly position, such as server or cook, you must visit your local Waffle House to fill out an application (there is not a pdf application currently available).
Managerial candidates are able to apply online through the company's website.
Regardless of the desired position, strengthen your application with examples of community service, leadership and outstanding customer service.
Application Information
Minimum Age Requirement: Waffle House applicants must be at least 16 years old for hourly positions. Candidates for positions in management must be at least 21 years of age.
Hours of Operation: Waffle House locations across the country are proudly open 24 hours a day, 365 days a year. Due to the abundance of working hours available, employees enjoy flexible work schedules.
Methods of Application: Candidates for positions in management can apply on the Waffle House website here. If you are applying for an in-store hourly position, visit your local Waffle House to fill out an application (hint: use the tips in this guide to increase your employment chances).
Don't Miss the Basics
The Waffle House employment applications are fairly straight-forward. Expect to list your education history, employment history and references.
Managerial candidates will fill out an online application. Before proceeding with the general application, you will be asked if you are at least 21, if you have a high school diploma or GED, and if you realize you are applying for a management position.
In the first section of the application, you will list your address, days you are unable to work and any family association to a current Waffle House employee.
You will be asked if you are able to provide proof of eligibility to work in the United States. Bring this piece of information to your interview.
Highlight Your Skills & Qualifications
Page four of the application is important for all candidates. The first section allows you to elaborate on any skills, qualifications or training that could make you a perfect fit for Waffle House.
Know when you are available to begin working and submit the start date with the application.
Give a realistic salary expectation. If desired, you can tell the hiring manager that you are negotiable.
The last section on this page requires three references.
Answer Every Question to Avoid a Rejected Application
Finally, candidates will be directed to a list of policies and notifications (don't skip these).
You must acknowledge that you have read each document, including: Drug and Alcohol Testing, Non-Discrimination Policy and Associate Conduct Policy.
Application Tips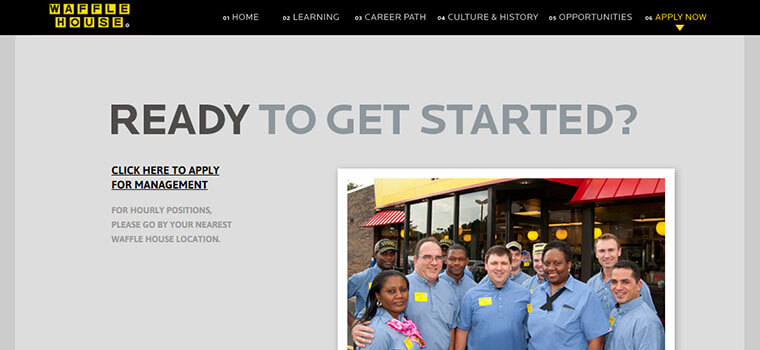 Demonstrate Your Ability to Work Under Pressure
Waffle House gives customers a true dining experience with the speed of a fast food restaurant.
In-store employees are constantly running around to deliver made-to-order food on real china while maintaining a fun and friendly personality.
When applying in person, list previous job duties which involved working under pressure, maintaining strict customer service standards or motivating team members.
Also let the hiring manager know your ties to the community. Are you part of a local book club? Do you volunteer at the animal shelter? Do you have a family-owned small business?
Waffle House prides itself on sponsoring local schools, groups and organizations. Describing how you are a valued member of the community will allow hiring manager to see your beliefs are aligned with the Waffle House mission – giving back to the communities who have supported the business since 1955.
Don't Neglect Page 4 of the Application
When applying online for a management position with Waffle House, pay particular attention to page four.
The first required field is a list of skills and qualifications. Read the job description prior to answering this question.
A unit manager is required to oversee approximately 30 hourly employees. In the skills and qualifications field, describe when you held a supervisory position and how you rallied the team for the benefit of the company.
Did you increase sales by creating awards for up-selling? Did you create a more pleasant atmosphere after a seminar on friendly customer service?
Show the hiring manager how right you are for a position at Waffle House by giving examples of leadership experience, employee motivation and increased sales.
Brush Up & Visit The Location Where You Would Like to Work
Candidates seeking hourly positions are required to physically visit the Waffle House where they wish to apply.
There are times when a candidate is taken into an interview directly after filling out the application. Be ready for that possibility.
To be certain you are prepared for an impromptu interview, dress to impress. Wear slacks or a skirt, leaving the jeans and sneakers at home.
Bring a copy of your resume and a list of your references with you to fill out the application. Get permission to list references from your former bosses, professors or co-workers prior to walking into Waffle House.
Open the door as if you are walking in for an interview rather than filling out an application.
Following Up
If you applied for an hourly position, check the status of your application by calling the Waffle House where you applied.
Ask to speak to the hiring manager. Introduce yourself.
Make yourself pop off the page by telling the manager how excited you are about the chance to interview with Waffle House.
Position and Salary Information
Waffle House promotes from within the company. Every high-level manager began as a single store manager.
Not only can employees move into elevated management positions, but servers, cooks and other hourly employees can rise to accept a position as store manager.
With a presence in 25 states, Waffle House offers plenty of open positions for the eager applicant:
Cook – Prepare made-to-order meals, communicate with the servers, prepare aesthetically pleasing food displays – The average cook makes between $7 and $8 per hour.
District Manager – Oversee two to three unit managers, oversee 60+ hourly employees, provide organization to Waffle House restaurants in district – The average district manager makes between $62,600 and $85,400.
Division Manager – Oversee two to three districts, demonstrate excellent leadership skills, recruit and train new members – The average division manager makes between $81,300 and $103,000.
Server – Provide fast and friendly customer service, take orders, communicate with kitchen staff – The average server makes between $3 and $4 per hour plus any tips earned.
Unit Manager – Oversee one Waffle House location, provide seamless shift change, provide help to all restaurant departments – The average unit manager makes between $41,000 and $55,400 per year depending upon restaurant performance.
Best Entry-Level Positions
Entry-level employees receive competitive salaries and a host of benefits.
These benefits include: health insurance, dental insurance, Waffle House stock, and vacation time that increases with every year of service.
Server
A Waffle House server is expected to deliver positive, professional customer service.
Responsibilities of the position include speaking directly with the customers, presenting food orders to the kitchen, and learning the Waffle House computerized ordering system.
Servers must be at least 16 years of age.
This position is primarily paid by tips, making it a perfect job for students, stay-at-home moms and second job seekers. Tipped positions put money directly into the employees' pockets at the end of each shift.
Cook
The position of cook is an excellent starting point for those who wish to gain management positions or hourly job security.
Cooks are offered a great benefits package and incentives to maintain employment at Waffle House.
Each meal a cook prepares is made-to-order. Applicants must display an attention to detail in order to cook modified meals.
Waffle House Careers in Management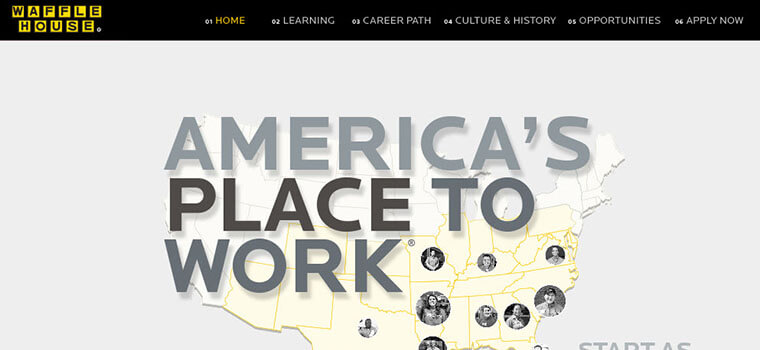 Waffle House is an excellent employer for candidates who hope to move up within the company.
Current employees holding experienced management positions all began as single store managers. New candidates can apply for a unit manager position with the hope of becoming district manager within a year and a half.
Unit Manager
The unit manager is the first rung of management within the Waffle House corporate structure.
Unit managers are responsible for leading a Waffle House team, hiring new team members and leading community outreach programs.
The unit manager's salary can vary depending upon restaurant sales. The more your employees up-sell hash browns, the more money you'll see in your paycheck.
District Manager
A district manager oversees two to three individual Waffle House restaurants. They are responsible for the unit managers and 60 or more hourly employees.
District managers are required to have flexible schedules and travel throughout their districts. As a hiring perk, this position is awarded stock options in Waffle House.
When interviewing for the position, speak of times you demonstrated organization, delegation and time management skills.
In one to three years, district managers will be eligible for promotion to division manager.
Division Manager
One of the highest-ranking management positions at Waffle House is the division manager.
This position requires candidates to oversee two to three district managers and 150+ hourly employees. Applicants must have proven themselves as district manager prior to promotion.
Successful candidates will demonstrate team leadership skills, ability to foster community relations and commitment to excellent customer service standards.
The division manager's salary depends upon the financial successes of the stores in the region.
Interview Questions & Tips
How Should You Showcase Your Personality?
Waffle House has a goal that every customer leaves happy.
So, bring your fun and upbeat personality to the interview. Demonstrate your ability to put people in a better mood than when they entered the restaurant.
Talk about your experience solving customer service issues. Every employee makes mistakes. The ability to take customer criticism and fix food blunders while maintaining a smile is key to upholding Waffle House customer service standards.
Should You Share Your Desire for Promotions?
If you want to climb the ranks at Waffle House, share that with your interviewer.
Express positive opinions of a company who promotes from within. Be willing to put in the time to get promoted, making Waffle House more than 'just-a-job'.
The interviewer will want to nurture candidates who want to make a career within the Waffle House family.
How Should You Prepare for the Interview?
Be prepared for your Waffle House interview. Practice answers to standard interview questions.
How can you contribute to the Waffle House family? What previous experiences will help you fulfill your job duties? What is your greatest flaw and what have you done to overcome it?
Rehearsed answers will make you sound more confident during your interview.
Prior to your interview, gather your resume and a list of references. Having this information readily available will show the hiring manager you are committed to landing a job at Waffle House.
Helpful Research for Your Waffle House Interview
Research the values, goals and achievements of Waffle House prior to your interview.
The company was started by two neighbors in Georgia who believed the town needed 24-hour restaurant service.
Local Waffle House locations are proud to give back to the communities that have supported the restaurant since 1955. Community schools, groups and organizations are encouraged to contact a local Waffle House for sponsorship information.
Waffle House created a museum by restoring the original restaurant in Avondale Estates, Georgia. Customers will feel as if they walked into an authentic 1950s diner. Throughout the restaurant, guests can view almost 60 years of Waffle House memorabilia.
What Employees Say about Working at Waffle House
Waffle House offers great employee perks, including flexible hours, Christmas bonuses and the ability to turn a job into a career.
According to employees, servers often see regular customers, forging a relationship with community members.
Intensive management training programs are also highly desired by current employees.
Being open 365 days a year has many employees working on holidays, but the hustle and bustle of Waffle House restaurants make the extra hours fly by.