Victoria's Secret Jobs & Careers – Application, How to Apply, Requirements & Interview Tips
Last Updated:
September 20th, 2019

by

If pink is your favorite color, this guide will help you complete the Victoria's Secret job application in a way that will set you up best for potential employment.

OK, even if pink isn't your favorite color. Just be aware you're starting off with a bit of a disadvantage against the pink-savvy crowd.

Do you like the idea of helping women of every size feel beautiful? If so, you will fit right in with the Victoria's Secret family.

Combining the elegance of the Victorian Era with sexy style, Victoria's Secret has become a lingerie staple within the United States.

The following employment application guide will provide hints and tips to help you land your job at Victoria's Secret. Whether you're looking for a fantastic employee discount or the ability to get your hands on the newest lingerie fashion trends, Victoria's Secret has the right position for you.

Headquartered in Columbus, Ohio, the brand boasts more than 1,000 retail locations across the United States and Puerto Rico.

Victoria's Secret is constantly looking for new team members to grow the brand that has become a common household name.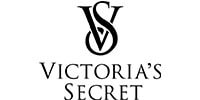 How to Apply for Employment at Victoria's Secret
If you're the type of person who isn't embarrassed by intimate clothing and conversations, beginning Victoria's Secret's application process has never been easier.
With the ability to download and print the application, candidates are required to deliver the information in person. Managerial candidates can submit their applications online.
From its birth in 1977, Victoria's Secret has been seeking the perfect employees to promote its brand.
Application Information
Minimum Age Requirement: All Victoria's Secret applicants must be at least 18 years of age. This requirement hopes to weed out candidates who do not have previous work experience.
Hours of Operation: Due to location, individual Victoria's Secret stores have varying hours. Employees should expect to work between the hours of 9 a.m. and 10 p.m. daily with shorter hours on Sundays.
Methods of Application: Entry level candidates must print and complete the Victoria's Secret application. There are three separate links, which can be found here, for applicants from the continental United States, Hawaii and Puerto Rico. A general printable PDF application can be found here. Applications should be hand delivered to your local Victoria's Secret. Candidates for management positions are able to complete and submit an online application.
Both the application for entry-level positions and the application for management careers are very straightforward.
Acing The Education & Employment History Sections
Candidates will be asked for personal information, including name, birthday and address.
Applicants will be expected to list both education and employment histories. For each previous position held, you will need the name of your supervisor, dates employed and reason for leaving.
The pen-and-paper application for entry-level candidates asks if you if a previous employer ever asked you to resign from a job.
If the answer is yes, applicants must provide details, including supervisor's name, location and dates of employment, and the specific circumstances.
Best Practices for the Miscellaneous Section
Under the section of the application titled Miscellaneous, candidates are asked if they have ever gone by another name. This information is used to ensure a proper work record can be obtained.
You will be required to confirm you can abide by the Victoria's Secret attendance policy and asked for your specific availability. In this section of the application, you will be able to list the minimum and maximum number of hours you can work each week.
After noting your availability to work the week of Thanksgiving, the week before Christmas and the week of Christmas, employees will be asked to sign the application, certifying that all information is true and complete.
Candidates for positions in management should expect the same minimal information requirement. You will be asked for your contact information, education and employment histories, and references.
Applicants are given the option to upload a resume prior to submission.
Application Tips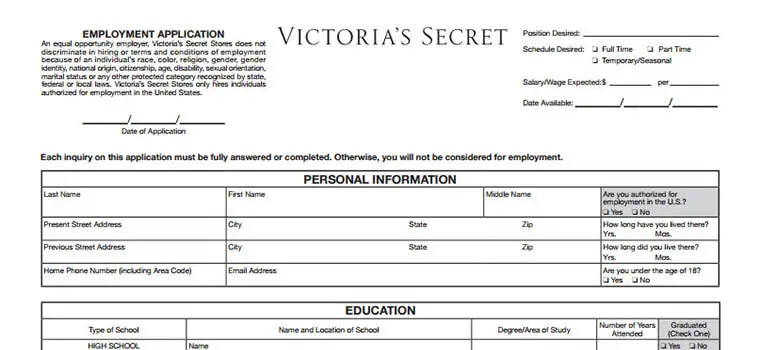 Demonstrate Your Customer Service Expertise
Although there is little space to let your personality shine through on the Victoria's Secret application, there are sections where you can demonstrate how well you will fit in with the existing team and company values.
The Employment History section of the application allows for freehand answers describing the duties of a previous job. In a limited amount of space, show the hiring manager what past experiences have helped qualify you to be a Victoria's Secret employee.
Focus on customer service skills, the ability to work well as a team and passion for your job.
Be 100% Honest With Your Employment History
If a previous employer asked you to resign, be upfront and open on the Victoria's Secret application.
Provide accurate details, including your previous position, employment location, supervisor's name, employment dates and specific circumstances.
Although the conditions of you leaving may have been less than desirable, put a positive spin on your answer. If they asked you to leave because of failure to perform job duties, explain what you have done since to assure you will not encounter that problem again.
Highlight What Makes You Unique
There are two other sections of the application where you will be able to set yourself apart from other potential interviewees.
In the Academic and Professional Activities and Achievements section, you should list awards, publications and professional societies to which you belong.
No matter how insignificant you think an award may be, list it anyway! Show the hiring manager what makes you a uniquely perfect for employment at Victoria's Secret.
Showcase Your Most Helpful Skills
The next section allows applicants to list any special skills that are applicable to the position for which they are applying.
Do you have advanced computer capabilities? Have you attended customer service seminars?
Ask yourself what makes you the right candidate for Victoria's Secret and list those items for the hiring manager.
Should You Follow Up?
To check the status of your application, call the Victoria's Secret location where you applied. Ask to speak directly to the hiring manager.
If she is unavailable, ask for a better time to call.
Management candidates who submit their applications online can sign into Victoria's Secret's career portal using the login information created prior to submission. You will then be able to view any saved jobs and application statuses.
Positions and Salary Information
The job title that is most common among Victoria's Secret employees is sales associate.
Although this position is entry-level, Victoria's Secret encourages growth among its employees. Victoria's Secret is the perfect place of employment for candidates of all experience levels.
Bra Specialist – Work with customers to find the perfect size and fit, drive return clientele, work well in a team – The average bra specialist makes between $10 and $11 per hour.
Brand Delivery and Operations Manager – Drive sales, ensure maximum productivity, create compelling visual displays – The average brand delivery and operations manager makes between $45,000 and $50,000 per year.
Customer Experience Manager – Lead brand initiatives, maintain excellent customer service skills among staff members, cultivate brand loyalty among customers – The average customer experience manager makes $60,000 per year.
Sales Associate – Deliver highly satisfying customer service experiences, open new Victoria's Secret Angel Card accounts, maintain awareness of promotions – The average sales associate makes between $8 and $9 per hour.
Store Manager – Assume responsibility for one single retail location, create visual presentations, train new staff members – The average store manager makes $60,000 per year.
Best Entry-Level Positions
The company encourages entry-level employees at Victoria's Secret to apply for management positions. Candidates looking to break into a career opportunity at ground level can expect great benefits, an employee discount and a supportive working environment.
Typically minimum-wage positions, the entry-level jobs pay more to candidates with prior retail experience.
Sales Associate
The sales associate is responsible for delivering exceptional customer service. If interested in this particular job, you may also consider filling out a Forever 21 application for a near-identical job title at a similar company.
This position requires employees to open new customer credit accounts for the Victoria's Secret Angel Card. All sales associates must keep current on the store's sales and promotions to easily assist customers.
Customer service experience is very desirable among candidates for this position. Those with less experience can capitalize on a genuine desire provide the best customer service possible.
Bra Specialist
Entry-level candidates looking to work even more closely with customers may apply for the bra specialist position.
Positive attitudes and friendly personalities go a long way in the hiring manager's mind. Bra specialists are responsible for creating returning customers. If hired, your skills and expertise will keep your customers coming back and asking specifically for you.
Ideal candidates will have a successful background in sales. Applicants must also have a demonstrated ability to work in a team atmosphere.
Victoria's Secret Careers in Management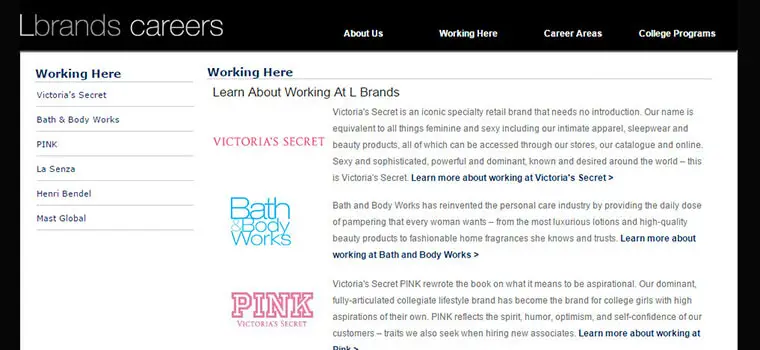 Whether you have a strong desire to help women be comfortable and sexy or you love the store's Victorian roots, a career in management may be for you.
Victoria's Secret management positions offer a variety of benefits with increasing amounts of responsibility. Candidates must help their stores become synonymous will all things feminine and sexy.
Brand Delivery & Operations Manager
The brand delivery and operations manager is responsible for the store's results. LYL candidates should be able to create long-term strategies designed to increase sales revenue.
This position requires ensuring employee compliance with company policies and values. Creative candidates thrive in this position as they have the responsibility of creating compelling and memorable visual displays.
Ideal candidates will have experience managing a high-volume retail outlet. Strong analytical skills and a flexible schedule will help ensure your interview spot.
Customer Experience Manager
Managerial candidates who absolutely love working with customers should consider the customer experience manager position.
Candidates will have a proven ability to delegate and excellent oral and written communication skills. Previous management experience is a must as this position requires employees to drive brand loyalty.
Applicants bubbling with ideas should share those thoughts with the hiring manager during their interview. Prove to your interviewer that the contributions you would make to Victoria's Secret are unparalleled.
Store Manager
The store manager shoulders the responsibility for a single Victoria's Secret location.
This positions requires candidates who have a bachelor's degree and three to five years of management experience. Store managers are responsible for hiring new employees and keeping current employees up to date and knowledgeable about all Victoria's Secret's products.
Although it's not the most pleasant task, store managers can look forward to resolving customer complaints while providing outstanding customer service.
Interview Questions & Tips
Can You Interview On-the-Spot?
Although you may think that physically dropping off your application at your local Victoria's Secret will be a five-minute experience, they may surprise you.
If the hiring manager is available, there is always the possibility of an on-the-spot interview.
Skip the jeans and t-shirts and opt for a business-casual appearance. You should dress to impress every time you enter your potential place of employment.
How Do You See Yourself Fitting Into the Victoria's Secret Family?
Victoria's Secret is an iconic specialty retail brand and is a pioneer in the lingerie industry. The image the store creates is unique yet welcoming.
Your interviewer will likely ask how well you think you will fit in with the Victoria's Secret family. Before you go, rehearse answers to what makes you stand apart from the rest.
Do you have extensive customer service experience? Have you gone against the grain and created a new social group or organization? Do you follow the latest bra and panties trends?
Align yourself with the Victoria's Secret brand to be sure to wow your interviewer.
How Should You Follow Up After Your Interview?
As your interview winds to an end, ask the hiring manager for her card. As soon as you get home, send your interviewer a thank-you email.
Express your excitement at the potential to work for Victoria's Secret. Acknowledging the time she spent with you may quickly add you to the short list of desired candidates.
Helpful Research for Your Victoria's Secret Interview
Prior to any interview, it is important to research the history, values and missions of a company. This will allow you to ask intelligent questions of your interviewer.
Roy Raymond founded Victoria's Secret when he was 30 years old.
In the mid-70s, the Stanford graduate visited a department store in search of something sexy for his wife. Unfortunately, he only found an ugly nightgown.
After speaking with the sales woman, Roy felt like a deviant and unwelcome in his mission. It was then he decided to create a lingerie store where men would feel comfortable shopping.
In 1977, with $80,000 in loans, Roy and his wife opened the first Victoria's Secret in Palo Alto, California.
In 1982, The Limited founder, Leslie Wexner, bought Victoria's Secret and revamped the brand to appeal to women. The former brothel-like store with red velvet sofas was now being inspired by the sexy lingerie that was an everyday staple for European women.
Wexner was able to bond sexy with affordable and they formed the Victoria's Secret we know today. Now male and female customers alike feel comfortable walking into any Victoria's Secret.
What Employees Say about Working at Victoria's Secret
Victoria's Secret employees value the extensive training they receive. Even more appreciated is the support of candidates who wish to move up the corporate ladder.
Unfortunately, as in many retail jobs, customers can, at times, be extremely difficult. If you have a bubbly personality and can let things roll off your back, you will be able to beat customer-induced mood swings.