Vans Jobs & Careers – Application, How to Apply, Requirements & Interview Tips
Last Updated:
September 20th, 2019

by

Filling out a Vans job application can get you on your way to a career with a company that stands out for it cool, laid-back attitude and unique approach to fashion.

Since 1966, Vans has been synonymous with youth culture and has become a staple of skate, surf, snow and BMX cultures. Their more than 585 retail stores need employees to help people discover their shoes, clothing and accessories.

Whether you like to roll on two or four wheels, ride the waves or swoosh on the powder, a job at a Vans store can earn you great discounts on the gear you need to enjoy the action. Vans is also known for providing opportunities for advancement, so you can get in on the ground floor of a growing company.

This guide will give you some helpful hints and tips to help you get your foot in the door at the company that lives by the motto "off the wall."
How to Apply for Employment at Vans
Vans recommends applying for positions online through their application system.
You can also stop into one of the retail stores to complete a paper app in person if you wish.
Application Information
Minimum Age Requirement: You must be at least 18 years of age to work at Vans.
Hours of Operation: Most Vans locations are open from 10AM to 9PM. You can use the Store Locator to find out the hours of the location nearest you.
Methods to Apply: Online, in person
Find a Position
Start the application process by finding an open position that you wish to apply for using the online search tool. You can browse by location, function, job type, job level and many other criteria.
If you find more than one job that interests you, take advantage of the "Add to My Job Cart" feature. This will allow you to submit applications for multiple job openings at once.
Create an Account
Once you have found one open job or filled up your cart, you're ready to create an account.
To do so, simply select a username and a password with at least six characters. If you have a Yahoo! account, you can sign in with that instead of setting up a login.
Upload a Resume
To make the best impression on the hiring manager, upload an updated copy of your resume to the website.
Not only will this give the hiring manager an easy-to-read record of your work and educational experience, but it will also save you time by filling in many of the details on the application system.
Fill in the Blanks
After you have uploaded the app, fill in any blank fields and correct any errors that occurred when your resume information was uploaded.
When you're satisfied with everything, proceed to the next screen.
Answer Screening Questions
The next stage of the application process includes questions that are custom tailored to the position that you are applying for. Their purpose is to see if you're a good match for the job.
You'll also be asked questions about your race and gender. You do not have to answer these questions unless you wish to, as they are purely for HR tracking purposes.
Attach Supporting Documents
On the final screen, you have a chance to upload supporting documents that might be beneficial to the hiring manager.
These may include things like a list of references, a copy of transcripts from college or a special award that is relevant to the position for which you are applying.
You do not have to upload any documents, but they could improve your chances of being called for an interview.
Application Tips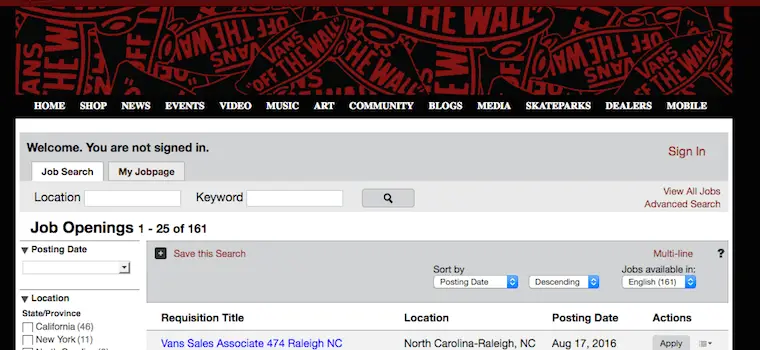 Highlight Your Achievements
The Vans job application asks you to briefly summarize the achievements that you are the proudest of.
You should include anything that is a source of pride, but it's also a good idea to look at the job description and include any accomplishments that relate to the requirements for the position.
For example, you might want to mention graduating from high school or college if the job requires a certain amount of education. You can also mention any accomplishments related to surfing, skating, BMX, skiing or snowboarding since Vans often prefers to hire people with one of these interests.
Write a Strong Cover Letter
During the final stage of the application process, you'll be asked to write a cover letter to accompany your resume.
A strong cover letter should include an opening paragraph with the following:
A sentence that states what job you are applying for and how you found out about it
A statement about when you are available to start
A sentence or two about why you're applying at Vans
Then, use the second paragraph to sell your strengths to the hiring manager. Make sure to mention any skills, work experience or education that directly relates to the position that you're applying for.
Keep the job description open in a tab on your web browser, so that you can refer to it and don't miss anything.
Spell check and proofread your cover letter before you submit it.
Include a Reference List
Even though it's not mandatory, uploading a list of three references can be beneficial when applying for a job at Vans, provided that you pick strong ones.
Choose people who will be able to discuss the strengths, character traits and experiences that make you a great candidate for the job.
Coaches, teachers, professors, religious leaders, mentors and former and current bosses tend to make the best references.
Before you submit your list, confirm with the people that you wish to include that it is alright for you to give out their contact information. Double check that the phone numbers and email addresses you have are their preferred methods of contact.
Should You Follow Up?
Vans tends to process applications quickly, and the online system makes it easy to check the status of your app after you have submitted it. If the human resources department feels you are a good fit, you will see that your application is in the hands of your local store. Normally, it is a good idea to give the hiring manager 1 to 2 weeks to contact you. If you don't receive an email or phone call, you can call your local store and politely ask for an update. It is usually best to phone retail stores on weekday mornings when they are less likely to be busy.
Positions and Salary Information
Vans has employment opportunities to suit every lifestyle. Whether you're in need of a second job, are looking for a first job out of high school or want to make a career in retail, you can find a position that is a good fit for you.
Here are some of the positions that often need to be filled at Vans stores:
Assistant Manager – Oversees daily operations and helps Store Manager implement strategies – The average Assistant Manager at Vans earns between $13 and $14 per hour.
Floor Supervisor – Trains and supervises employees, assists customers and opens and closes the store – The average Floor Supervisor at Vans earns between $10 and $11 per hour.
Sales Associate – Assists customers, processes sales transactions and keeps sales floor tidy – The average Sales Associate at Vans earns between $8 and $9 per hour.
Stock Supervisor – Processes shipments, organizes stock and helps move merchandise to sales floor – The average Stockroom Supervisor at Vans earns between $10 and $11 per hour.
Store Manager – Develops and implements strategies to increase sales, improve customer service and manage inventory effectively – The average Store Manager at Vans earns between $21 and $22 per hour.
Best Entry-Level Positions
Vans is willing to hire people with no previous retail experience but has a commitment to providing first-rate service to fill entry-level jobs in their retail stores.
All entry-level jobs begin as part-time positions. Employees who achieve sales goals, are reliable and interact well with customers may be offered full-time positions.
Sales Associate
Sales Associates are the individuals who help customers find the right shoes, clothing and accessories for their needs. They process sales transactions and are responsible for achieving sales goals.
In addition to their selling responsibilities, Sales Associates are expected to help organize the selling floor and keep the store looking tidy.
Seasonal Job Openings
Temporary Sales Associate
During the Christmas season, Vans stores often extend their hours to accommodate holiday shoppers. Temporary Sales Associates may be hired to cover the extra hours and handle the increased traffic in the stores.
The job duties of a Temporary Sales Associate are the same as those for year-round associates.
Vans Careers in Management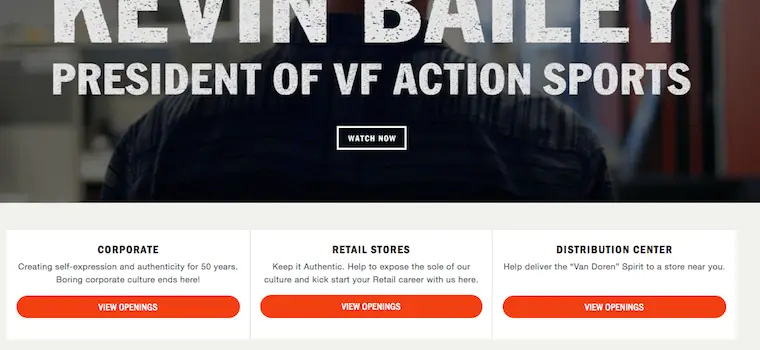 Members of the Vans management team help lead Sales Associates and ensure that their locations are a success.
The company often promotes from within, but individuals with the right experience and skills from outside of the company may also be hired for management jobs at Vans.
Floor Supervisor
The Floor Supervisor is responsible for overseeing the day-to-day activities of Sales Associates working on the selling floor. They coach and train, assist with transactions and may wait on customers as needed.
Prospect Floor Supervisors must have either a high school diploma or more than 1 year of experience in a similar position with another employer. Individuals who have both a diploma and previous retail supervisory experience will have the best chances of being hired.
Stockroom Supervisor
The Stockroom Supervisor is responsible for processing shipments, keeping the stockroom organized and ensuring that the sales floor stays fully stocked. He or she supervises employees when they are involved with activities related to stocking or inventory control.
To work as a Stockroom Supervisor, you must have a high school diploma or at least 6 months of experience in a similar job at another store. Individuals who have a diploma and previous inventory control experience will be preferred over other applicants.
Assistant Manager
The Assistant Manager ensures that both sales floor and the stockroom activities run smoothly every day. He or she helps the Store Manager put into practice strategies to make their location a success.
Qualified Assistant Manager candidates will have 1 year of retail supervisory or management experience plus a high school diploma or the equivalent.
Store Manager
The Store Manager is responsible for creating strategies that allow their store to achieve sales, service and profitability goals. He or she is also expected to take steps to ensure that their store complies with all of Vans policies and procedures.
The requirements for the Store Manager job vary based on the size of the retail store. At a minimum, prospective Store Managers must have a high school diploma or the equivalent and at least 1 year of retail supervisory or retail management experience.
Interview Questions and Tips
Vans promotes a relaxed, casual atmosphere, and interviews at their retail stores are reportedly laid-back to match the company's corporate style.
You'll still want to be professionally dressed and well prepared for your interview to ensure that you impress the hiring manager.
These sample questions will give you some idea of the kinds of questions that you may be asked when you interview at Vans.
Why Do You Want to Work at Vans?
There is no correct answer to this question, but you can use it as a chance to show that you've done some homework and learned about the company.
Tell the hiring manager what you admire most about Vans. If you love their products, say so.
Explain why you feel you would fit in well with the Vans team.
What's the Difference Between Servicing a Customer and Selling to a Customer?
For this question, the hiring manager wants to see that you have a basic understanding of what selling is.
Basically, servicing a customer means just getting an item that they request. Selling to them means helping them find the right item and convincing them that they need to have it.
Servicing can be selling if you recommend products to go with the item that they are asking for. That's called cross selling.
You can show that you really understand the difference by providing an example of servicing a customer and then say how you would sell to them again.
What Motivates You?
With this question, the hiring manager wants to see that you are motivated.
You can give any answer that you desire, just make sure to phrase it in a way that sounds professional.
Some things that could possibly motivate you include money, a desire to accomplish your goals or positive feedback from supervisors.
It's a good idea to name not just external motivators but also ways that you motivate yourself to succeed or achieve goals.
Helpful Research for Your Vans Interview
Competition for positions at Vans is often stiff, so you want to stand out to the hiring manager. Knowing some facts about the company when you sit down at the interview can show that you're serious about joining their team.
This information can serve as the start of your research for an interview at Vans:
What's Behind the Name?
The Vans name is owed to its founders, brothers Paul Van Doren and James Van Doren. In 1966, they opened a store in Anaheim, California, called the Van Doren Rubber Company.
That first retail location sold sneakers with rubber soles. That first shoe design is still found in Vans lineup and is known as the "Authentic."
The grippy soles caught the attention of surfers who started flocking to the Van Doren Rubber Company to buy their shoes. Eventually, some of the first skateboarders in Southern California discovered the sneakers, and the brand really took off in the region
The Era
In 1976, designers Stacy Peralta and Tony Alva introduced the Vans #96, a shoe that quickly become popular among skateboarders.
Today, the shoe remains a favorite in the Vans collection as the "Era" skate sneaker.
Going Mainstream
While Vans had long been known by those in the skate subculture in California, the brand gained worldwide fame in 1983.
That's when Sean Penn appeared in a pair of black and white checkered slip-on Vans sneakers in the movie, "Fast Times of Ridgemont High."
Teens from coast to coast started clamoring to have a pair of their own. You can learn more about the history of Vans at the brand's official website.
Expanding the Product Line
In 1993, Vans expanded their product lineup to include a snowboard boot.
Their BMX collection was introduced during the 2000s, increasing the company's footprint in the world of action sports
Vans and Music
Surf, skate, BMX and snowboard cultures are all associated with various types of music, and similarly, Vans has a strong connection to recording artists.
In 1995, the brand sponsored the Warped Tour, a traveling summer music festival.
It is currently the longest-running concert series in America, and Vans own a portion of it.
Sustainability
Vans is currently striving to make their operations greener.
They have set up a strategy to reduce their greenhouse gases by at least 5 percent compared to their 2009 levels, which would be the equivalent of eliminating 1.7 millions of gasoline combustion byproducts from the environment.
The company has also introduced initiatives to reduce water consumption at their factories and to incorporate more recycled and recyclable materials into their products.
Product Line-Up
Vans manufactures more than 500 million products every year. They offer clothing, shoes and accessories for men, women and kids and have specialty items for skateboarding, surfing, snowboarding and BMX biking.
It's a good idea to browse their online store before your appointment to familiarize yourself with what they have to offer.
What Employees Say About Working Here
By far the thing that employees seem to love most about working at Vans is the generous employee discount, which can reportedly be as much as 50 percent off in-store prices.
Current and former employees also report that Vans stores are fun places to work and that management does a good job of promoting a positive environment.
Reviews also state that there is room to grow at Vans and that management helps employees develop skills that allow them to move into positions of increased responsibility and better pay.