Teavana Jobs & Careers – Application, How to Apply, Requirements & Interview Tips
Last Updated:
September 20th, 2019

by

If you can tell an Earl Grey from an Assam or an English Breakfast from an Irish one, filling out a Teavana job application could allow you to translate your love for tea into a rewarding career.

Teavana is owned by Starbucks, which has been named as one of the best employers to work for in the United States by many publications, and was even featured on the list of the 10 Happiest Retailers to Work For in 2015.

Focusing on retailing tea rather than serving coffee, Teavana is an upscale specialty store with a heavy focus on sales and is always looking for individuals with a passion for tea and the ability to up-sell and cross-sell to join their growing team.

Want to find a spot on a Teavana team and help people find the right products for enjoying a spot of tea at home? This guide will give you valuable tips to help get your career brewing and give you the best chances of landing a job at a Teavana store.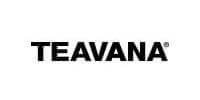 How to Apply for Employment at Teavana
Teavana accepts applications online and in stores.
Typically, the online application is the most efficient way to apply, as it allows you to keep your resume on file for openings in the future if you're not selected for an interview the first time.
Application Information
Minimum Age Requirement: You must be 18 years of age or older to work at Teavana.
Hours of Operation: Hours vary from location to location. Check the Store Locator to determine what the hours are at your nearest location.
Methods to Apply: Online, in person
Select a Position
Before you can apply for a job, you need to select an available position at a Teavana store.
The job listings page shows you all of the open posts at Teavana stores in the U.S. and Canada. You can click on any of them to read the job description for the position.
Once you have found a job that interests you, click the "Apply" button at the bottom of the page to get started.
Create an Account
To begin using the Teavana online application system, create an account.
The system will ask you to cut and paste the text of your resume into a box and then provide your basic contact information, including your name, address, phone number and e-mails.
You'll also need to create a password with at least six characters and create a secret question and answer for security purposes.
If you do want to be considered for openings in the future, be sure to check the box that says "E-mail me new jobs matching my resume."
Upload a Resume
Even though you will have cut and pasted your resume in the first step, the system will ask you to upload the document after your account has been registered.
This is presumably in case there are any errors with how your resume displayed in the box on the previous page.
Answer the Questions
On the next page, you'll be asked a series of questions, which will vary based upon the job that you are applying for.
The purpose of the assessment questions is to learn more about you and see if you meet the basic qualifications for the position.
Self-Identify if You Wish
After you have answered the assessment questions, the Teavana application takes you to a self-identification page that asks you to give your gender and race.
Completing the answers is voluntary. The questions are used by Teavana's human resources department to measure how diverse their pool of applicants is.
Your answers have no bearing on whether or not you receive an interview or ultimately get hired.
Application Tips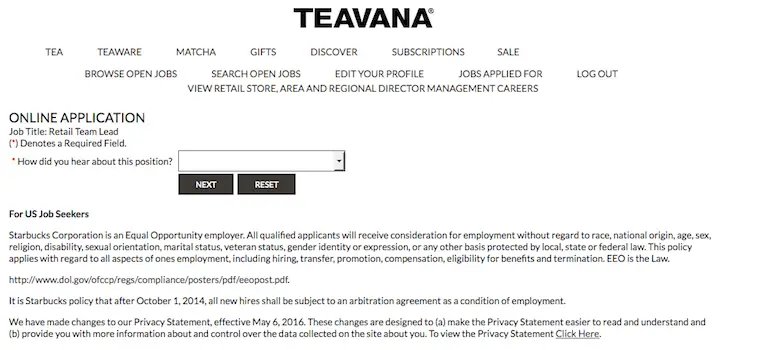 Proofread Your Resume
Before you apply for a job at Teavana, take some time to proofread your resume.
The store is looking for individuals who are professional and capable of making a great first impression on their discerning customers.
A resume full of typos and grammatical errors may get passed over by the hiring manager.
Give a Great Reason Why
For entry-level jobs, the assessment questions typically ask why you are looking for employment, and the answer to this question is very important.
Teavana is looking for individuals who have clearly defined goals and are motivated to achieve them. As a result, you do not want to give a vague answer like "I need money."
Briefly state what your short and long-term goals are when answering the question and say why you have chosen Teavana to help you achieve them.
Read your answer aloud before you submit to see how it sounds.
Make Your Skills Shine
Many of the assessments for Teavana jobs have a question about skills.
When answering, you want to make sure to show that you have the skills that are required for your desired position.
To give a good answer, keep the official job description open in a tab on your browser and refer to it as you write your skills description.
Do not plagiarize their list of desired skills and abilities. Instead, use it as a checklist, making sure that you include all of the ones that apply to you.
Be as specific as possible and remember not to over-exaggerate or embellish.
Should You Follow Up?
Unlike many other online job app systems, the Teavana application system does not provide an easy way for you to follow up on your inquiry. When you turn in your application, the system gives you a message that states that you will only be contacted if the hiring manager is interested in setting up an interview.
That said, it does not hurt to call the location that you applied for after 2 weeks have passed to check on the status of your app. Be forewarned, though–if the human resources department did not feel that you met the minimum qualifications, the manager of the store may not have any record that you applied.
Positions and Salary Information
Teavana offers the same great benefits packages that have made Starbucks a great place to work and has many opportunities for employment.
Some of the best entry-level and management positions at the stores include:
Barista – Prepares tea drinks and samples – The average Barista at Teavana earns between $8 and $9 per hour.
Operational Team Lead – Manages inventory and orders stock – The average Team Lead, Operations & Visual at Teavana earns between $9 and $10 per hour.
Retail Assistant Store Manager – Helps lead store to meet sales and service goals – The average Retail Assistant Store Manager at Teavana earns between $12 and $13 per hour.
Retail Store Manager – Responsible for overall sales and inventory control at a Teavana location – The average Retail Store Manager at Teavana earns between $17 and $18 per hour.
Team Member – Recommends products to customers and processes sales – The average Team Member at Teavana earns between $8 and $9 per hour.
Tea Shift Manager – Opens and closes store and supervises entire team – The average Tea Shift Supervisor at Teavana earns between $10 and $11 per hour.
Visual Team Lead – Keeps store displays maintained and ensures location is clean and sanitary – The average Visual Team Lead at Teavana earns between $9 and $10 per hour.
Best Entry-Level Positions
Teavana hires individuals aged 18 years of age and up to work in entry-level jobs at their stores. Whether you're looking for full-time or part-time employment, Teavana has opportunities available for individuals who love tea and have friendly, outgoing personalities.
Top entry-level jobs include:
Barista
At Teavana stores, samples are often given to encourage customers to buy, and the stores also sell hot and iced tea beverages to customers. The Baristas are responsible for preparing those samples and drinks and serving them with a smile.
There are no qualifications for being a barista beyond an eagerness to learn and the ability to provide top-notch customer service. Individuals with previous experience preparing drinks at a tea or coffee shop will have a better chance of receiving an interview.
Team Member
Team Members help customers find the right teas and recommend products and accessories to up-sell and cross-sell. They also process transactions, accepting payment and making change as needed.
While you do not need any specific educational background or experience to qualify for a Team Member job, individuals with previous sales or customer service experience are preferred.
Teavana Careers in Management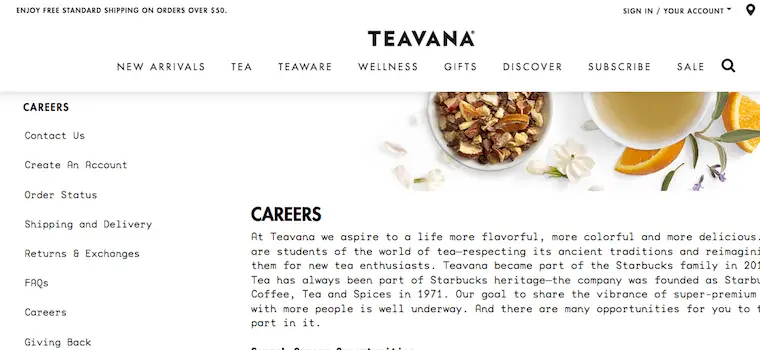 Individuals who want to start a career in retail will find plenty of opportunities at Teavana. Each location has a large management team that works to ensure the success of the store.
Some of the top management positions include:
Operational Team Lead
The Operational Team Lead performs the same job duties as a Team Member but is also responsible for coaching and mentoring sales associates. In addition, the Operational Team Lead is responsible for keeping the stockroom organized and managing inventory.
To qualify for an Operational Team Lead position, you must have at least 1 year of experience in both retail and sales. In addition, 6 months to 1 year of experience in a leadership position is also required.
Visual Team Lead
The Visual Team Lead waits on customers and coaches and trains Team Members. He or she is also responsible for merchandising and must keep the sales floor looking attractive in accordance with the Teavana brand vision.
Qualifications for Visual Team Lead jobs include 1 year of both customer service and sales experience plus 6 to 12 months of experience leading and coaching a team of employees.
Tea Shift Manager
The Tea Shift Manager is responsible for opening and closing a Teavana store on a regular basis. He or she supervises, coaches and trains Team Members and Baristas and also has sales goals to achieve.
Qualified applicants for Tea Shift Manager jobs will have at least 1 year of sales experience. Individuals with at least 2 years of customer service and retail experience and 1 year of supervisory experience are preferred.
Retail Assistant Store Manager
The Retail Assistant Store Manager helps to lead the entire team to achieve sales and service goals. He or she ensures that all areas of the store run smoothly on a day-to-day basis.
To be considered for a Retail Assistant Store Manager position, applicants must have:
A high school diploma or GED
At least 2 years of retail experience
At least 1 year of customer service experience
1 to 2 years of experience in a supervisory or management role
Previous experience training new employees
Previous sales experience with preference given to individuals with commission-based sales or specialty sales experience
Retail Store Manager
The Retail Store Manager is expected to make their Teavana location a success. He or she is responsible for achieving storewide sales and customer service goals, inventory control, following a budget and hiring, training and retaining talented employees.
Requirements for the Retail Store Manager position include:
A high school diploma or GED
At least 3 years of retail experience
2 to 3 years of experience in a supervisory or management role
Previous experience training new employees
Previous sales experience with preference given to individuals with commission-based sales or specialty sales experience
Interview Questions and Tips
If the hiring manager feels that you are a good fit for an open position, you'll receive a call inviting you to come in for an interview.
Reportedly, Teavana interviews last between 30 minutes and an hour. The following sample questions will give you a feel for what may be asked during the interview:
Describe a Time That You Received Negative Feedback from a Supervisor. What Did you Do to Correct or Improve Your Performance?
Everyone receives negative feedback from time to time. What the hiring manager wants to hear is that you took the suggestions made to you and used them to get better at your job.
Try not to choose a situation that might suggest you are unreliable, such as being reprimanded for being late or calling off too frequently.
Instead, focus on a skill that you needed to develop like improving accuracy, increasing speed or boosting your sales.
Briefly describe what feedback you were given, spending more time describing what you did to improve.
If possible, show that there was evidence that you were successful at improving. You could say how much faster your ticket times got or what your sales rose to during the following weeks and months.
Describe a Time When You Recommended a Product to a Customer.
Being able to achieve sales goals is an important qualification of nearly all of the positions at Teavana. With this question, the hiring manager is trying to assess your ability to sell.
To give a strong answer, describe the process that you used to recommend the product.
Briefly say what the customer was looking for and how you determined which product would be best. Choosing a scenario when you up-sold or cross-sold would be especially impressive.
At the end of your answer, say how you closed the sale, including how you handled any objections that the customer may have presented.
What Role Does Tea Play in Your Life and Why Is It Important to You?
It's difficult to sell a product well if you don't have a true love for it. While being an avid tea drinker is not a hard and fast job requirement for employment at Teavana, those who are passionate about the beverage will have the best chances of being hired.
Make your answer personal to you. You could discuss the health benefits of tea, how it helps you to relax or energizes you for your day.
If you drink Teavana tea, this would be a good time to mention your favorite type and describe its key benefits. You can even imagine that you're trying to build the desire to buy it in the hiring manager.
Helpful Research for Your Teavana Interview
Because Starbucks is known as being such a great company to work for, there is often a lot of competition for open jobs at Teavana. This research information will help you learn more about the company, so that you can shine in your interview and have the best chances of being hired.
Company History
Teavana was founded in 1997 with a single store located at Lenox Square in Atlanta, Georgia. A husband and wife established their company, using their life savings and a dream of owning a European-style tea shop in the U.S.
The company grew at a lightning fast pace and caught the eye of Starbucks. In 2012, the company announced their decision to purchase Teavana for $620 million.
Today, there are more than 400 Teavana stores. While most locations are in the U.S. and Canada, the company also operates tea houses and shops in the Middle East and Mexico.
Meaning of the Name
Teavana is a play on the word nirvana, the Buddhist term for enlightenment. In Buddhism, nirvana is the ultimate state of being and is something that people work toward throughout their lives.
By combining the word "tea" with "nirvana," Teavana hopes to convey that their teas help to improve life in a positive way. The eastern roots of the word also match the eastern origins of tea.
Product Line
Teavana carries many varieties of loose leaf tea, including green, black, white, oolong, mate, rooibos and herbal. The company website has a brief description of each type of tea that  you can review before your interview.
In addition to tea, retail stores carry teapots, tea sets, teacups, infuser mugs, tea pitchers, tea brewing systems and tea kettles.
Tea of the Month
Tea lovers can subscribe to the Teavana subscription service to receive a specially curated selection of loose leaf teas chosen especially for the season.
The subscription can be purchased for one's self or to give as a gift. You can read more about it at the official website.
Teavana Oprah Chai
To raise money for the Oprah Winfrey Leadership Academy Foundation that helps talented, underprivileged children get ahead in life, Teavana partnered with Oprah Winfrey to create Teavana Oprah Chai.
A portion of the proceeds of every sale goes to fund the foundation.
Since the launch of the tea, more than $5 million has been donated. Some of the funds were even used to build a school in South Africa.
An Ethical Company
In 2015, Teavana joined the Ethical Tea Partnership, a not-for-profit company that helps to improve the lives of tea growers and harvesters in third world countries.
By joining the partnership, Teavana has shown that they are committed to selling and serving tea that has been sustainably grown and ethically traded. You can learn more about the Ethical Tea Partnership at the organization's website.
What Employees Say About Working Here
In employee reviews, Teavana is frequently lauded for being an ethical company that cares about employees, the community and the planet at large. Reviewers state that they feel proud to work for Teavana as a result.
Excellent benefits packages that include 401k plans, full medical insurances, free scholarships and tuition assistance programs and generous discounts on products are also frequently mentioned as pluses of working for Teavana.
Current and previous employees frequently describe Teavana as fostering a positive working environment that allows every member of the team to grow and learn new things.