Target Jobs & Careers – Application, How to Apply, Requirements & Interview Tips
Last Updated:
September 20th, 2019

by

This guide will help you land the job you want by taking you through the Target job application process and providing helpful hints along the way.

Whether you want store-wide discounts coupled with employee discounts, or to practice your archery using the store's giant bulls-eye, Target has open positions for every personality type.

Target is known for celebrating diversity and representing the surrounding communities with its employees. The corporation values different backgrounds, experiences and unique points of view in all potential candidates.

With stores in 49 states, Target continues to grow its brand of quality, discounts and community activism.

This large corporation is constantly seeking applicants with strong ties to the community, volunteer experience and a positive attitude.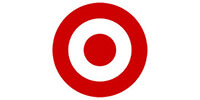 How to Apply for Employment at Target
Those looking for careers at Target corporate headquarters in Minneapolis, Minnesota, can submit applications online.
Candidates seeking employment at their local Target or Target distribution center can also apply online; however, there are also in-store kiosks specifically designed for filling out employment applications.
Application Information
Minimum Age Requirement: All Target applicants must be at least 16 years of age. Those seeking employment at a Target distribution center must be at least 18.
Hours of Operation: Most Target locations open at 8 a.m. and close at 10 p.m. local time Monday through Saturday. Although the stores open at the same time Sunday mornings, Target closes its doors at 9 p.m. on Sunday evenings. The increased age requirements assure that candidates can work until closing.
Methods of Application: Target allows candidates to apply online in the comfort of their homes, or by filling out a printable PDF application form. Applicants for corporate or office positions must submit a resume through the Target website. Those seeking in-store entry-level or management positions may also go to a local Target and use the kiosk provided to fill out and submit an application.
The Target website warns that the application process may take 45 minutes to complete.
Things You Need Prior to Applying
Target asks that before you apply you ensure that you are at least 16 years old (18 for distribution centers) and have legal proof of eligibility to work in the United States.
Prior to filling out the application, collect your Social Security number, contact information, education history and employment history.
Applicants must be able to start no later than 60 days after the application date.
You may read the application instructions in English or Spanish.
Starting the Application
When you click to start the application process, the Target website will direct you to a screen where you can search for jobs.
You will be able to search using your city and state or your zip code. Once you select the store(s) closest to you, it will ask you which positions you are applying for.
Choices include front end, sales floor, grocery, assets protection, pharmacy and many more.
After you choose the categories you are interested in, the website will direct you to a list of more specific jobs. Candidates may choose to apply to any job that that is on the list as available.
Before continuing with the application process, you must consent or refuse to use an e-signature.
All applicants must consent to a drug screening and background check.
Don't Skip These Important Application Questions
Target requires applicants to answer qualifying questions for the government's Work Opportunity Tax Credit program, which is currently on hold.
Expect to answer questions regarding your family's use of food stamps, welfare and Social Security Income. The application will also ask about veteran and disability status.
Click here to begin the application process.
Application Tips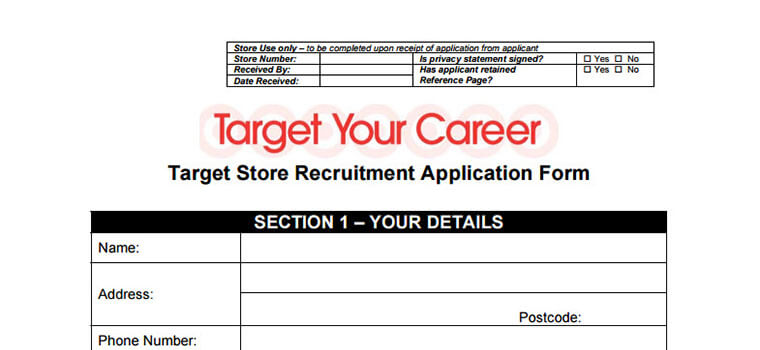 The last section of the application is the Applicant Questionnaire, a 50-question personality test that will help hiring managers determine if a candidate will mesh well with the Target family.
Let Your Personality Shine Through
The questions require you to analyze your personality.
Are you more tactful than most? Do you have a rebellious streak? Do you daydream often?
The questions will also dig deeper, asking for your opinion. What percentage of people do you believe cheat on their taxes? What percentage of politicians do you think are honest?
Take your time filling out this section. Answer honestly and let your personality shine through. This is the first opportunity you will have to show the store manager that your ethics, beliefs and values align with Target's.
Use LinkedIn's Resume Upload Feature
Target allows applicants to apply for open positions using a LinkedIn account or pre-written resume.
By using one of these methods, several fields will be automatically filled in for you. Candidates have the option to enter all information manually.
To save time, upload your data. It is important to always proofread pre-filled sections of the application to ensure the right information was placed in the correct boxes.
Double & Triple-Check Your Information
The Target application will take you through several sections from employment history to questions for the tax credit program.
Once you complete a section, you have the opportunity to save and quit.
If you choose to continue on, a notification will appear warning you that once you move to the next section you will not be able to make changes to the previous section.
Verify all information before continuing to ensure there are no mistakes in your application.
Check Your E-mail Immediately
Check your email after you submit your application.
Target sends an immediate notification of received applications.
Should You Follow Up?
By logging into the profile you created during the application process, you are able to check the status of your application.
Click the My Jobpage tab to view the progress of each submission.
For applicants who applied for in-store positions, calling the hiring manager a few days after submission will help put you in the forefront of his mind.
Express how excited you are for the opportunity to interview with Target.
Positions and Salary Information
Not only is Target a great place for students to work during seasonal peak hours, it offers the ability to climb through the ranks into various managerial positions in several areas of expertise.
Job categories include digital media, creative marketing, technology and development, and many more.
From behind-the-scenes positions to working directly with customers, Target offers positions for people of all talents:
Backroom Team Member – Increase sales by keeping the floor stocked, arrange items on shelves, maintain organization – The average backroom team member makes between $13 and $15 per hour.
Cashier Team Member – Handle financial transactions using the cash register, provide exceptional customer service, learn new technology – The average cashier team member makes between $13 and $15 per hour.
Distribution Operations Manager – Oversee 20 to 40 team members, maintain workplace safety, meet performance goals – The average distribution operations manager makes $55,000 per year.
Executive Team Leader – Open and close store, recruit new team members, ensure friendly customer service from all employees – The average executive team leader makes $60,000 per year.
Pharmacy Manager – Oversee pharmacy team, ensure confidentiality standards are met, recruit new members – The average pharmacy manager makes $125,000 per year.
Pharmacy Technician – Work confidentially with customer information, use cash register for financial transactions, help fill prescriptions – The average pharmacy technician makes between $13 and $15 per hour.
Sales Floor Team Member – Provide fast and friendly service, maintain store cleanliness, train new team members – The average sales floor team member makes between $13 and $15 per hour.
Best Entry-Level Positions
Everyone has to start somewhere, and Target is a great company with whom to take that first leap.
Target's entry-level positions provide job security and chances to move up within the company.
Named on Diversity Inc.'s "Top 50 Companies for Diversity", Target enjoys staffing members and personalities that reflect the community.
Sales Floor Team Member
One of the most popular entry-level positions with Target is the sales floor team member.
Not only are employees surrounded by a fun atmosphere and great discounts, they are also offered competitive pay and flexible scheduling.
Sales floor employees are responsible for arranging items on shelves, moving merchandise, creating displays and monitoring the cash register.
Backroom Team Member
The backroom team member positions is great for candidates who thrive on neatness and order.
Team members are required to move and display merchandise, while maintaining organization in the stock room.
This entry-level position helps open doors to move up within the Target family.
Cashier Team Member
Entry-level candidates may choose to apply for a cashier team member position.
Simple math skills are required for this position. Once hired, a cashier will be responsible for providing friendly customer service during checkout.
The ability to work quickly while scanning and bagging items will allow you to help increase the store's sales.
Pharmacy Technician
The entry-level pharmacy technician position requires candidates to have a high school diploma or equivalent experience.
Techs must agree to process all customer data confidentially. Many pharmacy transactions, such as refill requests, are handled on the phone.
Candidates must have exceptional phone skills to be considered.  
Seasonal Job Openings
During the application process, Target asks candidates if they are seeking seasonal employment, which is defined as being hired for less than 90 days.
Seasonal job openings are available across the store, especially during the Christmas and summer seasons.
Target Careers in Management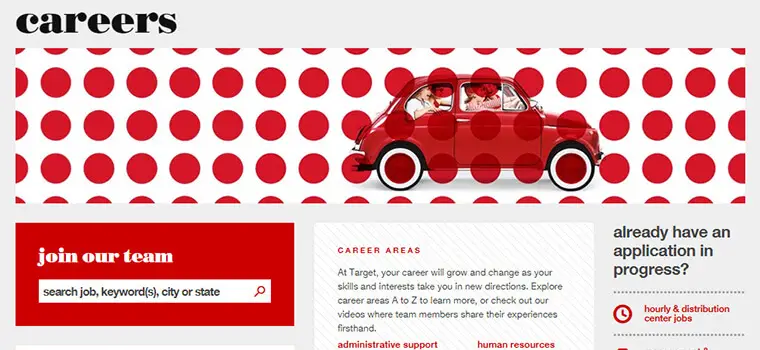 Target headquarters in Minneapolis offer a variety of managerial positions. For non-local candidates, there are also several in-store management opportunities.
For these positions, Target seeks employees who understand the company's mission to combine the best of its products with amazing discounts while maintaining strict quality standards.
Offering more than 75 departments, Target is constantly seeking to fill managerial positions for each subdivision.
Pharmacy Manager
The pharmacy manager is responsible for supervising the Target pharmacy team.
Candidates must hold a Bachelor of Science degree in pharmacy and an active pharmacy license. A flexible work schedule is required as applicants will be required to work nights and weekends.
The pharmacy manager is responsible for maintaining confidentiality, answering customer questions and keeping up to date on pharmaceutical news.
Distribution Operations Manager
Candidates applying for a distribution operations manager position must have a four-year degree and proven ability to motivate team members.
Applicants must be open to the possibility of relocation.
Responsibilities include managing 20 to 40 team members while collaborating with other departments within the specified Target.
Executive Team Leader
Executive team leader applicants will hold a four-year degree. Previous supervisory experience is a must.
Candidates must also have demonstrated conflict management skills, strong decision-making skills and a head for numbers.
Team leaders open and close the store, receive intensive up-to-date training and develop plans to increase sales.
Occasional Management Opportunities:
Visual Merchandising Manager
Project Manager (various fields)
Interview Questions & Tips
During the interview, it is important to show how your personality traits and qualities match the values of Target.
Should You Showcase Your Volunteer Activities?
In 1997, Target's Good Neighbor Volunteer Program (now Target Volunteers) was awarded the President's Service Award by President Bill Clinton.
The company's biggest charitable contributions are to education, especially arts and cultural experiences and programs.
Have you worked or volunteered in a school or daycare program? Did you organize a fundraiser for education? Have you spoken up at a PTA meeting to keep the arts in education?
Target offers many volunteer opportunities. Target volunteers logged 1 million hours of volunteer work in 2017.
Showcasing volunteer experiences will make you a much stronger candidate in the manger's eyes.
How Important is it to be a Team Player?
Target values teamwork. During your interview, showcase opportunities you had to work well in a team.
Focus on the contributions you made. Did you step up to fill the shoes of group leader? What new ideas did you contribute to help the team continue smoothly?
Target believes that team members are the company's greatest asset. Target will invest time and effort into helping its team members rise through the company as long as they are team players.
How Much Should You Prepare for the Target Interview?
Don't go into your interview blindly. There is nothing worse than a candidate who can't put a sentence together without the "like's," "um's" and silent pauses.
By practicing answers to common interview questions, you will present a more confident you, which is sure to impress the hiring manager.
Be able to name your worst flaw, your greatest achievement and precisely how you will contribute to the Target family.
Helpful Research for Your Target Interview
You don't have to memorize Target's timeline of achievements, but you do need to have basic knowledge of the company.
Researching Target facts prior to your interview will help with one of the interviewers last questions: "Do you have any questions for me?"
This question can trip up even the most confident candidate if they know nothing about the Target Corporation.
Company History
The first Target appeared in Roseville, Minnesota, in 1962.
The store offered well-lit parking for 1,200 cars, wide aisles and speedy checkouts.
One year after opening, the term "Tar-zhay" was coined offering the quality discount store a taste of French elegance.
In 1993, the official uniform was changed to red and khaki.
Although the bullseye had been around for decades, in 1999 Target gave Bullseye the dog his first appearance.
Philanthropy
Target is a brand that is good for the neighborhood.
Each year, 5% of the company's profits are donated back to the community, especially to educational causes.
Target supports arts and culture, providing funding for educational field trips, museums and cultural institutions – including Atlanta Children's Museum in Atlanta, Georgia, and early childhood reading programs.
What Employees Say about Working at Target
Many Target employees say the company provides a great work-life balance. Team members are always ready to help one another and train newer employees.
The ability to move from entry-level to management positions is valued by Target team members.
The biggest drawback of working at Target, as described by its employees, is rude customers. Anyone who has held a customer service position will understand this plight.
The best thing to do is smile until you are able to compare horror stories with a co-worker.