Taco Bell Jobs & Careers – Application, How to Apply, Requirements & Interview Tips
Last Updated:
September 20th, 2019

by

If their friendly vibe and good spirit appeals to you, this guide will show you how to fill out a Taco Bell job application to your best advantage.

Taco Bell has quickly established itself in the last few years as the unofficial fast food restaurant for college students and teenagers.

Whether it's by selling Mountain Dew slushes with massive burritos, or by buying thousands of football tickets for students, Taco Bell has found a way to the hearts and stomachs of its core group, college "dudes," and teenagers.

Taco Bell offers entry-level Team Member jobs. If you succeed in landing the job, and prove yourself a good employee – you can graduate to Shift Lead.

The restaurant chain also offers Managerial careers – hiring both Assistant & General Managers at the store-level.

This guide will show you the best jobs at the Bell, and will walk you through the application process.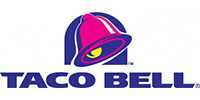 How to Apply for Employment at Taco Bell
Taco Bell claims to be committed to teenagers and their advancement, so they have created a program called "Graduate for Mas." This program allows people under 18 to work for Taco Bell and also have a chance to win scholarships for college.
So, if you are under 18, make sure that when you apply online, you choose the "Graduate for Mas" option. We will cover it later in the guide.
If you are 18 or over, you can apply to the other four positions available online.
Application Information
Minimum Age Requirement: Taco Bell does not list a minimum working age, so it is based on your local state's legal working age. The minimum Federal working age, according to the Department of Labor, is 14.
Hours of Operation: Most Taco Bells are open late, with varied hours. Most open in the morning at around 10 AM, but their closing hours vary from 9 PM to 5:30 AM.
Methods to Apply: You can apply in person at most Taco Bells, but it is recommended that you apply online.
Taco Bell has a fairly easy application, with a few quirky questions that shouldn't be too hard for you to answer. You'll just enter your personal information (name, birthday, phone number and all that), and fill out a few minor assessment questions.
You should set aside about 30 minutes to fill out the application, as Taco Bell doesn't allow you to save the application.
Brush Up Your Math Skills
Practice your addition and subtraction skills, as some versions of the application have you do minor-level addition and subtraction to prove that you can work the cash register.
Application Tips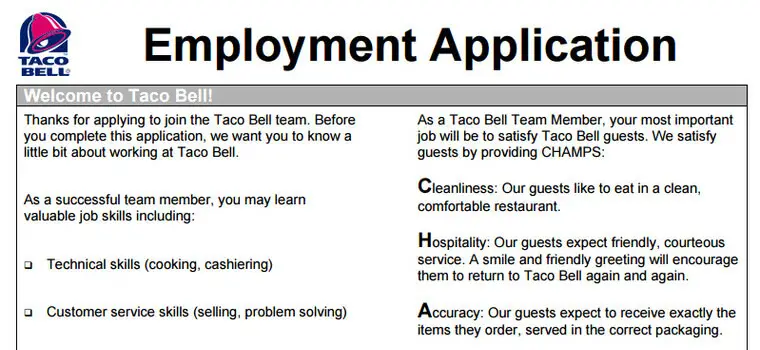 Pick a Favorite Menu Item
The question that stands out on Taco Bell's application is "What is your favorite Taco Bell menu item?" Taco Bell claims to be extremely enthusiastic about their food, so make sure you actually put a real Taco Bell item in this box.
If you don't eat at the Bell very often, you can just write down "the Chalupa."
Show Your Enthusiasm
Taco Bell is looking for enthusiasm for their company, above all. So, make sure that you stress even the slightest feeling of interest that you have in the company if given the chance on the application.
Whatever you do, do not make jokes about the food, no matter how much you're tempted to. Taco Bell, as mentioned above, is very passionate about their food. They've probably heard every Taco Bell food joke, and probably won't appreciate them as much as you think.
Be open about why you decided to apply to Taco Bell if asked. Don't shy away from saying that it is the closest restaurant to your house, but also don't seem bored by it.
Should You Follow Up?
Once you submit your application, you'll receive an email that it has been submitted. Don't bother replying to this email, as it'll just bounce back. On average, it takes about 2-3 days for the managers to read over your application and call you.
They might also send you an email if they can't get a hold of you on the phone. So, make sure to check your email inbox regularly.
If you haven't heard anything in a week, call the store you applied to. You can find the phone number by searching for your store on Taco Bell's Store Locator. If they haven't received your application, you'll probably need to reapply.
Positions and Salary Information
Taco Bell is like most fast food service locations. It has one main position that does most of the day-to-day work, and the rest of the positions manage those people.
This main position, the Team Member, is a catch-all position that does everything from clean the bathrooms (in some cases) to make the food.
Team Member: Greet customers, take orders, prepare food, clean the restaurant. $8/hr.*
Shift Lead: Does many of the same jobs as a Team Member, but is also responsible for informing restaurant management of problems and running inventory. $9/hr.
Assistant Manager: Works to fix customer complaints, manages Team Members, instructs Shift Leads and provides reports to Manager. $12/hr.
Restaurant General Manager: Performs training of all local store employees, resolves conflicts, manages all employees.
*Taco Bell does not post their salaries on their job listings or on their website. All wages estimated from Bureau of Labor Statistics (BLS), Glassdoor.com and PayScale.
Best Entry-Level Positions
The only true entry-level position is the Team Member, but if you're over 18 and you have some prior experience, you could get hired on as a Shift Lead.
Team Member
Focuses on the customer and what the customer wants. Cleans restaurant when not busy, takes and fills orders from customers.
Restocks food items, kitchen items and other supplies when they begin to run low. Reports problems to Shift Lead or Assistant Manager as they arise.
Shift Lead
Manages Team Members, writes reports about day-to-day operations, solves customer complaints as quickly as possible, and maintains inventory and cash supply.
Taco Bell Careers in Management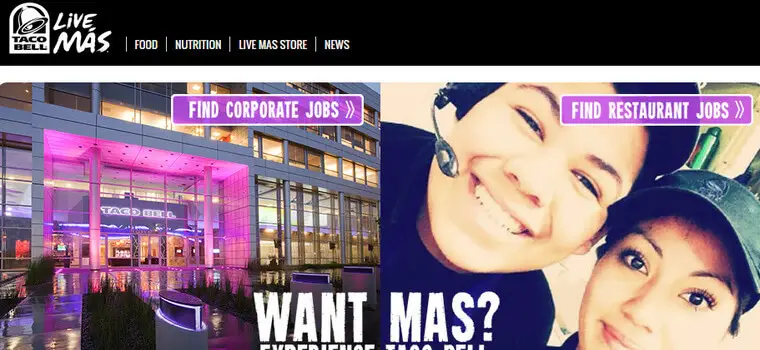 There are two main management positions at Taco Bell, the Assistant Manager, and the General Store Manager. They work together with the Shift Lead to make sure that the store keeps running smoothly.
Assistant Manager
The Assistant Manager is brought in when a customer demands to speak to a manager, provides feedback to the employees as needed, maintains stock and cash drawer, reads Shift Lead reports, and responds accordingly to any described issues.
General Store Manager
Focuses on making sure all the employees are properly trained and motivated. Quickly resolves any conflicts that may arise, whether they are between employees or customers, and makes sure that the employees understand the business strategy and are working to implement it.
Interview Tips
Once you get an interview with Taco Bell, keep in mind that you will probably be interviewed by a franchise manager. Many Taco Bell stores are independently owned, and thus their interview procedures are all a little different.
Dress nicely, but don't wear a suit. Make sure to bring your resume, if you have one.
Don't be afraid to ask questions, but make sure the interviewer has said all that he or she wants to say first.
Often the interviewer will ask at the end if you have any questions, but if they don't, make sure to speak up before the interview finishes.
If the store is extremely busy when you come in for your interview, don't get stressed or frustrated if the interviewer is late or does not appear to be paying attention.
Possible Interview Questions
What Do You Know About Taco Bell?
This question will be much easier to answer once you read the section following this one. We'll give you the basic background and a few facts.
You might write down a couple of facts on your resume if you have trouble remembering them.
What is Your Favorite Item on the Menu and Why?
It might not be a bad idea, if you've never eaten at a Taco Bell before, to order something off their menu and try it before applying. That way, if you are asked this question, you can respond honestly and give some details.
If you don't want to eat Taco Bell, you could just say that you like the Supreme Chalupa, especially the way the sour cream compliments the beans and ground beef, and leave it at that.
What Is Your Strongest Asset?
This question is really up to you, since we can't pick facets of your personality for you. You should definitely emphasize job-related skills, like a willingness to work hard, or the fact that you like to prepare food.
Keep it short, don't talk too much about skills that are unrelated to the job (musical taste, for example), and if you feel like it, ask the interviewer what assets they are looking for.
Helpful Research for Your Taco Bell Interview
Glenn Bell founded his first taco stand in 1954, called "Taco Tia." After a couple of successful incarnations, Glenn decided to open a full-fledged restaurant that combined his love of tacos with his last name.
Taco Bell was born in 1964, ten years after Bell handed out his first taco.
PepsiCo bought Taco Bell in 1978, and expanded the restaurant further. They opened Express fast food locations in malls and shopping centers that served primarily dollar menu items.
Today, Taco Bell has over 5,600 restaurants.
Did You Know?
Taco Bell stuck a target out in the Pacific Ocean when Mir was falling back to earth, claiming that if even a small scrap of Mir hit the target, every person in the U.S. would be given a free taco. To the sadness of many, not even a small part of Mir struck the target.
Taco Bell has its own named arena in Boise, Idaho. They do not own the arena, as the franchise owner only bought the naming rights.
Mountain Dew's Baja Blast was chemically designed to complement the taste of Taco Bell's food, and, until recently, you could only get it at Taco Bell restaurants. You can now buy it in cans at various grocery stores. It is still forbidden from being in other restaurants.
Taco Bell is one of only a few fast food restaurants that does not have a kids meal.
The Doritos Locos Taco was at least partially invented by a man from Little Rock, Arkansas. He urged Frito Lay to make a taco shell out of their chips, and Taco Bell paid attention.
Todd Mills, the inventor of the shell, never asked for any compensation, and died at the age of 41 from brain cancer.
Taco Bell had a burger item in the 1960's, called the Bell Burger. It was just all the ingredients from a taco put between two buns instead of inside a taco shell.
What Employees Say About Working Here
Most employees, current and former, had some pretty negative things to say about Taco Bell, but they were positive about the experience overall.
Most employees seem to be between the ages of 16 to 25, but many of the General and Assistant Managers are in their late 30's or early 40's.
One of the biggest complaints was the amount of staff turnover.
Most fast food restaurants have high turnover rates because of difficult positions, low pay, or because employees are only there for the summer before returning to school. But several employees mentioned that Taco Bell had seasons of high turnover where it seemed that they couldn't keep anyone.
Other negative factors included things like low pay, high stress levels from dealing with all of the orders, and poor or frustrating coworker experiences.
The most mentioned positive aspect of working for Taco Bell was the fact that they are more involved with helping students further their education.
Many of the student and college-age employees said that Taco Bell gave them flexible hours to work around their classes, and some even said that Taco Bell gave them a small scholarship to help pay for tuition.
Other positive factors include a structured work environment, lots of free food, and overall decent customers.
Managers were very happy with their salaries and benefits overall, but the entry-level workers were often frustrated with the low amount they were initially paid.