Sonic Jobs & Careers – Application, How to Apply, Requirements & Interview Tips
Last Updated:
September 20th, 2019

by

If you've got a craving for some extra money or have an appetite for a career with room for advancement, completing a Sonic job application could be the first step toward satisfying your hunger.

A growing chain of corporate-owned and franchised fast food restaurants, Sonic serves food outdoors right at customers' cars as well as through drive-thrus at some locations.

Often busy as people flock to their parking spaces to dine on tasty burgers, hot dogs and shakes, Sonic needs people who are able to provide quick service with a smile to fill open positions at their more than 3,500 locations.

Sonic is known for providing a fun, upbeat working environment different from other restaurants due to its unique business model.

Sound like the place for you?

This guide serves up some tasty tips that you can combine with your winning attitude and experience like a cherry atop a Sonic shake. Read on and find out how to improve your chances of getting hired at a Sonic Drive-in.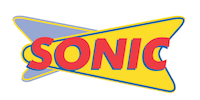 How to Apply for Employment at Sonic
Sonic Drive-in restaurants are busy places, so it is usually best to complete an application online.
If you absolutely must complete a paper application, it is wise to call ahead of time to find out when you should come in to pick one up.
Application Information
Minimum Age Requirement: You must be at least 16 years of age to work at Sonic Drive-In.
Hours of Operation: Nearly all Sonic Drive-In locations are open from 6AM to 10PM or later. Use the Drive-in Locator to check the hours of locations near you.
Methods to Apply: Online, in person
Register for an Account
To start the online application, you will need to create an account.
To do so, you'll provide your name, email address and phone number. Then, you will need to select a username and a password.
Answer Demographics Questions
Sonic Drive-in seeks to promote diversity and maintains records of the demographics of people who apply for positions at their stores to help them see how well they are doing at attracting a wide range of people for employment opportunities.
As a result, the online application asks questions about gender and race. Your answers will not affect your chances of getting a job, and you do not have to answer.
Complete the Sections
After you have answered the demographic questions, you will need to provide contact information, your education and employment history, your availability and three professional references.
Once you have included all of the information, read the disclosures, submit the app and you're finished!
Application Tips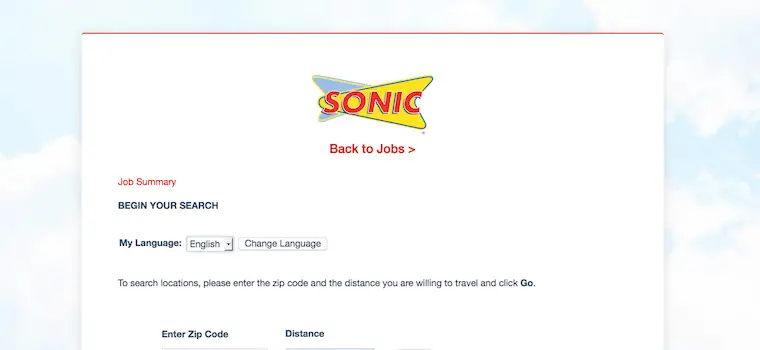 Upload Your Resume
If you want to save time and make a great impression on the hiring manager, you can upload a copy of your professional resume instead of completing the full online application.
After you have created an account and answered the demographics questions, the system will prompt you to add a resume if you desire.
Make the Most of Your Experience
Attaching your resume rather than using the form gives you the chance to highlight your skills and experience in a way that the online application does not.
On your resume, add a qualifications area where you summarize in bullet points the most important skills and the experience that you have that makes you a good fit for the position for which you are applying.
In the work experience area, briefly summarize the job duties that relate to your desired position. As an example, if you worked as a cashier in a grocery store and want to be a carhop, you can list things like "processed transactions with speed and accuracy," "provided service with a smile" and "gave correct change to customers."
Provide References
Professional references are only mandatory for people who are applying for management positions; however, providing three strong references can help to improve your chances of being hired.
When selecting references, choose people who can talk about how you are qualified for the position. Think about who you know who can talk about your personality, your commitment to teamwork, how responsible you are and how skilled you are at communicating, reading and doing mathematics.
You may wish to ask teachers, professors, religious leaders, coaches, mentors and previous employers to serve as references. Just make sure you do get their permission and obtain the best phone number for them.
Should You Follow Up?
Using the online application system will give you the ability to check the status of your app any time that you wish.
Just sign in with your username and password to see if the app has been reviewed or passed to the hiring manager for an interview.
When you see that the app is in the hands of the hiring manager, you should wait roughly 1 to 2 weeks before calling the local Sonic Drive-in to check on the application.
Try to call 10 to 11 AM between the breakfast and lunch rush or between the lunch and dinner rush at 2PM to 4PM when the manager is less likely to be busy.
Positions and Salary Information
Sonic Drive-In has employment opportunities for high school students, recent grads, individuals looking for second jobs and those who want to start careers in fast food.
Some of the positions that may be available at your local Sonic include:
Assistant Manager – Supervises staff and ensures that store meets all standards – The average Assistant Manager earns between $10 and $11 per hour.
Carhop – Delivers foods to cars in a safe, expedient manner – The average Carhop earns between $6 and $7 per hour plus tips.
Crew Member – Works a variety of jobs getting food ready for service and mans the drive-thru at locations that have one – The average Crew Member earns between $7 and $8 per hour.
Cook – Preps food and cooks using the grill and fryer – The average Cook earns between $7 and $8 per hour.
General Manager – Trains and supports team and manages to ensure the success of the restaurant – The average General Manager earns between $40,000 and $45,000 per year.
Multi-Unit Leader – Oversees multiple restaurants to ensure profitability and maintain brand standards – The average Multi-Unit Leader earns between $60,000 and $70,000 per year.
Best Entry-Level Positions
Sonic Drive-In hires people as young as 16 years of age to fill entry-level positions at their restaurants. All jobs require basic reading and mathematics skills and the ability to communicate well, follow directions and work as a team.
Here are some of the top entry-level jobs at Sonic:
Carhop
Carhops are responsible for delivering food to customers' cars–with style. They may dance, strut or skate over to make the experience of eating at Sonic Drive-in fun and must focus on being speedy.
There are no additional qualifications beyond the basics for Carhops; however, employees must pass a STAR food safety certification course before they begin work.
Cook
Cooks are the ones who work the fryer and the grill to prepare hot food at Sonic Drive-in locations. They also work to keep the kitchen area clean and sanitary.
All Cooks must pass a STAR food safety certification course before starting work. There are no additional job requirements.
Crew Member
Crew Members fill drinks, make shakes, take orders from parking spaces and work the drive-thru. They may also be asked to step in and help prepare food as needed.
While there are no additional qualifications for employment as a Crew Member, those who are hired for the position must pass a STAR food safety certification course before starting work.
Sonic Careers in Management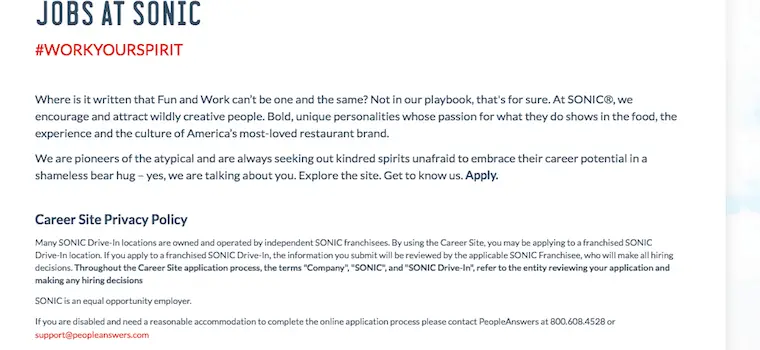 Managers at Sonic Drive-in are all responsible for training and developing employees.
Sonic hires people from both inside and outside the company to fill open management positions, which may include:
Assistant Manager
The Assistant Manager is the direct supervisor for employees at Sonic Drive-in and is responsible for keeping the restaurant running smoothly on a daily basis.
To work as an Assist Manager, applicants must have a minimum of 6 months of restaurant management experience or 1 year of retail management experience. New hires must pass a STAR food safety certification course.
General Manager
The General Manager is responsible for ensuring that their restaurant meets the company's standards for food quality, speed, customer service, safety and sanitation. He or she is also responsible for ordering food, managing inventory, marketing and preparing operational reports.
To work as a General Manager, applicants must have a high school diploma or the equivalent. College coursework in business, restaurant management or similar fields gives candidates a competitive edge.
Prospective General Managers must have 3 years of restaurant management experience and be able to pass a STAR food safety certification course after they are hired.
Multi-Unit Leader
The Multi-Unit Leader oversees multiple Sonic Drive-in locations, supervising managers to help make their regions profitable.
The qualifications for being a Multi-Unit Leader are the same as those for being a General Manager. Applicants who have experience managing multiple restaurants will have the best chances of being hired.
Interview Questions and Tips
Interviews at Sonic Drive-in restaurants normally last around 20 to 30 minutes and are conducted at the restaurant at the tables outside.
These sample questions are intended to give you a feel for what you may be asked. Keep in mind that you may be asked different questions.
What Are Your Short and Long-Term Goals?
With this question, it is important to be honest about what your plans for the future are.
If you are hoping to go to college, saving for a major purchase or trying to save money in the present, say so.
The hiring manager doesn't expect every applicant to work at Sonic forever.
He or she will usually want to hire someone who plans to remain employed for at least several months and who has ambitions, whether they are to have a career in food service or in another field.
Tell Me About a Time That You Multi-tasked.
Sonic restaurants can get very busy during mealtime rushes, so it's important that employees can juggle many things at once.
Come prepared with a story that shows you are able to pay careful attention to more than one thing at a time to accomplish a goal whether at work, at school or in your personal life.
Keep the story brief but provide enough details so that the hiring manager can see how you achieved what you set out to do.
Tell Me About Yourself.
Sonic interviews often begin with this question, and it can be a bit daunting.
Practice giving a short, concise answer that takes no more than a minute to deliver.
Quickly talk about your education and mention past work experiences that relate to Sonic. Mention your biggest strengths and skills.
Finish up by mentioning some of your interests outside of work and providing one fun fact about you.
Helpful Research for Your Sonic Interview
Sonic was founded in 1953 in Shawnee, Oklahoma, and has been a publicly traded company since 1991. Today, the company operates out of a headquarters in Oklahoma City, Oklahoma.
More than 10,000 people work at the company's locations spread throughout 44 U.S. states. Brush up on the following information to use to your advantage in your interview and increase your likelihood of becoming one of them.
The First Sonic
The first Sonic restaurant was founded by Troy N. Smith after he briefly operated a diner in his town.
On a 5-acre piece of ground, he opened Top Hat, a walk-up root beer stand that sold hamburgers and hot dogs. When he began having carhops deliver food right to vehicles, his sales grew tremendously.
Convinced he had a winning business model, he began franchising. His restaurant chain became known as Sonic in 1959 when Smith learned that Top Hat was already a trademarked restaurant name.
You can learn more about the history of Sonic at their corporate website.
Millions Served Daily
Every day, Sonic serves 3 million customers at its locations.
Their menu includes burgers, hot dogs, breakfast burritos, tater tots, french fries and onion rings.
Known for their milkshakes and fountain drinks, Sonic has such a large number of beverage options that there are more than 1 million flavor combinations for diners to try.
Take some time to check out their menu online. Just be warned–the photos may make you hungry!
Limeaids for Learning
Every year, Sonic sponsors the Limeaids for Learning program, which raises money for school supplies and learning materials for public and private schools.
More than $5 million has been given to schools so far through the company's charitable giving.
You can find out more about the program at its official site.
Did You Know?
Every year, Sonic sells enough tater tots to circle the world twice and enough Footlong Quarter Pounder Coney dogs to trace the border of the 48 contiguous U.S. states.
What Employees Say About Working Here
Employees overwhelmingly seem to agree that Sonic Drive-in restaurants offer flexible scheduling and that it is often possible to pick up extra hours or work overtime if you wish.
Online reviews left by employees indicate that carhops can make excellent wages when tips are figured in and that full-time employees receive good benefits.
Discounted meals, a fun work environment and room for advancement are additional pluses of working at Sonic.