Smart & Final Jobs & Careers – Application, How to Apply, Requirements & Interview Tips
Last Updated:
September 20th, 2019

by

The first step to a career with plenty of room for advancement is filling out a Smart & Final job application.

A growing chain of warehouse-style grocery stores, Smart & Final is a smart place to search for a job, as the company is known for offering very competitive rates of pay and great benefits for their more than 8,000 employees.

As you might expect for a company with such a great reputation, Smart & Final receives many applications from people hoping to get in on the ground floor with entry-level positions or to earn a spot on the management team.

This guide will help you make sure that your application stands out so that you have the best possible chances of landing a Smart & Final job. You'll also learn some useful information to help you impress the hiring manager in an interview.

Get comfortable and read on to find out how to get your dream job.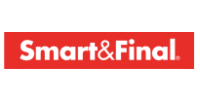 How to Apply for Employment at Smart & Final
Smart & Final does not have an online job application, but they do accept applications for employment in a number of ways.
Any one of the available methods of application can get you on your way to an interview at Smart & Final.
Application Information
Minimum Age Requirement: You must be at least 18 years of age to work at Smart & Final.
Hours of Operation: Most Smart & Final locations are open from 7 or 8am until 8 or 9PM every day. You can use the Store Locator to find out what the hours of operation are at your local store.
Methods to Apply: Email, in person or at a job event.
Apply By Email
You can skip the initial application process completely by sending a resume and cover letter to Smart & Final's human resources department. The email address is [email protected]
Title your email something like "Resume for Employment," and put your name in the subject line to ensure that the administrator that checks the email notices it and forwards it correctly.
Stop by a Store
If you'd prefer to fill out an application, you can visit a Smart & Final location and request a paper copy at the customer service desk.
Normally, Smart & Final stores are slower on weekday mornings before noon. Try to stop in at that time when management is most likely to be available.
Attend an Event
One of the best ways to apply for a job at Smart & Final is to attend one of the company's hiring events. You can check out the online schedule to find out when there will be an event near you.
At the events, you can score an on-the-spot interview and potentially leave with a new job. The events are open to anyone who is looking for an entry-level position.
If you attend an event, bring along a copy of your resume and a cover letter.
Application Tips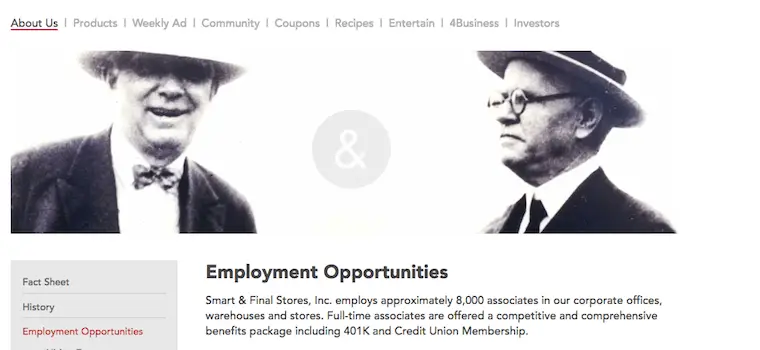 Polish Up Your Resume
No matter which of the three application methods you choose, you're going to need an impressive resume.
Make sure that everything is up to date and that the content is free of spelling and grammatical errors. With your education and employment history, add information about any courses or experience you have that relates to the duties of the position for which you are applying.
Try to keep your resume condensed to one page if possible, but don't try to make the font extra small to shorten the document.
Write a Convincing Cover Later
Many job seekers forget about the importance of a cover letter and end up missing a chance to impress the hiring manager.
A strong cover letter should briefly summarize the qualifications that make you the best choice for an open job. Keep your statement of qualifications to two or three sentences.
Smart & Final looks for candidates who are friendly, outgoing and positive people. Let your personality shine in your cover letter while still keeping the language professional.
Select Strong References
Aim to have at least two or three references on your resume and be sure to choose who you include wisely.
Think about people who can speak to how you treat others, what type of service you provide and how you are a team player. Coaches, teachers, professors, clergy members, mentors and former bosses can all be excellent references when you're applying for a Smart & Final job.
Don't forget to ask permission to use the individuals as references and find out which phone numbers and email addresses they would like you to include.
Should You Follow Up?
You can feel free to follow up on your application, but let 2 to 3 weeks pass before you inquire. Smart & Final receives many resumes and applications and it may take some time to process them all.
If you submitted your application via email or attended a job event and wish to follow up, you can call the Human Resources toll-free number at (800) 427-3443 on any weekday.
For in-store applications, it would be best to call the store directly. Call on a weekday before noon when the store is less likely to be busy.
Remember to be polite and professional to the person who answers the phone, not just the hiring manager or human resources representative.
Positions and Salary Information
Each Smart & Final location employs a large team of individuals and has many entry-level and management positions that need to stay filled to keep the store running smoothly.
In addition to their wages, full-time employees at Smart & Final receive comprehensive benefits that include insurance, 401k retirement plans and credit union memberships as a part of their compensation. The store also hires part-time employees for some positions.
Assistant Manager – Manages employees and directly oversees supervisors, ensures that store complies with all company policies – The average Assistant Manager earns $22 to $23 per hour.
Cashier – Checks out customers, accepts payment, helps maintain safe and clean environment – The average Cashier earns $9 to $10 per hour.
Load Crew Member – Unpacks shipments, stocks the sales floor, follows safe lifting standards – The average Load Crew Member earns $11 to $12 per hour.
Service Clerk – Helps customers on the sales floor, processes returns, assists with housekeeping tasks – The average Service Clerks earns $9 to $10 per hour.
Store Manager – Ensures that store meets sales goals, manages costs, oversees all operations – The average Store Manager earns $75,000 to $80,000 per year.
Supervisor – Oversees employees, assigns tasks, trains new hires – The average Supervisor earns $16 to $17 per hour.
Best Entry-Level Positions
With flexible hours and great benefits, Smart & Final is a great place for college students to work while earning their degrees.
Entry-level positions are also a good fit for individuals hoping to get in on the ground floor at a growing company known for promoting from within and recognizing achievement.
Cashier
Cashiers are responsible for running registers. They scan items that customers wish to purchase, total sales, deduct coupons and discounts and accept payment for orders.
The only requirement for the position is that you are at least 18 years old.
Load Crew Member
Load crew members are responsible for moving inventory from trucks to the warehouse to the sales floor. Often, they are required to work overnight.
Prospective Load Crew Members must be at least 18 years of age and be able to safely lift heavy loads.
Service Clerk
Service Clerks work at the customer service desk, answering questions for customers, processing returns and handling complaints. They are also responsible for answering the telephone.
To qualify for employment as a service clerk, you must be at least 18 years old.
Smart & Final Careers in Management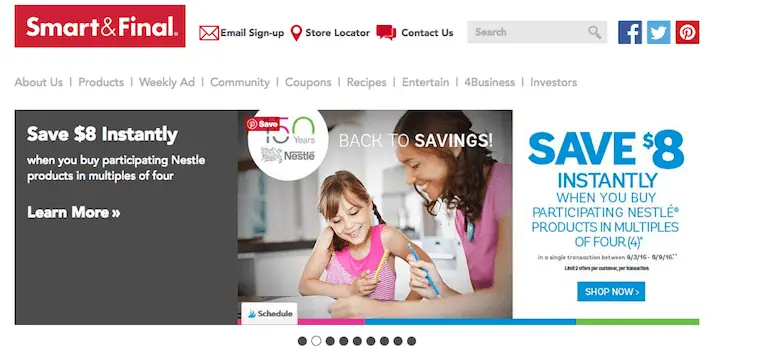 In each Smart & Final store, there is a large supervisory and management team. While the store does promote from within, individuals from outside the company with the right experience can qualify for management jobs.
The process for applying for a management position is basically the same; however, the employment events are usually reserved for entry-level positions.
Supervisor
Supervisors are responsible for overseeing employees who work in a specific area of Smart & Final stores. They train new hires, coach their team members and ensure that the area or department is achieving goals and complying with the store's overall standards.
Generally, supervisors must have strong experience in retail to qualify for the position. Demonstrated leadership ability or previous management experience is usually preferred.
Assistant Manager
All of the supervisors at a Smart & Final location report to the Assistant Manager who ensures that all of the areas and departments in the store are running smoothly. The Assistant Manager works with the Manager to help make the store profitable.
Qualified candidates for Assistant Manager jobs will usually have several years of management experience and a high school diploma or the equivalent.
Store Manager
The Store Manager is responsible for making their Smart & Final location a success. They order and control inventory, take steps to manage costs, ensure that the store complies with company policies and develop strategies for achieving sales goals.
Competition for Store Manager jobs is usually very steep. To be considered, applicants will usually need a proven track record of success in retail management. A college degree may be beneficial but is not an absolute job requirement.
Interview Questions and Tips
Whether you get an on-the-spot interview at a Smart & Final employment event or are asked to come in for an interview over the phone, you want to put your best face forward to the hiring manager.
These sample questions will give you a feel for what may be asked at interview, so you can prepare some answers ahead of time.
Why Do You Want to Work at Smart & Final?
To answer this question well, do some research into the company. Pick out one or two things about the chain of stores that you admire and mention them in your answer.
You can also tell the hiring manager how you see your skills contributing to the success of the store, saying that you think you would be a good fit for the team.
What Is Your Availability?
Before your interview, sit down and determine exactly when you are available to work. This way, when the hiring manager asks, you will not fumble or hesitate with your answer and become nervous.
You may even want to write your availability down and present it to the interviewer.
Always be honest about when you are available to work. Over-promising could lead to stress and trouble in the future.
How Do You Handle Stressful Situations?
With this question, the hiring manager is looking to see that you'll be able to handle things when the store gets busy, you have a conflict with a coworker or are confronted by a difficult customer.
You can feel free to speak generally, but it can be very beneficial to describe a real life experience from work or school where you managed stress and rose to the occasion. You don't have to tell a lengthy story, just briefly summarize what the problem was, how you responded and what the outcome was.
Helpful Research for Your Smart & Final Interview
Smart & Final has its roots in the Hellman, Haas Grocery Co., which was founded in 1871. The company as it is known today was formed when Smart & Final Wholesale Grocers merged with the Haas Company in 1953.
With 250 locations in Arizona, California, Idaho, Nevada, Oregon and Washington in the United States and in northern Mexico, Smart & Final is one of the largest warehouse grocery store chains serving the West.
Origin of the Name
The name Smart & Final comes from the names of the founders of Smart & Final Wholesale Groceries: J.S. Smart and H.D. Final. The pair started their company in 1914.
The store website provides a full history of Smart & Final that is worth reading prior to your interview.
Locations
The Haas Grocery Co. was founded in Los Angeles, California, while Smart & Final was founded in Santa Ana, California. Today, Smart & Final is headquartered in Commerce, California.
Products
Smart & Final has everything you'll find in a grocery store in regular and bulk sizes. The stores also carry fresh meat and seafood, deli products, fresh produce and janitorial supplies, packaging and disposable dinnerware and silverware.
A Tasty Cup
The Ambiance™ brand of coffee and tea is made exclusively for Smart & Final. The beans and tea leaves are carefully selected from top growers located all over the world, and the coffee has been roasted using a special method for more than 90 years.
Beef Lover's Dream
Smart & Final is the exclusive retailer of Cattleman's Finest beef, which comes from corn-fed cows and is cut by hand. Although the beef is of premium quality, it is affordably priced.
Satisfaction Assured
Smart & Final offers a money-back satisfaction guarantee on all of their exclusive brands. If customers aren't pleased with the food once they try it, they can get a full refund.
What Employees Say About Working Here
In employee reviews, Smart & Final is consistently praised for providing excellent compensation. The company is known for providing regular raises based on merit.
Employees also tend to agree that Smart & Final is very flexible with scheduling. Students, parents and people with second jobs find that management is willing to work with them to come up with schedules that suit their needs.
Those with a desire to advance report that Smart & Final makes moving up the corporate ladder easy. Management is committed to helping team members at all levels grow and develop skills to prepare them for the next step.