Regal Cinemas Jobs & Careers – Application, How to Apply, Requirements & Interview Tips
Last Updated:
September 20th, 2019

by

If you are a movie mogul and know about all of the upcoming films, get ready to fill out your Regal Cinemas job application today.

Regal Cinemas is the perfect job for anyone looking to talk about their favorite characters, actors, and actresses. Employment at Regal Cinemas means that you can be one of the first people to view the latest and hottest movies before they release to the public. In addition, you can share your love for hot movie titles with customers from all over.

Regal Cinemas operates over 7,357 screens in 571 theaters across the United States, American Samoa, District of Columbia, and Guam.

All of the Regal Cinema locations saw foot track of 220 million guests just in a one fiscal year.

If you want to be close to the action and watch all of the new release films, a job at Regal Cinemas may be the right choice for you.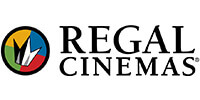 How to Apply for Employment at Regal Cinemas
To apply for a position at Regal Cinemas, the most commonly used method is through their online application wizard.
Application Information
Minimum Age Requirement: The minimum age for employment at Regal Cinemas is 16 years old.
Hours of Operation: Regal Cinemas is open every day from 11:00 am until 12:00 am. The hours of operation may vary when new releases and special sneak peeks are being shown.
Methods to Apply: Interested applicants can submit an application to Regal Cinemas through their online application portal.
Searching for an Open Position
To search for an open position, interested applicants will need to visit the search page on the Regal Cinemas' website.
On the search page, you can enter in location criteria to limit the search results. You can also clock on the "Browse Open Jobs" button to see all available positions.
Once you enter in your desired location information, all open positions that fit the criteria will be displayed. Click on the title of the job to see the job description and requirements.
Applying for a Job
To apply for a position at Regal Cinemas, click on the "Apply On-Line" button located under the job description information.
You will need to create a new account on the website. After you create your profile, you will be taken to the application, which will ask you to upload your resume first.
After you upload your resume, you can move on to the application, which will ask you basic questions about your age, your right to work in the US, and whether you or someone you know works at Regal Cinemas.
The questionnaire section will also ask you about any honors, skills, and achievements you have been awarded with.
The next section asks for your education information and previous work experience. You will be asked to explain any gaps in employment and whether you have ever been fired from a position.
The last section asks for you to provide three professional or educational references. Once the information is entered, you can submit your application.
Application Tips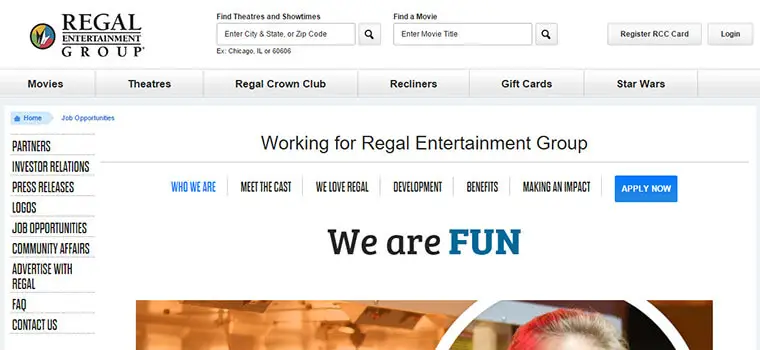 When you go through your application, you may find some difficult questions and you may begin to panic. Before you do, take a deep breath and consider the following tips to help you get through it.
Always Upload a Resume
You should always upload a resume when one is requested. Although you have the option to skip this step, your resume is a snapshot of you and often the first impression your potential employer gets of you.
If you do not have a resume, create one today. You will be able to use it when applying for other jobs as well.
List Relevant Skills and Achievements
The application does ask for you to list your skills and achievements. Make sure to list everything in these boxes.
For instance, if you are applying for a position that requires customer service, it would be wise to enter in any accolades or awards you won at a previous job for great customer service.
Your References Are Important
You will be asked to provide three references and you should not enter in any less than that. The application specifically says not to include family members or friends as your references.
You will need to use previous employers, volunteer coordinators, educators, and similar.
Should You Follow Up?
You can follow up on a submitted application by logging back into your account and visiting the "view submitted applications" tab.
You will be able to see the status of all applications and any additional information needed will be requested here as well.
You can also follow up by calling the specific location you applied to and asking to speak with the hiring manager. It is advised that you give the manager a couple of days to review the information before calling.
When you do call, make sure that you ask to speak directly with the hiring manager and if he or she is unavailable, ask when the best time to call back would be.
Positions and Salary Information
Regal Cinemas has over 570 theaters with many of the theaters having an average of 12 screens. The company offers employment for both entry-level and management positions throughout all of the theaters.
As a leader in the theater circuit, Regal Cinemas employs interested applicants for a variety of positions from working as a member of the floor staff to becoming a general manager.
Floor Staff – The Floor Staff is responsible for working as an Usher, manning the Box Office, and operating the Concession Stand area. As a Floor Staff employee, you can expect to make between $7 and $11 per hour.
Wait Staff – The Wait Staff is responsible for ensuring customers are taken care and have the best experience while at Regal Cinemas. As a Wait Staff employee, you can expect to make between $7 and $11 per hour.
Theater Maintenance – The Theater Maintenance employee is responsible for making small repairs throughout the theater and location to ensure it is safe and up to all building codes and standards. As a Theater Maintenance employee, you can expect to make between $7 and $10 per hour.
Assistant Manager – The Assistant Manager is responsible for overseeing and managing the floor and wait staff. He or she will also ensure all policies and guidelines are being followed by all staff at all times. As an Assistant Manager, you can expect to make between $23,000 and $39,000 per year.
General Manager – The General Manager is responsible for overseeing all of the operations of the theater. He or she will also handle all customer complaints and problems. As a General Manager, you can expect to make between $38,000 and $90,000 per year.
Best Entry-Level Positions
Regal Cinemas hires employees for a variety of entry-level positions in their theaters. These positions are responsible for looking after the customers and ensuring they have the best experience while at any of the locations.
Whether this is your first job or you are looking to move into a management position, Regal Cinemas offers you many opportunities to succeed.
Floor Staff
The Floor Staff is an entry-level position and consists of three main areas. Depending on what you are hired to do, you may work in all three areas or just one of the areas.
The first area is the Box Office. Here, you will take ticket orders, print tickets, and provide customers with their tickets. You will encourage customers to sign up for the rewards program and always check identification according to the MPAA ratings.
The second area is the Concession Stands. Here, you will be responsible for operating the cash register, taking orders, and helping customers choose the food and drinks they would like. In this role, you will also upsell and comply with all health and food safety guidelines.
The last area is working as an Usher. In this role, you will collect all ticket stubs and direct customers to their appropriate theater. You will also inspect the theaters and monitor attendance while helping customers find suitable seating before the movie starts.
Wait Staff
The Wait Staff is responsible for greeting all customers and helping with customer inquiries. He or she will be placed according to the needs of the theater.
In this role, the Wait Staff will ensure that all areas of the theater are following the guidelines and policies set forth.
Theater Maintenance
The Theater Maintenance employee is responsible for ensuring that the theater is always clean and ready for customers to enjoy. He or she will maintain the interior of each theater and fix any broken lights or chairs.
The Theater Maintenance staff also makes minor repairs as needed and will test emergency system regularly to ensure they work properly.
Regal Cinemas Careers in Management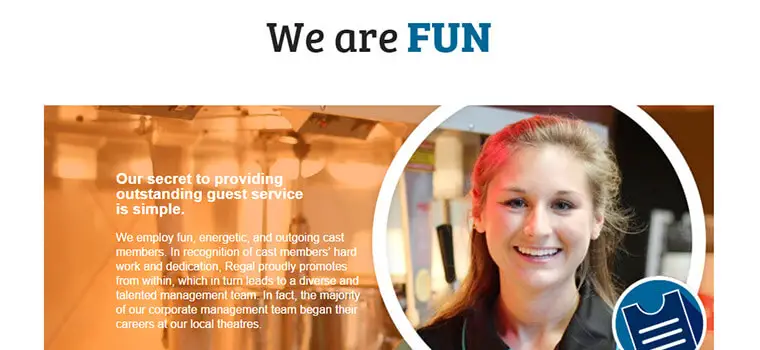 Regal Cinemas offers a number of management positions. These positions are open to all and Regal Cinemas likes to promote from within. In a management positions, you will assume a leadership role and lead your assigned team toward success.
Assistant Manager
The Assistant Manager is responsible for ensuring that all members of the team show up for work at their assigned times. He or she will ensure all policies are being followed at all times.
The Assistant Manager will solve customer issues and answer customer inquiries. In this role, you will also be responsible for recruiting, hiring, and training new team members.
General Manager
The General Manager is responsible for overseeing all operations of the theater including movie start and stop times, concession sales, ticket sales, and more.
He or she will help guide and train all employees and encourage a positive work environment.
Interview Questions and Tips
When you go in for an interview, you may begin to feel nervous and this is okay. Many people become anxious, but it is important to take a deep breath and prepare beforehand so that you are ready.
The tips below will help you get ready for some of the questions you may be asked.
Why Do You Want to Work at Regal Cinemas?
You may be asked why you want to work at Regal Cinemas. You should approach this question with ease and begin telling the hiring manager why.
For instance, you can tell them that you love movies and you want to work in an environment that envelopes entertainment.
How Would You Handle a Seating Issue in a Theater?
You may be asked how you would handle a seating issue that arises in a theater you are ushering. You should approach this question with customer service in mind.
For example, you could tell the interviewer that you would follow all policies and try to settle the disagreement. You could suggest new seating for the customer or find a compromise where everyone is happy.
What Skills Do You Have That Will Help You in This Position?
If you are asked this question, think about the skills that you do have. Maybe you are knowledgeable about movies or actors or maybe you have exceptional customer service skills.
Helpful Research for Your Regal Cinemas Interview
Regal Cinemas falls under the corporate name Regal Entertainment Group, which is one of the largest and most diverse theater systems in the US.
Regal Cinemas has over 7,357 screens that show all of the hottest and latest new releases. There are roughly 571 theaters throughout the US, Guam, American Samoa, and the District of Columbia.
Each theater has an estimated 12 screens per location with some of them having more or less. Regal Cinemas is committed to providing the best customer service and movie watching experience.
What Employees Say About Working Here
Employees who work at Regal Cinemas love their job. Many of the employees like working in the theatre and interacting with customers. In addition, employees say that their management team is awesome and that the managers always do everything they can to help out.
Other employees go on to say that there is plenty of room for advancement throughout the company and there is a lot of room for improvement and additional training to help you further your career.