Price Chopper Jobs & Careers – Application, How to Apply, Requirements & Interview Tips
Last Updated:
September 20th, 2019

by

Take a stab at filling out the Price Chopper job application and you could be on your way to a great new grocery store career.

Known for cutting down the competition with their everyday low prices, Price Chopper operates more than 130 locations in the New England and the Mid-Atlantic states.

The chain of grocery stores strongly believes that customers shouldn't have to sacrifice service to slice their grocery shopping bill in half. As a result, they look for friendly, outgoing people with a passion for customer service to join their in-store teams.

If you're able to provide service with a smile, you could be perfect for a position at Price Chopper. This guide cuts down to the core things that you need to know to submit an impressive application and wow the hiring manager in an interview.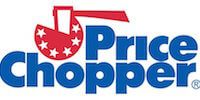 How to Apply for Employment at Price Chopper
Price Chopper makes applying for positions online a very quick and simple task, and your application is likely to be processed faster if you use the online system.
If you prefer to go the paper route, you can visit the customer service desk of a Price Chopper location to request an application in person.
Application Information
Minimum Age Requirement: You must be at least 15 years old to work at Price Chopper.
Hours of Operation: Hours vary from location to location. Many Price Chopper stores are open 24 hours per day. Others are open from 6AM to 11PM or 12AM. Check the Store Locator for the hours at your closest location.
Methods to Apply: Online, in person
Choose How to Start
There are three ways that you can begin your Price Chopper online job application:
Social Media. Link your social media account to fill in key information like your name and location automatically.
Resume. Upload a copy of your resume, and the smart application system will import your information and place it in the correct parts of the form.
Manually. Type in the information directly to the online form.
Fill in the Blanks
No matter which method you choose, you'll need to go through the screens of the Price Chopper application and either fill in or double check the accuracy of the information provided.
The application is very basic, only asking for your contact information, education experience, work experience and availability.
Answer the Final Questions
At the end of the application, you'll be asked questions about your gender and race.
These questions are only for human resources tracking purposes and do not affect your eligibility for employment. You are free to decline to answer if you wish.
Application Tips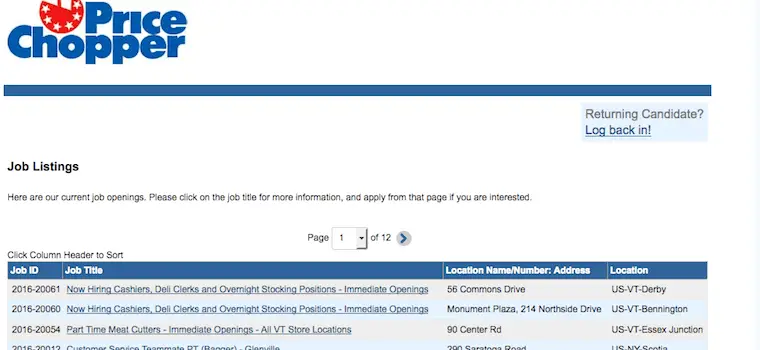 Use Your Resume
If you want to make the application process as easy as possible, the best method for starting the online form is uploading your resume.
Using your resume will populate more of the blanks for you, so that you only have to check the accuracy of the information and provide your availability.
Just make sure your resume is up to date before you upload it.
Maximize Your Experience
Before you upload your resume, make sure that it has been tailored to the position that you are applying for.
You want the hiring manager to be able to see how you are qualified for the position you desire, and you can achieve that goal by making sure that you have described the job duties at your previous places of employment well.
For each job on your resume, think about what you did on a daily basis that has prepared you for the position that you are applying for.
As an example, if you worked as a babysitter and want to work in the bakery as a clerk, things like following the instructions provided by the parents, being kind and respectful to the family and preparing meals for the child would all be relevant to your work.
If you took any high school, vo-tech or college classes in business, food safety or food preparation, list them in the education section.
Pick Strong References
Choosing the right references can mean the difference between making a satisfactory impression on the hiring manager and a great one.
Resist the temptation to just ask your best friend or a family member for convenience sake.
Instead, think about who in your life can discuss your ability to provide good customer service, maintain a positive attitude, learn new things and work as a team. Bosses, coaches, teachers, professors, mentors and clergy can all be strong references for a job at Price Chopper.
Ask permission to include the individuals that you select on the application.
Should You Follow Up?
The online system provides updates about when your application changes status. You can log in to find out if the application has been reviewed and when it is passed along to your local Price Chopper store.
It is usually wise to give your local store 1 or 2 weeks to get in touch with you.
If you do not hear from the hiring manager by then, feel free to place a phone call to inquire about your application status.
Normally, grocery stores are the least busy on weekdays in the middle of the morning and in the early afternoon. Calling at one of these times can improve your chances of the hiring manager being available to speak with you.
Positions and Salary Information
With bakeries, seafood and meat departments, produce areas, floral shops and many checkout lanes, Price Chopper grocery stores have a wide range of positions to offer.
Individuals with friendly personalities who are committed to customer service and able to work well with other team members can apply for many different entry-level and management jobs, including:
Cashier – Scans items for purchase and accepts payment for purchases – The average Cashier earns between $9 and $10 per hour.
Co Manager – Oversees all departments to ensure that store policies are adhered to – The average Co Manager earns between $55,000 and $60,000 per year.
Customer Service Teammate – Packs customer orders into shopping bags – The average bagger earns between $8 and $9 per hour.
General Manager – Manages an entire store to increase profits and reduce costs – The average General Manager earns between $60,000 and $65,000 per year.
Loss Prevention Officer – Patrols the store and watches security footage to prevent shoplifting – The average Loss Prevention Officer earns between $12 and $13 per hour.
Stocker – Unpacks shipments and stocks shelves with inventory – The average Stocker earns between $11 and $12 per hour.
Team Leader – Oversees all of the workers and the operations in one particular area of a store – The average Team Leader earns between $45,000 and $50,000 per year.
Teammate – Assists customers and maintains the appearance of one area of a store -The average Teammate earns between $9 and $11 per hour, depending on the department.
Best Entry-Level Positions
Price Chopper hires individuals as young as 15 years of age to fill entry-level positions in their stores.
All jobs require the ability to read and write at an 8th-grade level or higher and the ability to lift 25 pounds of weight on a regular basis. A friendly personality and positive attitudes are also musts for any position at the grocery chain.
The following are some of the best entry-level jobs at price chopper.
Customer Service Teammate
The Customer Service Teammate is responsible for placing purchased groceries neatly in bags for customers. He or she may also provide assistance carrying groceries to vehicles and is required to return baskets and carts to their designated areas.
Beyond the ability to lift up to 50 pounds of weight, there are no special qualifications for Customer Service Teammate jobs.
Cashier
The Cashier scans items that customers wish to purchase, deducts coupons and sale prices and accepts payment for transactions. He or she is responsible for providing accurate change and controlling the cash in his or her drawer.
There are no special qualifications for working as a cashier; however, individuals with cash handling experience will have a better chance of being hired.
Teammate
At Price Chopper, clerks are called "teammates." A teammate works in a specific area of the store, such as the bakery or the seafood, meat, produce, general grocery or floral departments.
Teammates must typically be 18 years of age. Their job duties include waiting on customers, preparing food for packaging and sale and keeping their areas stocked and tidy.
Stocker
A stocker helps to keep the shelves of Price Chopper stores filled. He or she unloads boxes of products and then places them in the areas where they go in the store's floor plan.
Often, stockers work overnight and in the early morning. Qualified applicants will have the ability to frequently lift loads of up to 50 pounds.
Loss Prevention Officer
A Loss Prevention Officer's job is to help prevent theft in the store. He or she watches for suspicious people on the sales floor and on the security monitors and may also be responsible for investigating employee theft.
Prospective Loss Prevention Officers must be at least 18 years of age and have a high school diploma or the equivalent.
Price Chopper Careers in Management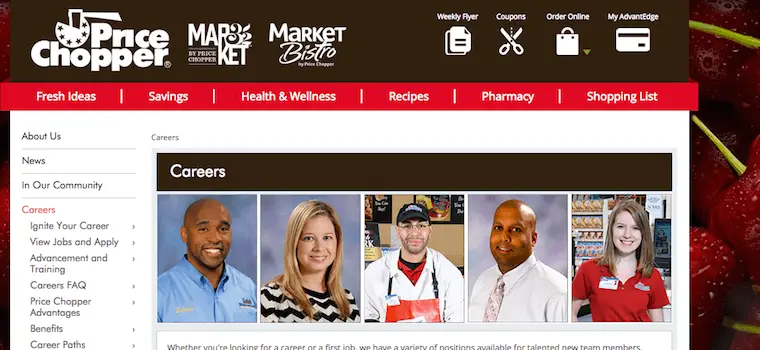 Each Price Chopper store employs a management team to help ensure that day-to-day operations run smoothly.
Employees are often promoted from within, but there are opportunities for those outside the company with the right experience and skills to come on board in management roles.
Top management jobs at Price Chopper include:
Team Leader
The Team Leader acts as the front-line supervisor for a specific area of the store. He or she is responsible for scheduling, delegating work responsibilities and ensuring that the area or department complies with all of the store's standards
To qualify for a Team Leader position, an applicant must be at least 18 years of age, hold a high school diploma or the equivalent and have 6 to 12 months of grocery retail experience.
Co Manager
The Co Manager acts as the Assistant Manager for a Price Chopper store. He or she supervises the Team Leaders and is responsible for ensuring that all departments and areas are complying with the store's standards for customer service, safety and cleanliness.
Qualified applicants for Co Manager jobs will be 18 years of age and have a high school diploma or the equivalent. At least 6 months of supervisory experience in a grocery store is also required.
General Manager
The General Manager is the leader for the entire grocery store. He or she focuses on making the location as profitable as possible by managing inventory, driving sales, controlling costs and promoting a positive work environment.
Prospective General Managers must be at least 18 years of age and have at least 1 year of experience working as a Co Manager or as an Assistant Manager at another grocery store. A high school diploma or the equivalent is the minimum education requirement, but a bachelor's degree is preferred.
Interview Questions and Tips
Price Chopper interviews tend to be short and relatively informal, but how you conduct yourself during one will determine whether or not you land your dream grocery job.
These sample questions will give you a taste of what might be asked during your interview.
How Important Is Customer Service to You?
As previously noted, customer service is extremely important to Price Chopper, so you can be certain that the hiring manager wants to hear that it is important to you, too.
Don't just say "very." Elaborate and say why customer service matters.
Talk about how a satisfied customer may not tell anyone about their experience, but a dissatisfied one may tell many people about what happened at the store, hurting the reputation of the business.
You can also talk about how people are more likely to spend money when they receive good service.
What Do You Think of When You Think of Safety?
This question may seem a bit strange, but the point is to see that you understand what safety means.
It is important to make it clear that you are committed to following safety guidelines provided by the store and that you will take action to address potential hazards, such as spills on the floor.
How Would You Handle an Irate Customer?
This question is intended to assess your customer service skills.
In your own words, tell the hiring manager that you would take the time to listen before you spoke and that you would ask questions to make sure you understood why the customer was upset.
Then, say that you would apologize and take full ownership of the problem even if it was not your fault. Explain that you would do what you could to satisfy the customer without breaking any rules.
Finish by saying that only if you could not calm the customer down would you seek help from your supervisor.
Helpful Research for Your Price Chopper Interview
Price Chopper was founded in 1932 in Schenectady, New York, where the company's headquarters remain to this day.
For more than 80 years, the grocery store has focused on providing value for the money and unparalleled service to customers. The following information can help you prepare for your interview to join this growing company.
Central Market
When Price Chopper first opened in 1932, the store was known as Public Service Market and was the first large grocery store in Upstate New York.
When the store expanded to locations near Manhattan's Central Park, the name was changed to Central Markets.
The current name was adopted in 1972 to emphasize the fact that the grocery chain offered everyday low prices.
You can read more about the company's history at their official website.
A Major First
Price Chopper has the distinction to be one of the first grocery store chains in the United States to be open 24 hours per day.
The grocery store made history by keeping their doors open around the clock for the first time in 1972.
Price Chopper AdvantEdge
Price Chopper has a rewards program known as Price Chopper AdvantEdge.
With membership comes access to exclusive deals and discounts and the ability to earn points for discounts on fuel at Sunoco gas stations.
More information about the rewards program is available on the official site.
Going Green
In recent years, Price Chopper has been striving to make their stores greener. Many locations now use energy-efficient CO2 refrigerators, and some of their newer stores have earned the prestigious LEED sustainable certification.
Price Chopper won a "Best of the Best" Green Chill award from the U.S. Environmental Protection Agency (EPA) and was named a Northeast Business Leader for Energy Efficiency by the Northeast Energy Efficiency Partnerships (NEEP).
What Employees Say About Working Here
In online reviews, employees rave about the fact that Price Chopper pays weekly, allows employees to take paid breaks and provides good benefits for full timers.
Employees also report that management is very supportive and is committed to helping workers at all levels grow and develop, building schools to help them advance or benefit them in other jobs in the future.
There also seems to be a general consensus that the store offers flexible scheduling and that shifts tend to pass quickly as there is always something to do.