Potbelly's Jobs & Careers – Application, How to Apply, Requirements & Interview Tips
Last Updated:
September 20th, 2019

by

Completing a Potbelly job application is the first step toward joining a company that is striving to change the fast food industry for the better.

Although the company has been in business since 1977, Potbelly Sandwich Shop has gained fame nationwide in recent years as people are increasingly looking to healthy, fresh alternatives to processed foods.

Striving to be a true neighborhood sandwich shop that offers food made from wholesome, real ingredients fresh to order, Potbelly Sandwich Shop is always looking for people with outgoing personalities to make their customers happy.

With a business model that includes no late nights and a management style that encourages workers to be themselves and strive to accomplish their personal and professional goals, Potbelly Sandwich Shop is a great place to work.

If you're hungering for a new job and would like to join Potbelly Nation, this guide will tell you what you need to know to land a position.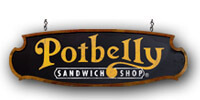 How to Apply for Employment at Potbelly Sandwich Shop
Potbelly Sandwich Shop accepts applications in their stores, but it's recommended that you use the online app for faster processing.
The company has one of the most innovative online application systems around, making the process very quick and easy.
Application Information
Minimum Age Requirement: You must be at least 16 years of age to work at Potbelly Sandwich Shop.
Hours of Operation: Hours vary from location to location. Some stores are open for breakfast, while others operate from 10AM to 11AM to 6 or 7PM daily. You can check the Store Locator to find out the hours of the locations nearest you.
Methods to Apply: Online, In-person
Find Your Ideal Job
The first step in completing the Potbelly Sandwich Shop online job application is selecting the position that you prefer.
You can check out the job descriptions below and then find the one that is the right fit for you on the first page of their application system.
Select Your Location
After selecting a position, you'll be able to see which Potbelly Sandwich Shop locations are currently looking for workers to fill that specific job.
Locate the ones that you would like to work in and click the boxes to specify your locations.
Create an Account
Once you have entered your location, it's time to set up an account with the online application.
You can do so by connecting a social media account or by entering your email address and a password with at least eight characters.
Upload Your Resume
Potbelly Sandwich Shop requires you to either upload your resume or type in the information.
It's recommended that you simply upload the document to save time and avoid making any typing errors.
Answer the Screening Questions
Last but not least, the Potbelly Sandwich Shop application asks you some questions about previous military service, your gender and your race. You have the option to decline to answer if you wish.
The answers will not affect your eligibility for employment; they are simply for tracking purposes.
Application Tips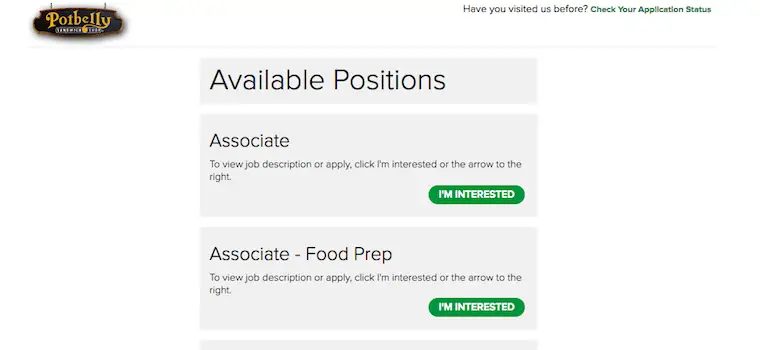 Take the Social Media Shortcut
To make the application system as quickly as possible, sign into the system using one of the following accounts:
Facebook
LinkedIn
Yahoo!
Google+
This shortcut will transfer information from your account to the application system, so you will only need to double check the accuracy and fill in any blanks.
Tailor Your Resume to the Job
Show the hiring manager that you have what it takes to do the job that you're applying for by tailoring your resume to the position.
For your previous work experience, add a brief description of what you did that relates to the job.
As an example, imagine you are applying for an Associate position and that you previously worked in a clothing store. You might list "processing transactions with a smile" and "making accurate change" as two of your job duties, as both of those are things you would do in the Associate role.
If you've taken any classes in high school, vocational school or college that would prepare you for the job, such as culinary arts cooking, business or food safety, be sure to list them on your resume in the education section.
Choose references who can testify to the fact that you have an outgoing, friendly personality–the biggest qualification for working at Potbelly Sandwich Shop.
Add Some Personality
As previously mentioned, Potbelly Sandwich Shop promotes a neighborhood sandwich shop brand image and is looking for employees who make the stores fun, pleasant places to be.
You can show that you're a great match by adding a little personality to your resume. Choose a unique font that is still easy to read.
Include a brief list of your interests or fun facts about you at the very bottom of the page. Just make sure that whatever you add reflects on you in a positive way.
Should You Follow Up?
After your job application is complete and submitted, you'll be able to easily track it through the Potbelly Sandwich Shop online system.
Just log back in either with your linked social media account or your username and password to check the status.
You'll be able to see when your application is transferred to one of the Potbelly Sandwich Shop locations. If you have questions, it will be best to contact the location directly. The best time to call is usually when the standard restaurants first open or around 10AM at locations that open early to serve breakfast.
Positions and Salary Information
Potbelly Sandwich Shop employs many different entry-level employees and has a wide range of management opportunities for people looking for a career in the restaurant industry with a company that is redefining what fast food means.
The company believes strongly in developing talent and provides extensive training to help those who are inclined to progress along the corporate ladder.
Assistant Manager – Supervises the team, ensures that the restaurant meets all standards – The average Assistant Manager earns between $40,000 and $45,000 per year.
Associate – Waits on customers, providing fast and friendly service – The average Associate earns between $8 and $9 per hour.
Delivery Biker – Delivers food to customers on a bicycle – The average Delivery Biker earns between $9 and $10 per hour.
Deliver Driver – Delivers food to customers in a car – The average Delivery Driver earns between $9 and $10 per hour.
General Manager – Ensures that the store is profitable and compliant with all company policies – The average General Manager earns between $45,000 and $50,000 per year.
Prep Associate – Prepares food and keeps the restaurant clean – The average Prep Associate earns between $8 and $9 per hour.
Shift Supervisor – Trains and coaches employees, ensures that daily operations run smoothly – The average Shift Supervisor earns between $11 and $12 per hour.
Best Entry-Level Positions
People as young as 16 can apply for employment at Potbelly Sandwich Shop, and the company is a great place for a first job due to their laid-back, warm atmosphere.
Those who want to break into the restaurant industry can get in on the ground floor at the local neighborhood sandwich shops. The best entry level positions include:
Associate
Associates are responsible for greeting customers, taking orders, processing payments and making light conversations while food is prepared. They also help maintain a clean, hygienic environment in Potbelly Sandwich Shop restaurants.
There are no experience or education requirements to work as an Associate; however, you must be dexterous enough to use a knife and strong enough to lift up to 10 pounds on a regular basis. A friendly personality, a winning attitude and a neat appearance are other musts.
Delivery Biker
Delivery Bikers deliver food to customers, traveling by bicycle. They must provide timely, courteous service and adhere to traffic laws.
To qualify for a Delivery Biker position, you must be 18 years of age and own both a bicycle and a helmet. The ability to lift up to 50 pounds of weight is another job requirement.
Delivery Driver
Deliver Drivers do the same work as Delivery Bikers except they drive a car, truck, van or SUV to deliver food.
You must be 18 years of age, be able to lift up to 50 pounds and have a valid driver's license in good standing to qualify for the job. Candidates must also own their own vehicles and show proof of car insurance.
Prep Associate
Prep Associates are the individuals who prepare food at Potbelly Sandwich Shop. They must adhere to hygiene and safety standards and are expected to work as a team with the Associates.
The only requirements for the position are good grooming habits, a friendly personality and the ability to both use a knife and lift up to 50 pounds.
Shift Supervisor
Shift Supervisors oversee the other team members, assigning jobs, providing customer service assistance and generally ensuring that everyday operations run smoothly. They are responsible for opening and closing the restaurants on a regular basis.
Qualified applicants for Shift Supervisor jobs will have a high school diploma or the equivalent plus one year of experience working as a supervisor in a retail store or restaurant. Once hired, Shift Supervisors must pass a food safety certification course before they start work.
Potbelly Sandwich Shop Careers in Management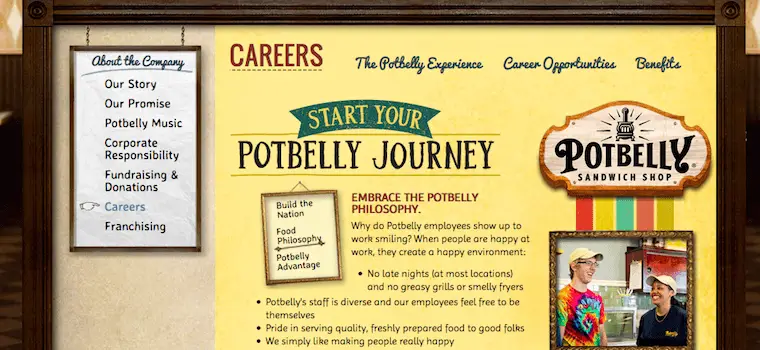 Managers at Potbelly Sandwich Shop are expected to inspire and develop, not just supervise their teams. As the company is rapidly growing, there is a need for qualified individuals to join the management staff at many locations.
All management jobs are contingent on passing a food safety certification prior to the start of work.
Assistant Manager
Assistant Managers lead the team at Potbelly Sandwich Shop restaurants and are in charge of daily operations. They ensure that their stores meet all food quality, customer service, sanitation and safety standards.
Applicants for Assistant Manager positions must have 2 years of restaurant or retail management experience. A high school diploma or the equivalent is required, while a bachelor's degree is preferred.
General Manager
The General Manager's job is to make sure that their restaurant is profitable and compliant with all company policies. They are responsible for meeting sales goals, managing costs, ordering food and promoting a positive work environment.
Prospective General Managers at Potbelly Sandwich Shops must have a high school diploma or the equivalent and at least two years of retail or restaurant management experience. Individuals with a bachelor's degree will have the best chances of being hired.
Interview Questions and Tips
Potbelly Sandwich Shop interviews are usually relaxed and no longer than 30 minutes in length. No matter what happens remember to smile and stay positive to show that you can provide the sort of service the restaurant is looking for.
You may be asked a variety of questions by the hiring manager. These samples are just intended to give you an idea of what you might encounter.
What Do You Know About Potbelly's?
You can read the research information below to come up with a great answer to this question, which is nearly always asked during the interview.
An important thing to include in your answers is that Potbelly Sandwich Shops only use fresh ingredients, making them different than ordinary fast food shops.
The stores are meant to be neighborhood sandwich shops with an authentic local feel.
Live music is a regular feature at many stores to encourage people to stop in and stay awhile.
What Does Courage Mean to You?
This is an odd question but it is reportedly asked often in interviews at the Potbelly Sandwich Shop.
While there is no right answer, try to point out that courage is doing the right thing whether you're at work or in your personal life. Integrity is one of the core values at Potbelly Sandwich Shop, and that sort of answer shows that you have it.
You can give examples of someone you think is courageous or talk about a time in your own life when you had to show courage.
How Do You Handle Difficult Coworkers?
Teamwork is one of the core values of Potbelly Sandwich Shop, and this question is designed to determine how well you can get along with others on your team.
Conflicts naturally arise in the workplace. Being able to settle them like adults without intervention from management is important for keeping the team strong.
You can say that you try to see the other person's perspective and put yourself in their shoes. It's also a great idea to talk about how you can try to find common ground or reach a compromise when you disagree.
Just make sure that you don't say "I'll tell the manager" as your first step in dealing with someone difficult.
Helpful Research for Your Potbelly Sandwich Shop Interview
Potbelly Sandwich Shop was founded in 1977 in Chicago, Illinois. Today, there are more than 400 locations across the country with a mix of corporate stores and franchise stores.
The information that follows is intended to help you prep for your interview and ensure that you have plenty to say when the hiring manager asks you what you know about the store.
How It Started
Potbelly Sandwich Shop started in an antique shop, where a couple started serving lunch to their customers. All of the food was homemade, and musicians often stopped in to perform during at the lunchtime gatherings.
In 1966, Bryant Keil purchased the store and converted it into a restaurant, keeping many of the antiques on display. From there, he went on to found other stores with the same neighborhood vibe.
Today, the restaurants maintain that feel right down to their unique decor and live musical performance.
Each Location Is Unique
To be a true neighborhood sandwich shop, Potbelly breaks from the usual fast food business model of decorating every store the same.
The decor of the locations is meant to reflect where they are. Even the pictures that are displayed represent the local community.
A Delicious Menu
All of the sandwiches and salads on the Potbelly Sandwich Shop menu are made fresh to order.
The sandwiches come on Regular or Multigrain bread in Original and the 30% larger Big Size. There are also flatbread sandwiches with less bread.
Hand-dipped milkshakes and cookies baked onsite are available for those with a sweet tooth.
Check out their entire menu before your interview to familiarize yourself with what they have to offer.
Customer Promise
The Potbelly Sandwich Shop has a promise to customers to serve fresh food, fast and in a friendly way.
That promise is at the heart of everything that the company does, and employees are expected to keep it in mind with every customer interactions.
Core Values
The Potbelly core values are:
Integrity
Food loving
Teamwork
Accountability
Positive energy
Coaching
Do your best to reflect these values during your interview.
Mission Statement
The Potbelly Sandwich Shop mission statement is to make people really happy, make more money and improve every day.
You can keep that in mind during your interview. When you mention weaknesses that you may have or difficulties that you have faced, talk about how you are working to improve upon them and better yourself.
Fundraising Program
Potbelly Sandwich Shop helps charitable organizations raise money through their fundraising programs.
You can read about this unique program on the official website.
What Employees Say About Working Here
Employees state that Potbelly Sandwich Shop management creates an environment where everyone feels free to be who they are and have fun while doing their jobs to the best of their abilities.
Great compensation and benefits are mentioned frequently in online reviews.
Former and current employees also praise the training opportunities at Potbelly Sandwich Shop. The company has a leadership development program for all employees and a comprehensive management training program for those looking to transition from supervisor to management roles.