Popeyes Jobs & Careers – Application, How to Apply, Requirements & Interview Tips
Last Updated:
September 20th, 2019

by

If you enjoy your chicken with a thick, crunchy coat of breading and deep fried, fill out your Popeyes job application today and serve up some tasty meals.

Popeyes was originally founded in 1972 and is owned by the brand name AFC Enterprises, Inc. Popeyes was once known as Popeyes Chicken and Biscuits, but in 2014, the name officially become Popeyes Louisiana Kitchen, Inc.

The company operates over 2,000 restaurants throughout the world and over 70 percent of the restaurants are located in either Louisiana, Texas, California, Florida, Maryland, Illinois, Georgia, New York, Mississippi, and Virginia.

If you have a love for chicken and serving up some of the best Southern fix-ins, working as a crew member or manager at Popeyes may be the right move for you.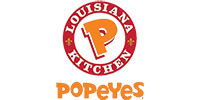 How to Apply for Employment at Popeyes
To apply for a position at Popeyes, the most commonly used method is by submitting an online job application.
Application Information
Minimum Age Requirement: The minimum age for employment at Popeyes is 16.
Hours of Operation: Popeyes is open Sunday – Thursday from 10:00 am until 10:00 pm and on Friday – Saturday from 10:00 am until 11:00 pm.
Methods to Apply: Interested applicants can apply to Popeyes by submitting an online job application or by printing, filling out, and submitting a paper application in the store of their choice.
Searching for an Open Position
To search for an open position at Popeyes, you will need to fist visit the job search page. From here, you can enter in a location and title of job you desire. If you do not want to fill this information in, you can click on "view all jobs."
All open positions that fit within your search criteria will be displayed for you. You can click on the name of any available job to be shown the location of the position and the requirements of the job.
Applying for a Job
To apply for a position, you will click on the "apply now" button located underneath the job description and requirements. From there, you will need to create an account to access the application.
After creating an account, you will be taken to the application, which starts off by asking some basic questions such as will you submit to a background check, are you legally allowed to work, and other similar questions.
You will then be prompted to upload your resume, fill in your personal information, work experience, and educational information.
One thing to note on the application is to make sure you check off most recent under your work experience and educational information; otherwise, the system defaults to keep adding lines for you to fill in.
Following your educational information, you will be asked if you have ever been fired from a position and then for your availability.
You will then be asked some other basic information about yourself and you can submit your application once all of the fields are filled in.
Application Tips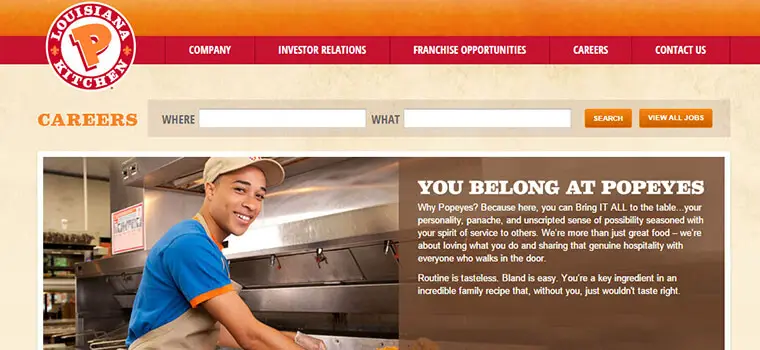 When you fill out your application, you may run into a couple of questions that you do not know how to answer. Below, we will go over some tips to help you get through them.
Always Upload Your Resume
You should always upload a resume when it is requested. Your resume is a snapshot of who you are and provides the potential employer with an overview of your accomplishments and achievements.
If you do not have a resume, you should create one for yourself. Typically, you will list your name, your education experience, work experience, and any large achievements you have made in your work or education history.
Can You Pass a Background Check?
You will be asked if you want to proceed with the application after you learn that Popeyes performs a criminal and background check. If you do not mind undergoing a background check, make sure to check that you want to continue.
In addition, the application will make a statement that Popeyes is a drug-free workplace. There is nothing that states that they perform a drug test, but you should be prepared in case they do.
More Availability is Important
It is important that you are willing to work anytime the company needs you. You will be asked whether you are willing to work weekends, nights, holidays, etc.
The more open your availability is, the more likely it is that you will be hired to work in the position you desire.
Should You Follow Up?
To follow up on a job application you submitted online, you will need to log back into the account that you created at the beginning of the application process. You will be able to see all jobs you applied to and the status of the application.
If you submitted a paper application, you can follow up by calling the hiring manager at the store you applied to. You should give the manager a couple of days to review your application.
When you do call, ask to speak directly to the hiring manager. If he or she is unavailable at the time, ask when a better time to call back would be.
Positions and Salary Information
Popeyes hires employees to work throughout all of their restaurant locations. With over 2,000 restaurants throughout the world, Popeyes relies on its employees to deliver the best service available.
Popeyes offers both entry-level positions and management positions to those who are interested.
Crew Member – The Crew Member is responsible for providing quality customer service to all customers. He or she will prepare, cook, and serve the customer. As a Crew Member, you can expect to make between $7 and $11 per hour.
Assistant Manager – The Assistant Manager is responsible for overseeing activities in the restaurant and providing support to Crew Members. As an Assistant Manager, you can expect to make between $10 and $12 per hour.
General Manager – The General Manager is responsible for creating a memorable experience for customers and providing Crew Members with the tools they need to succeed and thrive in the restaurant. As a General Manager, you can expect to make between $27,000 and $60,000 per year.
Best Entry-Level Positions
Popeyes hires employees for entry-level position in their restaurants. The entry-level positions are categorized under the "Crew Member" title and can include cash register duties to cooking duties.
Each entry-level position is the face of Popeyes and each Crew Member should have superior customer service skills.
Crew Member
The Crew Member role is an entry-level position that envelops a wide range of job duties. The Crew Member may be assigned to operate the cash register and help customers place their orders. He or she will recommend food and assist the customer in make choices.
The Crew Member may also be responsible for manning the drive-thru and handing orders to customers.
In this role, the Crew Member may also be assigned to the kitchen area where he or she prepares and packages food that the customer has ordered.
The Crew member is an important role in the company and he or she will ensure the highest standards are always being met.
Popeyes Careers in Management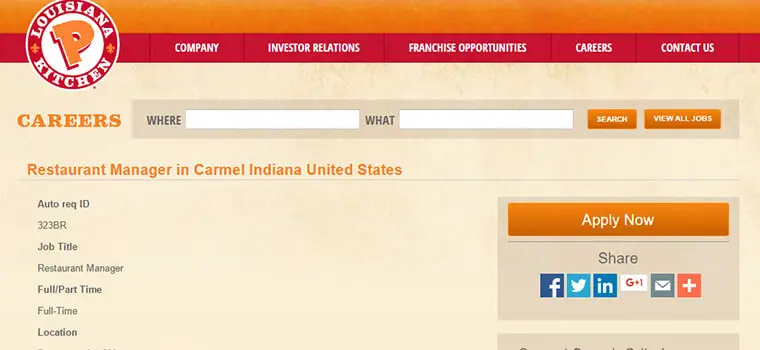 Popeyes offers management positions throughout their restaurants. These positions are open to both new employees and in-house employees.
The company offer benefits to those who work full-time and Popeyes' entry-level positions will prepare you for a position in management.
If you are looking to advance your career, a management position may be the right move for you.
Assistant Manager
The Assistant Manager is responsible for helping the General Manager and assisting in day to day activities within the restaurant. He or she will oversee the Crew Members and provide additional support as it is needed within the company.
In this role, the Assistant Manager will also provide superior customer service and ensure that all food is made according to Popeyes' standards.
General Manager
The General Manager is responsible for being a leader and moving the restaurant forward. He or she will set and work to meet all financial goals.
In this role, the General Manager will provide support to all Crew Members and Assistant Managers. All operations of the restaurant fall under the responsibility of the General Manager.
Interview Questions and Tips
When you go in for your interview, you may be asked some questions that you are not prepared for. Below, we will help you start to prepare for your interview by going over some questions you may encounter.
Why Are You a Good Fit for Popeyes?
Your interviewer may ask you why you are a good fit for Popeyes. You need to sell yourself to them and you need to explain why you are better than other employees who may apply.
Can You Handle a Fast Paced Environment?
The fast food industry is fast paced and you must be able to handle the high energy. Your interviewer will likely ask you if you can handle a situation like this or how you would handle a situation like this.
You can answer by discussing how you have handled similar situations or how you plan to still deliver the best customer service.
What Type of Past Experience Do You Have in Fast Food?
You will likely be asked about your past experience working in a fast food restaurant. If you do have experience, explain your skills with the interviewer. If you do not have any experience, let them know and explain that you are always willing to learn.
Helpful Research for Your Popeyes Interview
Popeyes is owned by AFC Enterprises, Inc. and the full company name is Popeyes Louisiana Kitchen, Inc., although it is often shortened to just Popeyes.
The fast-food restaurant focuses on Southern food including favorites such as deep fried chicken, collard greens, and Cajun rice.
The company first opened its doors in 1972 and has since expanded to over 2,000 restaurants throughout the world.
What Employees Say About Working Here
The employees who work for Popeyes are happy in their positions. Many of the employees enjoy the benefits that Popeyes has to offer including discounted flu shots, health fairs, bonuses, and more.
In addition, employees have expressed that there is room to advance and all of the management teams are helpful and supportive.