Planet Fitness Jobs & Careers – Application, How to Apply, Requirements & Interview Tips
Last Updated:
June 4, 2018
If you love fitness, healthy eating, and a better overall lifestyle, get ready to fill out and submit your Planet Fitness job application today.
Planet Fitness is a gym that offers a judgement free zone for everyone. Whether you want to shed extra weight put on throughout the year or you want to keep toning your muscles, you are always welcome.
The company is focused on improving the health of others through their fitness programs and more. No matter what your workout needs are, you will find the help and attention you need at Planet Fitness
Planet Fitness has over 800 clubs throughout the US with a whopping 5.5 million members. Each store is a franchise and independently owned and operated by the franchise owner.
Each of the locations hires employees to work in the fitness center and you may find yourself working as a member services representative or even a fitness trainer.
If you have a passion for fitness, don't waste any more time and submit your application to work at Planet Fitness today!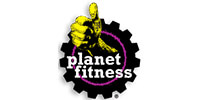 How to Apply for Employment at Planet Fitness
To apply for a position at Planet Fitness, the most commonly used method is through their online application process.
Application Information
Minimum Age Requirement: The minimum age for employment at Planet Fitness is 18 years old.
Hours of Operation: Planet Fitness is open Monday – Thursday from 5:00 am until 12:00 am (Midnight), Friday from 5:00 am until 10:00 pm, Saturday from 8:00 am until 8:00 pm, and on Sunday from 9:00 am until 6:00 pm.
Methods to Apply: Interested applicants can apply for a position at Planet Fitness by submitting an online application for consideration.
Searching for an Open Position
To search for an open position at Planet Fitness, interested applicants will need to visit the career page. From here, you will be sked to enter in your zip code and press the "Go" button.
All locations near the entered zip code will be displayed. To view the available positions, click on the "career opportunities" button underneath the location of your choice.
You will be able to see a list of all open positions at that location. To view information about the specific job, click on the title of the position.
Applying for a Job
To apply for a position, click on the job title to view the requirements and job description. If you meet the requirements, proceed to fill out the application by filling in the required information. (The application is automatically displayed under the job requirements and duties.)
The application is short and sweet and asks for some personal information, your most recent employer, and your resume/cover letter. If you are applying for a position that requires additional training or certifications, the application will ask you a couple more questions.
Once you are done filling in the application, hit the "apply" button and your application will be transmitted to the store.
Application Tips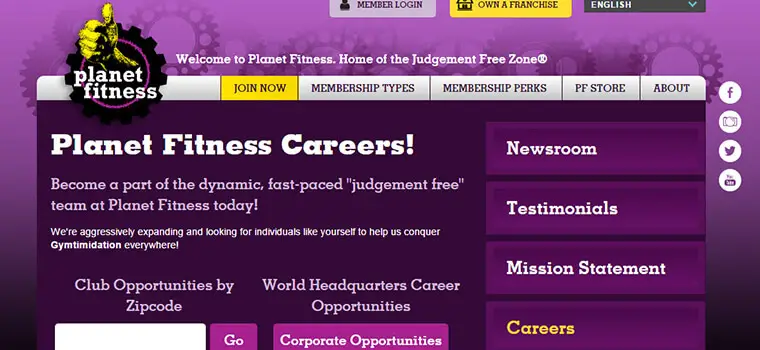 As you go through the application, you may find that you run into some questions that you do not have an answer for or you do not know how to answer. The following tips will help you get through the process much more smoothly.
Apply to Each Store You're Interested In
Since Planet Fitness is run by franchise owners, your application is not shared with every store. If you are interested in applying for multiple positions, you should submit an application to each store you want to apply to.
Your Recent Employment
The application does not require you to input all of your recent employer's information other than the name of the company and your job title. You may find it helpful to have additional information on hand such as the address and phone number at your interview as you may be asked.
Upload Your Resume
Since you do not have to input much information into the application fields, Planet Fitness is relying on your resume to give a good indication of who you are and your qualifications.
Make sure you create a good resume with a cover letter that showcases who you are. Often, this is the first impression that employers get of you.
Should You Follow Up?
You can follow up on a submitted application by calling the hiring manager at the specific store you applied to. Before you call, give the manager a couple of days to look over and review your information.
When you call the location, ask to speak directly with the hiring manager. If he or she is unavailable at the time, ask when a better time to call back would be.
Positions and Salary Information
Planet Fitness hires employees to work in both entry-level and management positions throughout their 800 clubs.
Each of the positions serves a purpose and provides members with quality service without any judgement.
Member Services Representative – The Member Services Representative is responsible for providing superior customer service and helping all customers check in and out of the club. As a Member Services Representative, you can expect to make between $8 and $11 per hour.
Fitness Trainer – The Fitness Trainer is responsible for conducting and running all of the fitness programs and regimens according to Planet Fitness policy. As a Fitness Trainer, you can expect to make between $10 and $14 per hour.
Fitness Instructor – The Fitness Instructor will help members enroll in fitness classes and lead the classes. As a Fitness Instructor, you can expect to make between $9 and $12 per hour.
Assistant Manager – The Assistant Manager is responsible for overseeing day-to-day activities in the gym. He or she will ensure the facilities are kept clean at all times as well. As an Assistant Manager, you can expect to make between $9 and $15 per hour.
Club Manager – The Club Manager is responsible for overseeing all operations in the club as well as scheduling employees and handling member complaints. As a Club Manager, you can expect to make between $33,000 and $55,000 per year.
Best Entry-Level Positions
Planet Fitness employs interested applicants to work in their 800 clubs nationwide. Each entry-level position is responsible for helping members get acquainted to the club.
In addition, employees working in the entry-level positions can move up in the company into leadership roles.
Member Services Representative
The Member Services Representative is responsible for greeting members, checking members in, handling transactions, and answering all phone calls.
In addition, you will be responsible for answering all members' questions and assist in keeping the facility clean at all times.
Fitness Trainer
The Fitness Trainer is responsible for running all of the fitness groups and helping members reach their fitness goals. In this position, you will help members understand what the classes are and sign up for them.
Fitness Instructor
The Fitness Instructor is responsible for overseeing and running all group fitness activities. The Instructor will help all members reach their fitness goals and complete the class.
In this role, the Fitness Instructor will create and manage the fitness schedules, start courses on time, and more.
Planet Fitness Careers in Management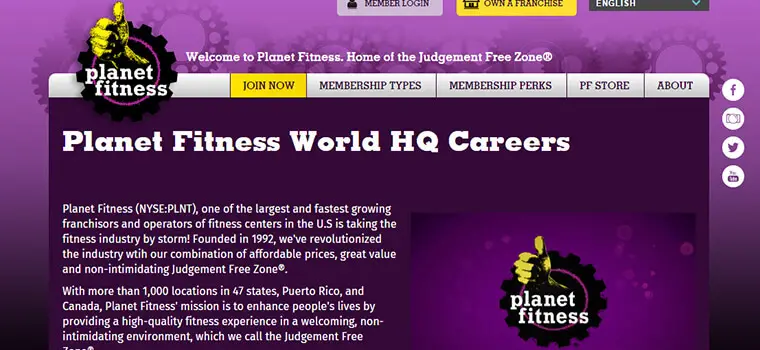 Planet Fitness offers a couple of different management positions throughout their locations. These leadership roles are responsible for overseeing the operations of the club and more.
Assistant Manager
The Assistant Manager is responsible for assisting and overseeing all activities within the gym. It is important for the Assistant Manager to ensure there is a judgement free zone at all times.
In this role, you will be required to assist in scheduling staff, making sure each area is staffed properly, and meet any goals set forth.
Club Manager
The Club Manager will oversee all activities that take place in the gym. He or she will ensure the club is financially successful and that all members enjoy their experience.
In this role, the Club Manager will schedule staff, resolve all member and employee issues, and handle all terminations.
Interview Questions and Tips
Before you go in for your interview at Planet Fitness, you want to make sure you are prepared for some of the questions you may be asked. Below, we will go over some questions you may encounter.
What Motivates You to Go into Work Every Day?
Planet Fitness is looking for motivated employees so you may find that you are asked what it is that motivates you to work each day.
You can answer this question a couple of different ways. For example, you could say you are motivated because you want to improve someone's day through great customer service, or you could say that you want to help someone get one step closer to their fitness goals.
Why Do You Want to Work at Planet Fitness?
It is likely that you will be asked why you want to work at Planet Fitness. Many of the employees who work here do so because they enjoy fitness and everything about it.
To answer this question, simply be honest and let the interviewer know what made you apply here instead of somewhere else.
How Would You Provide Superior Customer Service?
In all positions at Planet Fitness, you will find that you interact face-to-face with customers. You may be asked how you would provide quality customer service to members at the gym.
One of the best ways to approach the answer to this question is to remain customer service focused. For instance, you could say that you would give new members a tour, answer all their questions, and have an upbeat attitude.
Helpful Research for Your Planet Fitness Interview
Planet Fitness has a mission and that is to provide a judgement free zone to all of its members. The company wants everyone to feel comfortable when visiting a center.
Planet Fitness is considered one of the fastest growing fitness franchises in the US. The company offers locations that are roughly 20,000 square feet in size and membership is just $10 per month.
What Employees Say About Working Here
Employees who work at Planet Fitness rave about their position within the company. Many of the employees enjoy the atmosphere and being able to help customers meet their fitness and weight loss goals.
Other employees are happy with the management and how the club is run. In addition, many of the employees are happy with the pay rate, which is a little higher than average for an entry-level position.