Pier 1 Jobs & Careers – Application, How to Apply, Requirements & Interview Tips
Last Updated:
September 20th, 2019

by

If you have a passion for home decor and interior design, filling out a Pier 1 job application could be the first step in landing a job suited to your interests and skills.

Pier 1 Imports specializes in decorative items for the home that are unique and capable of giving rooms personality, and they need individuals with unique personalities of their own to help customers discover their trendy products.

Focused heavily on providing unparalleled customer service while driving sales, Pier 1 Imports is nearly always looking for people to join the teams at their locations.

Think you'd be a perfect fit? This guide will help you get ready to complete an application and impress at your interview, so you'll have the best chances of being hired.

Like a shopping trip to Pier 1 Imports, this guide is filled with things you won't find anywhere else. Keep reading to discover the secrets to landing a job at your local store.
How to Apply for Employment at Pier 1
Pier 1 Imports requires applicants to complete an online application.
In addition to the standard questions you'd expect to encounter on an employment app, the online process includes a pre-hiring assessment.
Application Information
Minimum Age Requirement: You must be 18 years of age to work at Pier 1.
Hours of Operation: Most stores are open from 10:00AM to 9:00PM Monday through Saturday and have shorter hours of operation on Sunday. You can consult the Store Locator to find out the hours at the store nearest you.
Methods to Apply: Online
Find a Position
The first step to applying for a job at Pier 1 Imports is finding an open position to apply for.
You can browse by location or by job title.
Once you have found a position that appeals to you, click the green arrow to apply.
Complete the Application
The first part of the Pier 1 Imports job application is very straightforward.
You will need to provide your contact information and some details about your educational background and previous work experience. It is helpful to have a copy of your resume available to refer to while you complete the first section.
Take the Assessment
After finishing the first half of the application, you will be taken to the assessment.
The purpose of the test is to evaluate your sales skills, and it is the most important part of the application.
Employees at Pier 1 Imports have sales goals that they need to meet on a regular basis, and the evaluation is intended to give the hiring manager an idea of whether or not you would be able to achieve those goals.
Application Tips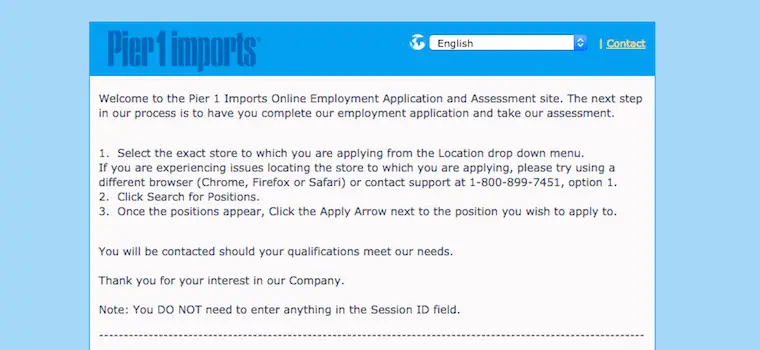 Allow Yourself Enough Time
You will need roughly 60 minutes to complete the online assessment.
There is audio and video included in the exam, so you will need to take the exam when you can have your computer speakers turned on or wearing earphones. A broadband Internet connection is needed for the test to display properly.
Try to find a place free of distractions to take the test, as it does require concentration.
Think About Seizing the Opportunity
The exam consists of eight short videos that depict a situation you might encounter while working in a retail store.
In the video, a customer has a brief conversation with an employee. When the video ends, you are asked to say which of four possible next steps would be the most effective approach to selling to the customer and which would be the least effective.
When you are answering the questions, remember that in sales it is important to seize the opportunity. You never want to turn a customer who is willing to buy away or miss out on the chance to sell them something.
Answers that involve servicing the customer's needs immediately and motivating them to buy today will be more effective than answers that say things like "Tell the customer to go home and check on the color of their carpeting."
Keep Service in Mind
Another key point to keep in mind when choosing answers is that good customer service drives sales.
Answers that involve taking the time to explain things to the customer or to help them make a decision will be more effective than ones that are more hands off, such as telling the customer not to worry about what to buy because they can return it.
Ask yourself which answer would make you most likely to purchase the item or items in question.
Should You Follow Up?
After you have completed the application, you will likely receive notification rather quickly that Pier 1 Imports does not have a position for you at this time if you did not do well on the application.
If a few days pass and you do not receive an email, you can sign into the Pier 1 Imports application system to check on the status of your application.
After the application has been sent to your local store, you should wait 1 to 2 weeks before calling to check on the status.
Normally, the stores are the slowest on weekdays between 9AM and 10AM in the morning, so try to call at this time to catch the hiring manager when he or she is less likely to be dealing with customers.
Positions and Salary Information
Pier 1 Imports hires numerous employees to work in each store but has only a small number of positions.
In general, the company looks to hire individuals who have strong selling skills and have positive, winning attitudes that allow them to provide exemplary customer service.
Assistant Store Manager – Aids Store Manager in driving sales, supervises team – The average Assistant Store Manager earns between $13 and $14 per hour.
Sales Associate – Assists customers, processes transactions, keeps shelves stocked – The average Sales Associate earns between $8 and $9 per hour.
Sales Leader – Waits on customers, assists with merchandising, coaches team – The average Sales Leader earns between $10 and $11 per hour.
Store Manager – Ensures that store meets sales goals, manages inventory, leads team – The average Store Manager earns between $50,000 and $55,000 per year.
Best Entry-Level Positions
Entry-level job opportunities at Pier 1 Imports are ideal for people who have some sales experience and are looking to enter the home décor niche.
Pier 1 Imports does believe in promoting from within, so landing an entry-level position could be your first step on the corporate ladder.
Sales Associate
Sales Associates are responsible for helping customers select products and completing sales transactions. They are expected to cross-sell and upsell and to keep the sales floor stocked and organized.
To qualify for a Sales Associate position, you must have at least 6 months to 1 year of retail work experience.
Sales Leader
The Sales Leader helps to train and coach Sales Associates to boost sales in the store and to achieve his or her own sales goals. When the Assistant Manager and Store Manager are not on the premises, the Sales Leader becomes responsible for overseeing the operations of the entire store.
A prospective Sales Leader must have at least 1 year of previous retail experience. Individuals with management experience will be preferred.
Seasonal Job Openings
Part-Time Sales Associate
Pier 1 Imports typically hires part-time seasonal Sales Associates to work from November through January in order to provide service to the increased numbers of customers who shop at the stores during the holiday season.
Part-time Sales Associates have the same job duties and responsibilities as other Sales Associates; however, they may be able to be hired without any previous experience due to the temporary nature of their employment.
Pier 1 Careers in Management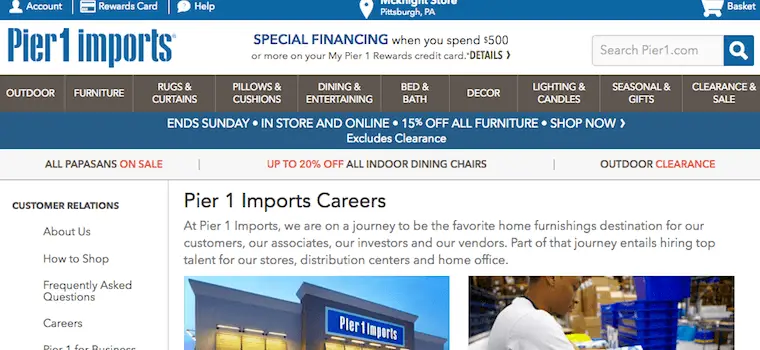 Pier 1 Imports believes in hiring from within, but often needs to look outside for applicants to fill management roles in their stores.
Assistant Store Manager
The Assistant Store Manager leads and supervises the in-store team. He or she is responsible for helping to ensure that the store location achieves its sales goals and assists the Store Manager as needed.
To qualify for an Assistant Manager job, you must have one of the following:
A Bachelor's degree in business, retail management, marketing, merchandising or a similar field and 1 year of retail management experience
Some college education with 2 years of experience working at Pier 1 Imports or in retail management at another store
2 to 4 years of work experience at Pier 1 Imports or in retail management at another store
Store Manager
The Store Manager is responsible for making sure that their location achieves sales goals and is merchandised in accordance with company policies. He or she is also responsible for managing inventory and maintaining high customer service standards within the store.
To qualify for an Assistant Manager job, you must have one of the following:
A Bachelor's degree in business, retail management, marketing, merchandising or a similar field and 1 year of retail management experience
Some college education with 2 years of experience working at Pier 1 Imports or in retail management at another store
3 to 5 years of work experience at Pier 1 Imports or in retail management at another store
Interview Questions and Tips
If you ace the assessment, you'll receive a call from a hiring manager at Pier 1 Imports to schedule an interview.
On the big day, dress nicely to show that you have an eye for style and keep these sample questions in mind to make a great impression on the interviewer.
How Would You Handle a Difficult Customer?
In your own words, say that you would start by listening to the customer's complaint and asking questions to make sure you understand the problem.
Then, state that you would apologize for whatever upset the customer even if it was not your fault.
Explain that you would provide whatever solutions you were empowered to by the management and store policies and that you would seek help from management only if you could not resolve the problem on your own.
An answer like this will show that you know how to empathize with the customer and take ownership of problems without overstepping your authority.
How Were Your Sales at Your Previous Job?
It is important to be honest with this answer, even if you did not meet your sales goals.
If you have to confess that your sales were not strong, provide an explanation without making excuses or talking negatively about a specific employee or your employer.
For example, you might say:
"I did not always achieve my sales goals, but I did manage to improve them each month. I believe that if I had more time for training, I might have been able to develop my sales skill faster."
"Sell Me This (Item)."
The hiring manager may hand you an item from the sales floor like a candle or a pillow and ask you to sell it to them.
Start by agreeing and asking for a moment to look at the item. Quickly, try to determine what its most important features are.
Once you have identified them, smile and start to explain the features of the item to the hiring manager, telling him or her what the benefits of those features are.
For example, pretend you were given a white fuzzy throw pillow. Here are three things that you could say about it that would be benefits-driven:
"This pillow is very soft, so it will feel great under your head when you're watching television or behind your back when you are sitting up while reading."
"The white color of this pillow matches many different colors in a room, and even if you redecorate in the future, it is likely to still match your color palette."
"This pillow is just the right size to fit on a chair, and you can place two of them on each end of a sofa for a stylish layered look. We have some other pillows that you can pair with this, too. Would you like to see them?"
These three benefits-driven selling points could be gathered just by looking at the pillow. You will be amazed what you can come up with for any product if you just take a moment to examine it before you begin.
Helpful Research for Your Pier 1 Interview
Pier 1 Imports was founded in 1962 in San Mateo, California. Since then, the store has grown to more than 1,000 locations across the United States and has established their headquarters in Fort Worth, Texas.
The company employs more than 23,000 people. This information will give you some background about Pier 1 Imports that you can use in your interview to improve your chances of becoming one of them.
Meaning of the Name
The Pier 1 Imports name refers to the fact that the retailer imports unique items from around the world.
It is meant to remind people that you will find things on their sales floors that cannot be purchased anywhere else.
You can read more about the company's name and history on their official site.
Product Lineup
Pier 1 Imports sells items in the following categories:
Outdoor living
Furniture
Rugs and curtains
Pillows and cushions
Dining and entertaining
Bed and bath
Décor
Lighting and Candles
Seasonal Items & Gifts
Designer Perks Program
Interior designers receive deep discounts on Pier 1 Imports through the Designer Perks Program.
The individuals who are a part of this program are usually some of the stores' best customers because they tend to shop frequently and may buy in high volume for businesses.
More information about the program is available on the Designer Perks page.
A Public Company
Pier 1 Imports went public in 1970.
The company is listed on the New York Stock Exchange under the abbreviation "PIR."
Rewards Program
Pier 1 offers the My Pier 1 Rewards program that provides members a variety of benefits, which you can read about on the program page.
The store also offers a Cobalt credit card to use in stores. The credit card provides additional benefits in addition to the My Pier 1 Rewards.
Employees are expected to encourage customers to sign up for the rewards program and apply for the credit card.
What Employees Say About Working Here
In online reviews, employees praise Pier 1 Imports for providing plenty of opportunities for advancement and helping team members develop the skills needed to get to the next level.
They also love the generous employee discount that they receive.
Previous and current employees state that the company provides regular pay raises based on merit and tenure and offers good benefits for full-time workers.