Pet Supplies Plus Jobs & Careers – Application, How to Apply, Requirements & Interview Tips
Last Updated:
September 20th, 2019

by

Completing a Pet Supplies job application can help you snag a job that will allow you to see adorable animals each and every day.

Pet Supplies Plus is one of the largest retailers of pet products in the United States with more than 300 locations spread across 25 states. The store welcomes pet owners to bring their pets in for a visit and prefers to think of the people who stop in as "neighbors" rather than "customers" to foster a warm, friendly environment.

If you think cats are "paws-itively" perfect, are doggone crazy for dogs and care about animals big and small, Pet Supplies Plus could be the perfect employer for you.

This guide is the "bone-ified" resource to help you improve your chances of getting hired and landing your pet store dream job.

You don't have to sit up and beg to learn more. Just read on to fetch the best practices for a successful application and interview.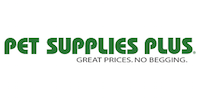 How to Apply for Employment at Pet Supplies Plus
While some Pet Supplies Plus stores are independent franchises, the store uses a central online application system that makes applying very easy.
You can also visit your nearest store location to complete an application.
Application Information
Minimum Age Requirement: You must be 16 years old to work at Pet Supplies Plus.
Hours of Operation: Most Pet Supplies Plus locations are open from 9AM to 9PM, 7 days per week. You can check your store's hours using the Store Locator.
Methods to Apply: In person.
Take the First Steps
The Pet Supplies Plus application only takes a few minutes to complete.
Start by entering your email address and your general contact information.
Make sure to read over everything to ensure that the information is accurate.
Answers the Skills Questions
After the basic information section, the application system asks you to answer some yes and no questions.
You'll be asked whether or not you can lift heavy loads, if you're comfortable working with animals and if you have any experience cleaning fish tanks and caring for different types of creatures.
Provide Your Availability
The final section of the job application asks you to share what days and times you're generally able to work.
Complete the section, and your application will be complete.
Application Tips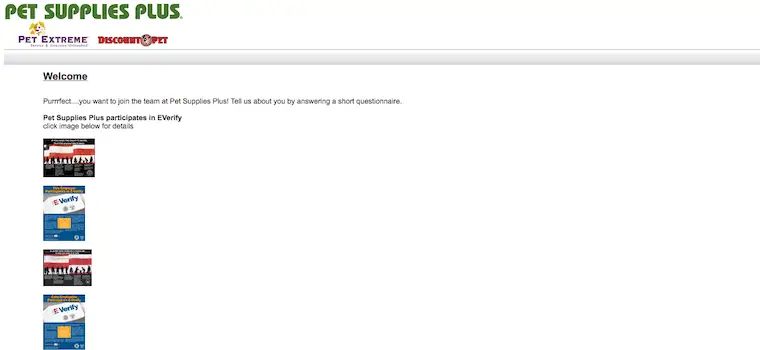 Save Time with Social Media
You can save time completing the Pet Supplies Plus job application by logging in with one of the following accounts:
Signing in this way will fill in some basic information for you, so you won't have to type as much. Double check to make sure the imported data is correct.
The job application site won't post to your social media feed if you choose this option.
Be as Accurate as Possible
When you are answering the skills questions, don't be tempted to simply put what you think the hiring manager wants to see.
Be truthful about your experience and abilities in order to avoid problems later. You do not want to end up looking dishonest in the interview or when you are hired.
Quote the Right Rate
The application will ask you to state how much you are hoping to make an hour.
Use the salary information below and provide a realistic hourly rate or annual salary.
If you have a lot of retail or pet care experience, it's okay to put a higher rate than the average, but an astronomical figure will give the impression that you have unrealistic expectations.
Should You Follow Up?
The online application system that Pet Supplies Plus uses allows you to check the status of your application at any time.
You will see an update when the information has been forwarded to the location for which you are applying.
Once that happens, you should hear something from the hiring manager within 1 to 2 weeks. If you do not, you can call the store and politely inquire about the status of your application.
The stores tend to be slowest on weekday mornings. Try to call before noon to have the best chance of speaking to the hiring manager.
Positions and Salary Information
Pet Supplies Plus offers a wider range of entry-level positions than your average retail store, meaning there are plenty of unique opportunities for you waiting to be discovered at your local location.
While the requirements for the positions vary, one thing that every role requires is the ability to provide service with a smile and reflect the neighborly brand that Pet Supplies Plus has worked to build since the company was founded in 1988.
Assistant Manager – Oversees daily operations in the store and hires, trains and coaches employees – The average Assistant Manager earns between $30,000 and $35,000 per year.
Bather – Shampoos dogs, cleans grooming area, assists groomers as needed – The average Bather earns between $8 and $9 per hour.
Cashier – Processes transactions, provides help in other areas as needed – The average Cashier earns between $8 and $9 per hour.
Groomer – Trims dogs' hair and nails, keeps grooming area clean – The average Groomer earns between $9 and $10 per hour.
Pet Care Specialist – Feeds animals in the store, cleans cages and tanks, assists customers – The average Pet Care Provider earns between $9 and $10 per hour.
Shift Supervisor – Oversees a group of Team Members, handles customer complaints – The average Shift Supervisor earns between $10 and $11 per hour.
Stocker – Unloads shipments, stocks shelves – The average Stocker earns between $8 and $9 per hour.
Store Manager – Leads store to achieve sales goals and manage costs, ensures full compliance with company policies – The average Store Manager earns between $40,000 and $45,000 per year.
Best Entry-Level Positions
Whether you would prefer to work primarily with people or with pets, Pet Supplies Plus has job opportunities that are perfect for you.
All of the positions require a positive attitude and a commitment to providing top-notch service to every "neighbor."
Bather
Bathers work in the grooming areas of Pet Supplies Plus stores. They bathe dogs, brush them, perform routine cleaning tasks and help groomers as needed.
While the minimum age for employment at Pet Supplies Plus is 16, you must be at least 18 years old to work as a groomer and have the ability to lift up a heavy dog.
Cashier
Cashiers work the registers at Pet Supplies Plus locations, ringing up sales and accepting payment. They must be knowledgeable about products and are expected to offer memberships to the Preferred Pet Club.
No experience or education is needed to work as a Cashier. Individuals with previous retail, customer service or cash handling experience are likely to be considered before other applicants.
Groomer
Groomers are responsible for trimming and cutting dogs' hair and clipping their nails. With the help of Bathers, they keep the grooming area clean and sanitary, and they are expected to recommend products to help owners care for their four-legged friends at home.
Like Bathers, Groomers must be able to lift heavy dogs and be at least 18 years of age. In addition, they must have at least 1 year of previous retail experience and 1 year one of experience working under the supervision of a dog groomer or as a groomer.
Pet Care Specialist
Pet Care Specialists have the fun, but important job of feeding and caring for the animals that Pet Supplies Plus sells. They clean cages and tanks and provide customer service, helping "neighbors" find the best products for their pets.
While there are no education or experience requirements for the position, applicants who own many different kinds of pets or who have worked or volunteered in a vet's office, animal shelter or pet store will have a competitive edge. Previous retail or customer service experience is also beneficial.
Stocker
Stockers are responsible for unloading trucks, organizing inventory and putting products on the shelves. They often work during hours when the store is not open for business.
The ability to lift heavy loads safely is the only requirement for working as a stocker.
Pet Supplies Plus Careers in Management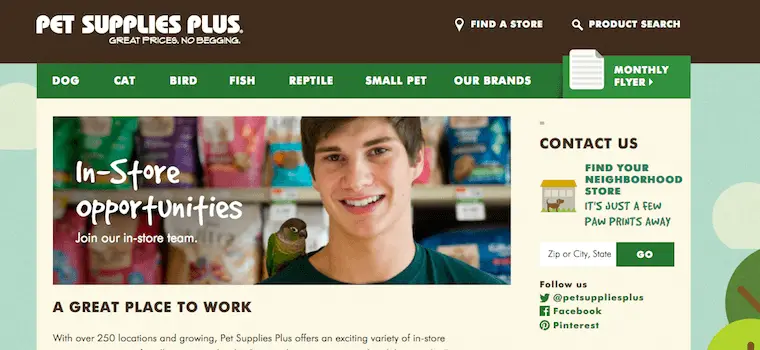 To keep stores running smoothly, Pet Supplies Plus employs a management team to lead each location.
Whenever possible, the store hires from within, but you'll often find open management positions to apply for on the online application system.
Assistant Manager
The Assistant Manager serves as the main operations manager for Pet Supplies Plus locations, meaning that he or she is responsible for leading the entire team and ensuring that the store is being run in accordance with company policies. He or she also assists the Store Manager with various duties as needed.
To qualify to work as an Assistant Manager, an individual needs to have 2 years of experience in retail management and a 4-year bachelor's degree or equivalent work experience. Knowledge of Microsoft Office is also required.
Shift Supervisor
The Shift Supervisor is the individual responsible for training new employees, helping with customer problems and overseeing a certain area within the store. When the Store Manager and Assistant Manager are not on the premises, the Shift Supervisor takes over their roles.
Qualified applicants for Shift Supervisor jobs will have 2 years of retail experience. Knowledge of Microsoft Office is preferred but not required.
Store Manager
The Store Manager ensures that their location meets all company standards for security, safety, cleanliness and animal care. He or she strives to lead the store to achieve sales goals, pass company audits and earn high "neighbor engagement" scores, which reflect customer satisfaction.
Qualifications for the Store Manager role are the same as those for the Assistant Manager job: 2 years of retail management experience, a 4-year bachelor's degree or equivalent work experience and knowledge of Microsoft Word.
Interview Questions and Tips
Pet Supplies Plus interviews are usually informal and unlikely to last longer than 30 minutes.
These sample questions are intended to give you an idea of what you might be asked by the hiring manager.
What Kinds of Pets Do You Have?
With this question, the answer that you give is not as important as the amount of enthusiasm that you show.
The hiring manager wants to see that you love animals whether you have one pet or one dozen of them.
Don't have a pet? Don't worry.
Simply say that you do not have one but that you love animals, which is why you are applying to work at Pet Supplies Plus.
If You Saw an Elderly Person Buying Cat Litter What Would You Do?
This question is meant to find out if you have the right instincts to be "neighborly" and provide good service to customers.
First off, cat litter is heavy, so it would be kind to ask the elderly person if he or she needs assistance lifting or carrying it.
It would be a good idea to ask the person about their cat.
If they seem like they want to talk, you could ask questions about their pet. Not only would this make the person feel good, but it could uncover an opportunity to recommend a pet care product.
What Did You Like the Most and Least About Your Previous Employer?
This question serves two purposes: it tells the hiring manager about the type of work environment that you prefer and lets them get a glimpse at what your attitude is like.
When you're choosing something that you like about your previous employer, be careful not to pick something that suggests you do not take work seriously like "long lunches" or "having fun with my coworkers."
It would be better to say that you appreciated the benefits, liked the flexible hours or enjoyed the positive atmosphere.
When you talk about what you didn't like, be sure not to trash your former or current employer. Give constructive criticism and be specific.
For example, don't just say "I didn't like the manager." This might suggest that you are difficult to work with or needed discipline because you were late or frequently calling off.
It would be better to say, "The manager did not provide me with enough feedback for me to do my job well" or "The manager was not fostering a positive atmosphere."
Helpful Research for Your Pet Supplies Plus Interview
Since 1988, Pet Supplies Plus has grown at a rapid pace with more than 320 combined corporate and independently franchised locations.
This information can help you become part of their ever-growing team.
Inspired by Supermarkets
The founders of Pet Supplies Plus, Jack Berry and Harry Shallop, opened their first store in Redford, Michigan, in 1988 with the vision of opening a supermarket for pets.
Everything from labeling the aisles to placing the stores in high-traffic areas like strip malls is inspired by the grocery store industry.
Preferred Pet Club
Employees are expected to sign up customers for the Pet Supplies Plus Preferred Pet Club, a loyalty program that allows "neighbors" to receive discounts and other perks.
It is a good idea to familiarize yourself with the program before the interview by checking out the Preferred Pet Club website.
It Pays to Have a Good Memory
Pet Supplies Plus promises that their employees will get to know not only employees, but also their pets.
Team members at all levels are encouraged to ask pets' names and to try to greet animals personally when they walk in the store.
Doing Good
Pet Supplies Plus partners with local animal rescue organizations to help animals find homes. In addition, the stores team up with local animal charities for fundraising.
Employees are strongly encouraged to participate in these fundraisers.
What Employees Say About Working Here
By far, the thing that employees seem to love the most about working at Pet Supplies Plus is coming to work every day in a fun environment surrounded by animals.
Employees also state that the discounts provided by the company are generous and that plenty of time is given for breaks and lunches.
Flexible hours and opportunities for advancement are some other reported pros of working at Pet Supplies Plus.