Panda Express Jobs & Careers – Application, How to Apply, Requirements & Interview Tips
Last Updated:
September 20th, 2019

by

Let this guide help you understand the Panda Express job application process better and place your fortune into your hands rather than in a fortune cookie.

Panda Express is a restaurant chain that serves American Chinese cuisine. It's the largest chain of its kind in the country.

Originally, Panda Express was only located in shopping mall food courts, but now, the chain has independent restaurants and can be found in university dining halls, airports, casinos and other venues.

The company has over 1,700 restaurants located in 46 U.S. states, Puerto Rico, Canada, Mexico, Korea and the United Arab Emirates. Their brand is casual, fast-food that provides high quality meals.

Panda Express hires new employees for a variety of positions in both restaurant and corporate careers. Popular jobs include Servers, Cooks and General Managers, to name a few.

Their corporate roles can involve project management, accounting, human resources and other departmental roles.

The following guide will thoroughly explain Panda Express' application and hiring process to help interested candidates land a job at the company.
How to Apply for Employment at Panda Express
When applying for a Panda Express job, you complete an online application for the specific position you're interested in. Keep the following information in mind when applying to Panda Express jobs:
Application Information
Minimum Age Requirement: Applicants must be at least 16 years old to qualify for the most common jobs.
Hours of Operations: Panda Express is typically open Mondays to Fridays from 10:30am to 8:30pm, Saturdays from 10:00am to 9:00pm, and Sundays from 11:00am to 6:00pm
Methods to Apply: Applicants either fill out an online application through the company's careers page or fill out a paper application at the specific store they're applying to.
The online application is pretty straightforward and easy to navigate. You filter your job searches by location and hourly versus management careers.
Create An Account
After agreeing to a privacy statement, you register and fill in your details. Once your account has been created, you can apply for available jobs.
When applying for available jobs provide your name, address, contact information, social security number and other employment related identifying information. Also state your past employment history.
Application Tips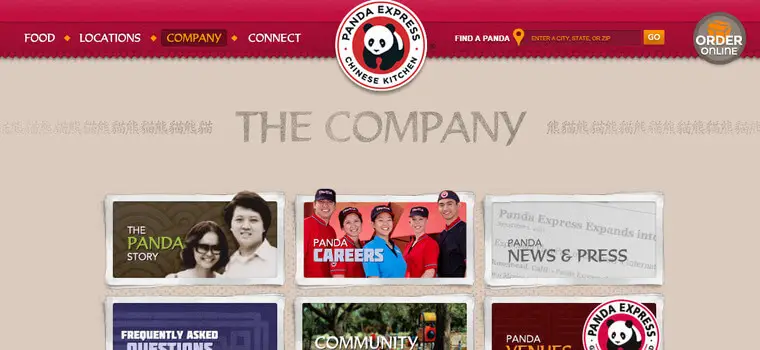 Consider visiting the Panda Express you're interested in applying to. By doing so, you meet hiring managers and make a positive impression on them.
Applicants who've built this rapport beforehand boost their chances of landing a job at Panda Express.
Show A Good Work Ethic
Panda Express targets individuals who have a good work ethic, great customer service skills and can maintain cleanliness. So, if you're an hourly applicant you should highlight these skills in your application.
If you're considering a careers in management, you should highlight your past experience and leadership skills.
Have a resume handy that's customized to the specific job. It's crucial that your resume incorporate keywords mentioned in the job description. Since many employers use applicant tracking systems to filter applications, include keywords when elaborating on past experiences.
Should You Follow Up?
Be proactive and check the status of yourb application a week after submitting an application. Call hiring managers to inquire about your application and reiterate your interest in the position.
In addition to making phone calls, you could also visit the restaurant to speak with managers directly. An in-person visit can show passion and can be another great way to build rapport with the manager and rise above the competition.
Positions and Salary Information
Panda Express provides a range of employment opportunities from Cashiers to General Manager roles. The most common jobs for hire comprise the following:
Cashiers – Employees who operate cash registers and perform all of the cash and card transactions. They greet customers, ask them if they'd like anything else with their meals, and then ring up purchases. Applicants with little experience, but great people skills are ideal for these jobs. The average Cashier at Panda Express makes $9 per hour.
Cooks – Cook all of the foods. Usually, Cooks are separated into different categories, some operate the woks, others are line cooks, while new employees are put on prep duty. They unload deliveries and stock the kitchen with fresh produce and other ingredients. They're also in charge of keeping the kitchen clean and maintaining health and safety standards. Cooks typically make $10 an hour.
Servers – Greet customers, respond to inquiries, and serve food and beverages. They're in charge of making customers feel welcome. While little experience is required for these jobs, candidates should have strong customer service skills and friendly personalities. Servers can expect to earn $9 per hour.
Assistant Managers – Responsible for the day-to-day performances. They assist with the training of new front and back of the house employees. Additionally, they're tasked with delivering great customer experiences and meeting financial milestones. Ideal candidates have great leadership and organizational skills. They report directly to general managers and typically earn $34,856 a year.
General Restaurant Managers – Lead restaurant employees and are in charge of the hiring, training, and coaching of new employees. Managers enforce company policies, while overseeing staff performances. They work to increase sales, minimize costs, and generate profits. Leaders with great people skills are perfect for these positions. General managers typically earn a yearly salary of $59,244.
Area Coaches of Operations – Oversee the operations of select restaurants. They're in charge of recruiting managerial candidates for the restaurants and creating exceptional customer experiences. Innate leaders with great interpersonal skills are perfect for these jobs. Typically, area coaches of operations make $99,022 per year.
Regional Directors of Operations – Oversee multiple stores and monitor performance levels. They're in charge of driving regional sales and growth through strategic business plans and marketing efforts. Ideal candidates must have experience in operations and the restaurant industry. They must also have managerial experience and possess great leadership skills. Regional directors of operations can expect to earn $167,418.
Panda Express also offers opportunities in corporate careers for individuals within many departments, including finance, construction management, and human resources. Salaries for these jobs vary according to the specific position, its location, and the experience level of the applicants.
Best Entry-Level Positions
Panda Express provides entry-level positions for aspiring employees. These positions are Cashiers, Cooks and Servers.
Below is some further information on these three entry-level jobs:
Cashiers
Cashiers are employees who operate the registers, handle all cash and card transactions. They greet customers, answer any questions and ring up purchases.
Since they interact with customers, they have to be skilled in making friendly, genuine conversations. Cashiers have to be knowledgeable about the store's promotions and services in order to accurately answer all inquiries.
These roles typically involve following Store Manager's detailed instructions and applying basic concepts such as math functions. Little experience is needed for the job and most Cashiers either have a high school degree or are completing one.
Ideal candidates are organized and have great customer service skills.
Cooks
Learn how to cook Panda Express' menu items and flawlessly execute these meals, every day. Some Cooks perform prep work, while others are on wok duty.
They're in charge of maintaining the cleanliness of the kitchen, adhering to company specifications and upholding health regulations. Cooks guarantee the high quality of the foods they cook and ensure the kitchen is always adequately stocked with ingredients and produce.
Little experience is needed, but you should have basic familiarity with cookware and a commitment to upholding food standards. They're on their feet for long hours , so you should also possess a degree of stamina.
Servers
Servers are knowledgeable about the restaurant's menu items and can answer customer inquiries or concerns. They provide customer service, maintain the cleanliness of the restaurant and help to restock the kitchen.
Ideal candidates for these positions can maintain the cleanliness of a restaurant and must be able to be on their feet for long periods of time. They are largely people oriented and growth oriented employees, who possess excellent interpersonal skills.
Little experience is required to be a server and candidates with a high school degree (or pursuing one) are qualified for these roles.
Panda Express also has a training and internship program that you should take advantage of to kick-start your career. These programs provide managerial training, business lessons and education on restaurant operations.
Panda Express Careers in Management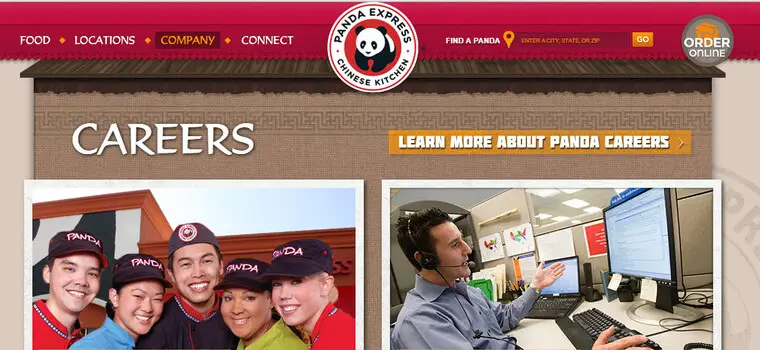 Panda Express' careers in management mainly comprise Assistant Managers, General Restaurant Managers, Area Coaches of Operations and Regional Directors of Operations. Applicants for these jobs must fulfill their respective requirements.
Assistant Managers require a high school diploma, although an associate's degree is preferred. Additionally, they need 1 to 2 years of operations experience and must pass an annual cooking test administered after training.
General Restaurant Managers require a college degree or equivalent experience, and must have managerial experience.
Area Coaches of Operations generally require a bachelor's degree and extensive managerial experience to qualify for their jobs.
And finally, Regional Directors also require a bachelor's degree, business acumen, and years of managerial experience.
Assistant Manager
Assistant Managers assist General Restaurant Managers to ensure the successful day-to-day operations of the restaurant. They help to train new employees, improve customer experiences and reach financial targets.
General Restaurant Managers are in charge of a single restaurant, its operations and its success. They hire new employees, manage their professional development and implement plans to achieve financial results.
Additionally, they help foster a comfortable environment and enhance guest experiences.
Aspiring employees for these roles should have great leadership, communication, and interpersonal skills. They should also enjoy coaching and training others.
Area Coaches of Operations
Area Coaches of Operations typically oversee the operations of 7 to 15 stores. They're responsible for recruiting candidates for Panda Express' managerial roles, including Store Managers.
They work with Store Managers to deliver exceptional customer experiences and achieve financial milestones.
Aspiring candidates should have great organization, interpersonal and managerial skills to excel in these positions.
Regional Directors of Operations
Regional Directors of Operations oversee 40 to 90 stores. They're in charge of driving sales and increasing profits.
They do so by developing and implementing business strategies and marketing efforts. Regional Directors need business acumen, expertise in operations, and a thorough understanding of the restaurant industry to be successful at their jobs.
Interview Tips & Possible Interview Questions
Panda Express interviews are pretty straightforward. They do one on one question-and-answer interviews, which could be done over the phone of in a group setting (depending on the volume of applicants).
Expect to answer basic questions that test your eligibility for the position. These questions can ask about your strengths and weaknesses, past experiences and regrets.
How To Dress And What To Bring
As with any interview, dress according to the position you're applying for. Managerial candidates should wear formal work attire, while aspiring servers and cooks should wear business-casual attire. Bring copies of your resume and be prepared to provide potential references upon request.
Below are some possible questions to expect and answers to provide based on different Panda Express positions:
Why Do You Want To Work For Panda Express?
Pull from the research you've conducted about the company to answer this question. One great way to answer this question is to discuss the company's values and demonstrate a belief in these values.
An appropriate answer could be, "Well, apart from loving the food, I believe in and live by the company's values. I'm a proactive person, who respects others and enjoys building mutual relationships with people where we support one another. "
"I also like to grow and challenge myself, but still be pretty modest. I would greatly enjoy the opportunity to work for a company that values similar ideals."
What Are Your Goals In Life?
Panda Express invests in the professional development of its employees, so this question is testing to see whether you are is looking to work at Panda Express long term. To answer this question, you should emphasize your desire to grow at a company.
A possible response could be, "I'd like to gain work experience in the restaurant industry. I've always been passionate about food and customer service, so I'd like to start my career in this area. "
"My future goals would be to work my way up at a company, learn the ins-and-outs of food service, so I can one day be a successful, well-informed, and experienced restaurant manager."
Why Do You Want To Be A Manager?
Pull from the position's job description and emphasize the company's values. A possible answer to this question could be, "I am a results and growth oriented individual."
"I enjoy seeing measurable results, like financial gains, planning financial goals and implementing strategies to meet these financial milestones. I also enjoy training individuals and seeing them grow under my watch. These characteristics of mine directly align with being a great manager."
There are several other Panda Express interview questions that you can look over and practice.
Helpful Research for Your Panda Express Interview
The first Panda Express was opened in 1973 under the name Panda Inn Mandarin Cuisine, in Pasadena, California.
Its founders are Andrew and Peggy Cherng, and Andrew's father, Master Chef Ming Tsai Cherng. Andrew Cherng and his father are from the Jiangsu province in China, while Peggy was born in Burma and raised in Hong Kong.
Ten years later the first Panda Express restaurant was opened as a fast, casual dining restaurant. The restaurant chain's parent company is the Panda Restaurant Group and as of 2014, has raised $2 billion in annual sales and employed 25,000 workers.
The company's restaurants are located across the United States and in Canada, Mexico, and the United Arab Emirates.
Apart from the company's history, here are some other interesting facts that applicants can potentially use in their interviews:
Panda Express' mission statement is that of its parent company's: "Deliver exceptional Asian dining experiences by building an organization where people are inspired to better their lives."
The company has invested countless tools for their employees' professional advancement and growth.
The company also operates on a set of corporate values: proactive; respect/win-win; growth; great operation; and giving. They work to commit to these values for each employee, partner, and customer.
What Employees Say About Working At Panda Express
Based on Panda Express' employee reviews, Panda Express scores a 3.2 rating out of 5 from employees who've submitted online reviews.
56% of the same employees say they'd recommend the company to a friend, while 78% approve of the current founders and CEOs, Andrew and Peggy Cherng
Employees generally enjoy working at Panda Express and they give several reasons as to why this is so. One prominent reason is Panda Express' focus on developing employees and promoting from within.
Employees appreciate the hands-on training they receive and the bonuses that come with exceptional performances. They also love the free food, the work environment, and their coworkers.
Popular complaints about working at Panda Express comprise inflexible hours, really busy shifts, no work/life balance and rude customers.