Learn How To Become An OBGYN Nurse – Qualification Requirements & Expected Salary
Last Updated:
June 14th, 2022

by

Are you passionate about women's health?

If you answered yes, a career as an OBGYN Nurse may be the perfect fit for you.

An OBGYN nurse practices in the fields of obstetrics and gynecology.

Obstetrics is the profession that deals with pregnancy, childbirth and the postpartum phase.

Gynecology addresses health maintenance for women, especially in regards to the female reproductive anatomy.

To describe the obstetrics and gynecology specialty, common abbreviations are used interchangeably including OBGYN (used here), OB/GYN, and OB GYN.

Learn how to pursue your dream of becoming an OBGYN Nurse by following this Land Your Life career guide.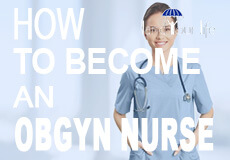 Process for Becoming An OBGYN Nurse
OBGYN nurses are most in demand when they have a BSN (Bachelor of Science in Nursing). Because of this, it's wise to plan to obtain a BSN, even if your immediate education goals are to obtain an associate degree.
Read More: How to Become an Embryologist. Help couples acheive their family goals as an Embryologist! Learn how to get started.
Minimum Requirement: Associate Degree
Technically, it's possible to get started in an OBGYN career with an associate's degree (ADN, sometimes described as an ASN).
The minimum, entry level education required to be a registered nurse (RN) is an associate's degree.
However, it is growing increasingly difficult in major metro areas for ADNs to get work. Hospitals that will hire ADNs often require ADNs to sign an agreement to get their BSNs within five years.
Become a Registered Nurse
For someone starting out, a wonderful thing about nurse education is that it is structured in a ladder concept, allowing registered nurses to continually gain experience and education while practicing in their chosen fields.
Bridge programs build on previous education and experience, allowing RNs to continually move their careers forward.
In sequence, here is a typical career path for an OBGYN nurse:
Earn a Bachelor's (BSN) Degree
Concentrate on obstetrics and women's health.
Where possible, seeking specialized education (such as an internship in this area) will help a prospective OBGYN nurse get an entry-level position.
This first step usually takes about four years. Programs can include supervised fieldwork.
Note: it is possible – but difficult – to enter the profession with an associate's degree (see above). Associate's degrees may take as few as two years but people with associates (ADNs) are significantly less employable.
Become an RN
All U.S. states require that prospective registered nurses (RNs) pass the National Council Licensure Examination for Registered Nurses (NCLEX-RN) to become RNs.
This examination is developed and owned by the National Council of State Boards of Nursing (NCSBN).
Individual states may have additional licensing requirements so it's important to review those and include them in certification plans.
Enter Practice
Often, it's easiest to get initial experience in a hospital or internship setting. Seeking internships and local special educational opportunities can help nurses advance in the OBGYN specialty.
Opportunities for experience include hospital units (prenatal, labor and delivery, postpartum, maternal newborn, gynecology), private practice, research and education.
This practice experience is critical to advancing to the next level and becoming a certified OBGYN nurse (see below).
RNC-OB
Become a certified OBGYN nurse by getting the Inpatient Obstetric Nursing Certificate (RNC-OB) through National Certification Corporation.
There are experience and employment requirements, so it is important to check the NCC website for the most recent requirements and build them into any career plan.
Currently, the requirement is 24 months work experience or 2,000 hours. This is subject to change.
Continue Your Education
Pursuing more education can make your career even more satisfying and lead to greater financial rewards. A Master of Science in Nursing can open up opportunities such as being an educator, nurse practitioner or midwife.
If an RN has started out with an associate's degree, it's wise to build on that to earn a bachelor's degree (BSN) as quickly as possible.
(The American College of Nurses estimates that there are 679 RN to BSN programs to help diploma and ADN-prepared nurses earn their BSN. Look for programs that help students get practice experience while they learn.)
Job Description
OBGYN nursing is actually a very broad field, offering many opportunities for specialization, patient interaction, and work environments. A demanding and exciting profession, OBGYN nurses often have a great deal of latitude.
Be Prepared To Deal With Emergencies
Nurses must be prepared for unexpected emergencies whether working directly with patients or performing phone triage.
Work Together With Other Medical Professionals
In obstetrics, an OBGYN nurse works directly with expectant mothers, often under the supervision of a physician. This includes monitoring expectant mothers during the course of pregnancy, assisting in delivery, and providing care after the birth.
No Day And No Patient Is The Same
In gynecology, an OBGYN nurse helps women of all ages with gynecological sexual health, vaccinations, birth control and other issues.
Specific responsibilities for OBGYN nurses will vary widely, based on the type of practice in which they work. OBGYN nurses are most often employed in hospital maternity wards, private practice, birthing centers and clinics.
What Does an Average Day Look Like For An OBGYN Nurse?
The average day for an OBGYN nurse is often quite busy, including diverse duties.
Additionally, responsibilities will vary greatly depending on where an OBGYN nurse works. This can include whether a practice concentrates on gynecology or obstetrics, and even the part of obstetrics' a unit in which a nurse is practicing.
Here are some examples for a nurse in obstetrics:
OBGYN In A Private Practice
In an OBGYN private practice, work might include assessments, getting things ready for procedures and tests, and health teaching.
OBGYN In A Hospital
A nurse working in Labor & Delivery in a hospital would be helping expectant mothers during labor and delivery, potentially being in the operating room for c-sections.
Alternately, a nurse in a postpartum unit would take care of the mother, primarily (the baby is in the nursery).
A nurse in a mother/baby unit would take care of mothers and babies, often in a situation where the baby stays in the room with the mother at all times.
Working in antepartum nursing, a nurse might be caring for women with high-risk pregnancies, including monitoring women with issues such as high blood pressure, pre-term labor, diabetes, multiples and placenta previa.
Expected Daily Tasks
Some tasks that an obstetrics practice nurse might do in a day include:
Taking Patient History
When a patient is newly pregnant, it's vital to take a detailed patient history. This means interviewing the patient about health, sexual practices and any concerns they might have.
Providing Pregnancy Education
Every pregnancy feels unique to the patient. An OBGYN nurse is often responsible for helping a patient understand what to expect in her particular situation, as well as best practices for maintaining health and nutrition.
Fetal Monitoring
Tracking a baby's heart rate is considered an essential part of prenatal and Labor & Delivery care. For external monitoring, OBGYN nurses will often use an electronic fetal monitor.
Pap Smears
OBGYN nurses prepare pap smear slides for examination.
Phone Triage
In OBGYN nursing, phone triage is important and can be a big part of the job. Patients have many, evolving questions and the state of patient health is constantly changing.
Phone triage means effectively answering patient queries and determining whether their situations indicate the need for immediate physician attention.
And these are only a few of the important tasks an OBGYN nurse might perform in a typical day. Others include:
Administering vaccines
Staple removal
Birth control education
Pregnancy tests
Preparing patients for exams
Preparing patients for procedures
Interpreting test results
Administering treatments
Monitoring reactions and progress
Giving medications
Drawing blood (this is often done by specialists, as well)
Communicating with doctors
In contrast to a nurse working in OBGYN practice, in a hospital gynecology unit, an OBGYN nurse may be caring for hysterectomy patients, mothers who have miscarried or are coping with a stillborn birth, women with gynecological cancers, or urology patients.
Working in private, outside hospital practice, a gynecology nurse might help prepare patients to see a doctor, assist with health teaching, perform chemo delivery, handle patient telephone questions and needs, as well as some of the tasks listed above.
Are You Suited for A Career As An OBGYN Nurse?
Personality & Skills
OBGYN nursing is a career that can be rewarding, exciting and offer flexibility. That said, it's also a demanding career, sometimes requiring the ability to work long hours in stressful situations.
Because OBGYN nurses handle such a wide range of responsibilities, they must be prepared to deal with emergencies at any time.
Becoming an OBGYN nurse can mean completing courses in anatomy, physiology, and microbiology.
Put The Patient's Needs First
Nurse candidates are expected to develop skills in communication, critical thinking, and communication.
Nurses of all kinds are expected to demonstrate patience, self-possession, problem-solving, cooperative working and strong organizational skills.
OBGYN nurses are patient-facing, meaning they are constantly dealing with patients and their families. Patients and their families are often stressed, frightened, anxious, and impatient.
Be Able To Manage The Pressure
Successful OBGYN nurses are able to keep their composure, quickly identify when issues need escalation, and help patients and their families through a difficult, often scary process.
Sometimes the job can feel thankless. It can be emotionally and physically tiring.
OBGYN nurses are expected to rise above these frustrations and put patient care first.
Attractive Benefits And Career Opportunities
OBGYN nursing can be a great choice for various lifestyle considerations, as well.
Nurses are always in demand, pay is well above the nation's average wage, demand is international, part-time and shift work is possible, and most jobs come with attractive benefits.
On top of all that, many nurses find that helping women, babies and families is deeply rewarding.
Certifications & Proficiency
Bachelor of Science, Nursing (BSN)

Alternate: Associate Degree, Nursing (ADN)

Work experience: 24 months or 2,000 hours
State certification and licenses: will vary by state
How Does An OBGYN Nurse Find Work?
Starting out, most nurses will work in some type of hospital setting. Demand is high and supervision is available.
To improve chances of employment, it's wise to get the most advanced training possible. A BSN is more desirable to most OBGYN employers than an ADN will be.
Attending programs that offer work experience as part of the credential also improves employ-ability.
Learn A Second Language To Improve Your Chances
Additionally, being bilingual can expand nursing opportunities across the U.S. and the world. There is high demand for bilingual nurses (mostly Spanish in the U.S.).
For nursing, many job boards exist and hospitals have standard, navigable employment practices.
Job Listings
Nurses are so much in demand that jobs are well-advertised and easy to locate. Local hospitals list openings in career sections of their websites.
General job sites offer many postings. These include CareerBuilder, Indeed, Monster, Simply Hired and Twitter Jobcast.
Additionally, robust sites exist that are geared exclusively to nurses. These include Allnurses, American Assembly for Men in Nursing, Nurse.com, and many more.
Job sites that are geared to medical professionals with nurse-specific recruiting include Advance for Healthcare Careers, and more.
Staffing Agencies
Staffing agencies are also eager to recruit and place nurses. Some specialize in travel nurse jobs or helping international nurses find U.S.-based jobs.
Staffing agency sites to check include Aya Healthcare, Kennedy Healthcare Recruiting, Onward Healthcare, Nursefinders and more.
What is the Average Salary Of An OBGYN Nurse?
According to the Bureau of Labor Statistics (BLS), the median annual wage for registered nurses was $70,000 in 2017 ($33.65 per hour).
Wages for OBGYN nurses may be slightly higher, especially if they are certified in the specialty or have advanced education. Wages also vary by location.
Become A BSN To Increase Your Salary
For nurses who have advanced their careers beyond the BSN level, (for example, certified nurse midwives, nurse practitioners, nurse anesthetists), the BLS estimates growth is even better. Their median salary is $110,930.
This is evidence that continuing to advance in the profession with additional education can really pay off.
OBGYN Nurse Job Growth & Outlook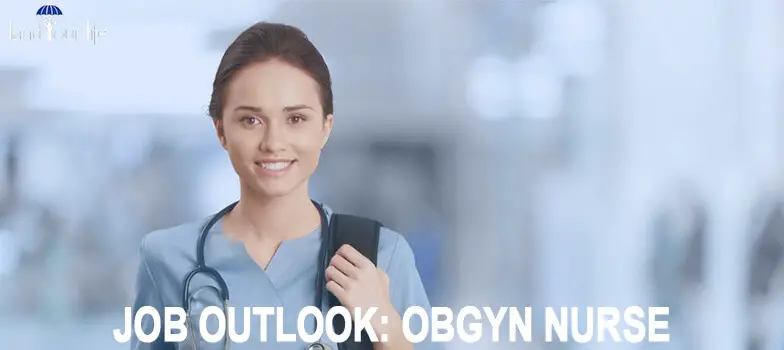 Job growth estimates for registered nurses are excellent, according to the BLS (Bureau of Labor Statistics).
For example, the BLS estimates that registered nurse employment will grow 15% from 2016-2026.
The projected growth for Nurse Midwives and Nurse Practitioners is even higher, at 31%.
Projected Job Growth
Why is the demand for these professions so high? First, is basic human need. Where there are women, there will need to be OBGYN nurses.
Second is affordability: paying nurses – even ones with higher levels of education – is less costly than paying doctors.
Other growth drivers for RNs generally include a national emphasis on preventative care, extended life expectancy, growing rates of chronic conditions, as well as baby boomer-inflated demand for healthcare services.
Top job titles for OBGYN nurses include:
Registered Nurse
Clinic Nurse
Nurse Manager
Nurse Midwife / Certified Nurse Midwife
Licensed Vocational Nurse
Nurse Practitioner (NP), Family Nurse Practitioner
Advice Nurse
Licensed Practical Nurse (LPN)
Staff Nurse (multiple levels)
Clinical Nurse (multiple levels)
Travel RN
Lactation Nurse / Lactation Consultant
Nurse Educator
Job Path Snapshot
Once certified, OBGYN nurses have many options for specialization and career development. The basic process for becoming an OBGYN nurse is described above.
To specialize in a particular clinical unit, obtaining the Inpatient Obstetric Nursing Certificate (RNC-OB) is vital. As a precursor, this means completing 24 months or 2,000 hours of practice experience, which can also serve as a springboard for specialization.
The career path for a more advanced level (such as a nurse practitioner) requires completion of a doctoral or master's degree program. On top of the four year BSN degree, this means an additional two to four years of education.
Nurse practitioners are in demand, which may mean that employers are willing to help subsidize the cost of continued education.
More Resources
Nursing is such an important profession that many associations and groups exist to support it. Ones to explore include:
American Colleges of Nursing, American Association of Nurse Anesthetists, American College of Nurse-Midwives , American Association of Nurse Practitioners, American Nurses Association (ANA), National League for Nursing, National Council of State Boards of Nursing, National Board of Certification and Recertification for Nurse Anesthetists, American Midwifery Certification Board, American Nurses Credentialing Center, and the Pediatric Nursing Certification Board
Opinions about the best programs, schools and employers vary greatly. U.S. News & World Report offers a top nursing school list, as does USA Today.