Nike Jobs & Careers – Application, How to Apply, Requirements & Interview Tips
Last Updated:
June 15th, 2020

by

Thinking about filling out a Nike job application? This guide will give you the information that you need to know to "just do it."

One of the world's biggest manufacturers and retailers of sports apparel and equipment, Nike is committed to helping athletes at all levels excel and to inspiring employees to do the same in their more than 750 retail stores.

Applicants come to Nike with a passion for sports and a desire to earn discounts on merchandise and discover opportunities to advance in a company that's growing at a fast pace.

This guide will help you put your game face on when you meet a Nike hiring manager and give you the best chances of having a winning interview.

Get ready to score your dream job at Nike and read on to find out how you can get in the game at your local store.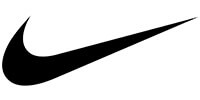 How to Apply for Employment at Nike
The simplest and most popular way to apply for a job at Nike is to complete an application online.
You can check out the job openings at a store near you and access the application at the Nike retail employment website.
Application Information
Minimum Age Requirement: Candidates as young as 16 years of age will be considered for employment for entry-level sales positions at Nike; however, you must be 18 years of age to qualify for some sales jobs and all management positions.
Hours of Operation: Each Nike store has its own hours of operation based on the location. Generally, stores are open from 9 or 10 a.m. to 9 or 10 p.m. with extended hours possible during the holiday season.
Methods of Application: Nike accepts applications in all of their retail stores and has a convenient online application. Because all stores are operated by Nike, you can apply at one location and be hired by another.
Creating a Nike Account
Before filling out the Nike online application, you'll need to set up an account with an e-mail address and password. The system prompts you to do so automatically when you click on the "Apply Now" button for the position that you're interested in.
Your Basic Background Information
The first two screens of the online application ask you for basic information.
You'll begin by providing your name, address, phone number and e-mail address. The system will also ask you to identify what the closest major metropolitan area is to your home address.
The second screen is where you will enter information about previous employers and your education background.
While the system doesn't tell you how far back to go with your history, it's usually best to include any jobs that you've had in customer service, retail or management. Nike hiring managers will often give preference to candidates with experience in these areas.
The Qualifications Page
The "My Qualifications" page is the most important part of the Nike job application. Here is your chance to show that you're a strong competitor and the right candidate to make the team.
You'll be asked to describe your passion for sports in 100 words or less. The application also requires you to say how many years of experience you have working in jobs that require basic mathematics, communicating in English and working in fast-paced and team-oriented environments.
The final section of the page asks about your availability and your willingness to work nights, weekends and holidays.
Finishing the Application
On the final pages of the Nike online application, you'll be asked to say whether or not you are able to legally work in the United States and to confirm your age.
The pages also ask for information about your race, gender and heritage. You can choose not to answer if you wish.
Questions like these are not used to determine whether or not you'll be hired; they are merely for research purposes.
Application Tips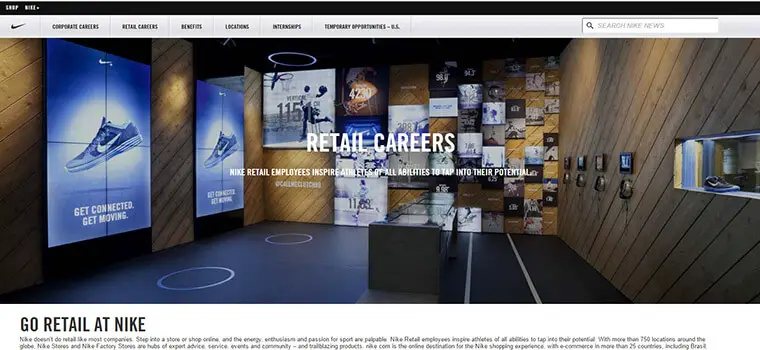 Upload Your Resume
You can save time completing the Nike application by uploading your resume right after you register for an account.
The system will automatically import much of your contact information, work experience and education, so you'll only need to make sure that it's correct and fill in any blanks.
Make Your Passion Come Through
Nike wants employees who are enthusiastic about sports assisting customers in their stores, making the question about your passion for sports the single most important part of the application.
To make sure that your answer shines, write it ahead of time. Let your personality come through and strive to be unique.
Read your answer aloud and have someone proofread it for you to make sure that it's perfect before you cut and paste it into the job application.
Be Honest About Availability
When you're providing answers about your job availability, you may be tempted to simply check every box in order to improve your chances of being hired, but this is a big mistake.
Hiring managers will be annoyed if you show up at the interview and suddenly have time restrictions that you didn't indicate on your application.
If you know you have time commitments, make them clear on the Qualifications page.
Take your personal preferences into consideration as well. For example, if you know you'll never be able to be out of bed for an early morning shift, don't say that you can work the early a.m. hours.
Should You Follow Up?
You will be able to check the status of your application by logging into your Nike account after you submit your application.
Nike typically receives a large number of applicants for positions, so it could take 2 to 3 weeks for you to hear about an interview.
The early stages of the hiring process are done through Nike's corporate office. As a result, your local store will likely not have any information about your application.
Unfortunately, there is no phone number to call to speak to a person about the status of your application. You will need to be patient and wait to be contacted by the interview team by phone.
Positions and Salary Information
Nike employs more than 40,000 people worldwide. Retail stores offer positions for sales associates, which are known as "athletes," supervisors called "leads" and managers or "coaches."
Working at a Nike retail store will entitle you to generous discounts on merchandise. Many employees also receive benefits that include health insurance, paid-time off and tuition assistance.
Assistant Head Coach – Serve as the store manager as needed, delegate tasks to team members, compile sales reporting information, ensure that store displays meet company guidelines. The average Assistant Head Coach earns an annual salary of $50,000 to $65,000.
Athlete – Assist customers with purchases, process transactions, stock merchandise and keep the store looking tidy. The average Athlete earns $8 to $10 per hour.
Head Coach – Create plans to maximize sales and prevent theft, ensure that store complies with all company policies, hire and supervise the entire team. The average Head Coach earns an annual salary of $60,000 to $80,000.
Lead Athlete – Handle complicated sales transactions, provide advanced customer support, train new employees and open and close the store. The average Lead Athlete earns $10 to $12 per hour.
Find Local Nike Jobs Near You!
Best Entry-Level Positions
Nike is willing to hire candidates with little or no experience, provided they have a passion for sports and show leadership potential. Students who are still attending high school may be considered for employment.
The company has a reputation for hiring from within and developing talent. An entry-level job at Nike can open the door to a successful career at one of the most well-known companies in the world.
Athlete
An Athlete's job is to help customers find what they're looking for and to accept their payments for purchases.
All Athletes are expected to have knowledge about the products available in the store and are responsible for putting out inventory. Associates are also expected to spot shoplifters and report them to management.
To qualify for a position as an Athlete, you must have a high school diploma or be working toward one. Candidates who have at least 1 year of retail or customer service experience will stand out to hiring managers.
Lead Athlete
If you have at least 3 years of previous retail experience, a high school diploma and a true love for sports, a job as a Lead Athlete could be for you.
Lead Athletes wait on customers who need more help than the average sales associate can provide and are responsible for performing more complicated transactions like returns and refunds.
When new employees are hired, Lead Athletes serve as their main trainers. They are also frequently entrusted with keys and required to handle opening and closing the store.
Seasonal Job Openings
Christmas Holiday Season
Like most retailers, Nike is very busy during the winter holidays and hires Seasonal Athletes to serve the extra customers that flock to their stores looking for gifts. Seasonal Athletes are usually hired to work from October through January and perform the same job duties as Athletes who work year-round.
Nike Careers in Management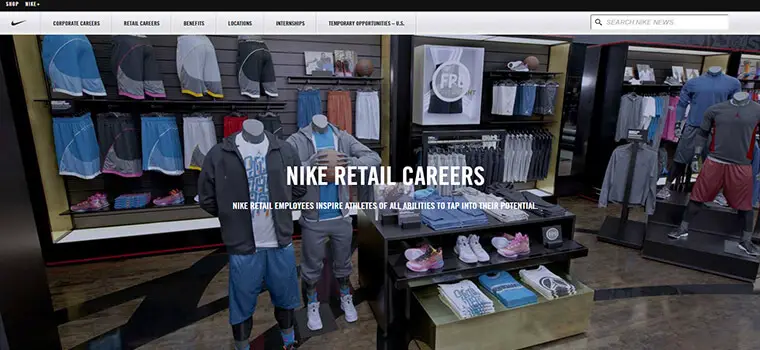 Many Nike managers begin their careers as sales associates, but the company also hires qualified candidates from outside the company to fill open positions.
Prospective managers go through the same application and interview process as candidates applying for sales positions.
Assistant Head Coach
The Assistant Head Coach is the second in command at a Nike retail store. Whenever the store manager is out of the store, the Assistant Head Coach must be prepared to step in and ensure that everything runs smoothly.
Working closely with the Head Coach, the Assistant Head Coach assigns daily jobs to associates and provides feedback and coaching on job performance. Managers at this level are responsible for ensuring that store displays are up to standards and that every member of the team is promoting the Nike brand positively.
Applicants will need proven retail management experience to be considered for Assistant Head Coach positions.
Head Coach
Just like the coach of a sports team, the Head Coach is responsible for helping a Nike store win. Each store has set goals for sales, and the manager is expected to develop plans to help their location reach them.
Head Coaches work long hours to ensure that their stores run smoothly and comply with the standards established by Nike for how their locations operate and look. They are expected to be experts in Nike products and to make their stores positive, motivating work environments.
Competition for Head Coach positions is steep. Individuals with several years of retail store management experience and who have a college education will have the best chances of employment.
Interview Questions and Tips
Nike has a multi-stage interview process that begins with a group interview, usually in a hotel or conference center. Make the cut and you'll then be invited back for one or two more one-on-one interviews.
Candidates for management positions are usually asked to complete a phone interview, a panel interview with multiple hiring managers and one or two individual interviews. Aptitude tests are typically required.
What Sports Do You Play?
Nike won't ask you to demonstrate your athletic abilities at the interview, but you should be prepared to talk about your background in sports.
Make your answer stand out by not just saying what sports you play but how your experiences on the field have been beneficial to your everyday life.
What Is Your Favorite Nike Product?
Before your interview, visit a Nike store and familiarize yourself with what they carry.
Pick out a product that you like and take some time to learn about its features.
Instead of simply saying the name of the product, tell the hiring manager why it is your favorite.
Imagine that you want to sell the product to him or her. Describe the selling points in an enthusiastic manner.
Who Is Your Favorite Athlete?
Your answer to this question will give the hiring manager a lot of information about what you look for in role models.
No matter who you choose, be prepared to say why you admire them. Consider mentioning how they contribute to the team and how hard they work.
Take some time to look into who the person is off the field, not just on it. Point out how the athlete you have chosen is striving to make the world a better place.
Helpful Research for Your Nike Interview
Nike was founded in 1964 by Bill Bowerman and Phil Knight to sell just one style of footwear and a single t-shirt design. Today, the company has one dozen Nike brands and sells their products in 170 countries.
Many sports teams around the world wear Nike apparel, and the company has sponsored numerous top athletes, including Michael Jordan, Tiger Woods, Maria Sharapova, Derek Jeter and Rafael Nadal.
Nike is named after the Greek goddess of victory.
The Swoosh logo has been the official symbol of Nike since 1971.
Nike also owns Cole Haan, Converse and Umbro.
The Nike collection includes apparel and gear for more than 30 sports.
Nike's mission statement is "To bring inspiration and innovation to every athlete in the world."
What Employees Say About Working Here
Employees seem to agree that Nike stores are fun, upbeat working environments with a strong sense of teamwork.
The company discount is reportedly very generous and one of the major perks of working in the store.
For employees who are looking for a long-term career in retail, there is room for advancement. Many employees state that they received excellent training and were coached to help them develop skills to climb the next rung of the corporate ladder.