Learn How To Become A Marine Biologist – Qualification Requirements & Expected Salary
Last Updated:
June 27th, 2022

by

Interested in the study of biological oceanography? Consider pursuing a career as a Marine Biologist.

All marine life forms are studied by marine biologists, from microscopic organisms, to plant life, to large life forms – such as whales.

Marine biology includes the associated disciplines of physical, geological and chemical oceanography.

Fundamentally, biologists seek to understand the physical characteristics of animals, their behaviors, interactions between animals, and the impact of animals on their environments. Biology also includes the impact of humans on animal environments.

Marine biologists focus on wildlife found in the oceans and other saltwater environments (for example, estuaries and wetlands).

The titles "marine biologist" or "marine scientist" actually cover many jobs in the marine sciences. As the National Oceanic and Atmospheric Administration (NOAA) points out, "a marine biologist might be a biological technician, ichthyologist, fishery biologist, marine mammologist, systems analyst, or a mathematician."

A romantic view of a marine biologist is of a professional working with dolphins or whales, conducting exciting experiments in intelligence and interaction.

Realistically, though, very few marine biologists are able to spend their careers exclusively studying whales or training dolphins.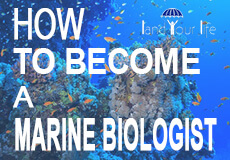 Process for Becoming A Marine Biologist
Because job options are so wide-ranging, becoming a marine biologist can take as little as obtaining a biology degree or as much as securing a doctorate (PhD).
Here is a basic process for becoming a marine biologist:
Gain Recreational, Voluntary And High School Experience In Life Sciences
The best way to discover a passion for marine biology is to spend as much time as possible engaging in related activities. This includes volunteering for biology-related projects such as animal counts or environmental clean ups.
It is also wise to look for work experience in anything biology-related including aquariums, animal sanctuaries and zoos.
Take Science Electives In High School
Marine biologists study a range of sciences and must be able to do so at a college level.
Use time in high school to establish basic student aptitude for sciences.
Earn A Bachelor's Degree In Biology
Students should study biology, chemistry, physics, geology and ecology, ideally earning a biology or marine biology degree.
At this stage, specialization in marine sciences is feasible, though not absolutely necessary.
Seek internships and research opportunities. These can help a candidate determine areas of specialization and get employment after college.
Choose a school with a good biology program. Universities that offer opportunities for specialization in marine biology are valuable.
Consider a school that combines a bachelor's-master's program in order to gain an advanced degree in less time (see below).
Get An Entry-Level Job In Marine Biology
Candidates will need a bachelor's degree in biology.
This career stage can be a good time to gain specialized experience such as focusing on a species, region or even job function.
Possible employers at this level include government agencies, labs, research organizations and labs.
Obtain Advanced Degrees (Master's And Doctorate), According To Career Goals.
Advanced degrees can boost career options as well as earning power.
A master's degree is often necessary for teaching and for some consulting and research jobs.
A marine biology PhD is often required for high-level jobs such as college-level instruction, program team leadership or independent research director.
Job Description
Marine biologists have a many possible careers and can work in an exciting range of environments. For example, marine biologists work in field research, teaching, hydrology, science writing and universities.
Work environments can include everything from research vessels to aquariums and zoos to laboratories, classrooms and offices. An individual with the title "marine biologist" might be managing a wildlife preserve, compiling data and computer models, or lecturing a classroom full of university students.
Read More: How to Become a Meteorologist. Interested in other areas of science? Discover how to become a Meteorologist and what the job entails.
What Does an Average Day For A Marine Biologist Look Like?
A day in the life of a marine biologist will vary entirely upon their job. For example, a science writer's day will look very different from that of a field researcher or manager of a wildlife preserve.
A field researcher marine biologist might devote workday time to the following:
Read More: How to Become a Wildlife Photographer. If you love animals, nature, and photography, becoming a Wildlife Photographer may be for you! Learn more.
Develop Study Concept
Conceive of and map out a concept for a study of marine animals.
List goals and parameters of study including what is to be studied, how long, how it will be studied, whether the animals will be in natural or controlled surroundings, how much the study will cost, and other specifics.
Collect Biological Samples, Specimens Or Data
How the data are collected will be determined by study parameters.
For marine biologists, sample collection may be underwater, collected over extended time periods.
Organizing Samples
To manage the data, samples must be organized carefully according to study parameters. Marine biologists could be marking samples to show when they were collected, how they were acquired, what they are, and any other salient information.
Data Analysis
Biologists log the data they collect into computer systems and then engage in analyzing it. This can mean examining it to ensure it is complete, cleaning and correcting it, and modeling it with the goal of discovering useful information or suggesting conclusions.
Marine biologists are typically comfortable with desktop data analysis tools.
Lab Experiments
A researcher marine biologist will probably conduct a quantity of lab experiments. The goal will be to discover a fact or demonstrate a general truth.
The biologist will alter factors under controlled conditions to study the results. Experiments will be carefully documented and, if a fact is proven, repeated.
Checking Previous Experiment Results
Experiments can be ongoing, without immediate, obvious results. Marine biologists might be conducting many experiments at once.
Daily actions will include monitoring previous experiments and modifying them according to the study plan
Writing Research Papers, Reports
Scientists must communicate their findings effectively in order to demonstrate results.
Data-driven research papers are vital to communicating findings and securing future funding for projects.
Presenting Data
Scientists are often expected to present their conclusions or the results of their experiments. Effective presentations will include illustrations, salient facts and conclusions.
Presentations can be to review boards, students and community groups.
Are You Suited for A Career As A Marine Biologist?
Personality & Skills
Advanced Learning Environment
An entry-level job as a marine biologist usually requires a bachelor's degree in biology at a minimum.
Marine biologists must be able to succeed in college-level science course work.
Observation
Biologists must be able to observe and note even small changes in animal behavior, characteristics or appearances.
They must be able to document details at an exacting level.
Field And Outdoor Skills
Marine biologists perform much of their research work outside, in close proximity to bodies of water.
Marine biologists should be comfortable on and in water, know basic safety protocols, and be able to handle research equipment and tools.
Work environments may require periods of relative isolation, irregular schedules, and long hours.
Communication
Biologists must be good communicators. Their work may require them to write scientific papers, speak to policy makers, the public and to students.
Additionally, they may need to explain scientific data in terms non-scientists can understand.
Analysis & Assessment
Biologists must be able to understand raw data, create models and research protocols, and draw conclusions.
Lifestyle
Marine biologists can make a good living, but are not paid higher than other highly educated professionals.
Field researchers especially may work long hours, spending significant quantities of time away from home, and even without human contact.
Certifications & Proficiency
The title "marine biologist" can apply to so many jobs, there is no specific certification required to use it. However, to obtain most entry-level jobs, a bachelor's degree in biology is generally considered the minimum degree necessary.
To advance in the profession, and secure higher level positions, a master's or doctorate are needed.
Entry-level job: Bachelor's in biology or marine biology
Teaching, consulting: Master's, marine biology
College-level teaching, independent research leader: Doctorate (Ph.d.), marine biology
It should be noted that an advance degree in biology is not a sure investment in job security.
Top Schools
There are many rankings for biology programs in the U.S. and not all reviewers agree. Prestigious universities offering marine biology degrees include:
Duke University
Brown University
University of Southern California
University of California – Los Angeles
University of California – San Diego
U.S. News & World Report lists these colleges as the best for a biology major in 2018:
Massachusetts Institute for Technology (MIT)
Stanford University
University of California – Berkeley
California Institute of Technology
Harvard University
How Does A Marine Biologist Find Work?
The Bureau of Labor Statistics (BLS) notes that state and federal governments are the top employers of zoologists and wildlife biologists, employing more than half of the professionals in the U.S.
Another 10% are employed in research and development. 7% are employed in management and consulting followed by education (6%).
Read More: How to Become a Forester. If you have a love for forests and their ecosystems, a career in Forestry may be for you. Learn more.
Earn Necessary Degree(s) For Desired Jobs
Though there is no formal credential requirement for workers with the title "marine biologist." A bachelor's in biology is considered the minimum requirement for most jobs.
A masters or PhD is required for higher level positions.
Internships, Volunteering
Finding internships and volunteer opportunities in areas of professional interest is an effective, efficient way to network within a specialty and position oneself for paid work.
Establishing Expertise
Engaging in research and writing can help the prospective marine biologist create and extend a professional profile.
Read More: How to Become a Chemist. Work in Chemistry for products, the environment, medicine, and more!
What is the Average Salary of a Marine Biologist?
According to the Bureau of Labor Statistics (BLS), the median annual wage for zoologists and wildlife biologists was $63,420 per year ($30.49/hour) in 2018.
Marine Biologist Job Growth & Outlook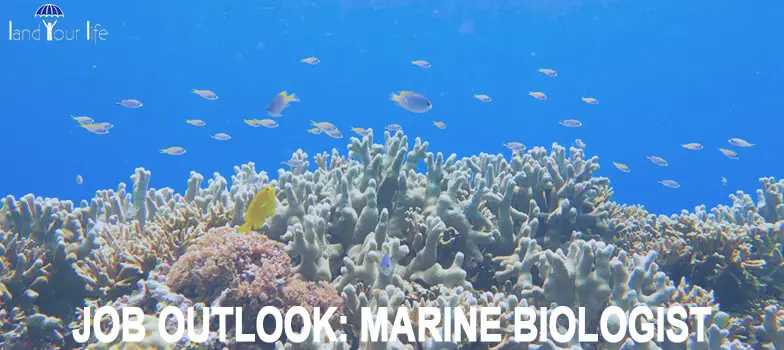 Job growth estimates for wildlife biologists are average. The BLS expects the profession to grow 8% from 2016-2026, which is average for all occupations.
While there is increasing need for biologists to help study and manage human impact on the environment, employment outlook is modest due to government-employer budgets.
Find A Marine Biologist Job Near You!
Job Path Snapshot
Though job growth estimates are not high for wildlife biologists, good job opportunities do exist.
Some job openings will come from natural attrition (retirement, career change, advancement). Other openings will come from specially funded projects and conservation initiatives.
Advancement in the profession will come from a combination of educational accomplishment and field experience.
Experience needed for any job will vary greatly by organization.
More Resources
There are many, many organizations devoted to the marine sciences. Here some to explore:
American Elasmobranch Society supports the scientific study of sharks, skates and rays.
American Fisheries Society (AFS) is the oldest society for fisheries scientists in the U.S.
American Institute of Biological Sciences (AIBS) supports researchers, educators and scientists in sharing biological discovery and knowledge.
American Society of Limnology and Oceanography (ASLO) ASLO builds community and communicates knowledge across the full spectrum of aquatic science.
American Society of Mammalogists includes marine mammals in its focus. The site offers papers, community features and a job board.
Archie Carr Center for Sea Turtle Research's mission is to conduct research in all aspects of the biology of sea turtles, and to further marine conservation through the communication of these research results.
Chelonian Research Foundation supports worldwide turtle and tortoise research.
Ecological Society of America promotes ecological science by improving communication between ecologists and increasing resources available for the conduct of ecological science.
The Estuarine Research Federation is a private, non-profit organization dedicated to the wise stewardship of estuarine and costal ecosystems worldwide.
Gulf of Maine Research Institute is a nonprofit organization that works on issues of ocean stewardship and economic growth in the Gulf of Maine region.
International Society for Reef Studies disseminates scientific knowledge and understanding of coral reefs, both living and fossil. It publishes the journal Coral Reefs.
Marine Biological Association of the United Kingdom advances marine science through research, communication and education. Established in 1884.
Marine Biological Laboratory is dedicated to scientific discovery and education in biology, biomedicine, and environmental science. Founded in Woods Hole, Massachusetts, in 1888, the MBL is a private, nonprofit institution and an affiliate of the University of Chicago.
Marine Conservation Biology Institute works to secure permanent protection for the oceans' most important places.
Marine Mammal Observer Association (MMOA) focuses on the collection and use of data.
National Association of Marine Laboratories (NAML) stimulates research and promotes education in the marine sciences.
North Atlantic Marine Mammal Commission (NAMMCO) focuses on conservation, management and study of marine mammals in the North Atlantic.
Phycological Society of America publishes the Journal of Phycology and the Phycological Newsletter. Focus is on algal research.
Seagrass Recovery The mission at Seagrass Recovery is to save oceans, estuaries and shorelines for generations to come using scientifically proven technologies.
The Society for Marine Mammalogy promotes marine mammal science.
Whale and Dolphin Conservation Society is dedicated to the conservation and protection of whales and dolphins. They work towards a world where every dolphin and whale is safe and free.
Woods Hole Oceanographic Institution is dedicated to research and education to advance understanding of the ocean and its interaction with the Earth system.
Frequently Asked Questions
How long does it take to become a marine biologist?
At minimum 4 years to receive a college/university degree..
Obtaining a master's degree will take another 2-3 years.
A PhD will take another 6 years.
In total if you total all the schooling, a PhD will take you 12-13 years.
Do marine biologists get paid a lot?
No, Not more than any other position with similar education.
The Bureau of Labor Statistics (BLS) reports that the average annual wage for zoologists and wildlife biologists was $63,420 per year ($30.49/hour) in 2018.
According to an article by CNBC the average college/university graduate can expect to earn $60,000 out of  school
Is it hard to become a marine biologist?
Yes, relatively speaking.
Jobs in Marine Biology are limited and competition is fierce.
In order to be competitive in getting a job, having a PhD or masters will be beneficial which means plenty of schooling.
People who get into marine biology do so for the love of the work.
How much does a marine biologist make a week?
A marine biologist will make, on average, $1,220 a week. With an average annual salary of $63,420 per year ($30.49/hour) in 2018 (BLS)