Lowe's Jobs & Careers – Application, How to Apply, Requirements & Interview Tips
Last Updated:
October 23rd, 2019

by

If you're looking to work at a company with a career ladder, filling out a Lowe's job application might be the right move for you.

Established as a single unit hardware store in North Wilkesboro, NC, in 1946, Lowe's has grown to nearly 1,900 stores over North America.

The past five years have been more of the same – steady growth resulting in $56.2 billion in sales for 2014.

Let's just say they're growing.

Now that you know where to place the nail, let us help you hammer it home. Throughout this guide, we will teach you how to land a job, and, hopefully, a career.

Realizing that growth can be hard to manage with a large company, Lowe's offers extensive career growth opportunities, and they advance from within.

Before we work on that promotion, though, let's start with getting you hired.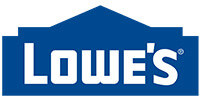 How to Apply for Employment at Lowe's
No shoe leather needed here. The only way to apply at Lowe's is at an Employment Kiosk in the store or online. Either way, it's the same application with the same questions and a survey at the end.
Application Information
Minimum Age Requirement: You must be 18 to apply for any position. Certain positions (transportation, logistics) require you to be at least 21.
Hours of Operation: Store hours are Mon – Sat 6 AM – 9 PM, Sun 7 AM – 8 PM. However, Midnight (graveyard) shifts are also available.
Methods to Apply: Lowe's uses Brassring for its application process. You're in luck if you already have an account there. You'll be able to autofill most of the Lowe's application.
COMPLETE THE SURVEY AT THE END **REQUIRED**
Applying to Lowe's Via Brassring
For the un-initiated, applying to Lowe's via Brassring goes something like this:
If you want to skip the rest of the Lowe's website, click here. The rest of you can navigate the site and click on Careers.
Down the right hand side, there is a pink 'Job Search' box with four drop-down menus, a zip code entry, and a keyword search option.
Select the appropriate job type. If you're not sure where to begin you can select jobs by store, corporate and distribution.
Each page will describe the positions generally available for that business area. This is a great chance to zero in on what you want to be doing at Lowe's
Either way, you are going to use the pink 'Job Search' box. But, if you have a better idea of what you're applying for, it helps speed up the process.
Select a job category – be specific as you like in choosing the position to zero in on, but you can also select:

All Store Jobs
All Corporate Jobs
All Distribution Jobs

Select a State
Select a City
Enter your Zip Code
Select the range (miles) you're willing to travel for work
Enter any relevant keywords
You'll either get some listings for locations near you, or you'll get zero (0) results, in which case they don't have anything at this time. You may want to broaden your search if this happens to you.
Once you are on the search results page for the stores you want to work at, select one of the positions that appeals to you. You'll be redirected to a Brassring page providing details of the position.
Click on 'Apply' and you'll be asked for your username and password for Brassring.com. Either enter your login info or select 'New User.'
You'll get a pop-up asking if you want to enter your profile manually, or use another application such as Facebook or LinkedIn to fill in most of your profile for you.
When applying, we strongly suggest you let either LinkedIn fill it out, or do it by hand. Do you really want your Facebook account filling out a job application?
Application Tips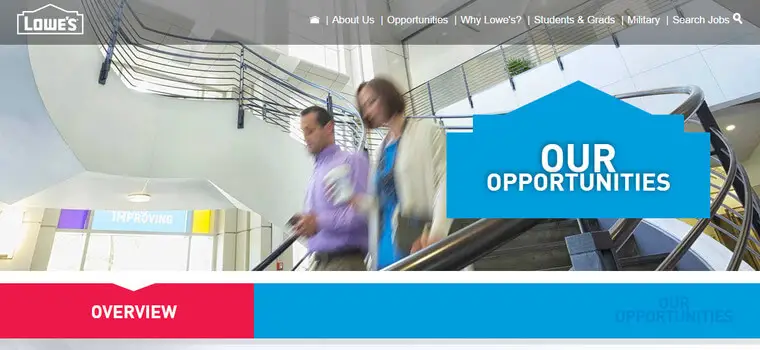 Prompts You'll Be Given and Your Options
Upload resume or enter it with copy/paste.
Enter full name and email address.
Enter snail mail address.
Enter every other way to get in touch with you.
Enter work experience starting with most recent position held.
Enter educational history – college grads can skip entering high school info.
Voluntary Self-Identification of Disability – check the one that applies to you.
Veteran Self-Identification Form – check one that applies to you.
Legal Right to Work and over 18 verification – yes or no.
Drug Screening Notification – Accept or Reject
Check boxes for your work availability.
Additional questions – check appropriately
Next few pages ask about previous employment with Lowe's and possibility of nepotism.
Enter Salary info.
Acceptance of background report disclosure. Check the only box available.
Enter vital information for background check.
A few more clicks of the 'Next' button and you're done.
Complete assessment tests
Complete survey.
Lengthy, yes. The good news is that your Brassring.com profile is stored, making applying to other high-value companies easier and faster in the future.
When you think about it, it really is worth the stiff neck.
Important: if you don't complete the survey at the end of your online application (including kiosks), Lowe's HR will not receive your application.
Should You Follow Up?
We spoke with a Human Resources (HR) manager at Lowe's and he gave a little insight on following up with your application.
If you want to follow up on your application, go to the Lowe's Career page and select the 'Log into your candidate profile' link in the upper right-hand corner. You'll be redirected to a page asking for the username (email address) and password you used to set up the profile and apply.
Numerous options are listed, including 'Job Submission Status'. Select any area of query you like from the list.
Callbacks may be effective if you know someone at the store you're applying. However, the HR department at Lowe's warns that getting the right person on the phone at the right time is "hit or miss."
Either way, it's best to wait at least a week for your application to be processed.
Positions and Salary Information
There are dozens of job opportunities at Lowe's. For the purpose of this guide, we'll only cover the hourly wages and positions available at store locations:
Cashier: $7.81 – $12.22
Customer Service Associate: $8.93 – $13.55
Customer Sales Specialist: $11.27 – $25.56
Department Manager: $14.32 – $19.77
Delivery Driver: $11.45 – $17.75
Floor Sales Rep:– $9.48 – $17.90
Greeter: $7.33 – $14.23
There are literally too many job, and their descriptions to list, but you can find salary information for all Lowe's jobs by clicking here.
Best Entry-Level Positions
We all have to start somewhere, and fortunately for us Lowe's is a great starting place.
Although Lowe's has a host of opportunities, your best place to start is at the store location level.
That said, if you have a particular skill in the home improvement industry it might be wise to list it. For example, if you happen to know how to install a mosaic in the bathroom, you might be well suited to work in the tile aisle.
For the rest of us though, we have to seek employment in the best entry-level positions available. We've taken a look at some of these positions, and here is our take on it:
Cashier
An hourly position starting at just over minimum wage, working as a cashier is a sure bet for gaining ground at Lowe's. Starting at $7.81 an hour, it's not a bad gig if you want to learn the industry.
And learn the industry you will: cashiers are known as the go-to people for when other things need to be done (i.e., clean-up aisle 5).
Customer Service Associate
At a starting wage of $8.93 an hour, working as a customer service associate is a lot like being a cashier only you have keys.
In this position, you can earn up to $13.55 an hour, which may definitely lead to an assistant manager or department lead position.
Floor Sales
Did you spend your teenage summers sweating over pristine tile floors or perfectly square walls paying for that new-to-you used car in high school?
Expect to know basic hand and power tools, construction materials, adhesives, hardware, OSHA standards, and the ability to know when the customer has no idea what they're talking about without sounding like you know everything.
Warehouse
Looking for something to do on a weekend night? A warehouse position might be right for you.
Working in the back of the house, receiving and stocking, you'll get to learn the entire store, and you'll know where everything is. This is an excellent entry-level position if you want to learn the ropes.
The pay isn't half bad either, usually a bit more than day shift workers.
Seasonal Job Openings
Lowe's tends to get busy during times like Memorial Day, when everybody is planting flowers and sowing lawns.
Lowe's doesn't have a defined seasonal job opening listing; however, they do have a wide variety of part-time listings that vary during the seasons. Part-time employment can always become full-time employment, since Lowe's likes to advance from within.
College Recruiting
If you are seeking a college degree that would be useful at Lowe's, they probably want to talk to you. Check out the college recruitment page here.
Military Veterans
Lowe's likes to show their appreciation for our military veterans by giving them some hiring preference. Though it's not clear on the website, make sure to let Lowe's know if you are a military veteran.
Check out the Military Veterans page here.
Lowe's Careers in Management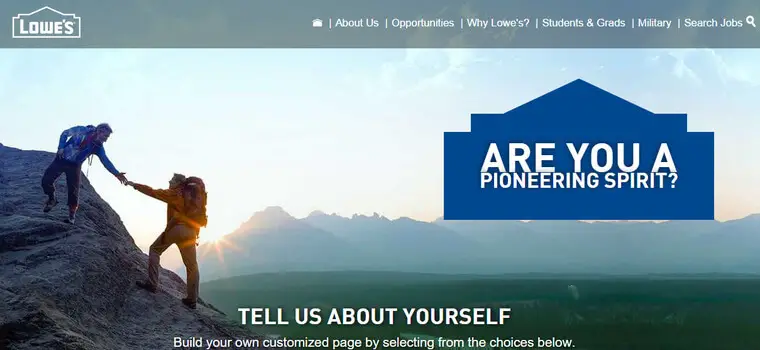 Did I mention Lowe's is a Fortune 500 company with over 1,900 stores across North America and hundreds more across the globe? Your chances of scoring a management position at Lowe's is actually quite high.
We've highlighted a few groundbreaking management positions to get your career going. Don't forget to review the Corporate– and Distribution-level areas for more management opportunities.
Customer Service Associate
May include cashiering and processing customer returns. It's a good place to start if you want to get your foot in the door as a management hopeful. You'll earn a $8.93 starting wage, topping out at $13.55 an hour should you should move into a higher management position.
Assistant Department Manager
Do you know everything about lumber, tile floors, plumbing, and power tools? If so, then becoming an assistant department manager might be for you.
The base pay is $9.53 an hour and tops out at $17.90 an hour. This is your opportunity to shine and either become THE department manager or move into an assistant store manager role.
Department Manager
Now that you are the Grand Master of your own fiefdom, you have a shot at an assistant store manager position. Your base starting pay is $14.32 an hour and tops out at $19.77 an hour. Master this level and get ready to step to the next: Assistant Store Manager.
Interview Tips & Possible Interview Questions
Dress the Part and Show Up Ready to Work.
Show up for your interview ready to take a shift, wearing sturdy pants, a tucked-in Royal blue polo shirt, and steel-toed shoes or boots if you have them. The interviewing manager will certainly notice and make a mental note of it.
Be Punctual
Don't be late. Never be late for an interview, it reflects poorly on you and significantly decreases your chance of being hired.
You're aiming for casually early – 5 or 10 minutes, tops. Showing up 15 minutes before the interview, on the other hand, is a little too early, unless you're there to size up the competition.
Bring a Smile
Bring a winning smile and a glowing personality. You'll be working with the public, and the manager wants to see that you can do so comfortably and naturally.
Bring Your Resume and Documentation
Bring an extra copy of your resume, even if you've already attached it to your application. Bring documentation of your right to work, such as a state-issued identification card or Social Security card.
Don't forget to bring your own writing tools – pen and paper.
Have Questions Ready
You already have an idea what hours you'd like to work and what you'll be doing, but have questions ready if things don't go as planned.
Now is the perfect time to express an interest in moving to management. Ask about the career ladder and your role in it, and take notes, mentally or otherwise.
As an added bonus, asking questions keeps the interviewer engaged – the same skill you'll need on the job – and the manager will notice.
Follow Up
Never believe your part in the process is complete now that you've interviewed.
If you have any competition at all (highly likely) then you must call the interviewing manager back and inquire about the opportunity.
Following up after a couple days could be the difference between being hired and being filed away for future reference.
Helpful Research for Your Lowe's Interview
There's no shortage of information available about Lowe's, and a quick trip through Google and Wikipedia will give you most of what you want to know, everything from inception to how many stores are in operation worldwide.
We prepared a short list of interesting nuggets about Lowe's for you:
Founded 1946
1,900 stores in North America
Second largest hardware chain in the Americas and Europe
$56.2 billion in Sales 2014
$2.27 billion in Net Profit 2014
Veteran Friendly
Student Friendly
What Employees Say About Working at Lowe's
Overall, Lowe's has some impressive reviews. Scoring a 4/5 stars, most current and past employees have positive views and feelings about working there.
Although there are a couple of vocally negative reviews, they are far from the norm. Most employees seemed satisfied with almost all aspects of their jobs and workplace environment.