Long John Silver's Jobs & Careers – Application, How to Apply, Requirements & Interview Tips
Last Updated:
September 20th, 2019

by

By completing a Long John Silver's job application, you are applying to join a company that has a mission to bring delicious seafood experiences to all parts of the country.

Who says fresh fish meals should only be available on the coast?

Whether you're from Lexington, Kentucky (where the first Long John Silver's appeared) or local to one of 1,200 restaurants – if you have a friendly personality and a craving for seafood, Long John Silver's has the employment opportunity you are looking for.

To land a job at Long John Silver's, applicants do not have to be seafood lovers. The restaurant offers delectable chicken meals to make Long John Silver's an all-in-one fast food stop.

The following LYL-exclusive guide will walk you through the application process.

Helpful tips are added to make you the strongest candidate possible. Let's get started!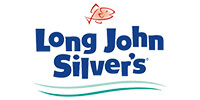 How to Apply for Employment at Long John Silver's
Long John Silver's does not offer an online application. They do, however, offer a PDF application – downloadable here.
Those interested in in-store positions should visit their nearest locations.
The restaurant offers plenty of entry-level and management positions. From working in the front of the house to cooking in the back, Long John Silver's has a position for every applicant.
Application Information
Minimum Age Requirement: Candidates for a job at Long John Silver's must be at least 16 years of age for consideration. The age requirement ensures employees will be able to work until closing.
Hours of Operation: Hours vary based upon location. Extended hours range from 10 a.m. to 12 a.m. seven days a week.
Methods of Application: In-store applicants must physically go to the nearest Long John Silver's location to fill out an application, or drop off a completed PDF application. Find the restaurant nearest you here.
Candidates should expect a standard employment application.
Don't Miss the Basics
Name, social security number and contact information will be requested. Applicants must also provide employment and education histories.
Bring a list of three references, using names, phone numbers and email addresses.
Be Ready for an Immediate Interview
When applying for a job in person, there is a chance the hiring manager will be ready to interview immediately following a completed application.
When you go the restaurant to apply, dress as you would for an interview. Leave jeans, sneakers and hoodies at home, opting for black slacks and a button-down shirt or blouse.
The first impression the manager will have of you is determined by your physical appearance. Present a neat and put-together you for a better chance of landing a job at Long John Silver's.
Application Tips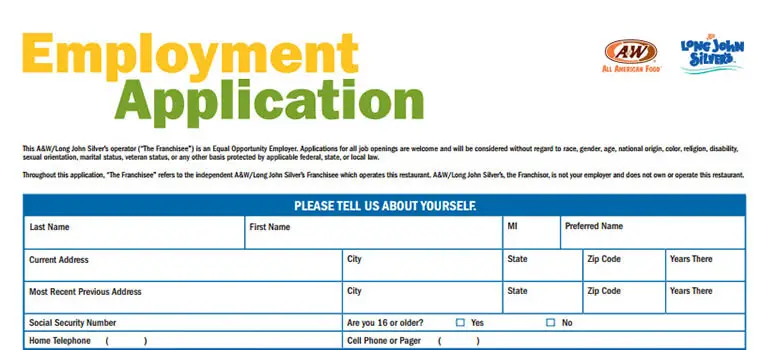 Pay Attention to Your References
The reference section may be the most important part of the Long John Silver's application.
Always get your references' permission prior to handing the list to the hiring manager.
Choose references that can speak to your character, work ethic and leadership abilities. A professor/teacher, former manager or co-worker who will speak highly of you are the best choices.
Include several ways to contact your references, including phone numbers and email addresses.
Be prepared to answer how long you have known each reference and their job titles.
Ensuring positive references prior to application will make candidates much more confident. Long John Silver's hiring managers value confidence in all employees, from cashiers to store managers.
Don't Forget The Essentials
Bring a resume with you when you fill out your application.
If the hiring manager has time for an immediate interview, it will be easier for him to read a printed copy of your resume than the handwriting you tried to squeeze into the micro application boxes.
Tailor your resume specifically to Long John Silver's. When describing previous job duties, mention excellent customer service, a passion for working with people and the ability to work well under pressure. Items that demonstrate these skills will leave an advantageous impression in the interviewer's eyes.
Focus on Your Past Experience
Make a list of previous positions held.
Include the dates you were employed, the name of your immediate supervisor and salary history. Preparing this information prior to walking into Long John Silver's will allow you to cut significant time out of the application process.
Lastly: bring a list of your educational history, including dates attended, specific focus and certifications.
Should You Follow Up?
To check the status of your application, call the Long John Silver's location to which you applied.
Ask to speak directly to the hiring manager. If he is unavailable, ask when specifically you can call back to reach him.
You may opt to leave a message, but it is unlikely you will get a call back. You simply must be proactive in order to land a job at Long John Silver's.
Positions and Salary Information
Long John Silver's offers positions to experienced managers, managers in training and entry-level candidates.
With 1,200 locations, the restaurant has a plethora of opportunities. Long John Silver's prides itself on its iconic Cape Cod restaurants with steeple roofs and one-of-a-kind menu.
The company values individuality; show your interviewer what makes you uniquely you.
Assistant Store Manager – Open and close restaurant, act as manager on duty, train new employees – The average assistant store manager makes between $25,000 and $30,000 per year.
Cashier – Take customer orders, provide friendly customer service, perform simple math to give accurate change – The average cashier makes between $7 and $8 per hour.
Cook – Prepare meals to order, communicate with front-of-the-house staff, clean kitchen at closing – The average cook makes between $7 and $8 per hour.
General Manager – Oversee all current employees, maintain customer service standards, maintain visual appeal inside and outside the restaurant – The average general manager makes $50,000 per year.
Team Leader – Maintain inventory, interact with customers, train new team members – The average team leader makes between $7 and $8 per hour.
Best Entry-Level Positions
Recently, Long John Silver's underwent a change of owners and operators. The new group is comprised of the original owner and his son as well as several people who have been part of the Long John Silver's family for decades.
The company supports candidates who wish to climb the ladder, from entry-level positions into management careers.
Cashier
A cashier at Long John Silver's is the face the company presents to customers.
Cashiers must be friendly and courteous. The cashier is responsible for taking customer orders, giving change and communicating with the kitchen staff.
Strong candidates have customer service experience and a demonstrated ability to work under pressure.
Team Leader
The team leader is responsible for training and motivating fellow team members.
This position is a great way to get on track for management positions. Candidates will have a proven leadership skills. Applicants must be at least 18 years old with a valid driver's license.
The team leader will make an excellent candidate for assistant store manager in the months following employment.
Cook
Candidates who have a passion for food, especially cooking, should consider applying to be a cook at Long John Silver's.
The cook is in charge of creating made-to-order food. From chicken to shrimp, a cook's responsibilities include being able to produce every tasty meal on the menu.
Strong candidates will have some experience working behind a grill or a demonstrated ability to learn new skills quickly.
Long John Silver's Careers in Management

Whether you began as an entry-level employee or are bringing management experience to your application, Long John Silver's has management positions to fit every applicant.
With more responsibility comes a higher salary. Before taking the leap into management, be sure you have leadership skills, the ability to handle conflict and an approach to motivating employees.
Assistant Store Manager
At Long John Silver's the assistant store manager provides support to the store manager.
Candidates can expect job duties that include opening and closing the store and training new employees. The assistant store manager should have a minimal amount of experience overseeing employees.
A strong applicant will have evidence of leadership capabilities. Did you teach employees how to up-sell a product? Were you able to create a system for better customer service or faster meals?
General Manager
The general manager is the store's go-to person.
Maintaining inventory, creating staff schedules and handling customer complaints are included in the job duties.
General managers at Long John Silver's have prior management experience. Assistant store managers make excellent candidates for the position.
Leadership capabilities and the desire to motivate employees are two qualities that belong to successful general manager candidates.
Interview Questions & Tips
How Should Your Dress?
The first rule of interviewing is to dress to impress.
Presenting a professional appearance to the hiring manager will let him know you are serious about obtaining a position with Long John Silver's.
You won't need a three-piece suit or a skirt and blazer ensemble, but khakis and a golf shirt or black slacks and a blouse will help you get hired.
Bring Your Confidence
Be confident. Hiring managers like to see how candidates handle themselves in the face of surprises.
Expect questions regarding your biggest flaw, how you handle customer service scenarios and why you want a job at Long John Silver's.
Prepare answers prior to your interview. Maintain eye contact while speaking.
Interviewers appreciate confidence as it is a trait that can be useful in many customer-oriented positions.
Should You Bring an Extra Copy of Your Resume?
Bring an extra copy of your resume to your interviewer.
Whether you submitted a resume with your application or you were asked to provide one at your interview, having this document will further your chances of getting a job at Long John Silver's.
This simple task will show your interviewer that being prepared is important to you. Arriving before your scheduled meeting time will demonstrate this personality trait, as well as highlight your punctuality.
Helpful Research for Your Long John Silver's Interview
At the end of your interview, you will likely be asked if you have any questions.
Come prepared with questions about the company after reading about Long John Silver's history:
The company began when founder Jim Patterson enjoyed a scrumptious fish and chips meal on the coast. His vision was to bring fresh seafood to the entire United States, not just the coastal states.
In 1969, the first Long John Silver's was opened in Lexington, Kentucky. The company prides itself on quality seafood at affordable prices.
A question you may consider asking your interviewer is what are Long John Silver's expansion plans under new leadership?
What Employees Say about Working at Long John Silver's
Overall, employees rate Long John Silver's as a great place to work.
Flexible schedules and significant vacation time are two perks to working at Long John Silver's.
Employees enjoy the family atmosphere, not just among staff members but among restaurant regulars.
Although employees are paid at least minimum wage, many wish for higher salaries.