Life Time Fitness Jobs & Careers – Application, How to Apply, Requirements & Interview Tips
Last Updated:
September 20th, 2019

by

If you are health-conscious and appreciate the benefits of exercise, you should consider applying for a position at a Life Time Fitness club.

Life Time Fitness owns and operates 138 fitness clubs in 26 states and Canada and employs over 24,000 people.

The company specializes in offering a wide array of services that promote health and wellness in all of its facilities. Amenities offered include indoor and outdoor swimming pools, racquetball and basketball courts, yoga studios, cafes, and child care centers.

Given all of the services offered at a Life Time Fitness facility, there are many jobs to be filled in many different areas.

Are you energetic, goal-oriented, and enjoy a healthy place to work? Read on and learn about the world of work at Life Time Fitness.
How to Apply for Employment at Life Time Fitness
All applications for all positions at Life Time Fitness must be initiated from their jobs page on their website, found here.
Application Information
Minimum Age Requirement: Life Time Fitness requires all employees to be at least eighteen years of age.
Hours of Operation: Many Life Time Fitness clubs are open 24 hours a day; however, not all services run around the clock. One can visit the company's website to see hours for specific clubs, and activities at those clubs.
Methods to Apply: All Life Time Fitness employment applications must be initiated online.
How to Apply
Begin your application process with Life Time Fitness by visiting their job search page on their website. Search all available positions by using the extensive search tools provided.
You may search by posting date, location, job field, job type, job schedule (full or part time) or job level.
First, locate a position that interests you. Then, just click on the name of the position and a job description will appear. If you want to submit an application, click on the "apply here" button.
Once you hit that "apply here" button, you will be directed to a page that will ask you to fill out some information about you. This will include basic demographic information (name, address, phone, etc.,) as well as how you found out about the available position.
The application process is fairly straightforward. It asks you to list your employment and educational history. Applicants also have the option of uploading their resume and cover letter.
Application Tips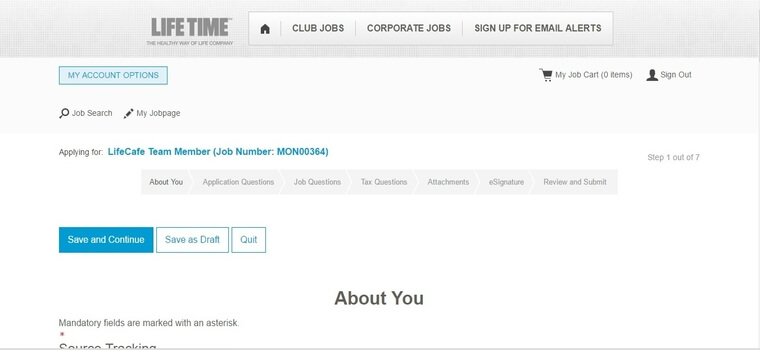 Proofread Your Application
One of the biggest mistakes people make when filling out an online application is not taking the time to look over their work before they hit the "send" button. Sadly, companies will often simply rule out applicants who misspell a word. They do this because of the sheer volume of applicants they receive.
Take time to proofread all of your written and electronic documentation. Do this before you send it to Life Time Fitness. In fact, if you have someone else available who is qualified to read to ensure quality, politely ask them to look over your work as well.
Remember, you have only one chance to make a great first impression.
Sell Yourself
Everything you do from the time you write your application to the time you accept the position should be geared toward getting the job. Use your application and your resume to highlight your skills and accomplishments. Your experiences will demonstrate that you are the best possible candidate for the position.
Should You Follow Up?
Following up with Life Time Fitness following your application submission should take place a few days following delivery, just to make sure they received it.
Your application goes to the specific club to which you applied. Simply call the club and ask to speak to the hiring manager. Politely inquire if they received your application. Then, ask them when you can expect to hear back from them.
Following this initial call, do not inundate them with more calls. However, if you do not hear back from them within the time frame they quoted you during your initial call, feel free to contact them again with another polite inquiry.
Positions and Salary Information
Life Time Fitness centers employ anywhere between 150 and 300 people. Therefore, there are many positions at each facility. Here are some of the jobs you will find at Life Time Fitness:
Member Services Team Member – Meets, greets, and answers questions for members and guests, directs visitors to appropriate people, answers telephone, ensures a neat and orderly work area, and assists management in other areas as necessary. Member services team members typically earn $8.50-$9 per hour.
Facility Operations Team Member – Performs light and heavy cleaning of equipment and common areas, washes and folds towels, provides excellent customer service. Facility operations team members usually earn between $8.50 and $9 per hour.
Life Café Team Member – Prepares healthy menu items for members, washes dishes, wipes down tables, answers questions regarding menu items. Life Café team members can earn between $8.50 and $9 per hour.
Lifeguard – Oversees the facility pools and ensures that they are clean and safe. Monitors members as they swim and responds to situations that may be unsafe or critical in nature. Lifeguards at Life Time Fitness start at around $9 per hour and can earn as much as $11 per hour.
Personal Trainer – Works individually with members to develop and teach workout routines to accomplish fitness goals. Personal trainers at Life Time Fitness earn roughly $16 to $17 per hour.
Group Fitness Instructor – Facilitates group exercise that may include yoga, spinning, aerobics, swimming, basketball, and other activities. Group fitness instructors at Life Time Fitness earn anywhere between $12 and $28 per hour, depending on activity and experience
Department Head – Manages specific areas of a Life Time Fitness club to ensure quality and excellent customer service. Works with management to set goals for their areas and train staff. Department heads earn approximately $36,000 to $41,000 per year.
Sales Representative – Cold calls people in the community to generate membership sales, meets with prospective members, assists in membership package selection, and closes sales. Quotes for sales salaries vary widely, from $37,000 to $80,000 per year.
Sales Manager – Sets sales goals for sales staff, hires and trains sales staff, holds weekly meetings. Sales managers earn between $60,000 and $90,000 per year.
General Manager – Provides overall leadership for all management and staff personnel, acts as ambassador for club, oversees budget and expenses, makes sure sales goals are being met, ensures company standards are adhered to. Life Time Fitness general managers earn upwards of $90,000 per year.
Best Entry-Level Positions
Life Time Fitness requires all employees to be CPR certified within the first 30 days of hire. There are many positions available at Life Time Fitness clubs for those just beginning to dip their toes into the world of work. Here is a sampling of entry-level positions:
Member Services Specialist
Member services specialists greet people when they enter the facility. They make sure to provide excellent customer service to each member or guest with whom they come into contact.
In addition to greeting people, they answer phones and transfer calls. They also respond to member needs and complaints. In addition, they update the activity calendar found in each facility.
Employees also attend daily staff "huddles." They do this to keep abreast of updates and changes to schedules. The purpose of this is also to support the overall mission of the company.
Facility Operations Team Member
Those who work on the facility operations team at Life Time Fitness clubs work to keep the club clean. Responsibilities include daily cleaning of surface areas and equipment. They also do heavy cleaning tasks with pools, floors, and other large common areas.
Facility operations team members also interact with club members. Therefore, they must be personable and effective communicators. They need to do their part to make sure each member and visitor experiences top-quality customer service.
Kids Activities Supervisor
As a family-oriented environment, Life Time Fitness offers child care services for its members. However, as a kids activities supervisor, you will be directing activities, not just watching kids play on their own.
Children are referred to as "junior members." Life Time Fitness works hard to engage them in productive activities while they are at the club. Activities may include art projects, board games, educational experiences, or physical activities.
Life Cafe Team Member
Life Cafes can be found in many Life Time Fitness clubs. They are designed to promote and provide healthy food choices for club members.
As a Life Cafe Team Member, you will prepare and/or serve menu items in the cafe. You may also prepare items for takeout for members.
Life Cafes are excellent places to work for those who enjoy the food service industry. People who appreciate fitness and healthy eating are a great fit for it.
Seasonal Job Openings
Life Time Fitness clubs feature outdoor pools that need employees during the summer months. Those staff members include lifeguards and bistro/concession workers.
In addition, many facilities run summer camps for youngsters and must hire camp counselors that plan activities and work with the kids to provide them excellent camp experiences.
Life Time Fitness Careers in Management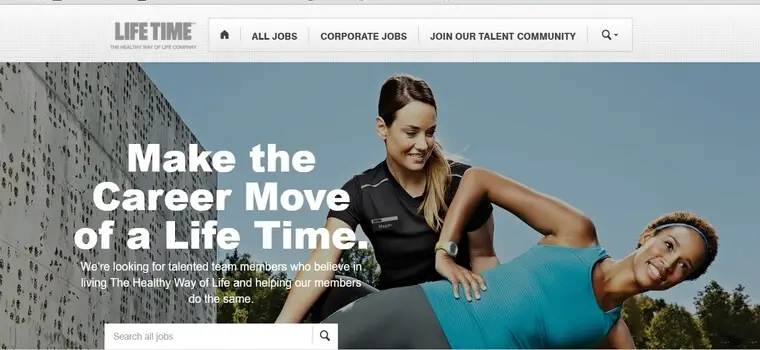 There are a wide variety of management positions available at Life Time Fitness for those who aspire to making a career out of working for this high-end fitness company.
Departmental Managers
Each Life Time Fitness facility has many components including a member services center, a cafe, a child care center, and indoor and outdoor fitness areas. Departmental managers make sure the area they supervise is efficiently run, safe, and member-oriented.
Sales Manager
Sales managers at Life Time Fitness have the goal of increasing business by providing top notch customer service to all members, and bringing in new business by reaching out to the community and following up with those who inquire about membership.
Life Time Fitness sales managers typically work with an assistant sales manager and a sales staff. The sales manager's responsibility includes setting sales goals, managing a sales budget, teaching the sales process to staff, and motivating the sales team to cold call and follow up with potential members.
General Manager
Life Time Fitness prides itself on being a premier fitness operation and general managers are the leaders that set the tone for excellence. The general manager is responsible for the club meeting or exceeding corporate expectations including sales goals, membership retention and acquisition, and management and staff training and development.
General managers also manage expenses and inventory, equipment standards, quality control of all areas of the facility, and community outreach.  General managers are expected to work a minimum of 50 hours per week.
Interview Questions and Tips
Prepare for your interview with Life Time Fitness by reviewing their extensive website and taking note of their wide array of services.
It's always a great idea to have four or five questions in your head that you can ask of your interviewers. This strategy will demonstrate that you have a genuine interest in the company.
What Do You Consider to be One of Your Greatest Strengths?
Life Time Fitness seeks strong, dynamic, and personable people to help them achieve their mission as a company. Take time to assess your strengths as a potential employee there and be ready to talk about them.
When you answer this question, be sure and relate it to the job for which you are applying. For example, if you are applying for a child care position, discuss a strength that demonstrates that you are a responsible and friendly person who can handle the job.
Discuss a Time When You Went Above and Beyond to Provide Excellent Customer Service
The fitness club industry is fiercely competitive, and Life Time Fitness realizes the importance of not only attracting new customers, but retaining current members as well.
The best way for them to retain strong membership is to place a high premium on customer service and to make sure each employee realizes the importance of treating each member like he or she is the only one that matters.
Think about an experience you have had in your employment history when you received great feedback for the help you provided to a customer and then develop a narrative in your head that you can share during the interview.
If you have no employment history, think about a time when you helped a neighbor or a friend, or assisted someone as a volunteer, and share that experience in your interview.
How Effective Are You as a Team Player?
Life Time Fitness employees must work effectively with their co-workers to create an environment that positively supports the mission of the company. Interviewers may ask you about your experiences working or playing with others.
Be prepared to discuss any accomplishments you have had working with others, whether it was on a group project in school or on an intramural sports team. Frame your answer to highlight your contributions to the team environment.
Helpful Research for Your Life Time Fitness Interview
Here is some helpful information about Life Time Fitness that you may want to refer to during your interview:
Life Time Fitness was founded in 1992 and its headquarters is in Chanhassen, Minnesota. As of 2018, they operated 138 clubs across the United States and Canada.
The company is privately held by two private equity firms that purchased it in 2015.
Life Time Fitness prides itself on being a full-service fitness company that offers its members top-quality personal and group fitness training, spa treatments, dietary services, and and child care services.
Most Life Time Fitness clubs are located in medium-to large population areas.
What Employees Say About Working Here
Life Time Fitness employees often cite the club membership they receive as part of their benefit package as a very powerful asset.
Reviews on glassdoor.com  and indeed.com also include comments about the friendly work environment and excellent training opportunities.
Some employees expressed frustration with high manager turnover, long hours, and low pay.