Levi's Jobs & Careers – Application, How to Apply, Requirements & Interview Tips
Last Updated:
September 17, 2018

by

If you love fashion and have a social conscience, you should consider applying for a position with Levi Strauss & Company.

Levi's was founded in 1853 in San Francisco, California. Since then, they have grown into an international company with factories and retail outlets throughout the world.

Levi's specializes in creating and marketing durable and stylish clothing for men, women, and children of all shapes and sizes. They were the original creator of the "blue jean." They remain one of top producers of jeans today.

The company, which is privately-held, has traditionally placed a high value on its employees they employ around the world and have committed to improving conditions for employees overseas where work conditions have not always been satisfactory.

Levi's offers many opportunities for both entry-level and experienced retail candidates. The information provided here is designed to help you prepare to apply at Levi Strauss & Company.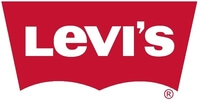 How to Apply for Employment at Levi's
Levi's is like many companies today in this expanding age of technology. They require you to go to the internet in order to apply for a position with the company. You will need to apply for a specific position that interests you. You can begin that process here.
Application Information
Minimum Age Requirement: Levi's requires all employees to be at least sixteen years of age.
Hours of Operation: Store hours vary, depending on location. Generally, all stores are open by noon and stay open until at least 6 p.m. on Sundays, but some stores open at 10 a.m. on Sundays and remain open until 10 p.m. On Mondays through Saturdays, all stores are open by 10 a.m. and remain open until at least 9 p.m. Again, some stores are open for longer hours, depending on location.
Methods to Apply: You must begin the application process at Levi's by visiting their careers webpage. From there, you can learn about working at Levi's, explore the types of positions available,  find jobs that interest you in your area, and complete your application.
When Applying Online
Levi's has an excellent careers webpage where you can learn about the company philosophy regarding employees. You can also explore the many career paths available, but can also look for positions using various search tools.
Prospective applicants first have to choose a specific country or continent. Then the webpage will display all available positions in that general area.
From there, you have a few options. You can use the search box to type in a keyword. However, you may have to experiment a bit with this because it sometimes throws up jobs that might not exactly match what you are seeking.
Your other option is to click on one of the categories on the side of the page. Categories include "job category," "locations," "job type" (internship or regular), and "full/part-time." Clicking on a combination of these categories allows you to get fairly specific and find available jobs that interest you.
Complete Your Application
First, find a job in your area of interest and geographical location. Then, click on it. You will be able to read a description of the position. Find out about what is required of applicants.
If you choose to apply, you can simply click the "Apply" button to begin. Or, if you have an existing profile on www.linkedin.com, you can click on the "Apply with LinkedIn" button and begin the process that way.
Application Tips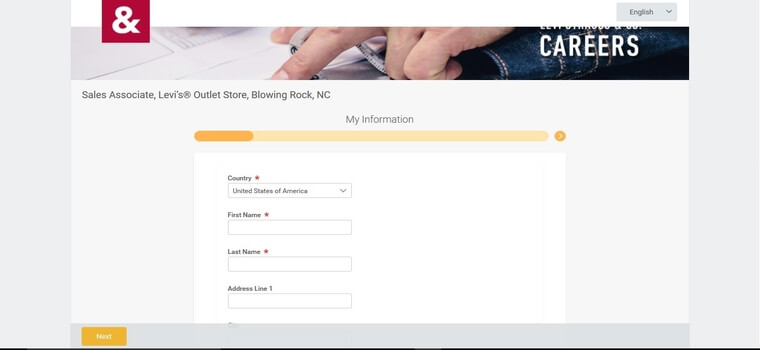 You're going to need to submit your resume in order to apply at Levi's. If you do not have a resume, take the time to sit down. Put one together. You can learn about how to design a great resume here.
Do Your Research
Levi's does a great job providing information on their website about their job offerings. They also outline what they offer employees in terms of personal growth and other benefits.
Spend some time reading about their values and their business. That way, you can make a sound determination about how you would fit into their work culture.
Carefully read their job descriptions as well, because they are worth reading. Levi's job descriptions are detailed.
They explain clearly what the duties of each position are. Then you will know what is expected from someone who holds each position.
Prepare Yourself for the Application Process
It is always advisable to spend some time getting yourself organized prior to beginning any application process.
Though the Levi's employment application is fairly straightforward, you will want to make sure that you have your previous work experience, including dates of employment, in front of you so that you can accurately add this information to the online application.
As you write your descriptions of your previous employment positions, make sure that you present that material in a way that it highlights your accomplishments and skill sets as they relate to the position at Levi's for which you are applying.
Always be aware that the company probably receives many applications for each job they post. You want to make sure you do everything that you can to make yourself stand out in a positive manner.
Should You Follow Up?
Since you are directed to apply for specific job openings in specific locations when you submit an employment application to Levi's, it is relatively easy to follow up with the store management at those locations following your submission.
Don't hesitate to either call or visit the store a few days or a week following sending your application to politely inquire about their receipt of it. If you visit the store, though, be prepared to be interviewed when you do so.
Preparations should include bringing along a few copies of your resume (which should be totally free of grammatical spelling, and punctuation errors and formatted correctly). In addition, make sure you dress neatly. Be ready to sell your skills and accomplishments.
Positions and Salary Information
Levi's employs approximately 16,000 people worldwide. They have many positions available for people at all stages in their career. Here's a sampling of store positions at the company:
Sales Associate – Provides exceptional customer service, answers questions regarding merchandise for customers, handles cash and credit card transactions, tags and replenishes merchandise, keeps store neat and orderly, and assists management with inventory control. Sales associates typically earn between $8 and $9 per hour.
Stock Associate – Replenishes merchandise on sales floor, receives and processes merchandise from distribution centers and vendors, assists in tagging merchandise for regular and promotional sales, assists management in cycle counts and inventory control. Levi's pays its stock associates anywhere between $9 and $10 per hour.
Lead Stylist/Supervisor – Acts as a team leader to sales and stock associates, organizes scheduling, motivates staff, assists in middle-management activities. Lead stylists may earn within a range of $10 to $11 per hour.
Assistant Manager – Assists store manager in all aspects of store operations including hiring, training, and motivating staff, scheduling, budgeting, inventory control, and role-modeling and providing high-quality customer service. Levi's pays its assistant managers between $19 and $20 per hour.
Store Manager – Responsible for overall performance of store, hires, trains, and supervises management staff, coaches and motivates entire staff, handles customer complaints, manages store budget, and works with district personnel to set sales goals. Store managers are compensated with salaries ranging from $55,000 to $60,000 per year.
Best Entry-Level Positions
Levi's loves to hire new entrants into the work force because they often promote from within. It is easier to train someone who knows the culture and the merchandise than training someone who is not familiar with the brand. Here are descriptions of entry-level positions at Levi's:
Sales Associate
Sales associates at Levi's stores are the people whose primary responsibility is to interact with and to sell to those who enter. The best sales associates demonstrate high energy and enthusiasm.
They get excited about the prospect of helping customers select clothing and accessories. They want to help them look good and make them feel great.
Levi's has a lot of pride about who they are and where they have come from during their 160 year-old history. Therefore, they require all of their sales associates to demonstrate knowledge. They want them to know about the history and the heritage of the company.
In addition to the responsibilities mentioned above, sales associates at Levi's are responsible for assisting with loss prevention, conducting physical inventory cycle counts, maintaining a neat and clean sales floor, and handling cash and credit card transactions.
Stock Associate
People who hold the title of stock associate at Levi's are, in a large way, the backbone of the store personnel infrastructure.  They are the ones who keep the merchandise moving into the store and onto the sales floor.
Stock associates unload trucks and check in and tag merchandise. They also build store fixtures and assist in inventory management by conducting cycle counts. They often tag merchandise that management has decided to mark down for clearance.
Like sales associates, stock associates must exude a positive and friendly demeanor. They are often on the sales floor and regularly interact with customers.
They must also be able to spend long periods of time on their feet. You must be able to lift up to forty pounds. In addition, you will need to read invoices and write legibly.
Finally, like every other person who works for Levi's, stock associates must be aware of the history and the heritage of the company.
Internships
Levi's offers summer internships for those that aspire to work in the retail industry following college. Interns spend 10 weeks during the summer working out of Levi's corporate headquarters in San Francisco.
As an intern, you will learn about all aspects of the retail industry including design, distribution, marketing, and sales. You will also work on group projects to solve real-life business issues.
Internship applications for each summer are available at the beginning of each year.
Seasonal Job Openings
Levi's regularly hires seasonal employees to assist with extended hours and expanded customer visitations during the holiday season.
Seasonal workers are brought on to fill sales associate, stock associate, and part-time supervisory positions.
Those interested in seasonal positions for the holiday season are advised to apply by the first part of October. This is because all candidates must go through the regular hiring process.
Levi's Careers in Management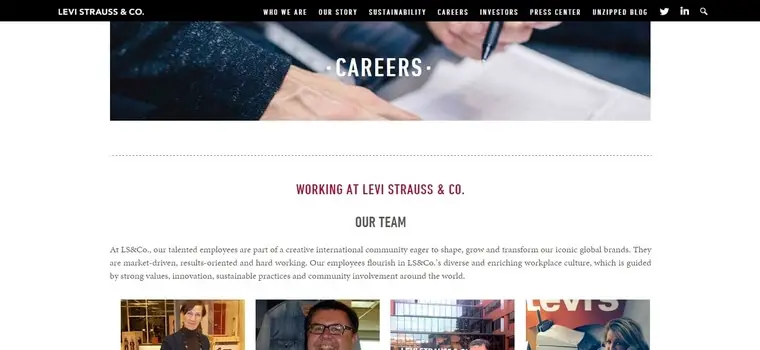 Levi's is a worldwide company. They have management opportunities not only in the United States, but in many different countries. In addition, they have several management positions at their headquarters in San Francisco.
Management positions exist in corporate affairs, finance, information technology, legal, and marketing. Those are just to name a few areas. You can read more about these opportunities here.
Here are descriptions of management positions at the store level:
Supervisor
Supervisors at Levi's assume responsibility for specific areas of the store and are the first line of management.
Their duties include supervising sales and stock associates, developing the staff schedule, training and developing staff, and working with store management to achieve store sales goals.
Assistant Manager
Levi's assistant managers are directly responsible for all operations of the store in the absence of the store manager.
Regular duties include supervising departmental supervisors, hiring and training staff, assisting in the management of the store budget, buying merchandise and supplies, handling customer issues, ensuring accurate inventory by supervising cycle counts, and role-modeling excellent customer service.
Store Manager
Levi's store managers are responsible for the overall performance of the store and supervise every aspect of operations.
They are the last word in hiring and terminating employees, and set the tone for staff training and development. In addition, store managers work with district and regional managers to plan sales incentives, product promotions, and marketing.
Store managers also oversee the store budget, manage inventory and store shrinkage, and identify those within their organize for promotion.
Interview Questions and Tips
Levi's typically calls candidates in for interviews anywhere from one week to one month following the receipt of applications. Prior to your interview, think about your short- and long-term career goals, and take stock of your experiences and skills that the interviewer may see as assets as they consider you for employment.
Let's consider a few potential questions your interviewer may ask during your Levi's interview:
Why Do You Want to Work At Levi's?
You can bet that this question will be asked in some way, shape, or form during your interview, and this is an ideal question because it gives you an open door for you to deliver your self-sales pitch.
It's worth the time to come up with three reasons you had the drive to submit your application to Levi's. Try to tailor your response so that they will see you as an asset to the company.
For example, instead of simply telling the interviewer that you enjoy working with people, you might want to let them know that you want to secure a position where you can further develop your interpersonal skills so that you can be the best sales associate you can possibly be.
Another reason you may give is that Levi's as a company impressed you and you want to be associated with a traditional American company that has enjoyed much success for over one hundred years.
How Do You Deal with Adversity?
Working in a Levi's store means being on the front lines with customers, and working with the public can sometimes be a challenge. Sometimes people receive the wrong merchandise, returns have to be made (sometimes without a receipt), and people can just be downright surly at times.
Levi's wants to hire people who can handle the challenge of dealing with an occasional difficult customer in a manner that is respectful and with the goal of keeping that customer if at all possible.
As you consider your answer to this type of question, consider telling a story as opposed to just saying "I handle adversity well."
Your ability to describe a specific example of a time where you successfully dealt with a conflict, especially in an employment situation, will signal the interviewers that you recognize the importance of great customer service and that you have experience in handling uncomfortable situations.
 How Do Your Prioritize Your Work?
Levi's stores are busy and dynamic environments and there is always something for employees to do, even when there are no customers in the store.
Managers are looking for people who are hardworking and who can keep busy, even when there is no one telling them what to do.
Let your interviewer know that you are not afraid of taking the initiative to find some way to improve the store's appearance or tidy up the backroom before someone asks you to do so.
Helpful Research for Your Levi's Interview
If you truly want to impress your interviewers at Levi Strauss & Company when you interview, you may want to consider letting them know that you are aware of some of the following facts about the company:
Levi Strauss & Company employs over 16,000 employees and has operations in the United States, Canada, Mexico, Europe, Asia, and Africa.
Levi's was founded in 1853 in San Francisco and originally sold clothes and boots to small retailers in the American West.
Levi Strauss collaborated with Jacob Davis, a tailor from Reno, Nevada, and patented riveted denim pants, thus inventing the blue jean in 1872.
Levi Strauss, the founder, was a man who believed in giving back to society, and that tradition lives on today.
Levi's is a privately-held company and that is owned and operated by descendants of Levi Strauss.
What Employees Say About Working Here
The overall employee review score on glassdoor.com is 3.5 out of a possible 5, suggesting that many employees find it a pleasant place to work.
Many people commented that managers take their jobs seriously and invest a lot of time building teamwork environments where employees feel supported. Others remarked that managers care about the successes of their employees.
Employees also cited that they liked that Levi's is a company with a social conscience and sponsors many programs that support environmental conservation and philanthropic values.
Some employees commented that there is sometimes a high turnover rate among management, which can affect the continuity of team-building. Hours can be long, as well.