LA Fitness Jobs & Careers – Application, How to Apply, Requirements & Interview Tips
Last Updated:
September 17, 2018

by

Are you motivated to stay in shape and to work in a high-energy environment? If so, you may want to consider applying for employment at LA Fitness.

LA Fitness operates over 690 state-of-the-art fitness clubs in the United States. They offer many opportunities for both entry-level and seasoned employees who wish to make their mark in the fitness industry.

Founded in 1984 in southern California, LA Fitness has expanded rapidly since its inception. They did this by buying up existing clubs. They opened their own facilities at an aggressive pace.

The company looks for people who possess excellent interpersonal skills. They want people who are not afraid of working hard to retain members. Management also wants to attract new members who are interested in reaching their fitness goals.

Would you appreciate a gym membership included as part of your benefits package? Can you see yourself working in a fast-paced environment that is devoted to helping others reach their health and fitness goals?

Then read the following to learn how to succeed as an applicant at LA Fitness.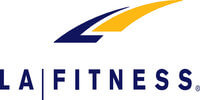 How to Apply for Employment at LA Fitness
In order to initiate your employment exploration with LA Fitness, you should begin at their Career Opportunity page to examine the many positions available.  From there, you will be able to access their online employment application.
Application Information
Minimum Age Requirement: LA Fitness requires all employees to be at least 18 years of age.
Hours of Operation: Most LA Fitness clubs open either 4:30 or 5 a.m. Mondays through Fridays and either 7 a.m. or 8 a.m. on Saturdays and Sundays.  Closing times are usually either 10 p.m. or 11 p.m. Mondays through Fridays and 7 p.m. or 8 p.m. on the weekends.  It is best to speak to employees at individual clubs in order to see exactly what their hours are.
Methods to Apply: LA Fitness requires all applicants to complete their employment online.
Find Your Niche at LA Fitness
LA Fitness's Career Opportunity page is a great place to begin to explore all of the positions that make up management and staff at the clubs. Not only are there descriptions of each position, but many of the descriptions include a brief video that further explains the duties involved with that particular job.
Even if you are not qualified for a particular position at LA Fitness, the information available on the LA Fitness  Career Opportunity page will give you an excellent opportunity to see what positions you can aspire to if you are motivated to make a career out of working there.
Jump Into the Application and Apply Online
First, identify a position that seems interesting to you and make the decision to apply. Then, you will need to navigate to the online employment application and complete the form.
You will find the form to be fairly straightforward. However, as always, you should prepare and get organized before you begin to complete it.
Preparation should include organizing your employment history.  The LA Fitness application offers you the opportunity to upload your resume if you have one, but they also require that you fill in your employment history manually.
Make sure what you enter matches what is listed on your resume. That includes dates of employment and contact information for former and present employers.
Application Tips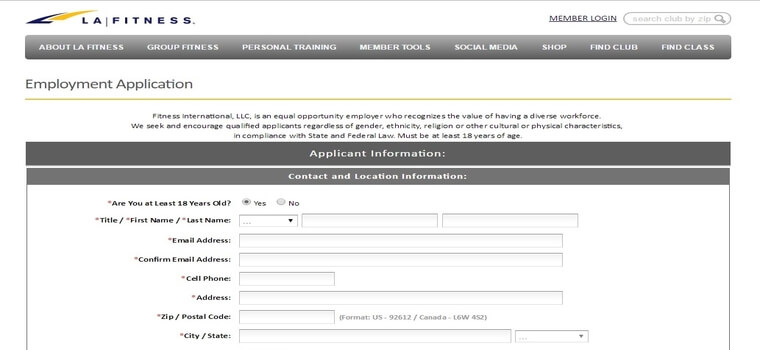 Proofread Your Work
Because you only get one shot at a first impression, all electronic submissions to LA Fitness, including your resume and your application, need to be free of any grammar, spelling, or punctuation errors.
Read your resume carefully and make sure it is clean. In fact, if you know of someone who has an eye for editing, ask them to go over it as well, because two sets of eyes are often better than just one when reviewing written material.
Proofread for content as well. You will need to discuss your past job responsibilities. You will also any gaps in your employment on the LA Fitness employment application.
Make sure all of the information you provide is accurate and honest. Ensure that it accurately reflects and highlights your past successes and accomplishments in your employment history.
Explain Any Employment Gaps
The LA Fitness application has a section in which you are asked to explain any time gaps between jobs. You are advised to keep your explanation brief on the employment application, especially if the gap is not easily explained.
It is perfectly acceptable to provide a brief sentence or two of explanation and then write that you are happy to provide more detail in an interview.
Make a Professional Physical Appearance
For your interview, dress "business casual." For men, this means wearing a wrinkle-free collared shirt, pressed khakis or pants, and shoes, not sneakers or sandals.
For women, it is appropriate to wear a wrinkle-free blouse with either slacks or a skirt.  Make sure whatever you choose to wear is conservative and suitable for the work environment.
In your interview, it is important to speak clearly and confidently. Look your interviewers in the eye as you speak.
LA Fitness seeks to hire those who are happy and comfortable working around people. Your interview gives you a grand opportunity to show off your people skills.
Should You Follow Up?
As you fill out your LA Fitness employment application, you will designate how far you are willing to travel from your home to work and the application will automatically list all LA Fitness stores within that radius of however many miles you designate as acceptable.
Follow up with phone calls or visits to any of the clubs in your area that interest you after one week.
It's probably best to visit or call during "non-peak" hours. That is so that you have a better chance of contacting the person in charge of hiring. Peak hours at LA Fitness are morning, late afternoon, and early evening. Therefore, plan accordingly.
Positions and Salary Information
LA Fitness has a wide variety of positions for those interested in working at a fitness club. Some require more experience than others, but all employees must work well with others in a team environment to provide high quality customer service to the clientele.
Here is a list of positions and salaries at LA Fitness clubs. It's worth noting that all employees receive complimentary fitness club memberships in addition to their wages.
Club Staff / Front Desk – Greet members when they enter the store, answer billing questions, process memberships, and make collections calls. Front desk staff start off around $8.50 per hour but can earn commissions and bonuses as well.
Membership Counselor – Assist customers select the most appropriate membership package, conduct walking tours of the club. Membership counselors at LA Fitness earn a base pay of $8 to $8.50 plus commissions on memberships they sell.
Janitor – Maintain the cleanliness of the facility by cleaning fitness equipment, floors, surface areas, showers, and bathrooms. Janitors earn on average $9.30 per hour.
Trainer – Work with clientele to develop exercise plans and teach workout routines. Trainers at LA Fitness can earn between $13 and $17 per hour.
Trainer Director – Supervises and schedules trainers and receives commissions on trainer sales. Trainer directors earn between $26,000 to $30,000 per year.
Assistant Manager – Assist general manager and operations manager with the overall operations of the facility. Assistant managers at LA Fitness earn approximately $36,000 annually.
Operations Manager – Responsible for all operations in the club, including inventory management, personnel management, and customer service. Operations managers make around $40,000 per year.
General Manager – Oversee all operations, sales, and management in an LA Fitness facility. General managers are paid between $49,000 and $53,000 per year.
Best Entry-Level Positions
LA Fitness has great entry-level opportunities for those who wish to begin their careers in a high-energy health and fitness environment. Take a look at the descriptions of entry-level positions below:
Front Desk
Club staff who work the front desk are the first people see when members, or potential members, enter the facility and the last people they see upon exiting the club. Thus, it is important that people who have front desk positions place a high premium on excellent customer service and friendliness.
Front desk employees not only greet members and others, but they also answer questions about the facility and direct visitors and new members to others who may be able to assist them.
In addition, front desk personnel are asked to make phone calls to members who are behind on their membership dues, and commissions are often paid to those employees who are able to retain memberships performing this task.
Janitor
Janitorial staff are responsible for keeping the club clean, and it's an important role because there is always something that needs cleaning in a fitness facility.
In addition, because janitors have to work in every area of the club, they also find themselves interacting with members and thus need to have excellent customer service skills.
Employees who begin as janitors often find themselves getting promotions based upon how well they perform their work functions.
Membership Counselor
Although many membership counselors at LA Fitness have some prior sales experience, the company will often train people who have drive and enthusiasm for the position.
Membership counselors represent the sales force of LA Fitness.  They meet with potential members who are interested in joining and beginning a workout program, as well as those who already enjoy exercise and want to continue and build on their routines at LA Fitness.
The membership counselor assists new members choose a membership package that is appropriate for their needs, in addition to supporting existing members as they re-enroll or change their membership options.
LA Fitness Careers in Management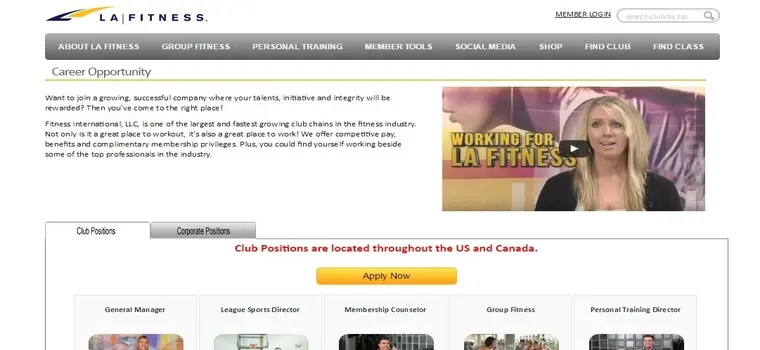 LA Fitness has a lot of opportunities for those interested in management. From training directors to general managers, there are many positions where those who wish to grow with the company can make a name for themselves and grow as managers.  Check out these management positions:
Personal Trainer Director
Personal training is an important service provided by LA Fitness clubs. It is the job of the personal trainer director to supervise trainers and make sure they are providing excellent customer service and proper training. Trainer directors meet regularly with trainers and work with them to plan and schedule their shifts.
Assistant Manager
Assistant managers at LA Fitness usually aspire to attain a management leadership position and work hard to learn the fitness club business by assisting in the overall operations of the facility.  They typically do hiring, training, and supervising staff, designing work schedules, managing inventory, handling member issues, and providing excellent customer service.
Operations Manager
Operations managers have their hand in nearly every aspect of the LA Fitness facility management. They manage sales and fitness staff, provide training, conduct regular sales meetings, manage inventory, plan budgets, and make sure that every employee is providing the highest quality customer service to members and visitors.
General Manager
General managers are directly responsible for all store operations and work with district and regional staff to ensure employees are following LA Fitness quality standards and meeting sales goals.
They also work with club management to plan promotions, develop staff incentives, and improve the work and workout environment.
Interview Questions and Tips
It pays to anticipate what sort of questions they may ask you during an interview. Here are some potential questions that interviewers have asked in previous interviews at LA Fitness:
What Are Your Personal and Professional Goals?
Those who take health and fitness seriously enjoy having goals, and LA Fitness has realized that their best employees have goals of their own.
What are your goals? What do you want to accomplish as an LA Fitness employee? Are you planning on furthering your education?
Take time to think through some of your goals and be ready to share them with your interviewer. Let them know that enjoy having goals and that you take this aspect of your life seriously.
How Do You Handle Difficult People?
Not all fitness club members are happy 100% of the time, and anyone who works with people is going to have to handle customer complaints at some point. LA Fitness wants to gauge how well you handle yourself under stress and may ask you some version of the question stated above.
When dealing with people who are upset, it is often important to ask questions in order to clarify the issue. If you can solve their issue, it's up to you to take care of it. If not, it is up to you to find someone who can.
Always be respectful when dealing with clients who are angry or upset, no matter if they are right or wrong.
Why Will You Be an Asset to LA Fitness?
As long as you have prepared, this question should be easy. You have self-assessed your skills and your experience. You have a keen awareness of your strengths.
In addition, you know where there is room for improvement. This question allows you to sell your skills, your accomplishments, and your experiences. Then you can relate them to your new potential position at LA Fitness.
Remember, body language and eye contact are important in your interview.  LA Fitness seeks enthusiastic and personable folks who are not afraid to talk to people with confidence and friendliness. Make sure you exude that sort of energy when you answer questions during your interview.
Helpful Research for Your LA Fitness Interview
The following information may assist you as you consider questions or comments you wish to make during your interview at LA Fitness:
LA Fitness is a privately-held company and was founded in 1984 in southern California. Since then, it has rapidly expanded and now operates over 690 clubs in North America.
In addition to building many new clubs since their inception, LA Fitness has grown by buying up many existing clubs and facilities.
LA Fitness is a full-service facility, offering both cardio and weight training. They are currently the largest fitness company in North America.
What Employees Say About Working Here
Based upon employee reviews, LA Fitness is a fun and exciting place to work.  Employees report that managers, while often young and relatively inexperienced, are generally flexible in regards to scheduling and are not afraid to jump in and help when needed.
Employees cite the friendly and dynamic atmosphere when discussing their work, and also appreciate the complimentary fitness club membership that is included as a benefit of employment.