Kroger Jobs & Careers – Application, How to Apply, Requirements & Interview Tips
Last Updated:
September 20th, 2019

by

The Kroger job application process will hold no secrets for you after you read this guide. If you fancy yourself working for the nation's largest retailer, this could help you land the job.

Kroger Co. is the one of the largest retailers in the United States, based on sales, holding the 24th spot on the Fortune 100, 2014 list.

The company offers its customers a one-stop shopping experience by providing a variety of produce and merchandise. The retailer also has onsite pharmacies to assist individuals with their medicinal needs.

Kroger has 2,476 supermarkets and multi-department stores in 34 states and the District of Columbia.

Currently, Kroger hires individuals for a variety of roles including Cashiers, Grocery Clerks, and Pharmacy Technicians, to name a few.

The following guide will explain the company's application and hiring process to help interested candidates land a job at Kroger.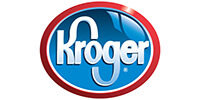 How to Apply for Employment at Kroger
When applying for a Kroger job, you complete an online application for the specific position you're interested in. Keep the following information in mind when applying to Kroger jobs:
Application Information
Minimum Age Requirement: Applicants must be at least 16 years old to qualify for most of the jobs.
Hours of Operations: Most Kroger stores are open 24 hours a day, 7 days a week.
Methods to Apply: Most applicants visit a local store and fill out the appropriate application. Other applicants opt to apply for jobs online, through the company's job opportunities page.
Kroger's online application is fairly easy to navigate. You can filter jobs by your location. When filling out an online application, simply select the job you're applying for, before providing your name, address, contact information, social security number and other employment related identifying information.
Read The Instructions Carefully
Read the instructions related to the specific job you're applying for, since some positions require a resume, while others don't. Usually, it's jobs in management, pharmacy, and other non entry-level jobs that require a resume to be uploaded.
It's Possible To Create An Account
Apart from filing an application online, applicants can also create a profile on the Kroger website. These employment profiles allow applicants to save any progresses made on the application, so they can return to it at a later date.
When Applying In-Store
In-store applications are equally, fairly standard. Most stores will provide the application on-site. If you opt to complete these paper forms, be prepared to provide all employment related identifying information and your resume, if necessary.
Application Tips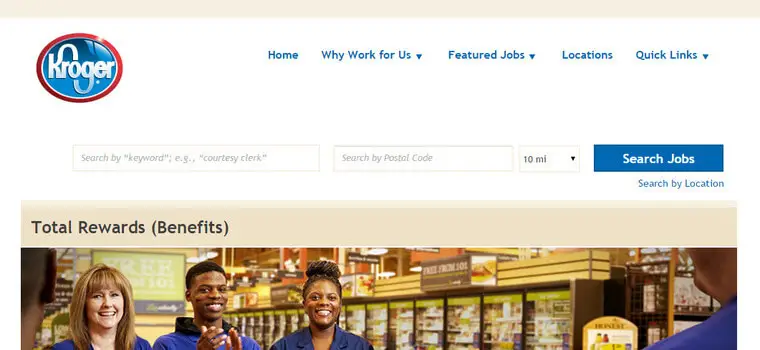 Visit the store you're applying to and submit an in-store application. That way, you can take advantage of the opportunity to meet hiring managers and make an impression on them.
Applicants who do so, tend to fare better in the hiring process compared to applicants who don't build rapport with the hiring professionals.
If you need to submit a resume, it's crucial that you customize it to include important keywords mentioned in the job description. Since many employers use applicant tracking systems to filter applications, include keywords when elaborating on past experiences.
Should You Follow Up?
If you submit an online application, the site allows you to check on the position's hiring status throughout the application process. If you are granted interviews, you'll also be notified of the hiring status via e-mail or over the phone.
If you don't hear back from the company after an interview, follow up with hiring managers a week after the interview took place. It's also a good idea to inquire about the company's hiring timeline in order to be informed about all hiring deadlines.
Positions and Salary Information
Kroger provides a variety of employment opportunities from cashier positions to various managerial roles. The most common jobs for hire comprise the following:
Cashiers: Greet customers and ring up their purchases. Cashiers may also need to serve as baggers, when the store is understaffed. Candidates for these roles should be personable and must know how to operate cash registers. They also need to be in good physical shape in order to stand for long periods of time. Salaries for these positions are about $8 per hour.
Baggers: (AKA courtesy clerks) primarily bag customer purchases into grocery bags. When necessary, they also assist customers with loading groceries into their cars. Ideal candidates for these roles should have great customer service skills and good physical stamina, as they're required to be on their feet for long periods of time. Like cashiers, baggers typically earn $8 per hour.
Grocery Clerks: Employees who perform a range of duties, including organizing shelves, re-stocking produce, sweeping floors, and assisting customers. In some cases, Grocery Clerks also double as Cashiers to ring up customers. Candidates with a great work ethic and customer service skills are well suited for these positions. Grocery Clerks can expect to earn about $10 an hour.
Pharmacy Technicians: Assist pharmacists and customers with prescription needs. They can be found taking prescriptions and ringing up purchases. Aspiring Pharmacy Technicians should have great customer service skills to cater to different customers. They also require familiarity with medical insurances and other assistance programs. Candidates currently in pharmacy school are preferred for these roles. Pharmacy Technicians typically make $11 an hour while certified pharmacy technicians make $13 an hour.
Pharmacists: Licensed medical professionals who serve customers by dispensing medications and providing information on different medicines. They are knowledgeable professionals who answer customer questions and provide information on the interactions between different drugs. Pharmacists primarily take prescriptions from customers and follow strict procedures to assess the compatibility of medications with the patients' medical histories. Kroger pharmacists typically earn a yearly salary of $120,845.
Assistant Store Managers: Assist store managers in managing the operation of their specific store. They work to achieve results, maximize sales, and increase profitability. When Store Managers are absent, Assistant Managers step in to perform the Store Manager's duties. Candidates with great leadership and organizational skills are ideal for these roles, especially when they possess good communication skills too. Assistant managers earn about $44,821 per year.
Store Managers: Oversee the entire store and its employees, ensuring that the company policies and protocols are being enforced. Store Managers work to implement strategic plans in order to increase sales and drive profits. They're also in charge of the hiring, training, and developing store employees. They report to their store's district manager. Applicants with extensive managerial experience, great communication skills, and good customer service skills are well suited for these positions. Store Managers typically earn $63,656.
District Managers: Oversee several branch locations. They monitor performance levels and plan periodic sales training calls with employees. They manage the hiring and developing of Store Managers. Ideal candidates for these jobs require years of managerial experience under their belts and great leadership experience. District Managers at Kroger tend to earn $75,125.
Kroger also offers corporate opportunities for individuals within many departments, including engineering, accounting, advertising, and human resources. These salaries vary according to the specific position, its location, and the experience level of the applicants.
Best Entry-Level Positions
Kroger's entry-level positions mainly comprise Cashiers, Baggers and Grocery Clerks. These positions require little experience and usually employ applicants with great customer service skills.
Below is some further information on these three entry-level jobs:
Cashiers
Cashiers are employees who greet customers, answer any questions, and ring up purchases. They have to be knowledgeable about the store's promotions and services in order to accurately answer all inquiries.
If customers come in with items they'd like to return, cashiers also handle these types of transactions.
Cashiers need to know how to operate cash registers and perform basic math functions.
Sometimes, cashiers will also need to bag items.
These roles typically involve long hours standing and interacting with customers, so aspiring cashiers must have stamina and great customer service skills.
Baggers
Baggers are courtesy clerks who primarily bag customer purchases. They also assist with loading groceries into customer vehicles and unloading any truck deliveries.
Baggers often have to retrieve abandoned shopping carts too.
While Grocery Clerks are in charge of re-stocking the shelves, baggers also do so by returning unwanted merchandise to the shelves.
Aspiring baggers need stamina and a great work ethic to perform all of these different duties. Candidates should also be personable in order to provide great customer service.
Grocery Clerks
Grocery Clerks perform various duties, including stocking and re-stocking shelves, sweeping the floors and assisting customers.
Grocery Clerks undergo extensive training, so aspiring clerks require little to no experience to qualify for these roles. This training incorporates both audio and visual orientations, and hands-on instruction.
During busy hours, Grocery Clerks may need to double as Cashiers.
Kroger Careers in Management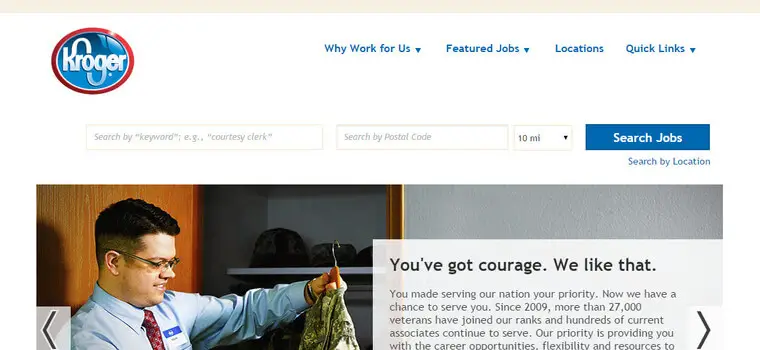 Kroger's careers in management mainly comprise Assistant Manager, Store Manager and District Manager roles. Applicants for these jobs must fulfill their respective requirements.
Assistant Managers are required to have at least 2 to 3 years experience in retail and must have successfully completed the in-house training program.
Store Managers are required to have prior leadership experience. While a college degree is preferred, Kroger mainly requires the successful completion of high school for its Store Managers. Additionally, these Store Managers require their driver's licenses.
District Managers require more managerial experience and the company prefers to hire candidates with a college degree.
Assistant Manager
Assistant managers perform a variety of duties at Kroger. They assist the store managers in the hiring and training of new employees.
They help to enforce Kroger policies and regulations.
When inventory needs to be processed, Assistant Managers are the ones who maintain inventory levels and maximize sales.
They also oversee store employees to ensure everyone is doing their job and keeping the store well organized.
In order to execute these managerial duties, Store Managers directly supervise and coach employees, while completing performance reviews. Ideal candidates for these jobs must have great customer service skills, retail experience, and managerial skills.
Store Managers
Store Managers oversee Assistant Managers and are the heads of the stores. They implement strategies to maximize sales and profits.
They ensure the proper use of all store equipment, while fostering open communication among the store's employees. When the store needs more workers, Store Managers are in charge of recruiting, interviewing and training new employees.
They're also in charge of scheduling staff and managing payroll.
Ideal candidates for these jobs require strong customer service skills, prior leadership experience, and a willingness to coach and develop employees. They report to District Managers and keep them apprised of any key developments.
District Managers
District Managers manage several branches at a time. They work closely with Store Managers to increase revenue and implement periodic, strategic plans.
They monitor and compare store branches and make the necessary recommendations to improve the stores' performances. They're also in charge of handling the more severe customer-related complaints or problems.
Ideal candidates require leadership experience, customer service skills, and great communication skills.
Interview Tips & Possible Interview Questions
Kroger interviews are fairly straightforward. They usually consist of an initial phone screening that'll ask about customer service values and skills, testing why you want to work at Kroger.
If successful you are then invited for a one on one interview with the Store or Assistant Manager. Hiring managers are testing to see whether you will be a good fit for the company.
For pharmacy technician and other specialized roles, hiring managers are looking for the necessary background and experience.
Expect to answer basic questions that test your eligibility for the positions. These questions can ask about your strengths and weaknesses, past experiences and regrets.
Dress Professionally
As with any interview, applicants should dress in professional, business attire. If they're applying for the entry-level retail jobs, they can dress in business casual wear. They should bring copies of their resume and be prepared to provide potential references upon request.
Below are some possible questions to expect and answers to give based on different Kroger jobs:
Describe A Time Where You Had To "Keep Your Cool" At Work?
For specific behavioral questions such as this one, you should employ the S-T-A-R method, which stands for Situation, Task, Action and Results. You'll need to describe the past situation, the task that needed to get done, the action you took,and the result that came about because of your action.
A possible answer for this question could be, "Well, at my last job, a customer came in cursing and yelling at everyone. I knew I had to calm him down so I could adequately help him and ensure other customers weren't frightened. I maintained my cool, did a quick mental analysis, and realized his complaints were coming from a place of frustration."
"I knew not to take it personally and I made sure the customer knew he was heard. I listened carefully and apologized, even though I wasn't at fault."
"He was voicing his frustration toward Kroger not carrying a favorite item of his. So, I calmly explained the alternative items we carried and provided information on those items."
"The customer then began browsing the store for those items and I had successfully maintained my cool, which helped to diffuse the situation."
Why Do You Want To Work At Kroger?
To answer these types of questions, you should pull from the research you've conducted about the company. One great way to answer this question is to discuss the company's values and show a belief in these values.
An appropriate answer could be, "Well, I really believe in Kroger's core values. I'd like to work for such a company, that lives by honesty, integrity, and diversity, among other ideals. "
"These values create an inclusive, honest, and cooperative environment, where co-workers get along and are in the right mindsets to successfully serve customers. I thrive in and enjoy these types of settings."
What Would Five People All In A Row Say About You?
Pick phrases that directly reflect the type of person Kroger will hire for the position. Store Managers are required to have leadership experience, a willingness to coach others and great customer service skills.
So, a possible answer could be, "I believe those five people would say I'm a great leader, someone who is patient and enjoys mentoring others. "
"They'd also say I'm results driven and like to set and achieve milestones. Lastly, I'm sure they'd say I'm a people person as I enjoy interacting and helping people from all walks of life."
There are several other Kroger interview questions that candidates can sift through and study.
Helpful Research for Your Kroger Interview
Kroger was founded in 1883 by Barney Kroger, a man who invested all of his life savings ($372) to open the grocery store in Cincinnati.
Be Particular
He had one motto: "Be particular. Never sell anything you would not want yourself." This motto is still the foundation of the company as it has now evolved to provide a wide range of merchandise and produce for changing consumer tastes.
In addition to Kroger's history, here are some other interesting facts about the company that you could potentially use in your interviews:
Currently, Kroger has more than 2,600 stores in 34 states.
Kroger's current CEO is Rodney McMullen, a man who began his career at Kroger as a part-time stock clerk in Lexington, Kentucky.
In 2014, the company achieved $108.5 billion in total sales.
Kroger lives by 6 core values: honesty; integrity; respect; diversity; safety; and inclusion.
What Employees Say About Working There
Based on Kroger's glassdoor reviews, Kroger scores a 2.9 rating out of 5 from employees who've submitted online reviews.
45% of the same employees say they'd recommend the company to a friend, while 64% approve of the current CEO, Rodney McMullen.
Employees enjoy working at Kroger for several reasons. Some of these reasons include flexible scheduling, friendly co-workers, and great work environments. Employees also love the Kroger benefits, employee discounts and the fact that the company tends to promote from within.
A popular complaint expressed by employees is the low pay for entry-level positions. Other popular complaints comprise the fluctuating hours, inconsistent scheduling, and poor trainings.