Kmart Jobs & Careers – Application, How to Apply, Requirements & Interview Tips
Last Updated:
September 20th, 2019

by

This guide will help you with your Kmart job application and enhance your chance for employment. If you are a bargain hunter at heart a career at Kmart could be just the thing for you.

Known worldwide as the home of the Blue Light Special, Kmart is the 3rd largest discount store chain in the world behind WalMart and Target.

What began as a single store in Garden City, MI, Kmart has grown to 1,221 stores in 49 states, Puerto Rico, U.S. Virgin Islands and Guam (with the latter being the biggest Kmart in the world).

Although Kmart has since dropped the Blue Light Special, they now have Mr. Bluelight, Bluelight finds for discounted items and Best of Blue for high-end, brand name products.

But, that didn't stop the BLS from being injected into pop-culture with mentions made in several movies, including Rain Man with Tom Cruise and Dustin Hoffman, and Six Days Seven Nights starring Harrison Ford.

Kmart purchased Sears in 2005 and formed Sears Holdings. When you apply to Kmart, you'll use the Sears Holdings jobs website, effectively allowing you to apply to Sears positions as well.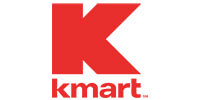 How to Apply for Employment at Kmart
Entry-level, managerial and executive positions are available across all U.S. states except for Alaska. With thousands of positions open on a regular basis, submitting your application to Kmart nearly guarantees an interview.
Application Information
Minimum Age Requirement: You must be at least 16 years old for most positions. Some positions require you to be 21 with a valid driver's license.
Hours of Operation: 7:00 am to 10:00 pm, Monday through Sunday for most locations.
Methods to Apply: Online and in-store kiosks.
You can apply to only one job at a time, and to only one store at a time. If you apply to one store today and another tomorrow, your application will be removed from consideration for the first store.
Kiosks
All Kmart locations have a kiosk inside. The applications on the kiosks are identical to the online version, so you won't get a leg up on the competition by using a kiosk. Using a kiosk is beneficial if you don't have easy access to a computer or the Internet.
Employment Websites
You can also apply through a variety of job sites. This method can save you a lot of time if you already have a profile with job companies including:
Application Tips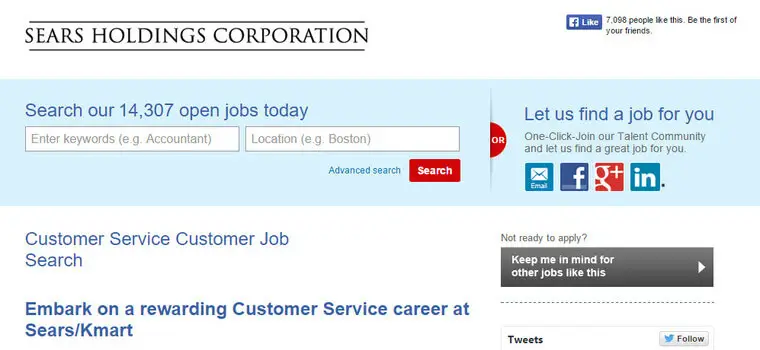 Kmart usually offers entry-level jobs as part-time opportunities. If you show an open availability during the application, you'll get better hiring consideration, because schedule flexibility is a bonus for most retail jobs.
Make sure to fill out your application as completely and accurately as possible. Although applying online or via an in-store kiosk are the officially approved methods, you may also walk in.
Leaving a lasting impression with the store manager will greatly enhance your chances of being hired – the manager will be looking for your online application.
Take Your Time For Your Application
The application process is lengthy and may take as long as 45 minutes to complete. At the end of the application, you'll be asked to complete a questionnaire.
For some, the questionnaire is the most time consuming part of the application. You'll be asked a lot of 'what if' and 'agree/disagree questions.
Many of them will seem repetitive. Do your best and answer the questions honestly, not the way you think they want you to answer.
Trying to make Kmart happy during the questionnaire will likely not earn you a callback.
Make Sure You Have Your Information At Hand
For the most part, Kmart's application is a carbon copy of most corporate types.
You'll be asked for your personal info of course and you educational/employment history. A background investigation will see if you are to be trusted with money and merchandise.
Finally yet importantly, you have to submit to drug test before you start work.
Should You Follow Up?
Normally, you'll hear back from Kmart after about a week to schedule your interview.
If you haven't heard from anyone in two weeks, it can mean a couple things. Did you complete the entire application including questionnaire? Did you submit all pertinent materials? If your answer is "yes" it's up to you make the first move.
Kmart typically contacts you via phone or email to let you know about scheduling an interview. If this doesn't happen, take charge, contact your hiring manager, and ask about the status of your application.
If You've Applied on Other Websites Than Kmart
Some employment websites allow you to check your applications status independent of Kmart. Check on them after a few days and see what's what.
Try Again After 60 Days
Kmart keeps your application for 60 days. If the 60 days has come and gone and haven't heard anything from them, you'll need to submit another application.
Positions And Salary Information
Kmart is always looking for sales professionals, cashiers, merchandisers, pharmacists and technicians, auto techs and managers at all levels. Opportunities are also available in the distribution and corporate levels.
The list of opportunities is too long to mention them all. However, we've compiled a short list of commonly sought after jobs.
Cashier: $7.10 – $9.28/hr – Ringing up goods, answer customer questions, money handling and performing a multitude of customer service duties. Often times, cashiers are needed perform other duties, including stocking, inventory, merchandising and administrative duties.
Associates: $7.06 – $12.70/hr – Your primary task is selling Kmart's products or services, ensure the shelves are stocked and answer customer questions. You'll also be tasked with serving customers, merchandising, stocking and keeping the store clean and organized.
Receiving: $8.90 – $17.8/hr – Receives shipments and verifies stock, maintains stockrooms. You may also be tasked with stocking shelves and be asked to perform a variety of functions not stated in your job description. Plan on being available to do most anything.
Asst. Store Manager: $8.39 – $16.41/hr – You'll oversee departments and their supervisors in addition to being available to work in any position in the store. As a manager, you'll be directly involved with customer relations and the overall appearance and function of the entire store.
Best Entry-Level Positions
With no place to go but up, entry-level positions are your opportunity to learn the company and establish yourself as a valuable employee.
Sure, you won't make much money to begin with but now is the time to shine and start moving on up.
There are too many positions to list here, so we've put together a short list of common entry-level positions.
Stocker – $7.82 – $11.53/hr
Everything Kmart sells needs to get on a shelf or a rack. Primarily, stockers work during the night when the store is closed but that doesn't mean you won't be working during the day.
You may also be called on to fill in for other positions as needed.
Stocking is a great way to learn about everything the store sells and where it's located.
You'll also learn to be a junior merchandiser.
Merchandiser – $7.09 – $9.86/hr
End caps, promotional stands and garden center beauty are all in a days work for a merchandiser. Your job is to make products visually appealing and help with the flow of the store.
You're kind of like a stocker, with some art and psychology mixed in.
Customer Service Rep. – $6.45 – $14.07/hr
Aside from being a manager, CSRs must be ready to take on any role in the store.
You might be cashiering one minute, stocking shelves the next, all while addressing any customer's needs. You're in a great position to advance if you do your job well.
Seasonal Job Openings
Although Kmart doesn't list any seasonal job openings, one can't help but image that a few extra hands are needed during the holiday season.
Almost all of Kmart's entry-level positions are part time to begin with, so if you're looking for a little extra holiday cash take a look at the cashiering, receiving, stocking and merchandising job listings.
Kmart Careers in Management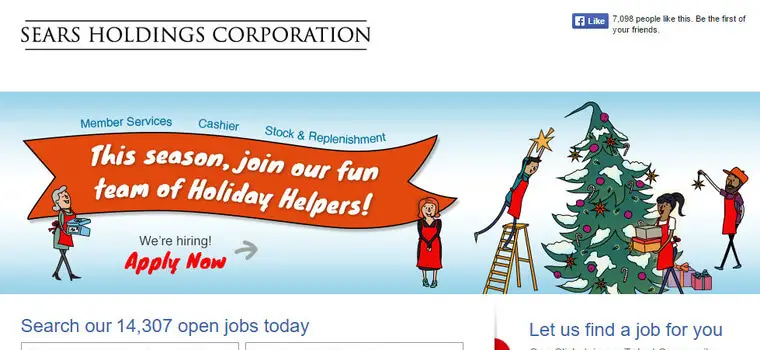 As with any major company, managers are always in demand in all three of Kmart's business areas – Store, Distribution and Corporate.
If you have experience or an education in a directly related field, your chances of landing a management job are good.
Once again, there are too many openings to list but we've come up with a short list of management opportunities.
Store Manager – $75K annually
Cash handling, inventory management, customer service, scheduling and maintaining the store's image are but a few of the tasks you'll cover as a store manager.
As the store's general manager you are ultimately responsible for everything happening in your store and you'll need to learn many hats at once. You could be helping a customer one second and stocking shelves the next.
There isn't a position in the store that you won't know how to do.
Loss Prevention Manager – $45K annually
Thieves, dishonest employees and all around trouble makers are part of your wheelhouse. You'll manage a team of loss prevention associates and supervisor to ensure that everything leaving the store is paid for.
You'll also be tasked with creating ways to make the store run smoother and mitigate losses due to injury, negligence and ignorance.
Distribution Manager – $51K annually
Working with vendor deliveries, warehousing practices and getting the products to the right store is your wheelhouse.
You're one of the ultimate task masters at Kmart since you'll split your time between preparing for future shipments as well as the ones currently in progress. Nothing gets sold in the stores that you didn't have a hand in.
Highly computer literate and able to work well with numbers, you are the heartbeat of the sales force.
Interview Tips
Wear Your Best Smile
Kmart is a customer-centric business, which means you have to at least appear friendly and approachable.
Wearing a smile is the best way to invite others into talking and engaging you. Not the creepy 'I-know-something-you-don't' smile but one that says, "Hey, I am more than happy to help with any possible thing you can imagine," smile.
Wear this smile to your interview, and while talking on the phone to your prospective employer.
Be Punctual
Nothing will blow your interview quite like being late. Get to your interview about 10 minutes early, 15 at the most. This tells employers that you know how to show up early, ready to work.
Think of it this way, how many of us can show up to work and start doing tasks the second they walk through the door? None of us.
You need time to organize and get your mind right before you start. The extra 5 or 10 minutes helps you be ready when the clock strikes.
As the old saying goes: If you're on time, you're late. If you're early, you're on time.
Dress to Impress
Show up to your interview ready to work. This means wearing what other Kmart employees wear. Black slacks, comfortable walking shoes and a red polo.
Hygiene is important also, so make sure you look and smell good.
Bring Copies and a Pen
Bring a copy of your resume to share with the interviewer. Bring something to take notes with and a black ink pen (not a pencil). This tells the interviewer you're prepared for anything.
Have Answers Ready
It's an interview, they're going to have questions for you and you should be prepared for some of the most obvious ones.
Possible Interview Questions
Why do you want to work here?
Money obviously, but they will want to hear more. Whatever your reasons for applying, have an answer ready even if it's something odd like "I love blue lights!"
Where do you see yourself in 5 years?
What they're asking is if you have a plan. Managers sometimes deem people without life plans undesirable.
Have a solid answer ready even if all you're doing is dreaming big.
Have you had any jobs like this? If so, what did you like/dislike about it?
Be honest and be positive. Managers don't want to hear about dislikes as much as they do likes. Have an anecdote ready and you'll breeze through this question.
Why should we hire you?
"Because I'm awesome," isn't an appropriate response. Let them know you're a hard worker, love being around people or you are looking forward to your employee discount so you can have pancakes.
Have something ready.
Have Your Questions Ready
The interview is the perfect time to ask specific and pointed questions. Ask about the shifts and hours you'll work and what you can do to elevate your position.
Kmart may not need an Asst. Manager when they hire you, but you need to let management know you're interested in advancing.
Also, asking questions engages the manager, which they want to know you have the ability to immediately engage a stranger – a required skill in the restaurant business.
Follow Up
Okay, you've had your interview and everything went well and you think you got the job. Now is not the time to wait around for a phone call from the manager.
You need to let them know you're excited about working there. Show them your interest by calling back a couple days after your interview.
Chances are, they had several interviews and are waiting around to see who really wants the job and follows up by calling or dropping by.
Helpful Research for Your Kmart Interview
You shouldn't have any problems finding information about Kmart on the web. As the third largest discount retailer in the world, Kmart has gotten a lot of press over the years.
We've put together a short list of things you should know when you apply to, and interview with, Kmart.
Founded in 1962
Purchased Sears for $11 billion in 2005
As of 2015, Kmart operates 1,221 stores in the United States, Puerto Rico, US Virgin Islands and Guam
The largest Kmart in the world is in Guam
World headquarters is the Hoffman Estates, Metro Chicago
What Employees Say About Working Here
Employee reviews for Kmart are decidedly average.
While most employees state they enjoy the company of her coworkers, employees decidedly note that they would enjoy higher wages, better hours, refined management practices and more advancement opportunities.
However, most employees note that Kmart is a great place to work if you are looking for an entry-level position.