KFC Jobs & Careers – Application, How to Apply, Requirements & Interview Tips
Last Updated:
July 17th, 2020

by

If you think "finger lickin' good" is a way of life and not just about eating some yummy chicken, submitting a KFC job application might be the perfect thing to do.

With almost 5,000 KFC locations in the United States alone, your chances of finding a KFC job near you is better than fair.

There are a variety of job opportunities at KFC, including team members, cooks, cashiers, maintenance, and management positions.

Depending on your skill level, you might bypass being a team member and go straight into a management role as a shift leader. If you enjoy the idea of skipping a rung, simply follow the instructions in this guide and your dreams might become reality.

We've put together this guide to make applying for, and landing, a job at KFC so much easier. We'll tell how and where to apply, how to follow up, and how to communicate effectively with the hiring manager.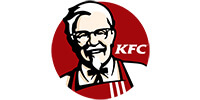 How to Apply for Employment at KFC
There are two basic ways to apply for a job with KFC. You can walk in to any KFC and request an application, or you can apply online.
Most people prefer to apply online, but if you want to be memorable, walking in works just fine. We'll go into the pros and cons of each approach later in this guide.
Application Information
Minimum Age Requirement: The minimum age for employment at KFC is 16. Although some states allow a lower age limit, it's best to call your local KFC and ask a manager. The KFC website notes that you must be at least 13 to apply.
Hours of Operation: As most KFCs are a franchise, the operational hours vary from store to store. Hours of operation may also vary due to the season. Call the KFC location you're interested in to find out more.
Application Methods: You can apply online or in the store you want to work at. The KFC Hiring Website allows you to search by city, state and desired position.
Applying Online
Plan on 20 to 30 minutes to complete the application. You'll need to set up a username and password to begin, and agree to the Terms of Use.
Check the "I Agree" box near the bottom of the page and then select the "Next" button.
Personal Info
You'll enter your personal information on the next page, including your name, address, phone number, email, etc. All the boxes with red stars are required.
Click on "Next" and you'll be asked if you fit the necessary requirements for employment. Select "Yes" from the drop-down menu.
You'll then be asked if you have ever worked for any of the affiliated companies: KFC, Pizza Hut, Taco Bell, and Franchisee/Licensee. Select "Yes" or "No."
Availability
Next, you'll be asked to indicate the hours you can work. Although most employers want you to select "No Preference," so they can schedule you in a way that works best for them, make sure to indicate any hours or days you cannot, or prefer not, to work.
KFC notes that while particular days and times off may be possible for religious beliefs, it is not guaranteed.
On the same page, it will also ask you if you want to work full-time or part-time, the date you're available to start, and your desired salary. If you're not sure, select "Full-Time or Part-Time" and note your desired salary as at least the minimum wage in your state.
Choosing these does not lock in your availability or how much you'll earn.
Work History & Education
Start by listing your current or most recent employer(s). If you are still employed, leave the "End Year" box blank.
Next, list your educational history starting with most recent. If you're still in school leave the "End Year" box blank.
You can add as many previous jobs and educational background segments as you like.
References
You'll need to add at least one personal or professional reference. Choose someone who will give you a good review.
If your current or previous employer is fond of you, listing a professional reference is always better than a personal one – they carry more weight.
Terms and Conditions
Read though the long list of legalese, including information about Arbitration. Scroll down and read the Authorization and Certification section.
After that, type your name in the signature box and add a 4-digit pin code for later use. Click "Next".
EOE – Equal Opportunity Employment
This section is usually optional, but the KFC application site makes you answer it before you can complete the application.
Application Review
This allows you to review all that information that you entered. Click on the Preview link to look everything over (recommended), or just click "Next" at the bottom.
Assessment
After you've completed the application you'll have to fill out a 30-question assessment test.  Choose between 5 different responses (Strongly Agree to Strongly Disagree) for each one.
Answer honestly and expect to see the same question asked more than once, though phrased differently. This gives KFC a little insight into your personality and work ethic.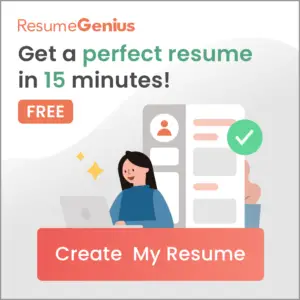 Application Tips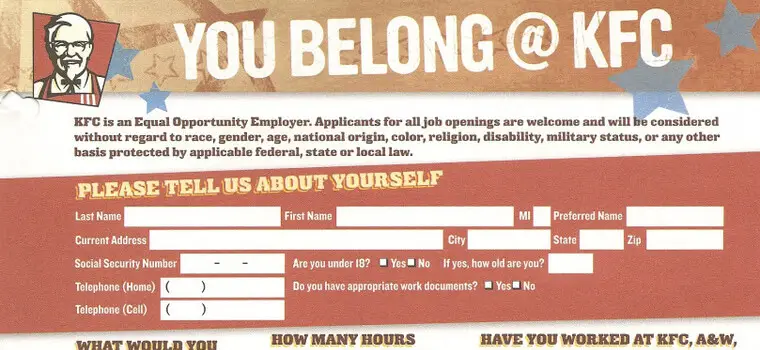 Find a Store in Your Area
The KFC Hiring Website allows you to choose which position you are applying for before you do anything else, so use the drop down menus to find openings in your area.
If you can't find any job openings near you, go ahead and fill out an online application for the position you want at a different store. That way, managers anywhere in the world can look up your file.
However, if you find that the location near you has positions available (according to the KFC website) you should still apply in person. Yes, you'll have to do everything over again using a pen instead of a keyboard, but at least you'll get some face-time with your prospective employer and co-workers.
How to Stand Out
Unfortunately, most applications don't give you an area to provide additional information that might make you stand out above other applicants. For you online applicants this means you'll have to find another way to shine.
The best way to shine is have a complete application, use proper grammar and spelling, and add as many references as you can. If you have had more than one previous job, list them all (as long as they will give you a good recommendation).
Add as many personal and professional references as possible to show that you're a good person and worthy of being hired.
Apply in person between 2 p.m. and 4 p.m. – the slow time between lunch and dinner services. Most restaurants prefer this time slot for new applicants. Showing that you know this can make you shine just a little bit brighter.
Should You Follow Up?
There isn't a way to track the status of your KFC application online. However, you can apply to as many positions as you like.
If you haven't heard anything back from KFC in a couple weeks, feel free to apply for that position again. You'll need to set up new login information or the computer won't let you apply for the same job twice.
The best option is to call the manager of the store you want to work at and inquire about the status of your application. It doesn't matter if you applied online or in person.
The manager is now aware of your existence. If you make a good impression on the manager, either in-person or over the phone, your odds of being hired have just gotten much better.
Positions Available
For most people, when we think about job opportunities at KFC, we think about team members, supervisors and store managers, etc.
However, KFC is a huge company and they have opportunities for skilled positions at headquarters and around the globe. When you visit the KFC Hiring Website you can choose from any one of the following positions.
Assistant Manager
Corporate
Development – Architecture, Concept Dev., Real Estate Dev.
Food Innovation
Food Service
IT
Legal
Marketing
Operations
Quality Assurance
Restaurant
Restaurant Excellence
Restaurant General Manager
Shift Supervisor
Team Member
Best Entry-Level Positions
If you have no work history or education that directly applies to a position at KFC, you can officially consider yourself an entry-level applicant. Not to worry though, if you work hard and your attendance is good: KFC likes to promote from within.
For example, if you start as a team member and KFC likes the work you're doing, you can train to be a shift supervisor, assistant manager and even general store manager.
It's all about how bright your fire burns for advancement.
As for the entry-level positions KFC offers, your best bets are:
Team Member
These are the employees who cook, clean and work the cash register. You'll be asked to help with food prep, cooking, spot cleaning, and showing off your amazing customer service skills when interacting with customers.
Team Member Might Be Right for You If…
You're a fun and friendly person who values customers and takes pride in everything you do.
You like talking—a lot—even to strangers (despite what your Mom told you).
You've got attitude—the right kind of course—and understand the need to be on time, all the time. With loads of energy, you understand that work is easier—and more fun—working as a team.
Shift Supervisor
If you've worked in other restaurants, you might be hired as a shift supervisor.
Expect to work as a team member first to learn the ropes. After that, you'll be in charge of all the other team members during your shift.
Learning how to complete required paperwork and making sure your team is doing its job are just a couple of things to consider. And, you'll make more money as a supervisor.
Shift Supervisor Might Be Right for You If…
You know who you are—honest, energetic and fun.  You are able to get along and talk easily with people.
You're never short of a smile and take real pride in your work, cope well under pressure, and thrive on a challenge.
A natural leader, you want to be captain because you can bring together a winning team. You're all about teaching new things and motivating the team to work together.
You set high standards for yourself and the people you work with—you love keeping things fun for the team and the customers.
You want to learn how to run great restaurants from the best restaurant managers in the business.
You're at least 18 years old with a valid driver's license, reliable transportation (not public transportation—you may need to drive to make deposits for the restaurant sometimes) and a true desire to learn and grow.
Seasonal Job Openings (if applicable)
Some KFC locations are only open during certain seasons like summer and holidays. For example, if you live in an area with seasonal tourism, you may have a better chance of applying during, or shortly before, the tourist season begins.
Typically, seasonal positions are temporary (unless you rock it and they want to keep you on).
KFC Careers in Management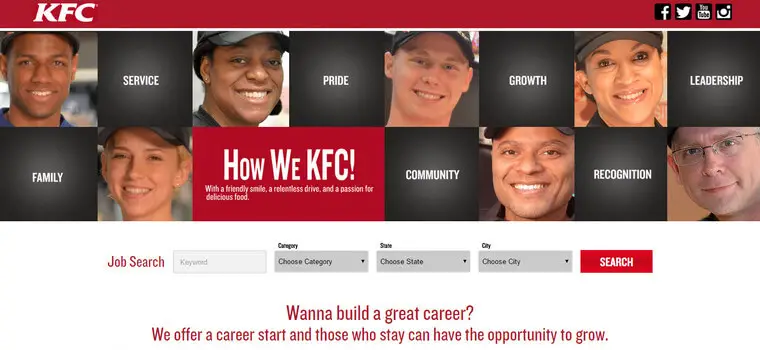 KFC is one of the biggest fast-food franchises in the world, so there will be opportunities to advance into a management career. Common management opportunities are:
Shift Supervisor
You'll generally earn up to $1 more an hour as a supervisor. You'll count the inventory, ensure product freshness, file reports for your manager, and keep an eye on team members.
Assistant Manager
A natural leader, you want to be co-captain because you can help bring together a winning team.
Qualities of an Assistant Manager would include:
You're all about creating a great place to work for the team.
You want to make your customer's day and it shows in the way you are maniacal about serving great-tasting chicken with a great big smile.
You know who you are –honest, energetic, motivational and fun.
You set high standards for yourself and for the team.
You're up for a challenge. You love the excitement of the restaurant business and know every day is different.
And, you're at least 18 years old with a valid driver's license, reliable transportation (not public transportation – you may need to drive to make deposits for the restaurant sometimes) and a true desire to learn and grow.
General Restaurant Manager
This is virtually the same thing as an assistant manager, but on a bigger scale. You'll earn much more money, gain benefits, and the opportunity to become a regional manager.
Interview Tips & Possible Interview Questions
Now that you've managed to impress the manager enough to land an interview, you should know a few things about the art of interviewing. First thing's first.
Be Punctual
Always show up early to an interview, but not too early.
Most managers will like that you showed up a few minutes early for your interview. This says to them "Okay, he is punctual and will likely be the same way when reporting for duty."
Try to be at least 10 minutes early, but no more than 15. If you get there too early, managers may think you are trying too hard to impress.
Show the manager how early and prepared you'll be on any given work day by showing up early, or on-time at the very latest. Don't be late or you'll probably set yourself up for a poor interview.
Wear Your Best Smile
KFC is a customer-based business.
If you look like you're happy to be there, people notice. If you come in frowning or upset about your neighbor's cat, then you've just proven to the manager you can be moody, rather than friendly and inviting.
The same goes for talking on the phone: stop and smile. Studies show that smiling while on the phone is noticeable.
Dress to Impress
KFC, like most restaurants, require employees to wear black dress slacks and black, slip-resistant shoes. If you wear black slacks (not jeans) and have the right shoes on when you interview, it'll impress the manager.
Go to the interview ready to work, and they will notice. Even if you don't get hired, you should always have black slacks and slip-resistant shoes if you want to work in the food service industry.
Bring Copies and a Pen
If you have a copy of your resume, bring one.
Also bring something to take notes with, including a black ink pen (not a pencil). This shows you are prepared for anything, including filling out another application if you need to.
Have Questions Ready
If you've never been employed with KFC, you should have a list of questions to ask the manager interviewing you. Expected shifts, hours per week, and how to advance are all valid questions.
Even if you know the answer, ask the questions anyway. Keeping the manager engaged is a great way of showing that you care about your job.
Be Prepared to Follow Up
A couple days have passed since your interview and you think things have gone well. Don't be afraid to call the manager and ask about your hiring status.
Wait at least two days before you do this and don't do it more than once or twice in one week. Following up shows that you really want the job, and managers only want to hire people who want their jobs.
Helpful Research for Your KFC Interview
Wikipedia has a great page dedicated to the history and future of KFC. Knowing a few things about how the company started, how it has progressed over the decades, and what they might be working on next can be invaluable during your interview.
You don't have to know everything about KFC to get hired, but you should be able to hold your own in a conversation, especially if a customer asks you a question about the company.
Aside from doing research on your own, getting the interviewing manager to answer some questions is a great way to show that you're interested in the job. Chances are they know a few things about KFC that can't be found on any website.
Essentially: don't go into your interview clueless. If the only thing you know about KFC is that they serve chicken, it's going to show in your interview.
What Employees Say About Working Here
Employees seem to agree, for the most part, that working at KFC can be fun, a way to make friends, and a great place to experience good customer service and a positive, upbeat work environment.
That said, as with any restaurant business, it can be stressful at times.
In a Glassdoor review of KFC employment, most employees gave management a positive review.
Good luck!