Kelly Services Jobs & Careers – Application, How to Apply, Requirements & Interview Tips
Last Updated:
September 20th, 2019

by

If you have a passion to help individuals find jobs that fit within their skill set, then get ready to fill out and submit your Kelly Services job application.

Kelly Services was founded by William Russell Kelly in 1946 and was designed to fill in the gap between people looking for jobs and available jobs. The company has continued to maintain a positive role in the communities it serves.

Kelly Services is a global leader in the workforce industry and has helped employ over 550,000 individuals. The company works closely with many hiring managers who are looking to add new talent to their teams.

Kelly Services employs 1,100 employees and is located centrally in Troy, Michigan. There are roughly 7,000 employees who work throughout the global locations and individual branch offices.

If you want to work in an atmosphere that allows you to help others find their role in society, then fill out your Kelly Services application today!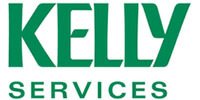 How to Apply for Employment at Kelly Services
To apply for employment at Kelly Services, the most commonly used method is by submitting an online application.
Application Information
Minimum Age Requirement: The minimum age required for employment at Kelly Services is 18 years old.
Hours of Operation: Kelly Services is open Monday – Friday from 8:00 am until 5:00 pm.
Methods to Apply: Interested applicants can apply for a position at Kelly Services by submitting an online application.
Searching for an Open Position
To search for an open position, you will need to visit the careers page. From here, you can enter in your location and any keywords you desire.
When you are done entering search criteria, click the search button. All jobs related to your criteria will be displayed.
To view more information about a specific position, simply click on the job title.
Applying for a Job
To apply for a position, you will need to click the job title to view the job. From there, you will need to click the button that says view details or submit resume.
You will be taken to a longer job description to ensure you meet the criteria of the position and you can then click the submit resume button.
You will need to create an account first and once done, you will be taken to another page to finish filling in some personal details about yourself.
Next, you will need to upload your resume and you cannot continue on in the application until you do so.
After the resume, you will be able to enter in your professional experience, employment history, and education history.
Once you are done entering these fields, you will be asked some additional basic questions about military service, your desired roll, and the like.
You can now sign and submit your job application.

Application Tips
As you go through your application, you may be faced with some questions that you are unsure of how to answer. Below, we will go over some tips to help you get through the application process with ease.
Create a Resume
The application requires that you have a resume on file. If you do not currently have a resume, you should create one, but if you do not want to create one, the application has a tool that will walk you through and help you make one.
It is important that you include your resume as it highlights you as a skilled worker and you can include your achievements and accomplishments.
Don't Forget Your Professional Experience
When filling out the application, make sure to include your professional experience including how many words you can type per minute, your additional skills, and how many years you have been performing your skills.
When you do not add in extra skills, the employer does not know that you have them. The more skills that you do have, the more valuable you become to the company.
Your Desired Roll is Important
If you have an idea of where you want to work, you can enter in your desired roll. If you only choose one roll, you will be limiting your application to just that area.
Sometimes, it helps to add additional roles that you know you are experienced to do as you will be considered for more than one position.

Should You Follow Up?
You can follow up on a position by logging back into the account that you created when you first applied. From here, you can view the status of the job.
In addition, you can call the specific location you applied to and talk to the hiring manager. Before you call, make sure that you give the hiring manager a couple of days to look over your information.
When you do call in, always ask to speak directly to the person in charge of hiring. If he or she is unavailable at the time, then ask when a better time to call back would be.
Positions and Salary Information
Kelly Services employs over 1,100 employees to work in their offices and over 7,000 employees to work globally and at branch offices. You can find yourself working in both entry-level positions and management positions throughout the company.
The atmosphere at Kelly Services is upbeat and the management team strives to ensure that all employees succeed within the company.
Whether this is you first position or you are looking to make this your career, you are sure to find a position that you love.
Customer Service Representative – The Customer Service Representative is responsible for handling all service tickets and calls that come in. As a Customer Service Representative, you can expect to make between $11 and $15 per hour.
Receptionist – The Receptionist is responsible for greeting all visitors and answering the telephones in the office. As a Receptionist, you can expect to make between $11 and $13 per hour.
Driver – The Driver is responsible for delivering packages as needed and unloading the delivery vehicle. As a Driver, you can expect to make between $14 and $17 per hour.
Administrative Assistant – The Administrative Assistant is responsible for drawing up progress reports and training new employees in the office. As an Administrative Assistant, you can expect to make between $14 and $17 per hour.
Financial Analyst – The Financial Analyst is responsible for tracking the branch's financial reports and providing updated cost and profit statements. As a Financial Analyst, you can expect to make between $25 and $30 per hour.
Assistant Manager – The Assistant Manager is responsible for helping the Branch Manager and ensuring that the office runs smoothly throughout the day. As an Assistant Manager, you can expect to make between $40,000 and $55,000 per year.
Branch Manager – The Branch Manager is responsible for providing the highest level of service and leadership. In this role, you will run the main ship and train all employees on the company's policies. As a Branch Manager, you can expect to make between $59,000 and $70,000 per year.
Best Entry-Level Positions
Kelly Services provides interested applicants with the opportunity to work in a variety of entry-level positions throughout the company. These positions are an important part of the company as you will be helping clients find the right job for their needs.
Each entry-level position paves the way for you to move up in the company and step into a leadership role. Kelly Services does like to hire from within and there is great opportunity to advance.
Customer Service Representative
The Customer Service Representative is responsible for taking all service calls that come into the office. He or she will also schedule daily, weekly, and monthly phone calls as appropriate with businesses.
In this role, you will run reports, track your work history, and review service tickets that come in from clients.
Receptionist
The Receptionist is responsible for answering all incoming phone calls to the company. He or she will greet customers in a friendly tone and help them find the department or person they are looking for.
In this role, you will perform light office duties including working in Microsoft Office and tracking down all equipment returns.
Driver
The Driver is responsible for loading and unloading the delivery truck in a fast and efficient manner. He or she will need to have basic computer skills to enter in information about deliveries.
In this role, you will deliver packages as required and provide sufficient help around the office during busy times.
Administrative Assistant
The Administrative Assistant is responsible for providing support to a variety of departments. The duties of this position include notarizing, filing, pulling reports, and training new employees.
You will find that you also order supplies in this role and ensure that the office is adequately stocked with supplies. This role is also responsible for maintaining a high level of confidentiality.
Financial Analyst
The Financial Analyst is responsible for providing financial reports to the management team and keeping track of all financial goals that are set forth throughout the company. In this role, you will perform accounting duties to ensure the branch location is meeting goals.
You will also perform other duties as assigned, take part in trainings, and also provide analytic counseling to the management teams.
Kelly Services Careers in Management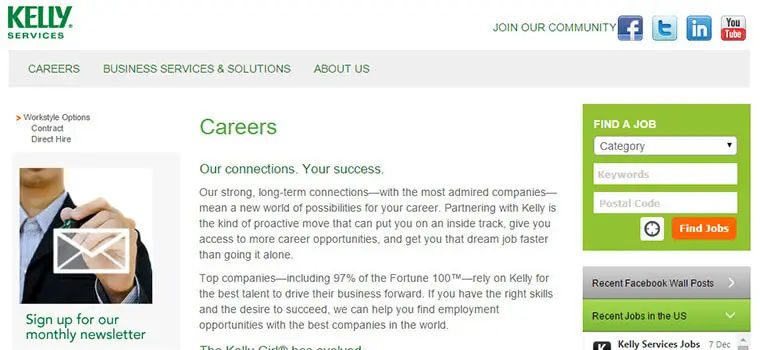 Kelly Services hires employees to work in management positions. The company does indeed like to hire within, which means you can move around easily within the company.
Kelly Services provides an upbeat and welcoming environment to all employees. In a management position, you are responsible for leading a team and helping them succeed.
Assistant Manager
The Assistant Manager will help the Branch Manager with the day to day operations. He or she will ensure that all employees are completing their jobs as necessary and within the company's guidelines.
In this role, you will be required to generate reports based on performance, profits, and similar.
Branch Manager
The Branch Manager is responsible for making sure the individual branch runs smoothly and all meetings and trainings are carried out as planned. He or she will work on developing new business relationships while also recruiting and hiring team members.
In this role, you will need to be a leader and take appropriate actions when needed. You should be quick thinking and confident in your ability to make decisions.
Interview Questions and Tips
It is important that you prepare for your interview before you go in on the big day. Below, we will go over some tips and questions to help you better get ready for your interview.
Do You Have a Criminal Record?
You may be asked whether or not you have a criminal record and for good reason. When you work in a staffing company, you will be handling clients' paperwork including their social security numbers and more.
If you do have a criminal record, let your interviewer know as you may still be offered a position based on the type of charge you have.
Is This Job a Good Fit for You?
If you are asked this, think about how your skills fit into the job description and then explain why you think you are a good fit.
For example, if you are good at customer service, then you would be great at talking to clients and helping them decide whether or not to use the service.
Can You Perform the Duties of the Job?
This is another important question because the company does not want to hire someone who is not able to perform the job adequately. For instance, if you apply to be a financial analyst, but you have no experience, then you are not a good fit for the job.
Be honest about your skill set and let the interviewer know where most of your experience lies.
Helpful Research for Your Kelly Services Interview
Kelly Services has provided employment to over 550,000 individuals in 2014 alone. The company itself has a motto to help individuals find a job that is right for their skill set.
The company has received numerous awards including the Intel Corporation's Certified Supplier Quality Award and the Michigan Minority Business Development Council's "Corporation of the Year" award.
What Employees Say About Working Here
Employees who work at Kelly Services have positive things to say about the company. Many of the employees say that there is a ton of room for advancement and you are never stuck in one position. In addition, employees have said the company has superior ethics and the management team provides adequate training.
Other employees are happy because they enjoy the environment and they say that all team members are welcoming and willing to help out when needed.