Justice Jobs & Careers – Application, How to Apply, Requirements & Interview Tips
Last Updated:
July 17th, 2020

by

The team at Justice, a division of Ascena Retail Group, believe it's their mission to inspire individuality and self-confidence in tween girls through fashion.

The tweens are when young girls start to become super aware of what they look like and what they (and everyone else) are wearing. Parents want to accommodate, but also want to remain budget conscious.

Justice makes this a win-win situation by offering the latest fashions and trendsetting designs for the tween girl at a great value.

With over one thousand retail locations throughout the United States and Canada, Justice almost always has openings. In their home office alone, located just outside Columbus, Ohio, they employ about four hundred associates throughout twenty different departments.

This guide is designed to help you effectively navigate the ins and out of landing a coveted position with the world's largest tween specialty retailer.

Grab your selfie stick and let's get a closer look at what it's like to work here and how you can get your foot in the door.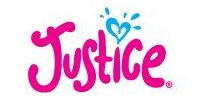 How To Apply For Employment At Justice
The application process for justice stores is pretty straightforward. You simply search for the jobs you'd like and submit an application online. Ready to apply? Then head over to their official site to see what's available in your area.
Application Information
Minimum Age Requirement: You should be at least 16 years old to work at a Justice retail location. Even though you're not still tween age, you can still relate to what tween girls like.
Hours of Operation: Justice stores are open from 10:00 am to 9:00 pm Mondays through Saturdays. On Sundays, they're open from 12:00 pm to 6:00 pm. These hours are standard for pretty much any retail store.
Methods of Application: There is no printable or in-store application to work for Justice. Interested candidates can search for available jobs and apply online on the official website.
Take A Field Trip
If you want to be in the midst of the action that goes on on the retail sales floor, then head on over to the Justice online store and click on their handy store locator. Find the location nearest you and then take a little field trip.
Take a look around, take in the environment, make yourself familiar with the selection. If you're feeling good about everything, talk up one of the sales associates (bot not for too long) to get a first-hand account of what it's like to work there.
Have Your Resume Ready
The online application will ask you to upload a current resume. You may want to take some time before you begin the application process to create one or to brush up on the one you already have. Be sure to highlight any previous retail experience you may have.
What To Expect During The Application Process
Once you find a job that interests you, click on it. You'll be taken to an external site where more detailed information about the job is given, including the job's duties and the minimum requirements to apply.
On this page, you have the option to go ahead and submit your candidate profile, view similar jobs, and even send the job to a friend.
Connect Informally and Stay In Touch
If you're not seeing the perfect job or are not quite ready to formally apply, you can still give the company some information about you.
This way, they can stay in touch and inform you about future opportunities and upcoming recruiting events.
You can even connect a profile from an external social account such as Facebook or LinkedIn.
Application Tips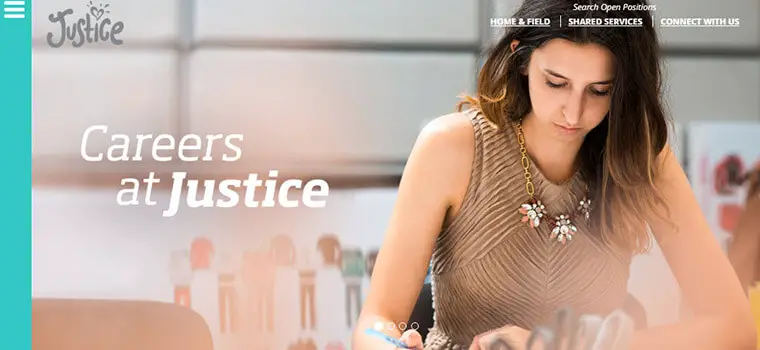 Read The Requirements Carefully
Most of the jobs listed on the Justice careers website will contain detailed lists of requirements. You want to make sure you read through these carefully before submitting your application.
If you do not meet even one of these requirements, you can save yourself from wasting both the company's time and your own.
Prior Retail Experience Is A Plus
Retail is a totally different animal from other jobs. While any job will require a certain amount of on the job training, this is one field where prior experience is a definite plus.
If you've worked in retail before, you want to make that experience the focal point of your resume and be ready to talk it up in the interview.
Be Ready For Retail Hours
Open availability is important when applying for retail jobs. Evenings and weekends are when most stores are typically busiest, so ability and willingness to work during those times will give an instant leg up on the competition.
Holidays are busy times as well. Most retailers will offer extra pay to those who can work on these days.
Let Your Personality Shine
Justice is looking for people who are open, friendly, dedicated, and can act as role models because associates work closely with young girls.
You will also be working closely with customers so showing an open, helpful, can do attitude is advised. Practice the answers to common questions out loud so you get a good feel for what you want to say.
If you're called for an interview, you should dress fashionably and to showcase your personal style.
Should You Follow Up?
Once you've applied, the online system will not allow you to check the status of your application.
A good rule of thumb is to call your specific store location and ask to speak to the hiring manager or the person you spoke with during your interview. Be careful here. While the right amount of follow-up shows eagerness and passion, you also don't want to overdo it and become a nag.
Typically, the team at Justice will offer you a job within two to four weeks of the interview date if they plan to hire you.
Positions And Salary Information
Justice has three "branches" with which to apply for jobs. The home office houses all of the behind-the-scenes administrative positions. The "field" is their name for the stores and all of the store level position. Here, you work directly with the customers. There's also the shared services team. Shared Services is part of the Justice parent company, Ascena Retail Group, Inc. Here, you'll find jobs like IT, legal, payroll, and accounting.
Here's an idea of some of the jobs you can get.
Brand Rep – Since the store exclusively markets to young girls, the retailer tends to favor young women for brand rep positions. The core duties of the brand rep include assisting customers with finding merchandise, answering questions, maintaining the cleanliness of sales floors and changing rooms, restocking products, and running cash registers. Brand reps earn minimum wage pay.
Assistant Sales Leader – This is the assistant manager of the store. The assistant sales leader must maintain working knowledge of managerial duties and assist the store manager in all aspects of daily store operations. To apply for this position, you should have at least one year of management experience and two to four years of work in the retail industry. Assistant sales leaders earn anywhere from $12 to $15 an hour.
Floor-Set Associate – Ever wonder who puts together all those snazzy looking window and floor displays? That would be the floor-set associate. Duties include rearranging product displays and racks within the store. You should also be able to follow detailed instruction as most floor set designs are sent down directly from corporate. Due to the physicality of the position, potential hires should be in good shape. Floor-set associates can expect to earn between $8 and $10 an hour.
Best Entry-Level Positions
Justice stores are a great place to get initiated into the world of work. The company believes in the importance of hands-on learning and ongoing training. The skills you learn here are skills that will benefit you in your careers with Justice and beyond.
Brand Rep
Also known as sales associates, Justice brand reps have the primary duty of offering a positive customer experience.
You should be upbeat, a fast learner, have a flexible schedule, and be physically able to stand and walk around for long periods of time.
Knowledge of the fashion world is a definite plus when applying for this position.
Floor-Set Associate
You can get creative with a job as a floor-set associate. Anyone who's dressed their dolls when they were younger has the required skills and experience for this job.
This position is also pretty physical, so you should be in fairly good shape if this is a job you're going to go after. You should also be at least 18 years old.
Find Local Justice Retail Jobs Near You!
Justice Careers In Management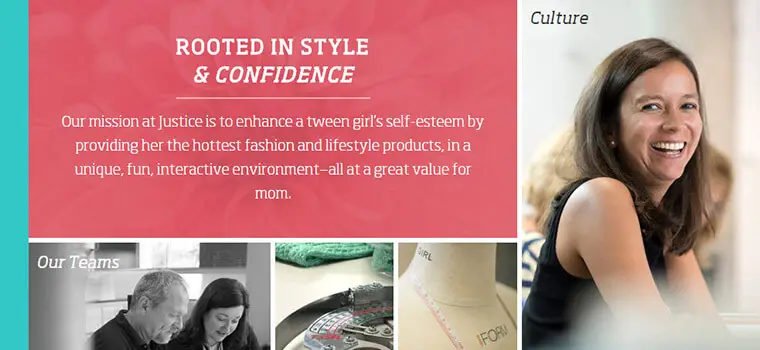 The home office is the Justice company hub. Housing over 20 departments under one roof, the home office is where all the creativity and collaboration takes place and extends throughout all of the retail locations.
If you're looking for a challenge and the opportunity to grow in your career, this is the place to be. The Justice leadership team will encourage you and empower you. All in a fun, fast-paced, and casual environment.
Finance Manager
The Finance Manager of Store Analytics handles conducting complex financial analysis. Duties include creating and analyzing store level data. This includes traffic, conversion, store profitability, labor, and sales productivity.
Be prepared to create reports based on this data. The Finance Manager reports to the Director. Candidates should have strong analytical skills with an ability to design analysis to answer specific questions; be able to synthesize data; be able to check their work and the work of others.
Candidates should also have excellent communication skills and must be able to summarize analysis into clear insights and recommendations.
Field Leadership
Members of the field leadership team are important liaisons between the home office and stores. They spend much of their time ensuring that, once the season's strategy is launched, it is flawlessly executed.
Duties include visiting stores, checking to see if operational procedures are in place, and finding out if stores are making their numbers. They also share with the home office what they've learned in the field.
Planning Analyst
The Planning Analyst develops new and enhances existing Planning and Merchandising reporting and analytical tools and systems that drive Merchandising and Planning decisions.
They prepare standardized reporting for weekly business recaps, monthly planning meetings, and seasonal buy coordination meetings. They also seek out and utilize new technologies and data resources to improve processes and analysis that support business intelligence changes for Planning team.
The ideal candidate will have a passion for fashion and strong customer knowledge, and be able to work collaboratively with internal and external partners to get the job done. You should have a Business-related bachelor's degree or equivalent business experience, and at least 3–5 years retail/planning experience.
Print and Pattern Designer
The Print and Pattern Designer uses textile design skills to create, develop and recolor prints, placement screens, embroideries, yarn dyes and knits. They work under the supervision of Manager/Director Design to maintain product style and contribute design modifications to improve the quality, fashion appeal and functionality of the product.
The Print and Pattern Designer is expected to stay current on all trend information and collaborates with the Design department to make recommendations as appropriate.
Candidates should have a Bachelor's Degree or above in Apparel/Fashion/Textile or other similar field and knowledge of Ned Graphics (Knits and Wovens modules) and Adobe Illustrator and Photoshop software.
Interview Questions and Tips
Justice typically hires fun, trendy associates to fill store positions. To ensure candidates fit the company, Justice conducts interviews that gauge personality and job skills. Don't get too nervous. Justice keeps the interview process relaxed. Hiring leaders are generally pleasant and welcoming.
Who Are The Girls We Serve?
You should know the target market for any company. In this case. Justice serves young girls between the ages of 7 and 14.
How Well Do You Work As Part Of A Team?
Retail is a team environment. There will be a lot of individualized work, but companies like Justice also want to know that you can play nicely with others. Be sure to stress that you can work with a team and also alone with little supervision.
How Would You Handle Multiple Guests At Once?
Customer service is a retail company's bread and butter. It's what will make customers consistently choose you over the competition. At any given moment, there could be a lot going on.
You need to be able to show the ability to think on your feet and multitask without getting frazzled. When in doubt, the customer always comes first. When answering this question, be sure to stress that if you are presented with multiple tasks at once, your first step is always to acknowledge the customer in front of you.
What Is Your Availability?
Again, flexibility is the golden rule when it comes to working in retail. Retail managers would rather find potential candidates who have a totally open availability, than spend extra time trying to schedule around your restrictions. Be honest about your availability but don't be quick to state your preferences. If weekends off are important to you, it may be better to look for an office job.
The best answer to this question is that you are totally open with no schedule restrictions. If that's not the case, then it's better to answer by emphasizing the times you can work rather than stating the times you can't.
Helpful Research For Your Justice Interview
Justice started out in the late '90s. Back then, the company was named Limited Too. At the time, Limited Too was providing European fashions for a wide variety of ages from infants to young girls.
But soon it began to move toward fun, colorful, and interactive experiences designed to cater to a new audience, which was young girls between the ages of 7 and 14.
Since then, the company has grown to over 1,000 stores across the United States and Canada. They even have stores in Asia, Mexico, Latin America and The Middle East.
What Employees Are Saying About Working At Justice
Ask just about any member of the Justice team and they will tell you that the thing the love most about working for the company is the overall culture.
At Justice, the team believes in true collaboration, honest communication, hard work and having fun. They celebrate accomplishments and recognize peers.
There are wellness classes that employees can partake in (such as yoga, cardio, muscle building, and even help with quitting smoking). There's an on-site cafe. And they only work half-days on summer Fridays.
And then there's the generous associate discount that makes sure employees can go shopping guilt-free.