JCPenney Jobs & Careers – Application, How to Apply, Requirements & Interview Tips
Last Updated:
September 20th, 2019

by

Your dream job at the nation's largest chain of department stores is within your reach with this guide to JCPenny's job application process.

J. C. Penney Company, Inc. (JCPenney) is one of the nation's largest apparel and home furnishing retailers. The company employs thousands of people for its more than 1,100 department stores.

It also provides employment opportunities at its several satellite offices and corporate headquarters.

This guide will provide extensive information on the company's application and hiring process to help aspiring JCPenney employees land a job at the company.

JCPenney hires individuals for two main careers: in store careers and corporate careers.

In store careers are retail based. They're available year round and can comprise various roles like Sales Associates, Product Consultants, and Nail Technicians, to name a few.

Passionate people who always have a smile on their faces and who care about customer service are perfect candidates for these positions.

JCPenney's corporate careers target talented individuals from a variety of industries. For instance, some of their open positions are for Financial Planning Specialists, Email Marketers and JAVA developers.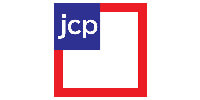 How to Apply for Employment at JCPenney
When applying for a JCPenney job, you complete an online application for the specific position you're interested in. Keep the following information in mind when applying to JCPenney jobs.
Application Information
Minimum Age Requirement: Applicants must be at least 16 years old to qualify for JCPenney jobs. However, individuals looking for managerial careers must be at least 18 to be considered.
Hours of Operations: JCPenney is typically open Mondays to Saturdays from 10:00am to 9:30pm, and Sundays from 11:00am to 6:00pm
Methods to Apply: All applicants have to fill out an online application through the company's careers page.
When Applying Online
JCPenney's online application process is pretty short and easy to navigate. Make sure you have your resume on hand.
When you've found a job you're interested in, all you have to do is click "apply now" and choose whether to apply through Facebook, LinkedIn, or directly through the JCPenney site.
Create An Account
Before you begin the application, you must create an account (if you don't have one already). This requires enterting your name, e-mail address, and basic contact information.
Once your account has been created, you are presented with the opportunity to either upload your resume or manually complete the application. When manually completing it, you should be prepared to write about your past work and education experience.
There will also be a section asking for your schedule and availability.
Application Tips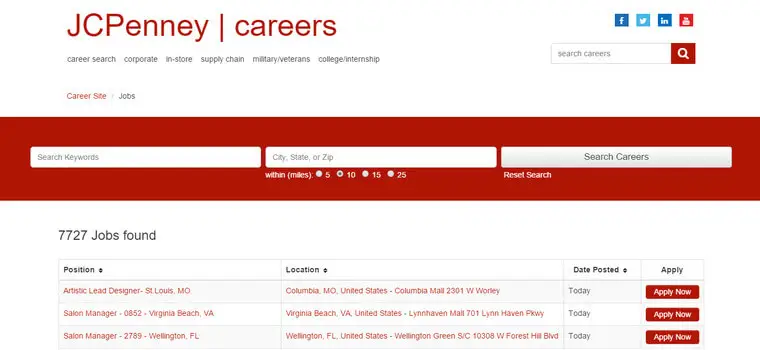 When applying for specific JCPenney jobs, it's important to customize your resume to include important keywords mentioned in the job description.
Since many employers use applicant tracking systems to filter applications, you should include keywords when elaborating on past experiences.
When you provide your availability on the application, it may be tempting to exclude weekends. You should make your availability as open as possible, in order to increase your chances of getting hired.
Excel At Custumer Service
If you're applying for in-store positions, stress your expertise in customer service. JCPenney places a lot of value on customer service and seeks candidates who emphasize this on their applications.
Take Advantage Of The College Career's Website
Applicants in college should take advantage of JCPenney's college careers, where students can seek internship and trainee opportunities for both in store and corporate careers.
By sending JCPenney your educational information, you can be considered for opportunities that could lead to successful careers after you graduate.
Should You Follow Up?
Once you submit your application, you shouldn't stop there. If it's for a corporate job, check in with the hiring manager after a week has passed. Just send an email to reiterate your interest in the position.
If it's for an in-store job, visit the specific store they've applied to online. Meet with a manager, introduce yourself and mention that you've submitted an application online.
During these interactions, you reiterate your interest in the position and even leave your number after building rapport with the manager.
Positions and Salary Information
In-store careers offer a wide range of employment opportunities from Sales Associate positions to managerial roles. The most common jobs for hire comprise the following:
Sales Associates – Employees in competitive positions who assist customers and aim to sell specific merchandise. They require great communication skills, charisma, and a natural ability to connect with people. Salaries for these positions are about minimum wage, coming to $9 an hour. Commission rates vary by product and location.
Stock Associates – Employees who strictly handle a store's inventory. They make sure to stock shelves and clothing racks. Aspiring candidates require some degree of fitness and stamina. Like Sales Associates, they are paid about minimum wage, which comes to $9 per hour.
Loss Prevention Officers – Employees that generally provide security for the store. They guard against theft, respond to customer or employee emergencies, and maintain peace. Individuals with a background in law enforcement or security are perfect for the job. They earn about $12 per hour and must be at least 18 years old to be considered for the position.
Management Roles – Employees who lead the overall operations of JCPenney stores. There are various positions under management careers, like Department Supervisors, Assistant Store Managers and Store Managers. Department Supervisors can earn anywhere between $22K – $61K, Assistant Store Managers earn between $46K to $94K, and Store Managers can expect to earn between $57K to $119K. These salaries can increase based on location and the experience level of the managers.
Corporate jobs vary immensely but the average salary for JCPenney corporate jobs is around $77,000.
Best Entry-Level Positions
Entry-level employees at JCPenney require great customer service skills and charisma.
Most Sales Associates, Customer Service Representatives and Stock Associates require little experience (although some will help) in order to do the job. They require an innate ability to connect with people, while also being able to genuinely persuade customers to buy merchandise.
Below is some further information on these entry-level jobs:
Sales Associates
Employees who receive commission based on how much merchandise they sell. They are usually in charge of one department, be it windows, furniture, or clothing.
They must know a lot about the merchandise they're trying to sell in order to persuade a customer to buy it, while genuinely building rapport.
The commission they receive varies by location, the department they're in, and their own performance level.
Employees with great personalities who possess the ability to work in teams are successful at these jobs. They also usually have great communication skills and sales skills since their primary goal is to sell a product.
Sales Associates are expected to work flexible hours, including nights and weekends, as regular shifts are usually reserved for tenure staff.
Customer Service Representatives
Work the floor.
They interact with customers, answer questions and provide tips on products. If a customer needs help finding something or needs advice on, say, color palates, it is the customer service representative who provides this kind of assistance.
They also ring customers up at the cash register. These employees require great communication skills and more importantly, people skills in order to genuinely connect with people.
Stock Associates
Employees who stock shelves and clothing racks. They maintain the store's orderliness by improving the appearance of merchandise and apparel that customers have thrown aside.
They frequent the fitting rooms to collect unwanted clothing, that they then return to clothing racks.
Employees in these positions require a degree of stamina to keep up with the store's re-stocking needs. They must also have great customer service to greet customers and clean up after them.
Seasonal Job Openings
JCPenney offers seasonal job opportunities during peak, busy seasons. Peak seasons include Christmas, Black Friday, Summer, and other holiday/vacation periods.
The company's seasonal jobs mainly come in two forms: Temporary Support Specialists and Temporary Service Specialists.
Temporary Support Specialists handle the store's backroom and merchandise replenishment. They can instantly assess when merchandise is running low, before they re-stock the shelves.
They unload merchandise trucks and move boxes to the backroom. People who are organized and process driven are great for these seasonal roles.
Temporary Service Specialists work the floor and are always looking for customers requiring assistance. They make sure customers have a lovely experience and provide assistance to fellow team members.
They also maintain product presentations by rearranging merchandise that customers have moved around. Passionate, motivated, and helpful individuals excel in these positions.
JCPenney Careers in Management

JCPenney offers a range of careers in management. The most common ones are Department Supervisors, Assistant Store Managers and Store Managers.
For these jobs you must be at least 18 years old and have a high school diploma in order to be considered.
Department Superiors
Department Superiors are required to oversee their entire department. This includes leading their department employees and being on call for any emergencies.
They're also in charge of hiring and training employees, scheduling staff, and managing payroll.
To be effective in their roles, they must have retail experience along with leadership and motivational skills.
Assistant Store Managers
Assistant Store Managers work closely with Store Managers in order to oversee the entire store they work at.
This involves communicating and training department supervisors, analyzing sales data, and more importantly, implementing ways to generate store revenue.
Interview Tips & Possible Interview Questions
JCPenney uses a combination of interviewing techniques, such as phone interviews, group interviews, and one on one interviews.
Candidates for entry-level positions are typically interviewed one on one, unless the store needs to hire multiple workers at once, in which case employers will opt to do group interviews.
If you're an aspiring managers who's been called in for an interview, expect to go through more than one round of interviews, but no more than four.
When You Get A Group Interview
Candidates interviewed in group settings should typically expect to perform a team exercise, like building a block structure based on a picture. Employers are testing potential hires on their ability to work well with others.
It's important that you listen to other team members, give sound advice and play a key role in the test.
When You Get a One On One Interview
During the most common one on one interviews, you'll have to answer basic questions that test your eligibility for the position. These questions are pretty general and ask about your strengths and weaknesses, past experiences and regrets.
How To Dress And What To Bring
As with any interview, applicants should dress in professional, business attire. They should bring multiple copies of their resume and be prepared to provide potential references upon request.
Below are some possible questions to expect and answers to give based on different JCPenney jobs:
What Would You Do If You Saw A Customer Steal An Item?
Prepare for this question, because to answer this question, you should pick an answer that shows your understanding of store protocol.
For example, a possible answer could be, "I would make a mental note of what the person looked like and what he/she was wearing. I'd then immediately report the incident to the Loss Prevention Officer and my immediate boss."
"I would under no circumstance attempt to apprehend the individual alone and instead would follow all of the store's given procedures."
Describe A Time You Encountered A Difficult Customer And How Did You Handle The Situation?
For specific behavioral questions such as this one, you should employ the S-T-A-R method, which stands for Situation, Task, Action and Results.
You'll need to describe the past situation, the task that needed to get done, the action you took and the result that came about because of your action.
A possible answer for this question could be, "Well, at my last job, a customer came in cursing and yelling at everyone. I knew I had to calm him down, so I could adequately help him and ensure other customers weren't frightened. "
"I did a quick mental analysis and realized his complaints were coming from a place of frustration, so I knew not to take it personally and I made sure the customer knew they were being heard. I listened carefully and apologized, even though I wasn't at fault."
"He had lost his receipt but wanted to return an item. So, I calmly explained that, while I couldn't give a cash refund without the receipt, I was more than happy to give him store credit. It worked!"
" The customer began browsing the store, happy, and I had successfully diffused the situation."
What Makes You A Good Fit For This Company?
To answer this question, you should mention how you have the relevant, transferable skills for the position, while identifying with JCPenney's core values.
For instance, a possible answer could be, "I have the necessary security experience to excel in this position and I personally identify with JCPenney's core commitment to customer satisfaction."
"While I may not be in a sales position, I still believe I have a duty to the company and its customers to be approachable, be a decent human being to others, and provide assistance, all the while performing my security duties. That's why I'd be a good fit for this company."
Interview questions for store managers, assistant store mangers, and department supervisors often test candidates' knowledge of key information related to JCPenney.
Brush Up On The Company's History If You Want A Manager Role
Aspiring managers should brush up on the company's history, its current CEO and what he's been doing, as well as JCPenney's protocols.
Helpful Research for Your JCPenney Interview
J.C. Penney Corporation, Inc., was founded in 1902 in Kemmerer, Wyoming, by James Cash Penney. It was a retail company that marketed clothing, furniture, cosmetics, and more. Its present name was adopted in 1968.
In 2006, the company announced its partnership with Sephora, the cosmetics chain, and began selling Sephora products in-house.
In 2008, it launched a Ralph Lauren line of clothing, home decor and accessories.
Currently, the company has 1,020 stores across America and is one of the nation's largest apparel and home furnishing retailers. The CEO is Myron Ullman, and he has more than 30 years of retail and managerial experience.
Here are some interesting facts about the company that you can potentially use in your interview:
Founder, James Cash Penney, prioritized customer service and wanted employees to treat others as they would be treated. His Golden Rule was "do unto others as you would have them do unto you." It was so important to him that he named his very first store, The Golden Rule.
Mr. Penny and his associates also drafted five core principles (later expanded into seven) by which JCPenney needed to operate. They called it The Penny Idea and the values are still incorporated into JCPenney's corporate culture. The values push employees to satisfy customers, become better people and thus better employees, and to act as wise individuals.
JCPenney has been consistently recognized for celebrating diversity. CEO Myron Ullman is rebuilding JCPenney upon their commitment to inclusion and diversity by hiring employees from different backgrounds, views and experiences.
What Employees Say About Working At JCPenney
Based on JCPenney's glassdoor reviews, JCPenney scores a 3.1 rating out of 5 (at the time of this writing) from employees who've submitted online reviews.
54% of the same employees say they'd recommend the company to a friend, while 69% approve of the current CEO, Myron Ullman.
Employees generally enjoy working at JCPenney and they give several reasons as to why this is so. They tend to love the employee discounts they receive on their purchases and enjoy having flexible hours and a great work-life balance.
They also enjoy the casual, family-like atmosphere that's fostered among their team members.
Some of the popular complaints expressed by employees are centered on the low pay for entry-level jobs and the lack of bonuses and promotions. Additionally, employees tend to complain about the quality of the health care that the company provides.