Jack's Jobs & Careers – Application, How to Apply, Requirements & Interview Tips
Last Updated:
September 20th, 2019

by

This guide will give you all of the information needed for you to complete a Jack's job application and to land you that all important interview.

There are many different types of positions available at Jack's and they are constantly on the hunt for honest, professional and friendly members of staff to join the team.

They need to employ a lot of cooks as they sell more than 25 million of their trademark biscuits every year! If you work as a cook at Jack's, you could be eligible to enter their annual biscuit bake-off and compete against other biscuit-makers to earn a $1,000 cash prize.

There are also usually a large number of cashier roles on offer to help serve the 110,000 hungry customers who walk through the doors every single day. Don't worry though, you won't be expected to serve all those diners single-handedly.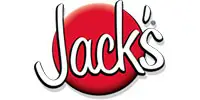 How to Apply for Employment at Jack's
Unlike many other firms, Jack's don't advertise their vacancies. Instead they ask prospective employees to complete a speculative online application and they allocate job roles depending on the skills and experience of those applying.
The roles you can apply for are split into two categories: hourly and managerial. As there are no job roles advertised, you won't be given a full job description until you get through to the next stage of the application process.
Application Information
Minimum Age Requirement: there are some positions at Jack's which you can apply for from the age of 16, but most positions require you to be at least 18 years old to apply.
Hours of Operation: Jack's restaurants are typically open between the hours of 5am and midnight but staff members may be required to come in earlier or later than these hours in order to set up or clean the restaurant. When applying for a position you can specify if you have a preference to work day or night shifts.
Methods to Apply: All applications for both hourly and managerial positions at Jack's must be submitted using their online portal.
Personal Details
When applying using the Jack's online portal, you'll first have to fill out a couple of key pieces of information about yourself; name, address, contact information and your social security number.
Pre-employment Interview
You'll then be taken to a pre-employment interview. Although Jack's calls this stage an interview, it is really just a simple online questionnaire. It consists of a series of yes/no questions and takes about 10 minutes to complete.
It's a good idea to make sure that you are in a quiet place with no distractions before you start the interview, as you only have 25 seconds to answer each question.
The questions you will be asked are a mixture of professional practice questions, personality assessments and general information about your employment history. For example, you might be asked whether you have a criminal record, whether you have ever been asked to leave a job or whether you think it is appropriate to swear in front of a customer.
The pre-employment interview is not complex but you will find that you are often asked the same thing in many different ways.  This is just to make sure that you are answering honestly and consistently. Try not to get too frustrated if you are asked a similar question more than once, this is just to test your patience and concentration.
Employment History
Once you have completed the pre-employment interview, you'll be asked to add in details of your previous employers and your education. Whilst you don't need to upload a CV or resume in order to apply for a position at Jack's, it would be really helpful to have a copy nearby as a reference point for dates and details.
Application Tips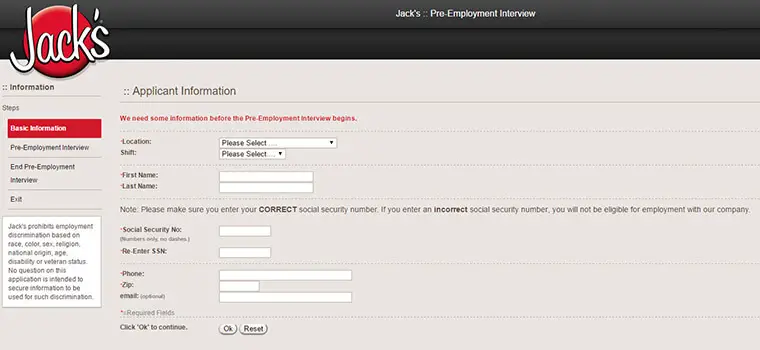 The online questionnaire is steered heavily towards 3 key values: Honesty, Customer Service and Professionality. Managers will be looking for evidence that you understand the importance of these three values at all stages throughout the application process.
Honesty
In your pre-employment interview online, you'll be given several different scenarios and asked how you think you should behave in each one. For example, you might be asked whether you think it's OK to borrow money or items from work without your boss's permission, even if you plan to return them soon.
Remember that honesty is one of the core values that Jack's looks for in its employees. They are unlikely to invite you for an interview if they're given sense any dishonesty in your application.
Customer Service
The customer is always right, even when they are wrong. Jack's will be looking for people who will deliver excellent customer service all of the time and the pre-employment interview questions might be intended to trip you up.
You might be asked whether you have ever sworn in front of a customer, lost your temper with them or argued your own case when they are making a complaint.
Professionality
Jack's expects all of its employees to remain professional at all times. This means never being late for work, dressing appropriately and never turning up for a shift whilst under the influence of drugs or alcohol. Jack's has a strict anti-drug policy and you should be aware that the company reserves the right to carry out spot drug tests at random intervals.
Should You Follow Up?
Although the online application platform will tell you that there is no need to follow up on your job application to work at Jack's, if you haven't heard anything after a week, it is worth calling to follow up. There have been several reported occasions where employees have decided to call the outlet where they wish to work and have been offered an interview on the spot.
Unfortunately, due to the high volume of applications that Jack's receives, they will not always let you know if you haven't been successful, so if you want to know for sure, it is a good idea to give them a call.
Positions and Salary Information
Entry-level employees, such as Cashiers, are paid between $6 and $8 an hour, depending on their age, qualifications, experience and location. Shift Managers and Assistant Managers earn around $10 an hour and Store Managers are paid much more than this.
Employees are paid weekly based on how many hours they have worked.
Biscuit Maker: You will be based in the kitchen and will be responsible for making the trademark Jack's biscuits which are so popular with their customers. You will also be expected to keep the kitchen environment clean and tidy and to help prepare other snacks and dishes. Biscuit Makers are paid around $8 an hour.
Cashier: You will be responsible for serving customers, taking their order, handling money and then delivering their food to them. You may also be asked to clear tables, clean the restaurant and help set up for the day ahead. Cashiers are typically paid between $6 and $8 an hour.
Assistant Manager: In addition to serving customers and handling cash, assistant managers are given more responsibility. You will have a team you will have to help look after. You might have to organize shift patterns, oversee the smooth running of the restaurant and help keep the business profitable. Assistant Managers are typically paid around $10 an hour.
General Manager: As a General Manager you will have responsibility for ensuring the smooth running of all elements of a Jack's outlet. This will include cashing up, opening and closing the outlet, hiring and disciplining (if necessary) employees and ensuring that food stock levels are maintained. General Managers are typically given a salary in the region of $40,000 a year.
Best Entry-Level Positions
Jack's offers an excellent training program which means that anyone who succeeds in gaining an entry-level position could go onto become a member of the management team. If you know this is the direction that you want to head in, mention it at your interview.
If you prove yourself to be a valuable employee then you could be working your way up the ladder in no time.
Jack's Careers in Management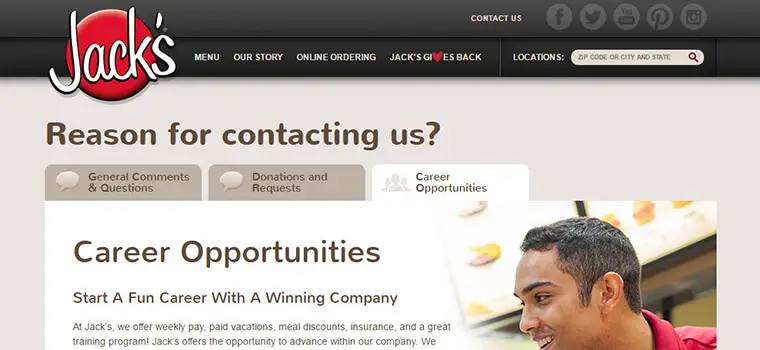 Every Jack's outlet will have to have at least one General Manager. There are more than 130 outlets across 4 different states, which means that Jack's will have to employ at least 130 different General Managers at any one time.
As each outlet is open for so many hours a day, there is also a requirement for there to be plenty of Shift Managers and Assistant Managers to hold the fort when the General Manager is not working. This means that there are a great deal of management positions across Jack's as a company.
Jack's also has a specific management training program for its employees. If you think that you would like to work at Jack's long term and are interested in progressing within the company, there are plenty of opportunities for you to do so.
Interview Questions and Tips
When you go to attend your face-to-face interview, it's really important to act as if you were going to turn up for your first shift. Keep those 3 core values (honesty, customer service and professionality) in mind, just as you did earlier on in the application process
Arrive early, as you would do if you were about to start your working day, and try and wear clothes which would comply with the Jack's dress code.
Personal Appearance
Jack's has high standards when it comes to their employees' personal presentation. They have guidelines limiting the amount of employees' jewelry to one ring, a watch and a pair of small stud earrings when they are on shift.
It is a good idea to follow these guidelines and to cover up any visible tattoos when you attend your interview to show that you are happy to comply with their standards.
Bring your resume
There is no section on the Jack's application for you to upload your resume, but this doesn't mean that you shouldn't bring it with you if you are invited for interview. Bringing your resume will impress whoever is conducting the interview as it shows that you have prepared in advance.
Let your personality do the talking
Your personal appearance and preparation will give a good first impression at the interview, but the most important thing to remember is to relax and be yourself. Jack's is a company which prides itself on its customer service. They will be looking to hire friendly and polite people who make their customers feel welcome. Make sure this comes across in your interview.
Helpful Research for Your Jack's Interview
Jack's, (also known as Jack's Hamburgers and Jack's Family Restaurants, Inc.) was founded by Jack Caddell in 1960.
When he first set up the business, it was just a simple walk-up stand selling hamburgers on the outskirts of Birmingham, Alabama. Today, the company's headquarters are still based in that same suburb where it all began: Homewood, Alabama.
When it first opened, Jack's sold hamburgers and fries for just 15 cents each! In the half-century since it opened, the prices have gone up a bit but Jack's is still determined to deliver delicious food at very low prices.
Jack's has more than 130 outlets located across four different states: Alabama, Tennessee, Georgia and Mississippi.
In an average year, Jack's will sell just under 26 million biscuits
Every day, Jack's will serve more than 110,000 hungry customers
Jack's hosts an annual biscuit-baking competition to see which of their employees is truly the best at making the company's signature snack!